The RTD's Discover Richmond touches on history, people, food, culture, travel and more – the topics that help define our great city and region. Enjoy the journey!
August/September 2018 Edition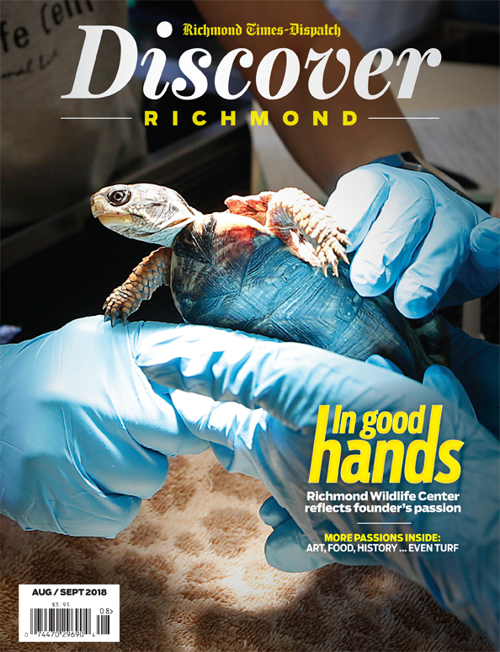 Animals, art, food … even turf!! In the RTD's new Discover Richmond magazine, local passions come in many forms.
For Melissa Stanley, her Richmond Wildlife Center has spent five years nurturing injured birds, tortoises, opossums ... well, you get the idea. Her story is one of great dedication, and you'll be surprised by the complexity of wildlife care.
For other passions, we visit an expert whose craft is conserving history – from national monuments to sculptures big and small.
We get a taste of a restaurant that reflects the owner's life journey – from Vietnam to vegan cuisine.
And we hit the ground with the dedicated grounds crew at The Diamond, where the turf battle never ends.
In other features, we meet Virginia's Art Educator of the Year. We've also got George Washington's teeth … Chessie the sea serpent … and even some dinosaur tracks.
Of course, we save room for ice cream and fro-yo. After all – and is there any better passion for summer?
The RTD's Discover Richmond – enjoy the journey!
---
Current and past editions of the Discover Richmond magazine can be purchased at our online shop or by calling the front counter of our downtown offices at (804) 649-6261.
2017 RTD Person of the Year Edition
Highlights from Previous editions
In 1957, Fred Eichelman began teaching seventh-grade history in Roanoke County. He was using a shiny new state-commissioned textbook.
Sunday, February 18, 2018
A murder that captured the nation's attention? A monument right in the middle of the road? Gallons of healing water? This is no ordinary road.
Richmond being a hot restaurant town, we wanted to dig into its vein of culinary creativity. Writer Joan Tupponce and photographer Julia Rendleman sought out a baker's dozen of notable local chefs to get behind the dish – to hear about what inspired them to craft an item that reflects their …
For some outdoor wonder that might not be on your radar, longtime environmental reporter Rex Springston was a natural fit to share his expertise.
From anti-Semitism in his homeland to a welcoming embrace in Hanover, a passion for music has anchored Natan Berenshteyn.