The RTD's Discover Richmond touches on history, people, food, culture, travel and more – the topics that help define our great city and region. Enjoy the journey!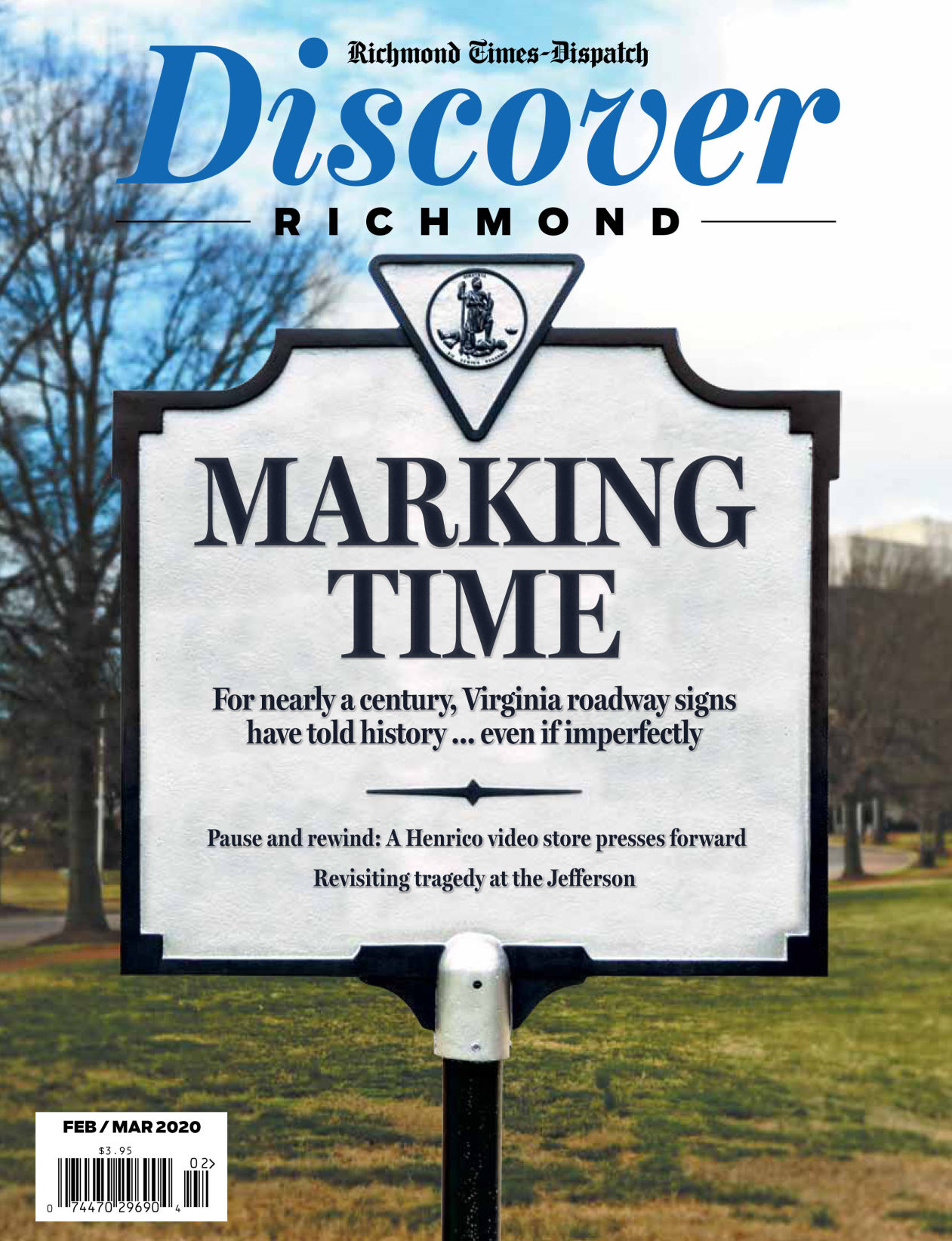 In the RTD's new Discover Richmond magazine, we give you the ultimate driving lesson.
We take a close look at Virginia's roadside history markers, which have a grand history of their own. (Can you guess where the first marker went up nearly a century ago? It wasn't far from downtown Richmond ... though you won't see it today.)
In other features:
* In 1923, Virginia faced a crossroads in its early transportation history – and the route it chose left an enormous legacy, both for Virginia government and the man who steered the path.
* Think the video store era is entirely gone? As Kevin O'Donnell says: "I tell people, 'Welcome to the museum.' " He owns KO Video, likely the last traditional video store in the Richmond area.
* Every winter, some issue or event comes to define the General Assembly. But in March 1944, the session was touched by tragedy: a deadly fire at The Jefferson Hotel, with some notable victims.
* We also touch on World War II heroism, plus suffrage. We find that Shakespeare really is for the birds, and houseplants are back. We get a gut feeling in the classroom. And in the kitchen, Irish eyes are smiling – and we raise a glass to a memorable can of beer.
The RTD's Discover Richmond – enjoy the journey!
Current and past editions of the Discover Richmond magazine can be purchased at our online shop or by calling the front counter of our downtown offices at (804) 649-6261.
In the Spotlight: 2020 Annual Guide
2019 RTD Person of the Year Edition
Monday, February 17, 2020
"The Kingfish" was doing a little celebrating at The Jefferson Hotel.
Kevin O'Donnell is special – the way the dodo was special.
What would Mickey Mouse have to say about slavery?
Vegan Orgy on Texas Beach. The Swank Bank. Swashbuckling Bundt Pirate Drenched in Hot Buttered Rum.
This isn't your typical restaurant.