The RTD's Discover Richmond touches on history, people, food, culture, travel and more – the topics that help define our great city and region. Enjoy the journey!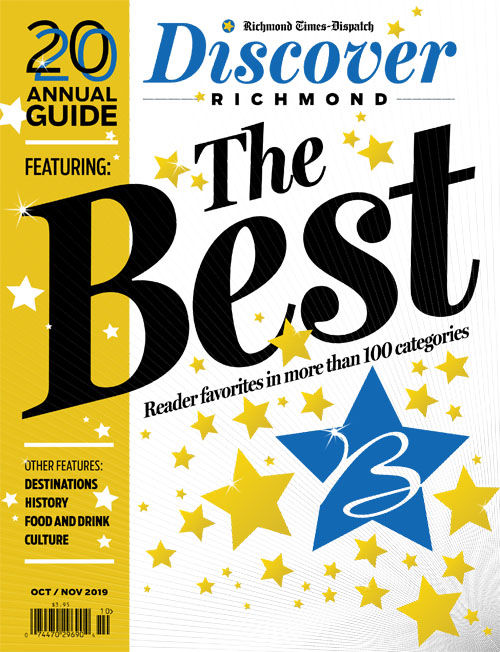 Destinations, food, history, culture: The RTD's latest Discover Richmond magazine (Oct/Nov 2019) is our 2020 regional guidebook — featuring "The Best," a compilation of favorite local businesses and more as voted on by RTD readers.
Like the James River than runs through it, Richmond has come an astoundingly long way in recent decades. Today, we are a nationally and even internationally renowned destination for art, food, beer and remarkable American history, which is being told with more diversity and nuance than ever.
So whether you're new to the area or a longtime resident, let our 2020 annual guide spur some exploration of your own.
Points of interest? We've got well-known spots and lesser-known gems. History and culture? We've got museums, historic homes, neighborhoods and more. Food and drink? We highlight hundreds of restaurants, craft breweries, wineries and distilleries.
You undoubtedly have your own local favorites in all these realms, so our guide also includes what you have deemed "The Best." Earlier this year, the RTD invited readers to visit Richmond.com and vote for their favorites in more than 100 categories. With nearly 300,000 votes, you certainly chimed in!
Richmond has earned a lot of "best" designations in recent years, and rightfully so. So let's go out and discover — or rediscover — what makes our region so great!
Current and past editions of the Discover Richmond magazine can be purchased at our online shop or by calling the front counter of our downtown offices at (804) 649-6261.
In the Spotlight: 2020 Annual Guide
2018 RTD Person of the Year Edition
What would Mickey Mouse have to say about slavery?
Vegan Orgy on Texas Beach. The Swank Bank. Swashbuckling Bundt Pirate Drenched in Hot Buttered Rum.
This isn't your typical restaurant.
Sunday, February 17, 2019