The RTD's Discover Richmond touches on history, people, food, culture, travel and more – the topics that help define our great city and region. Enjoy the journey!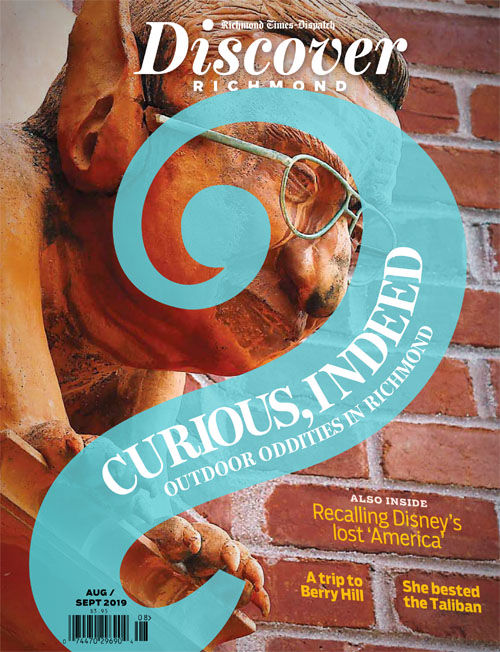 A bespectacled gargoyle? A huge cactus? In the RTD's new Discover Richmond magazine (Aug/Sept 2019), we explore some of Richmond's outdoor oddities.
Among them, we're talking about a neon sign … with a link to media mogul Ted Turner. A pyramid to ... well, we're not sure. A piece of public art … crafted from a famously bad automobile. Even a "historical" marker … that is far from historical.
Speaking of curiosities, we reflect on Disney's "lost" America. The grand vision of a history-based theme park in Northern Virginia was abandoned 25 years ago, and we check with some key players about a simple notion: Could the idea have actually worked?
We share the story of a local college student who thinks she's 23 – but remembering birth years and dates wasn't a priority amid war. Still, she wouldn't let the Taliban derail her dream.
We take a road trip to an oldie but a goodie: a historic but easily overlooked gem that features ghost stories, buried silver ... and high-end bathrooms.
We also check out a pistol set from a duel that didn't involve Alexander Hamilton. We investigate Virginia's only scorpion. And we look back (and up) at Skylab, the ill-fated space station that missed Richmond – but we were ready for it.
The RTD's Discover Richmond – enjoy the journey!
Current and past editions of the Discover Richmond magazine can be purchased at our online shop or by calling the front counter of our downtown offices at (804) 649-6261.
In the Spotlight: 2019 Annual Guide
2018 RTD Person of the Year Edition
Tree & Stump Removal Lot Clearing Brush Removal Topping & Trimming Insured Free Esti…
Purcell Construction Custom Builder Hunter Purcell 804-972-2215 www.PurcellConstruction.Biz …
Vegan Orgy on Texas Beach. The Swank Bank. Swashbuckling Bundt Pirate Drenched in Hot Buttered Rum.
This isn't your typical restaurant.
Sunday, February 17, 2019