The RTD's Discover Richmond touches on history, people, food, culture, travel and more – the topics that help define our great city and region. Enjoy the journey!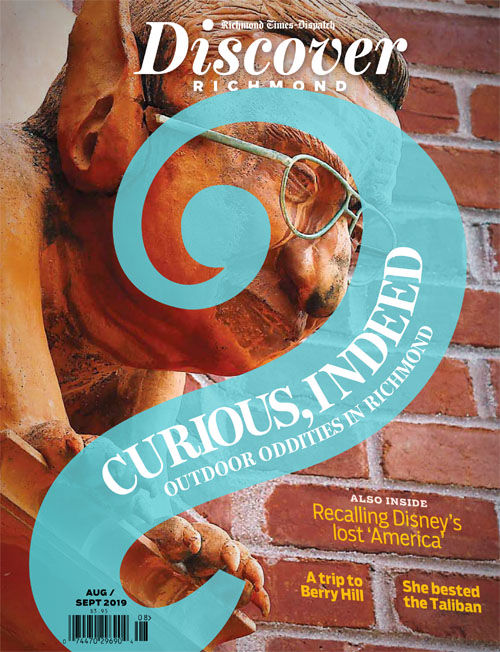 A bespectacled gargoyle? A huge cactus? In the RTD's new Discover Richmond magazine (Aug/Sept 2019), we explore some of Richmond's outdoor oddities.
Among them, we're talking about a neon sign … with a link to media mogul Ted Turner. A pyramid to ... well, we're not sure. A piece of public art … crafted from a famously bad automobile. Even a "historical" marker … that is far from historical.
Speaking of curiosities, we reflect on Disney's "lost" America. The grand vision of a history-based theme park in Northern Virginia was abandoned 25 years ago, and we check with some key players about a simple notion: Could the idea have actually worked?
We share the story of a local college student who thinks she's 23 – but remembering birth years and dates wasn't a priority amid war. Still, she wouldn't let the Taliban derail her dream.
We take a road trip to an oldie but a goodie: a historic but easily overlooked gem that features ghost stories, buried silver ... and high-end bathrooms.
We also check out a pistol set from a duel that didn't involve Alexander Hamilton. We investigate Virginia's only scorpion. And we look back (and up) at Skylab, the ill-fated space station that missed Richmond – but we were ready for it.
The RTD's Discover Richmond – enjoy the journey!