Virginia has a strong connection to American history's idealized depictions of women. We asked Virginia Humanities for insight into Irene Langhorne Gibson – as in, a Gibson Girl. Here are excerpts from the organization's Encyclopedia Virginia.
* Irene Langhorne was born on June 5, 1873, in Danville. In the wake of the Civil War, her parents – her father was a cousin of Confederate Gen. J.E.B. Stuart – struggled to provide for their growing family.
* Langhorne was the third of eight children, and the family lived in a four-room bungalow. (A younger sister, Nancy, later became Lady Nancy Astor, who in 1919 made history as the first woman to sit in the British Parliament.)
* When Langhorne was 8, the family moved from Danville to Richmond. There, her father earned a fortune in the railroad business and brought an end to years of poverty.
* In 1888, the Langhornes began to spend summers at the Grand Central Hotel at White Sulphur Springs, W.Va., where distinguished Southern families mingled amid hopes that their daughters and sons would find suitable husbands and wives.
* In her late teens, with her poise, striking looks and charm, Langhorne became a popular belle at the resort and throughout Virginia.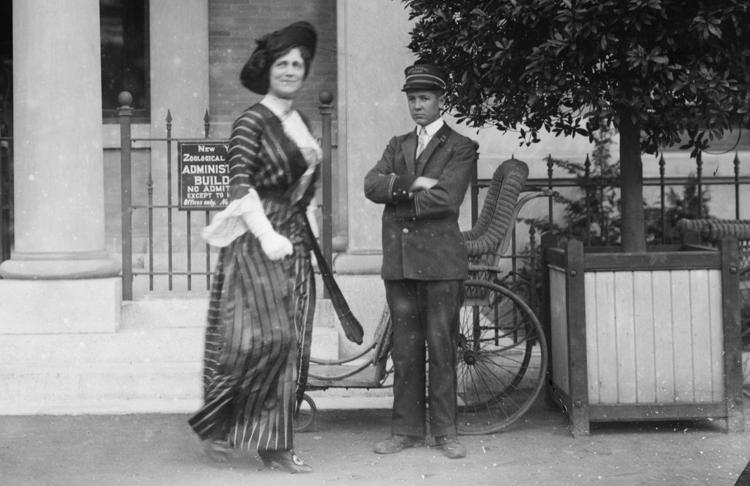 * In 1893, Langhorne was invited by Ward McAllister – a social arbiter and expert in balls, dances, food and wine – to lead the grand march at the Patriarchs' Ball at Delmonico's in New York City, one of the era's most prestigious social events. Langhorne was the first Southern girl to lead the ball.
* She soon was asked to open the Philadelphia Assembly and to be a Mardi Gras queen in New Orleans.
* In summer 1894, while attending a dinner in her honor at Delmonico's, she sat near Charles Dana Gibson, an artist from Massachusetts. In 1890, he gained initial fame for his pen-and-ink illustrations of the "Gibson Girl" – the newly emancipated post-Victorian woman whose "sporty jaw," slender waist and often indifferent gaze signified that she was at least equal, if not superior, to the gentlemen who called on her.
* A celebrity whose work appeared regularly in such noted publications as Harper's Weekly, Scribner's and Collier's Magazine, Gibson had created what some have called the "first nationwide fashion frenzy."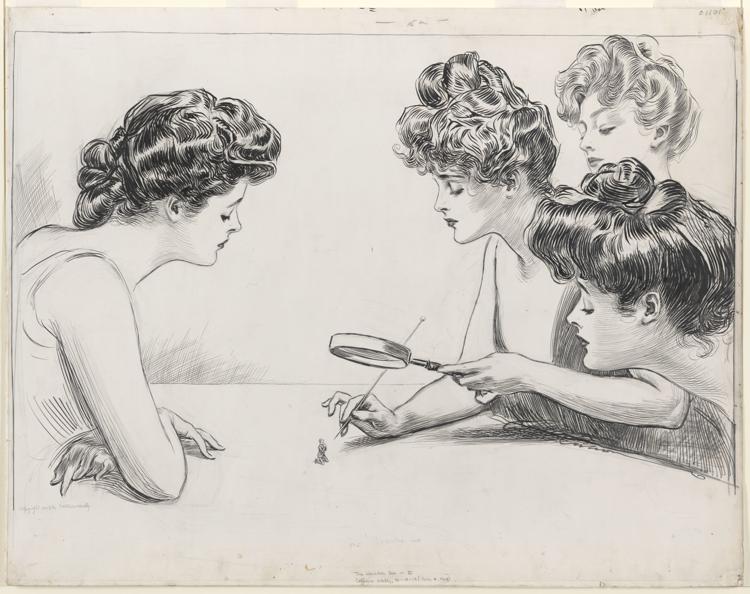 * Several years earlier, Langhorne's father bought Mirador, a colonial red-brick house with a farm in the village of Greenwood near Charlottesville. Gibson journeyed to Mirador in 1895 to ask for Langhorne's hand in marriage.
* Her father initially was unimpressed with the "Yankee sign painter," and his daughter had many other eligible suitors. But the father was won over by Gibson's charm, and the couple married on Nov. 7, 1895, at Saint Paul's Episcopal Church in Richmond.
* Their wedding has been interpreted by some scholars as a symbolic marriage of North and South and an end to the Civil War – a reconciliation between Confederate and Yankee.
* The marriage also represented the end of the golden age of the Southern belle, with its image of wealthy antebellum purity forged by war. With their union, Langhorne Gibson – who had represented to genteel society the personification of the Southern belle – moved to the North and became the incarnation of the all-American "Gibson Girl." But she also lived beyond the image.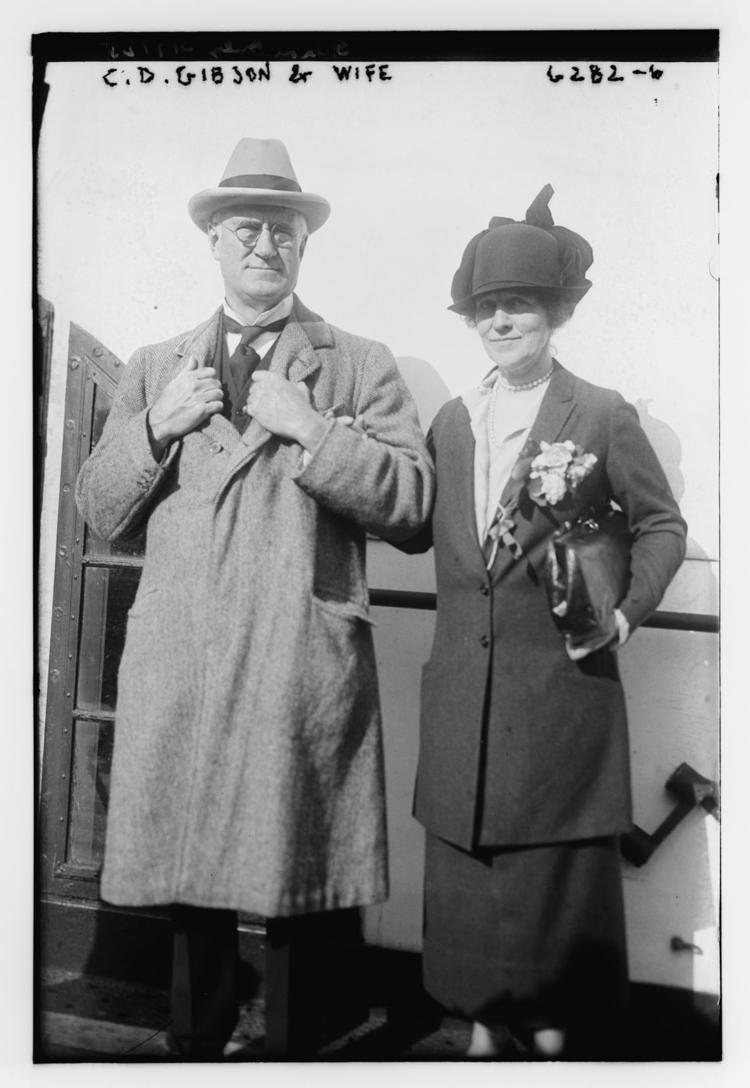 * The Gibsons had two children and lived for most of their marriage in New York City and off the coast of Maine. Langhorne Gibson became involved in progressive politics and quickly learned to use her influence to encourage government to serve the needs of the disadvantaged, especially children.
* Langhorne Gibson probably became invested in social causes and politics in 1902 after visiting New York City's Children's Court, a new effort that attempted to find alternatives to criminal and civil court proceedings and detentions. In 1908, she helped found Big Sisters Inc., which worked with the court to improve the lives of troubled girls.
* Several years later, she demonstrated with the Equal Franchise Society and the Women's Political League for woman suffrage. In 1912, she sang at the Women's Industrial Exhibition sponsored by a suffrage association, the Federation of Women's Clubs.
* During the 1916 presidential election, Langhorne Gibson chaired the Eastern Women's Bureau of the Democratic National Committee, after which she and her husband were often invited by President Woodrow Wilson to the White House.
* When the United States entered World War I in 1917, she joined in war bond rallies, supported the Red Cross and managed an officers club in Manhattan. In 1918, the mayor of New York City appointed her chair of the Committee on Local Defense.
* In 1923, Langhorne Gibson and her husband became trustees of the Heckscher Foundation, which operated a children's home. She also became chair of the Child Placing and Adoption Committee of New York's State Charities Aid Association, where for 25 years she oversaw the search for adoptive homes for children.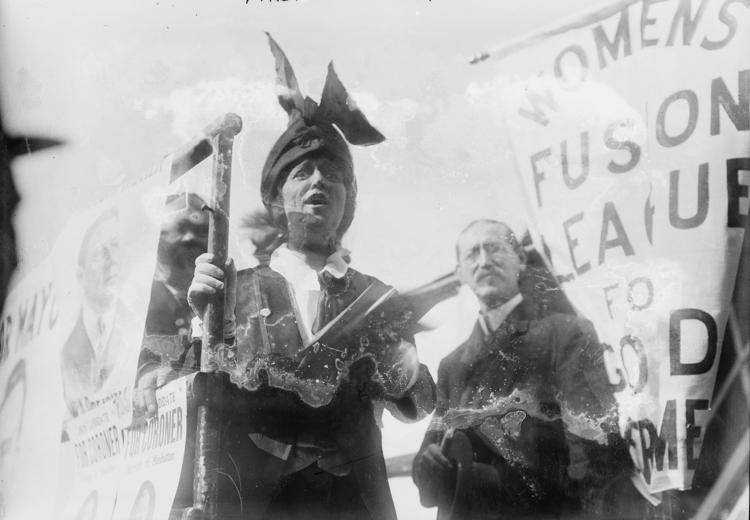 * Langhorne Gibson also chaired New York's branch of the Southern Women's Educational Alliance, which helped Southern girls get college educations.
* In 1929, she was elected the national publicity director of the Robert E. Lee Memorial Foundation and worked to acquire and restore Stratford Hall, Lee's Virginia birthplace in Westmoreland County.
* Late in the 1930s, the Gibsons spent their summers in Maine, entertaining friends and relatives. Those retreats ended on Dec. 23, 1944, when Charles Dana Gibson died at the couple's New York City residence of a heart problem.
* In 1951, at age 78, Langhorne Gibson moved back to Virginia, closer to Mirador, to a newly built cottage on the farm in Greenwood that belonged to her son, Lang, and his wife.
* There, after years of illness and gradual memory loss, Langhorne Gibson died on April 21, 1956. She was 82.