Power of the purse moves to Northern Virginia with Democratic takeover of the General Assembly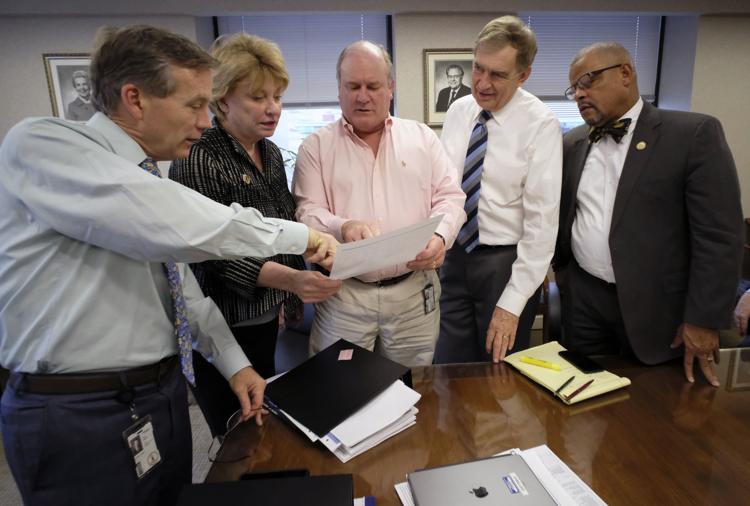 Northern Virginia will hold the purse strings on the state budget when the new General Assembly convenes in January.
The Democratic takeover of the House and Senate is likely to place senior leaders from Northern Virginia atop the so-called money committees that reshape the budget the governor proposes and set tax policy that determines the flow of revenue into the state treasury.
"Northern Virginia is now going to be controlling the money committees, no doubt about it," Secretary of Finance Aubrey Layne said on Wednesday. "It's a new day."
Sen. Janet Howell, D-Fairfax, second in seniority only to soon-to-be Senate Majority Leader Dick Saslaw, D-Fairfax, will become chairwoman of the Senate Finance Committee.
Del. Luke Torian, D-Prince William, as senior Democrat on the House Appropriations Committee, would be first in line to become chairman and succeed Del. Chris Jones, R-Suffolk, who was defeated Tuesday. If Torian were to become speaker of the House of Delegates, as he hopes, Del. Mark Sickles, another Fairfax Democrat, would be next to chair Appropriations.
Del. Vivian Watts, D-Fairfax, is the senior Democrat on the House Finance Committee, which would play a key role if Democrats try to revise the tax reform package adopted this year under Republican control.
More than half of the House Democrats — 30 members — will represent parts of Planning District 8, encompassing Northern Virginia and its outer suburbs, Sickles said. "So there you go!"
However, Democrats from outside of Northern Virginia already are pushing back on the potential political dominance of the highly populated and economically vibrant region in the suburbs surrounding Washington.
"If you're outside of Northern Virginia, will you be heard? Will you have influence?" asked Del. Lashrecse Aird, D-Petersburg, who is vying with Torian and two other Fairfax Democrats, House Minority Leader Eileen Filler-Corn and Del. Ken Plum, to succeed House Speaker Kirk Cox, R-Colonial Heights.
"There are people who are skeptical of an all-NOVA party structure," Aird said in an interview a few days before the elections on Tuesday flipped the legislature to Democrats.
Hampton Roads stands to lose the most influence on budget policy with the loss of Jones, who has chaired Appropriations for six years and put his stamp on the budget by expanding Medicaid, boosting behavioral health treatment and jump-starting higher education research in commercially promising technologies.
"It's a loss, not just for us, but for the state," said John "Dubby" Wynne, a retired Norfolk businessman who formerly led the GO Virginia economic development and state research initiatives.
Hampton Roads also will lose some influence when Senate Majority Leader Tommy Norment, R-James City, steps down as co-chairman of Senate Finance, as well as with the retirement of Sen. Frank Wagner, R-Virginia Beach, who had been a ranking member of the committee.
In the Senate, Howell will become the sole occupant of a committee chair now shared by Norment and Sen. Emmett Hanger, R-Augusta, a moderate who tends to side with Democrats on health care issues.
"I find her to be a very evenhanded, great person," said Wynne, who worked closely with Howell on GO Virginia. "She's a statewide figure."
Howell said Wednesday that she plans to give Republicans just as many seats on the Finance Committee as they gave Democrats — five of 15.
She also plans to shift the committee's funding priorities, especially for education, from prekindergarten to colleges and universities.
Howell pledged to raise teacher salaries "as least to the national average — that amounts to a hefty lift."
She also wants to improve state funding not only for George Mason University in Fairfax, which lags behind other public doctoral institutions, but also Virginia Commonwealth University in Richmond and Old Dominion University in Norfolk.
Those institutions lack the deep endowments and donor bases of flagship universities, such as the University of Virginia, Virginia Tech and the College of William & Mary, but they enroll many students who come from lower-income families and diverse communities, she said.
"I plan to tilt in their direction," Howell said.
In the House, committee assignments will depend on who becomes the next speaker, although traditionally, committee seniority determines who moves to the top.
"I'm a believer in the seniority system," said Sickles, who supports Torian as chairman of Appropriations. "I think he would be a good chairman."
Sickles, as either No. 1 or 2 on Appropriations, agrees the state should raise its funding for George Mason at least to the level of VCU.
He also wants to give more structural flexibility to Northern Virginia Community College, by far the largest member of the Virginia Community College System. "They're a fish out of water," he said.
Torian, in contrast, is circumspect about pushing priorities for Northern Virginia.
"It's not so much regional, as it is we come to serve the benefit of the whole commonwealth," he said.
Plum, who has served a total of 40 years in the House, said he expects Democrats to focus on equity in spending across the state.
"With Democrats taking control of the House, I think you're going to see more of an emphasis on equity in the budget than just equality," he said, citing a need to give "a boost" to historically black colleges and universities across Virginia.
"While there is a shift in control in the legislature, I don't think you're going to see us back away from state goals," Plum said. "You can't have a state that's half-successful and half-unsuccessful."