Jury acquits Emporia mother in hot-car infant death. No charges in deaths of Chesterfield twins.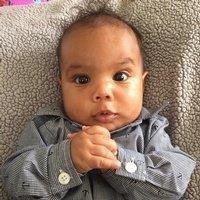 Blondia Curry was exhausted. She had spent several days in the hospital with her daughter, who collapsed suddenly from diabetes, and was scrambling to find a replacement babysitter for one of her three other children so she could go to her second job as an assistant manager for Domino's Pizza.
In the tumult of trying to sort things out, the single mother from Emporia made a tragic error. She arrived for work on time but forgot that her youngest child, Dameer Curry, just 6 months old, was still in the back seat.
It wasn't until five hours later, after finishing her busy Friday evening shift without a break, that Curry, 31, made the grim discovery: Dameer was dead outside the restaurant where she worked.
"She brought the baby back in the store and was screaming and crying," said Graven Craig, her attorney. "It's heartbreaking. She'll never live another day of her life without thinking about what happened."
Apparently taking into account the tragic circumstances, a Greensville County jury recently determined that Curry was not criminally negligent and found her not guilty of involuntary manslaughter in the Aug. 10, 2018, death, after deliberating for less than an hour.
Circuit Judge W. Allan Sharrett threw out a companion charge of child neglect after ruling there was no evidence that Curry's conduct was willful, the legal standard for a conviction.
The hot-car death was one of four last year in Virginia, with the others occurring over a three-month span in Chesterfield and Goochland counties. A fifth child died this summer in Richmond.
In the Chesterfield case, the commonwealth attorney's office declined to prosecute the parents of 5-month-old twins, a boy and a girl whose identifies have not been disclosed. They died after they unintentionally were left inside their family's overheated SUV at The Maisonette Apartments off Jefferson Davis Highway on May 10, 2018.
And in the Goochland death, a judge in December found the father of 17-month-old Riaan Gondesi guilty of misdemeanor child neglect in his son's death on Aug. 8, 2018. Aditya Gondesi inadvertently left the toddler in his vehicle in a parking garage that day before going to work at the Capital One campus in the West Creek Business Park. He forgot to drop his son off at day care.
Another suspected hot-car death occurred July 16 of this year in Richmond, when police pulled a 10-month-old girl strapped in a car seat from a vehicle in the 4600 block of Britannia Road in South Side. An investigation is ongoing and police are waiting for the state medical examiner's office to determine the child's cause and manner of death, said Richmond police spokesman James Mercante. No charges have been filed.
KidsAndCars, a national nonprofit organization that tracks the deaths of children in and around cars, has listed the girl's death as heat-related — the only one in Virginia so far this year.
On Wednesday, as U.S. lawmakers have been considering whether to make mandatory a system in vehicles to remind motorists of passengers in the back seat, an alliance of major automakers announced an agreement to equip all new cars and trucks by 2025 with rear-seat alert systems.
At Curry's recent trial, Craig explained to the jury that a "trio of bad circumstances" led to the death of Dameer.
"There's no question that she forgot," Craig said of his client. "None of the prosecution's evidence contradicted any of our evidence. But the question is whether it was criminal negligence or simple negligence."
According to Craig's case, Curry's oldest child, a daughter, collapsed in a park on Aug. 7, 2018 — just three days before Dameer was left in the car. Physicians determined the girl was diabetic. Curry spent the next 2½ days in the hospital with her daughter and was scrambling to buy special food and learn how to administer insulin shots.
Curry had to take several days off from her job at Domino's, and asked to take another day but was told she'd lose her job if she didn't come to work, Craig said. So she lined up day care — three different babysitters for her four children.
But those plans blew up when, as she was driving to drop off the kids at various locations, Curry received a call from the imprisoned father of one of the children. The father "canceled" the day care services that his mother had planned to provide for the child "for no other reason than to be difficult," Craig said.
Frantic, Curry began calling for a replacement and arranged for one of her other babysitters to watch that child. She dropped off her eldest children with that sitter.
"Her routine was that she went in a certain order with the babysitters, and [Dameer] is usually the first one that's dropped off," the attorney said.
Curry was heading to Dameer's sitter when she received a call from a friend to discuss Curry's newly diabetic child. The prosecution and defense agreed in a stipulation of evidence that Curry was talking with her friend "all the way until she got to work," Craig said.
The combination of events resulted in Curry forgetting that Dameer was still strapped into his child seat in the rear of the car, Craig said.
After arriving at 4:02 p.m., Curry worked continuously without a break for the next five hours, Craig said.
She was asked to stay late but declined, saying she needed to pick up her children. "It was at that point she realized, 'Oh my gosh, my baby's in the car,'" Craig said.
After Curry rushed her overheated child into Domino's, a customer performed CPR to try to revive the child, but it was too late.
While the circumstances are unfortunate, Greensville Commonwealth's Attorney Patricia Watson said that the "crux of the matter" is that Curry went to work and left her child behind.
Dameer's body core temperature when he arrived at Southside Regional Medical Center's emergency room was over 109 degrees, "which is as high as the thermometer goes," Watson said.
The outside temperature was 92 degrees at 4 p.m. that day in an unshaded parking lot, Watson said, and Curry's car windows were rolled up.
"It all boils down to her leaving the baby in the car for five hours, without ever thinking once about the child," the prosecutor said.
Like the Emporia case, the deaths of the Chesterfield twins resulted from a series of unfortunate circumstances.
The parents worked opposite shifts at a Waffle House, and at 8 a.m. the mother drove with the twins to the restaurant, where the father had worked a double shift. Upon arrival, the mother prepared to begin her shift and the father got in the SUV to drive home, said Chesterfield prosecutor Kelly Cotting, who reviewed the case.
The parents had discussion between themselves as to a neighbor/babysitter helping with their children — including their 3-year-old daughter — and that led the father to mistakenly believe that all three of their children were with the babysitter, Cotting said.
When the father arrived home about 8:30, he checked the twins' room and saw lumps and blankets in their crib, which led him to believe they were sleeping. He then went to sleep himself.
About 2 p.m., when it was time for the father to get the mother from work, he realized the babies were in the car. He performed mouth-to-mouth resuscitation, tried to cool them down and called 911, Cotting said. Both infants died of hyperthermia; the prosecutor's office ruled the deaths to be accidental and no charges were filed.