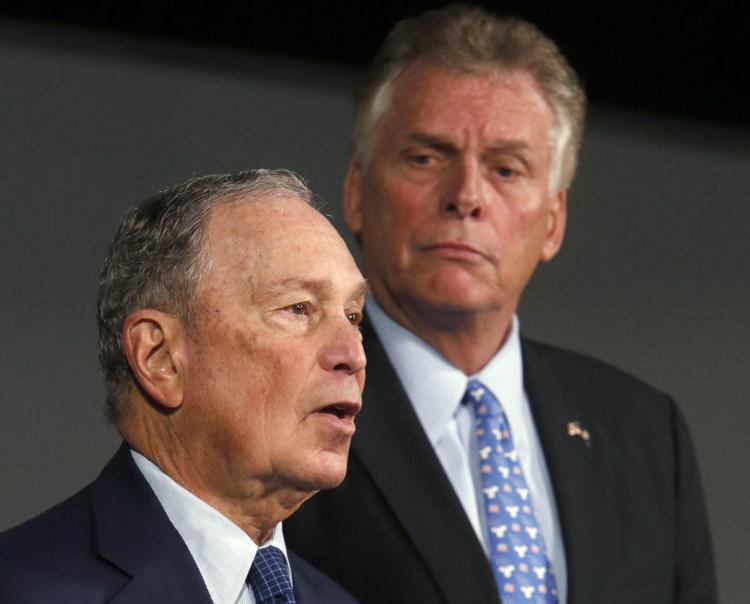 With less than three weeks until Super Tuesday, Democratic presidential candidates are ramping up their operations in Virginia.
Up for grabs are the state's 124 delegates, which are part of the 1,357 that are set to be awarded on March 3, when Virginia is one of 14 states going to the polls.
No candidate is relying on a strong performance on Super Tuesday — and in Virginia — more than former New York City Mayor Mike Bloomberg. While other candidates have focused on the early primary and caucus states, Bloomberg is pouring money into states with large numbers of delegates, including Virginia, many of which vote on March 3.
Nevada will hold its caucuses on Feb. 22, and South Carolina will have its primary on Feb. 29, three days before Super Tuesday.
"With less than 30 days remaining until Virginia's Super Tuesday primary, we are confident that our campaign in Virginia is in a prime position to secure a significant delegate count here," said Melissa Gallahan, Bloomberg's Virginia state director, in a memo distributed Wednesday.
Bloomberg's push underscores the uncertainty of Virginia's primary as he vies in the party's clogged center lane with Pete Buttigieg, Amy Klobuchar and Joe Biden. Bernie Sanders, Elizabeth Warren and Tom Steyer also are competing in Virginia.
Of Virginia's 124 delegates, 99 are pledged, meaning they are chosen to represent a certain candidate, while 25 are unpledged, meaning they are not required to pledge their support to any candidate. In Virginia, that group consists of 14 from the Democratic National Committee, the nine Democrats in Virginia's congressional delegation, Gov. Ralph Northam and former Gov. Terry McAuliffe, a past DNC chairman.
Bloomberg
Virginia's voters do not register by party. The state will hold an "open primary" on Super Tuesday and any registered voter can cast a ballot. That means Bloomberg, who ran for mayor of New York as a Republican, has a chance to appeal to a broader coalition in Virginia, including independents and moderate Republicans.
McAuliffe, who held a fundraiser for Biden in November at his Fairfax home, appeared with Bloomberg in Richmond in early January ahead of the General Assembly session, urging lawmakers to pass gun control measures. Bloomberg, who donated to McAuliffe's campaign for governor in 2013, has since been a key donor to Virginia Democrats, particularly backing candidates who support gun control.
Bloomberg, who launched his campaign in Norfolk, has the largest Virginia staff of the eight Democrats still running — with roughly 80 staffers. The billionaire has opened offices in Arlington, Charlottesville and Roanoke, with office openings in Danville and Manassas planned for Friday, and a Richmond opening set for Saturday.
Bloomberg is scheduled to speak Saturday at the Democratic Party of Virginia's Blue Commonwealth Gala, the party's largest fundraising event of the year. He's also set to appear at a campaign event at Richmond's Hardywood Park Craft Brewery at 5:30 p.m.
"I launched my campaign for president in Norfolk for a simple reason: To defeat Donald Trump in November, we need to beat him in swing states like Virginia," Bloomberg said in a statement. "In 2019, I was glad to help Democrats take full control of the Virginia legislature for the first time in 26 years — and we'll use the same blueprint to win in 2020."
He added: "Our plan to unite and rebuild America starts with keeping the commonwealth blue and I look forward to talking more about our vision for the country on the Democratic Party of Virginia's big night."
Biden
Joining Bloomberg on Saturday at the gala will be Valerie Biden Owens, the former vice president's sister and longtime adviser. Biden Owens is scheduled to speak after launching the Virginia part of the former vice president's "Soul of the Nation Early Vote Kickoff Tour" in Newport News earlier in the day.
Biden, who is coming off disappointing performances in Iowa and New Hampshire, has been endorsed by Richmond Mayor Levar Stoney and Reps. Donald McEachin, D-4th, and Elaine Luria, D-2nd, among others.
Biden's press office did not return a request Thursday for the campaign's staffing levels and plans for Virginia offices.
Sanders
Sanders has emerged as a front-runner in the Democrats' nominating contest after winning New Hampshire outright and winning the popular vote in the trouble-ridden Iowa caucuses. Hillary Clinton easily beat Sanders in Virginia's 2016 Democratic primary with 64.3% of the vote, to 35.2% for Sanders and 0.5% for Martin O'Malley.
Bill Neidhardt, Sanders' Virginia state director after serving as the campaign's deputy state director in Iowa, said Thursday that the campaign plans on relying on committed volunteers in Virginia, as it did in other states.
"That was our strength in Iowa. That was our strength in New Hampshire," he said. "It's even stronger here."
Neidhardt said members of a group of roughly 60 volunteers are holding at least one campaign event every week and have held upward of 1,000 events to date — even before Virginia and Super Tuesday states have come into the spotlight.
"You have this state where our volunteer network has been doing so much of this work on their own," he said.
Six Sanders staff members who worked in Iowa for the senator have come to Virginia, Neidhardt said, with plans for offices in Norfolk, Richmond, Charlottesville and Northern Virginia.
Among the issues the campaign plans on highlighting in Virginia: workers' rights.
Last year, anti-poverty group Oxfam America cited the right-to-work law in naming Virginia the worst state for workers. Lawmakers chose not to repeal the law this year. A bill to allow public sector employees to collectively bargain is still on the table, having been approved by the House of Delegates.
Buttigieg
The campaign for Buttigieg, the former mayor of South Bend, Ind., on Thursday announced plans to have staff in Virginia and every Super Tuesday state starting Monday. The campaigned already has chapters of Students for Pete at the University of Virginia, the University of Mary Washington and George Mason University
"To compete in all the states on Super Tuesday, you need a massive network of grassroots volunteers," said Samantha Steelman, the campaign's organizing director for Super Tuesday states, in a statement. "For months, we have had a team that has been building that organization by harnessing the energy and grassroots momentum behind Pete and turning it into real organizing work."
Steelman added: "This ramp-up will provide more staff and resources to train, resource, and guide our 25,000 volunteers in Super Tuesday states that will push our campaign across the finish line on March 3rd."
Buttigieg is scheduled to hold a town hall in Fairfax County on Feb. 23.
Klobuchar, Warren
A spokesman for Sen. Amy Klobuchar of Minnesota said her campaign is planning to "continue ramping up operations" in Virginia and other states after finishing in third place in New Hampshire.
Massachusetts Sen. Elizabeth Warren, who finished third in Iowa and fourth in New Hampshire, spoke in Arlington on Thursday. Warren campaign manager Roger Lau expressed optimism about Super Tuesday in a memo this week.
"We're confident in our plan and our path because we know the truth at the heart of the nomination process: no amount of spin and hyperventilation can change the delegate math, and no amount of money can buy a candidate his way back into this race if he can't play for serious delegates on Super Tuesday," Lau wrote.
During the event in Arlington Warren picked up endorsements from Dels. Kathy Tran, D-Fairfax, and Sally Hudson, D-Charlottesville. Warren was endorsed in January by Del. Sam Rasoul, D-Roanoke.
The campaign for Rep. Tulsi Gabbard of Hawaii did not return a request for details on its Virginia operation.
Steyer
Steyer, a billionaire activist, has in recent years spent millions to back Democratic candidates in Virginia who support green initiatives. His campaign announced Thursday that it has set up its Virginia headquarters in Arlington with a team of 10 staffers.
"Tom's been organizing in Virginia for years and his grassroots organizations played a crucial role helping turn Virginia blue in past elections," said Krys White, Virginia state director for Steyer, in a statement.
"We know what it takes to compete in this state. We have a senior team on the ground and the ability to upscale quickly to capitalize on the momentum our campaign is seeing with diverse coalitions in Nevada and South Carolina through to Super Tuesday."