More than 200 casings recovered from Richmond yard where woman was accidentally shot New Year's Day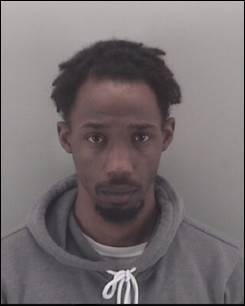 More than 200 spent cartridge casings were recovered from the backyard of a North Richmond home where a woman was accidentally shot just minutes into the new year, according to prosecutors in the case.
La-tiyah S. Hood, 28, spent New Year's Eve with a group at a home in the 2500 block of North Avenue. Law enforcement officials believe the people in the group were in the backyard when they rang in the new year, with some of them firing loaded weapons into the air.
Hood was not among those shooting, according to Assistant Commonwealth's Attorney Alison Martin. Martin wouldn't say the number of guns or people involved, but said "there is a lot of brass found in that backyard."
From the scene, forensic detectives collected 65 .40-caliber casings, 53 9 mm casings, 35 .380-caliber casings, 53 .223-caliber casings, 17 5.7×28 mm casings and one .45-caliber casing. Various other ammunition and magazines also were found.
It was after the "celebratory gunfire" had stopped, around 12:13 a.m. on Jan. 1, that Hood was shot, Martin said.
According to Martin, one man was attempting to clear what he thought was an empty gun when it discharged and struck Hood. She was taken to a hospital, where she died, marking Richmond's first shooting death of 2020. Last year ended with 66 people slain in the city; 91% of them died of gunshot wounds.
Mateen B. Johnson, 25, of the 7600 block of Portadown Court in Henrico County, has been charged with involuntary manslaughter.
Martin stressed that Hood's death was not considered murder in the eyes of the law, but an accidental shooting.
"He was extraordinarily reckless in the handling of his firearm," she said. Additional charges are expected.
Johnson does not yet have an attorney, according to court records, but is due in General District Court on Jan. 16, when he will be assigned one.
In March 2017, Johnson was found guilty of possessing an assault weapon and a concealed handgun, both misdemeanors, and received no active jail time, online court records show. A week later, he was charged with having a concealed weapon and given a month in jail.
Hood's is the first death involving celebratory gunfire in Richmond in years, according to longtime homicide prosecutor Learned Barry.
Every year, before New Year's and July 4, the region's police departments issue warnings about indiscriminately shooting into the air, invoking the name of Brendon Mackey, a 7-year-old Chesterfield County boy killed accidentally by gunfire at a fireworks show in Brandermill on July 4, 2013. A law bearing his name passed the following year to deter people from firing guns in celebration, and to stiffen the punishment to a felony conviction for those who carelessly discharge weapons and severely hurt a bystander.
Richmond Police Chief William Smith said that the night Hood was killed, he heard "literally thousands of rounds being fired to 'celebrate' the new year."
"It does go back to some underlying issues we have in the community, which is the use of the firearm in a reckless or dangerous manner, or to utilize it to settle an argument is looked at as acceptable by a lot of our young people," Smith said.
There were no other reports of injuries or structures hit by random gunfire, or promiscuous gunfire, as the city's department calls it formally. But there were five reports of cars being struck by bullets that night; four of those were within 2 miles of Hood's death.
Henrico police investigated a stray round that struck through the sunroof of a ride-share car as it was being driven east on Interstate 64 just after midnight Jan. 1.
A home was apparently struck in the 2800 block of Avalon Heights Road in Chesterfield, police there said.
No one was injured in either of those incidents, the departments said. Hanover County authorities had no reports of celebratory gunfire.
The casings, as opposed to the bullets, recovered from the North Avenue yard in Richmond are the best forensic link to the weapons that fired them because they bear the unique markings of the guns' barrels, Martin said.
But it begs the question: Where are the bullets?
"That's the issue of community concern," Martin said. "Everything that goes up, must go down. It is extraordinarily dangerous for the community."
Yet it happens every New Year's Eve, law enforcement officials said.
"That feels as though the city of Richmond has been extraordinarily lucky" not to have had another death, Martin said.