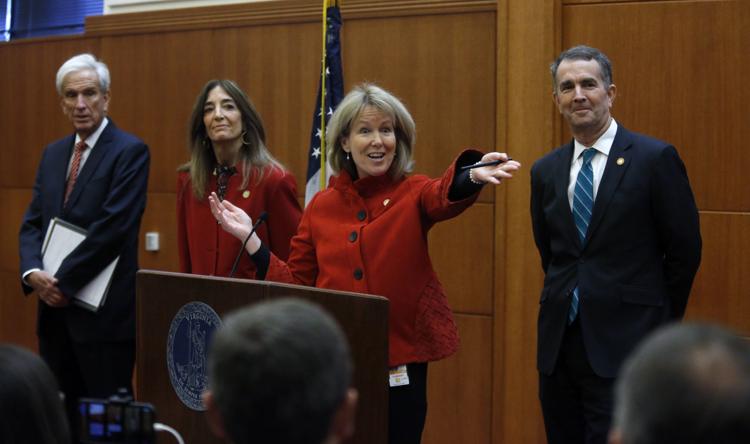 A sweeping transportation funding and safety package proposed by Gov. Ralph Northam has found the fast lane in the House of Delegates.
A House transportation subcommittee endorsed the package on Monday after revising the legislation with a compromise that would require auto safety inspections every two years instead of cutting the annual state inspections entirely. The vote was 6-2, with Dels. Dave LaRock, R-Loudoun, and Jason Miyares, R-Virginia Beach, opposed.
House Bill 1414, sponsored by Speaker Eileen Filler-Corn, D-Fairfax, will go before the full House Transportation Committee early Tuesday. If the committee approves it, the measure will move next to the House Appropriations Committee for review of its implications for the state budget.
"Help is now on the way!" Filler-Corn said in a pep rally with Northam and Senate Majority Leader Dick Saslaw, D-Fairfax, on Monday to tout the relief from traffic congestion that they said the package would provide.
The heart of the bill is a proposal to increase the state gas tax by 12 cents per gallon over three years and then tie it to the rate of inflation rather than the wholesale price of fuel. The administration regards the plan as crucial to sustaining revenues for transportation improvements while Virginia seeks a long-term replacement of fuel tax revenues that diminish as vehicles become more efficient or cease to use gasoline or diesel entirely.
The governor has pitched the plan as a way to shift more of the funding burden to out-of-state drivers, while helping Virginians by cutting vehicle registration fees in half and, originally, eliminating inspections.
At the same time, the package would finance the state's share of a $3.7 billion deal with CSX and Amtrak that would give Virginia control of track and right of way for expanding passenger rail service that is predicted to double between Richmond and Washington over the next decade.
"When we get all this done, it will probably be the most successful transportation package we've had in almost 40 years," Saslaw predicted at the rally.
However, Northam's proposal to eliminate state vehicle safety inspections ran into fierce opposition from law enforcement, automobile dealers and repair businesses, vehicle insurance agents, and retail gasoline marketers.
The governor said earlier that his proposal was "alive and well," but Subcommittee Chairman Jay Jones, D-Norfolk, quickly tried to blunt opposition by changing the inspection requirement to every 24 months instead of 12 and merging it into the omnibus bill instead of separate legislation that would be easier to kill.
Opponents acknowledged the concession but remained opposed.
"One year is safest," said former Virginia State Police Superintendent Wayne Huggins, now executive director of the Virginia State Police Association.
Bruce Keeney, lobbyist for the Virginia Gasoline Marketers Association, said the program flunked 1 in every 5 vehicles inspected in 2018 for major safety defects, such as bad steering and worn brake pads and tires.
Keeney warned that eliminating or reducing the requirement would cause motorists ultimately to pay more, while hurting businesses that conduct the inspections and make repairs. "You are talking about 17,000 jobs at risk," he said.
Billy Duffy, owner of Duffy's Repair Service in Ashland, predicted that if the state changes the annual requirement, "you're going to see a lot more fatalities on our highways."
State transportation officials say that isn't true. They cited a study by the National Highway Traffic Safety Administration that found 94% of traffic fatalities are caused by distracted or inebriated drivers and failure to wear seat belts — key safety features of the legislation.
"This legislation addresses the big issues that are driving fatalities and injuries on our highways in the commonwealth," Deputy Transportation Secretary Nick Donohue said.
The bill would make failure to wear a seat belt a primary traffic offense, which means a driver could be cited for that alone. The measure also would prohibit open containers of alcohol for passengers as well as the driver, and ban the hand-held use of cellphones or other mobile devices. Separately, the subcommittee voted unanimously to approve House Bill 874, proposed by Del. Jeff Bourne, D-Richmond, to outlaw drivers from holding phones in moving vehicles.
The omnibus legislation also would allow use of speed-monitoring cameras in designated highway safety zones, including the overlap of interstates 95 and 64 in Richmond. The system would allow ticketing of drivers who exceed the speed limit by more than 10 miles per hour, although the violations wouldn't count on their driving records.
The only other public concern raised over the transportation package came from environmental groups and electric car manufacturers, who oppose Northam's proposal to impose a user fee on owners of high-efficiency or alternative-fuel vehicles to compensate for paying less in gas taxes.
The issue is tricky for environmental groups, which strongly support the governor's proposals for boosting passenger rail and mass transit service in Richmond and other parts of the state.
"There is a lot of good stuff in this bill," Trip Pollard, an attorney for the Southern Environmental Law Center, said in an interview.
However, Pollard added, "We really think it sends the wrong signal on climate" by discouraging purchase of electric and high-efficiency vehicles that emit less carbon pollution linked to climate change.
Northam agrees with efforts to make vehicles more efficient and less dirty, but he also thinks that all drivers should pay their share of the cost of building and repairing the roads they use.
He said the proposed investments in rail and mass transit represent the best way to reduce traffic congestion and the pollution that comes with it.
"We can get more people using passenger rail and off our roads," he said.