Aird focuses on new House district - not rise in leadership - as long-shot challenger sees chance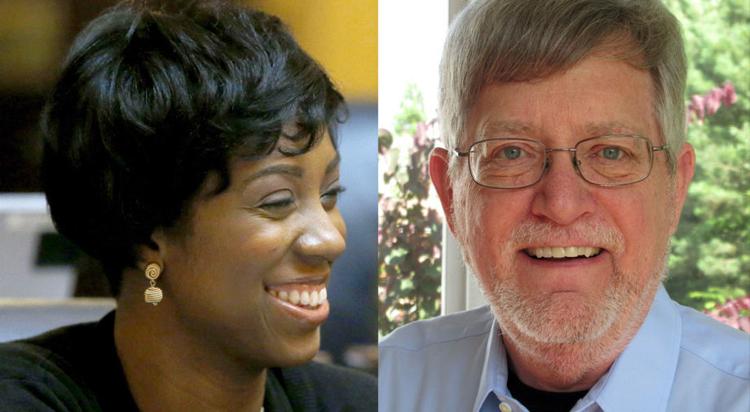 Del. Lashrecse Aird, D-Petersburg, knows she can't afford to look ahead to a potential Democratic takeover of the House of Delegates and a potential leadership role.
Aird said she has to pay attention first to a transformed district — with almost one-third of its voters in southwestern Chesterfield County — and an independent challenger, Larry Haake, who's lightly financed but well-known after 22 years as the county's general registrar.
"They want to know you're going to be there for them on local issues that they can feel, touch, see," she said in an interview in Petersburg, her home base in a district that now also includes all of Dinwiddie County and five precincts in Chesterfield County.
But Aird, 33, a member of the Appropriations Committee, also has been widely seen as a rising star since her first election four years ago to a House that was two-thirds Republican before an electoral tidal wave flipped 15 seats to Democrats in 2017. Now, Democrats have high hopes of taking control of the House in elections on Tuesday.
"I think I'll have a lot to say after Election Day," she said.
For Haake, 68, the biggest question, even in his own mind, is: "Why am I doing this at all?" He had retired as registrar two years ago after a career that also included 16 years as a Richmond police officer.
The answer arrived with the new voter card Haake received just before Memorial Day that showed his home in the Collington neighborhood of Midlothian as part of the 63rd House District.
"They changed our district!" he remembers exclaiming.
A successful Democratic legal challenge of the House electoral map legislators adopted in 2011 triggered a redistricting this year that moved Haake and other southwestern Chesterfield residents into the 63rd, while taking away two precincts in Matoaca. The new map also added Dinwiddie, while removing parts of Hopewell and Prince George County. The 63rd covers all of Petersburg.
"I felt compelled to do something," he said.
The changed boundaries made the 63rd nearly 26 percentage points more Republican, according to the Virginia Public Access Project. But that might not be decisive in a district Democrats have held since 1983. Republicans have not fielded a candidate for the seat since 1995, according to the Department of Elections.
Haake also said he was concerned about the quality of Aird's representation, based on complaints he said he had heard as registrar from residents of the Matoaca precincts that she no longer represents.
"I'm going to be an advocate for local government," he said.
It's an uphill climb, concedes Haake, who is financing his campaign primarily with a $6,000 loan and donations from himself and his wife, Rose.
By Oct. 24, Aird had raised $302,476, receiving $50,000 from Charlottesville financier Michael Bills and $10,000 from Bills' wife, Sonjia Smith. Aird had more than $48,000 left in the bank.
Haake had raised $23,426 and had about $3,000 on hand as of Oct. 24.
The district has voted solidly Democratic in every statewide election since 2013, but Haake said Democrats are open to supporting an independent — not a Republican. He also hopes to take advantage of the skeptical mood of Petersburg voters who tossed Sen. Rosalyn Dance, D-Petersburg, out of office in a June Democratic primary battle with former Del. Joe Morrissey.
Aird worked as a legislative liaison for Dance, who also had represented the 63rd District in the House before moving to the Senate, but she makes clear that her record stands on its own.
"I have deliberately tried to create a brand of my own," she said.
Aird questions Haake's grasp of state policy issues beyond better state funding of local government — beginning with local elections offices — grants for police and an approach to public education that emphasizes training in trade skills rather than standardized tests.
She holds a coveted seat on Appropriations, as well as its health and education subcommittees. Her other committee assignments include General Laws — including its alcohol and gaming subcommittee — and Health, Welfare and Institutions.
Aird also handles weighty assignments on legislative commissions that tackle some of the state's biggest challenges — fiscal stress for localities such as Petersburg, the competitiveness of higher education and fixing the state's troubled behavioral health system, which she rates as one of her top priorities.
If Democrats take control of the House, they will have the opportunity to act on long-held priorities, such as raising the minimum wage and measures to reduce gun violence, which has become all too familiar in Petersburg, she said.
However, Aird said Democrats also should take a balanced approach to pocketbook issues by continuing to build rather than spend the state's reserves. A new taxpayer relief fund, devised by the assembly's Republican majority as an election-year response to an unexpected windfall from federal tax changes, is "very different," she said. "That's all game."
She regards it as "presumptive" for Democrats to focus on the House leadership if they win control, but made clear that "leadership elections will be contested."
As for her own prospects for a leadership position in a Democratic-controlled chamber, Aird said, "I think I have the capacity."