NAACP leaders in NOVA, Hampton Roads, pressure Northam to deliver on reconciliation promises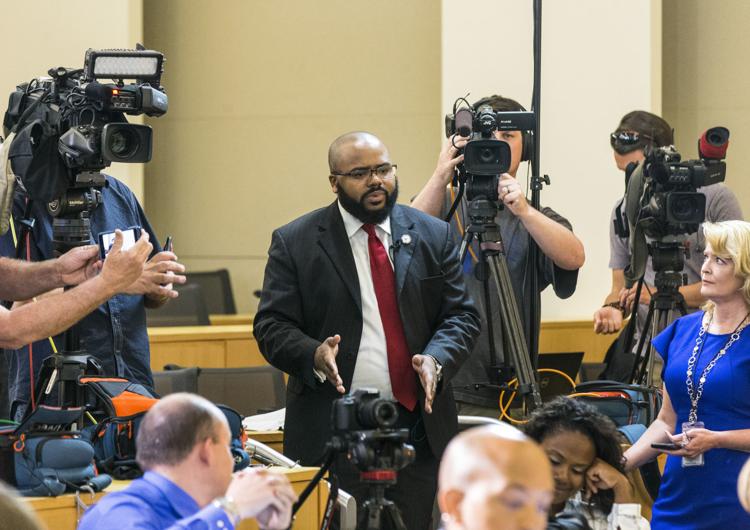 Four months after a racist photo plunged Gov. Ralph Northam and state Democrats into chaos, the silence that has befallen elected leaders on the left has J.D. Spain troubled.
Insofar as they're willing to comment, Democratic leaders and members of the Virginia Legislative Black Caucus say they're ready to partner with Northam to address systemic racism in the state in education, health care and criminal justice.
With few answers about the origins of the photo on Northam's 1984 medical school yearbook page, some Democrats point to polls showing a majority of Virginians want the governor to remain in office. Calls for his resignation remain up in the air, undisturbed.
But Spain, president of the Arlington County NAACP, is part of a contingent of NAACP leaders in Northern Virginia and Hampton Roads who want to see Northam further engage their communities and more overtly address systemic racism in the state. A smaller subset is threatening protests.
"Here we are in May, and the governor has spoken with a few people in the NAACP, elected leaders, trying to do this outreach effort, saying 'Hey, I'm really a good person,' " Spain said. "But he lied to the public, and has declined to speak honestly and candidly about his past with the community."
The groups represent some of the last bastions of vocal criticism toward Northam in a state that just a few months ago saw the governor's administration pushed to the brink by widespread calls for his resignation.
Northam's trip to NSU
Northam met with some of those leaders at a private event Friday at Norfolk State University that included local NAACP officers and other influential African American figures from the surrounding cities, according to three people who were invited.
Karen Pruden, president of the Virginia Beach NAACP, said she was happy to see Northam "out and about," speaking with African American leaders, and "continuing to do the business of the governor's office."
Pruden said Northam engaged the room of about 20 or so leaders in conversations about maternal mortality among black women, rights restoration for felons and education, among other issues.
Two other local NAACP leaders had different takeaways.
"He did not come today with substantive policy initiatives; he did not," said James Boyd, the president of the Portsmouth NAACP. He said Northam discussed issues relevant to black communities but did not pitch any specific plans. Boyd said he disliked what he saw as an opportunity for Northam to take photos with local black leaders.
"It was just a PR campaign," he said.
Boyd, who interrupted a May 22 news conference at Eastern Virginia Medical School to criticize Northam and a McGuireWoods investigation into the yearbook photo, said he is dissatisfied with what he has seen from Northam since the photo surfaced. He said he asked Northam to resign during Friday's gathering.
Joe Dillard, president of the Norfolk NAACP, said that except for Boyd, the gathering was not a protest of Northam. He said that like other African American leaders, he hopes Northam can deliver on his equity promises — though he hasn't seen much yet.
"He's behaving as any other Democrat who was governor, who promised African Americans 'blah blah,' " Dillard said after the event. "I haven't seen Northam do anything that says he's really trying to reconcile the commonwealth. I can't personally say I've seen that."
Dillard added that he hopes the upcoming two-year state budget that Northam will propose in December will show a purposeful approach to equity.
Northam's office did not respond to a request for comment about the event in Norfolk, which was not included in the governor's public schedule.
Call for Northam apology
The photo in question depicts one person in blackface and another in a Ku Klux Klan robe. It is one of four photos on Northam's page in the 1984 EVMS yearbook. An investigation into the photo's origins by McGuireWoods was inconclusive; investigators did reveal that leaders at the school knew about the photo's existence going back to at least 2013.
In Northern Virginia, local NAACP leaders say that lacking concrete evidence Northam is not in the photo, the governor should approach members of the community in a setting in which he would be vulnerable, ready with an apology.
Phillip Thompson, a member of the executive board of the Virginia NAACP and former Loudoun County branch president, said he would like to see Northam out in public, at a historically black college or university, for a public event to "explain his conduct, his background."
Spain, of the Arlington NAACP, said, "He hasn't been up here to talk to us or talk to the people about what went on," adding that no one in the administration has reached out to him, even as "Arlington is one of the most diverse districts in the commonwealth."
Kofi Annan, president of the Fairfax County NAACP and a vocal Northam critic, said Northam needs to "explain himself and apologize, let us know how he's grown from this. Anything else is disingenuous and just a stall tactic."
A protest Annan organized in April outside of a legislative fundraising event in Fairfax, pitched as Northam's return to the political circuit, led to Northam's appearance being canceled. (The governor's staff cited security concerns.)
"There are preliminary talks about protesting him at other venues, particularly if he shows up at 400-year anniversary events," Annan said, referring to the anniversary of the arrival of the first African people to U.S. territory at Point Comfort, Va.
The arrivals are sometimes referred to as the beginning of slavery in the United States.
"We don't think he has earned the right to show up at these types of events given his behavior that he has yet to explain," Annan said.
Annan is also circulating a petition asking candidates for local office to reject funding from Northam's PAC and deny him invitations to campaign events. So far, 17 candidates have signed the pledge, including Spain, who is challenging Del. Alfonso Lopez, D-Arlington, in a June 11 Democratic primary.
Thompson said in an earlier interview: "If [Northam] won't take care of this, the pressure is going to ratchet up."
Annan and Thompson said they have engaged Sen. Barbara Favola, D-Arlington, and Del. John Bell, D-Loudoun, in conversations about what Northam might do to bring reconciliation.
In a telephone interview, Favola acknowledged there are some in her district who are "still hurting" and "who want an explanation, some with a desire for moving forward."
"There's a great need for a personal touch from the governor," Favola said. "There is no substitute for a hands-on approach from the governor himself, to air their anger and hurt directly with the governor. Maybe they can talk about next steps after that."
Favola added that the broader conversation about healing "is going to be multiracial, not just African American."
"I'm hearing it should involve other minorities, Caucasians … a roundtable that is diverse but led by our African American brothers and sisters. My forefathers faced discrimination; we've all seen that to a lesser or greater degree," Favola said.
Bell declined a request for comment.
Differences in approach
The concerns highlighted by local NAACP leaders who spoke to the Richmond Times-Dispatch show a rift between community activists and the members of the Virginia Legislative Black Caucus and other elected Democrats, who say they would rather focus on policy wins.
Those calculations are happening in a critical election year for Democrats, who in November could take control of the legislature, cementing their control of state government. Republicans hold two-seat edges in the state House and in the Senate.
"He has decided that staying in office is the better course of action to effect change and I have accepted that," Favola said. "I'm hopeful that the governor can make some transformational changes, and I want to be part of the progress moving forward."
Chairman of the black caucus Del. Lamont Bagby, D-Henrico, declined to comment for this story, but said last month that he is less concerned about the origins of the photo than with progress on policy issues impacting African Americans in the state.
Annan, of the Fairfax NAACP, disagrees with the approach, saying that accountability for the pain of the photo and policy progress can happen at once.
"I have spoken to people in the black caucus who just feel like this isn't as important as dealing with policy, but I feel like we can walk and chew gum at the same time," Annan said. "I feel like we need to not brush this under the rug, or act like it didn't happen, just because the governor decided to stay in office."
Spain agreed, saying he is troubled by the sudden silence on the issue by Democrats who once called for Northam to resign.
"What I see in the black caucus is indecisive leadership and failure to have direction," Spain said. "They need to find their confidence because the people are watching."
As for the upcoming elections, he said that silence on the issue "says a lot about how valued the African American vote is."
For others, like Boyd of the Portsmouth NAACP, there is little Northam could do to fully regain his trust after the events that have transpired.
"Right now, there is no moral way that he can restore being a leader in the state," Boyd said. "There's a political way to do it, and he's doing it."