Northam says he would back redistricting amendment. Will it clear the House?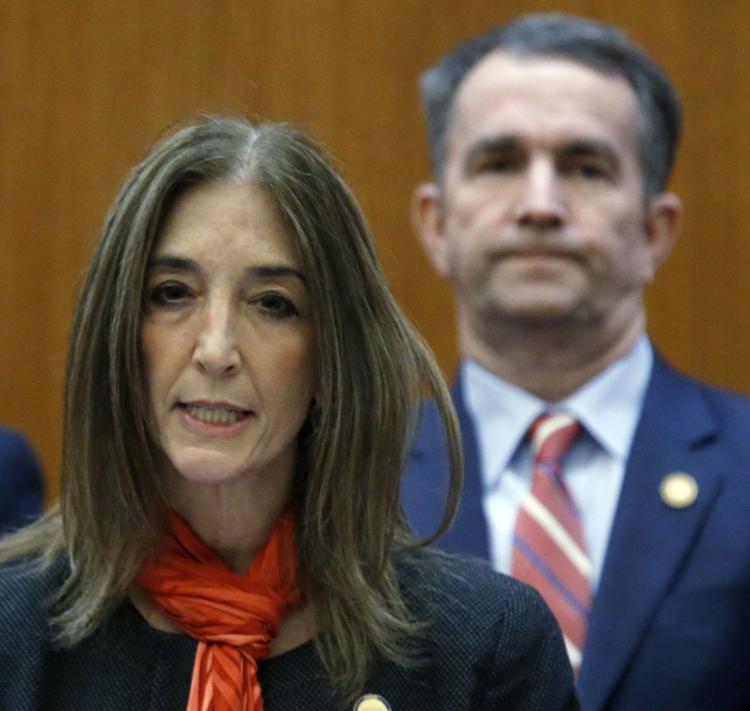 Democrats finally hold the power in Richmond, after being locked out for decades in part due to gerrymandering. How they'll exercise that power over Virginia's redistricting process could change the state's politicking for decades.
Lawmakers will convene in Richmond in January for a second and final look at a proposed constitutional amendment that would shift power over the drawing of legislative and congressional districts from the General Assembly to a 16-member commission of legislators and citizens.
Gov. Ralph Northam said in an interview that he would support the measure if it clears the legislature. Incoming Senate Majority Leader Dick Saslaw, D-Fairfax, says he would back it, but incoming Speaker of the House Eileen Filler-Corn, D-Fairfax, would not go as far.
The amendment cleared its first hurdle this year with bipartisan support in a GOP-controlled General Assembly, when advocates pushed for reforms they say would result in more fair, equitable elections for both parties. If the amendment passes again in its current form, it would then go to state voters in a referendum. If voters back the referendum, the amendment would become law in 2021. The governor would have to sign enabling legislation.
As Democrats head into the 2020 legislative session, the amendments' chances rest on whether Democrats decide to relinquish some of their hard-fought power or walk back support of the reform.
"You're likely to see some protest from Democratic activists, on the notion that after the GOP controlled the General Assembly and drew the maps, it's only fair for Democrats to be able to do the same thing this time," said John McGlennon, a policy professor at the College of William & Mary.
"It will come down to a question of whether legislators feel that they've made a public commitment to this."
Either way, lawmakers have to make up their minds in early 2020. The counting of the population by the U.S. Census Bureau will take place April 1. Virginia will get its results by the end of 2020, an expedited schedule made to accommodate redistricting ahead of the state's elections for the House of Delegates in November 2021.
Saslaw said in an interview that he would support the measure: "If it comes out of committee, I'm going to vote for it."
Virginia Legislative Black Caucus Chairwoman Mamie Locke of Hampton was more enthusiastic, saying she is confident that concerns among some members, specifically caucus members, can be assuaged.
Saslaw's counterpart in the House, Filler-Corn, said: "We'll be talking to our members. It's an issue we've been discussing and have been working on our list of priorities."
Northam said of the proposed amendment: "That's going to make its way through the legislature. If it gets here, then I would certainly support it."
Northam, who served in the state Senate from 2008 to 2014 — and who voted for the GOP's redistricting plan in 2011 — emphasized his support for bipartisan redistricting, describing his years campaigning in a gerrymandered, 6th Senate District on the Eastern Shore.
"It was contiguous only by water," Northam said. "It wasn't good representation."
Republican leaders in the House and Senate, now leading parties in the minority as the redistricting process ramps up, said they support the amendment.
Democrats, who controlled the legislature for nearly the entire 20th century, routinely consolidated their gains through partisan gerrymandering. For example, after the 1990 census Democrats drew Rep. George Allen, R-7th, out of his congressional seat. He was elected governor in 1993.
***
McGlennon said demographics should help assuage any Democratic fears of bipartisan redistricting.
Virginia is increasingly leaning left, support that is emanating from population growth in the state's urban centers and into suburban Virginia. At the same time, the state's rural counties — where Republicans anchor their support — are seeing their populations dwindle.
"More than 50% of the growth that has occurred based on census estimates has been in Northern Virginia. Central cities, which have tended to elect Democrats, are growing," McGlennon said.
"On the other hand, rural areas are declining by and large. The places that tend to be growing in rural part of the state — Blacksburg and Radford — are university communities, which are going to lean for Democrats."
"Democrats fare well under a fair fight," McGlennon added.
House Majority Leader Todd Gilbert, R-Shenandoah, who will become the minority leader in January, said he hopes a bipartisan redistricting process will benefit rural voters who might otherwise see their votes diluted.
"I think it's of tremendous concern to rural Virginia that the incoming leaders of both the House and Senate are both from Fairfax County. Rural Virginia is very different from urban and suburban Virginia, and we just don't want to be forgotten and merely ruled over by the areas that are densely populated," Gilbert said.
"I think there are lots of avenues for a truly nonpartisan redistricting process to balance all of those concerns, or at least as many as possible. I doubt any such balance would occur if we didn't arrive at a legitimate process."
A bipartisan process, advocates say, might also reduce racial gerrymandering — the breaking up of minority communities across districts to dilute their votes, or the packing of the same communities into single districts to concentrate their voting power into one or a few seats.
But some members of the Legislative Black Caucus opposed the proposed amendment during this year's legislative session, saying that the measure doesn't require any of the members on the redistricting commission to be African American or from other minority communities.
"We have great concerns about having African American representation in the room for redistricting," Del. Lamont Bagby, D-Henrico, chairman of the caucus, said at the time. "And this doesn't guarantee that."
Courts have shown a willingness to step in on this issue, but it's a process that could take years. Virginia saw two successful gerrymandering cases brought by Democratic voters resulting from challenges to the Virginia congressional districts and House of Delegates districts drawn in 2011.
In January 2016, a three-judge panel imposed a new Virginia congressional map that dramatically changed the 3rd District, represented by Democratic Rep. Bobby Scott, and the adjacent 4th District, paving the way for Democrat Don McEachin to pick up the seat.
One challenge to the 2011 redistricting process of the House of Delegates — which was controlled by Republicans accused of racial gerrymandering — ended only recently. In June, the U.S. Supreme Court dismissed a GOP appeal. That meant a court-imposed redrawn House of Delegates map would stand for this November's elections. That redrawn map was key to Democrat Clint Jenkins' defeat of House Appropriations Chairman Chris Jones, R-Suffolk.
When it comes to partisan gerrymandering, federal courts will provide no reprieve. The U.S. Supreme Court ruled this past summer — in two cases dealing with gerrymandering in North Carolina and Maryland — that federal courts have no role in partisan gerrymandering disputes, referring to it as a purely political question.
Advocates for redistricting reform see that ruling as another reason for states to safeguard their own processes through policy. Inevitably, that includes some power for the minority party, and making some safely-blue and safely-red districts more competitive, said Brian Cannon, executive director of OneVirginia2021.
"The pendulum swings back and forth. The process we're setting up today does need to have protections for the minority party — it's the only way this whole democracy thing works," he said. "There are plenty of districts in Virginia that are purple. We should let voters there decide who represents them. Both parties have a reasonable shot at winning if hard work, merit and ideas are more important than creative cartography."
Ultimately, Cannon said, there are two paths to passage of the constitutional amendment, one easy and another less so.
"The easy way to do it is with good enabling legislation, broad buy-in, the overwhelming bipartisan majority we saw the first time around. Let's do that again," Cannon said.
"The hard way would be that one or both of the party leaders tries to hamstring the process in committee. We cobble together Republican support and die-hard Democrats. There's a nasty floor fight," he added.
"That's the messy way to do it."
***
Logistically, the constitutional amendment on redistricting would require a simple majority vote in the General Assembly on the same exact language that lawmakers approved last year.
Under the current language, the state would form a commission with four legislators of each party and eight citizen members. Legislative leaders from both parties would proffer a list of citizen members from which a panel of retired judges would select four for each party.
During the coming session, lawmakers would also need to agree on additional legislation to enact the amendment.
Some of that is straightforward: Lawmakers have to agree on ballot language, pay for putting it on the ballot and set a timeline for implementation should voters approve it.
Other aspects of the process are more politically fraught. Because the language in the constitutional amendment is brief, the details of how exactly legislative members of the bipartisan commission would be selected and whether it will include explicit representation for minority communities are decisions for the General Assembly in 2020.
Locke said that process might help address the concerns of some caucus members who feel the process doesn't guarantee a role for minorities.
"From the perspective of some members of the black caucus, not to speak for the caucus, the issue has been more interest in the criteria that will be used," Locke said. "It's who [the process will include] and how the process will move forward to ensure that minorities are going to get a fair shake."
Still, Locke said she is confident.
"I think that individuals want to see this work out because there is a commitment to the voters to pick their legislators, rather than legislators pick their voters. The energy for that is there," Locke said. "With that in mind, I think that there will be an effort to try to work out a compromise."
Cannon said that under a "Democratic trifecta," lawmakers can ensure the commission is diverse. "That's what there are still opportunities to do."