Former Richmond priest, Memphis bishop to be removed from mural after named on list of accused abusers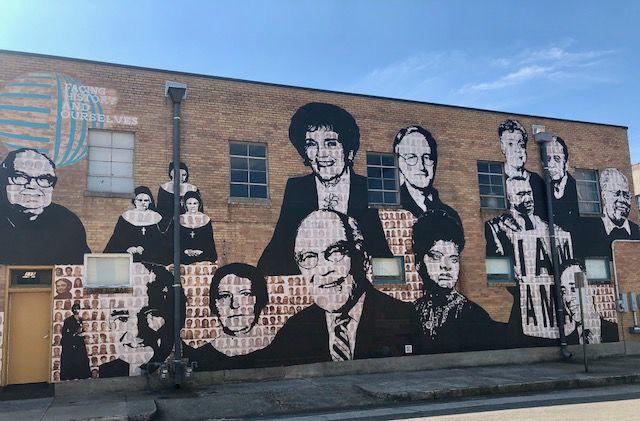 Bishop Carroll Dozier, a Richmond native, was known for decades as the first Catholic bishop of the Diocese of Memphis in Tennessee. He was remembered in a New York Times obituary as a social activist, advocating for racial harmony and opposing the Vietnam War.
In 2016, his face was included on a mural in Memphis across the street from the National Civil Rights Museum honoring people in the city's history who stood up to injustice. He was painted alongside Ida B. Wells, the famous African-American journalist and civil rights activist, and the Catholic nuns who cared for disadvantaged people suffering from yellow fever in the late 1800s.
But Dozier's image is being replaced because his legacy now includes accusations that he sexually abused children. Dozier was among the priests named in February whom Bishop Barry Knestout of the Diocese of Richmond deemed were credibly accused of sexually abusing children.
In his more than 30 years working in the Richmond Diocese, Dozier had been assigned to Christ the King in Norfolk, St. Joseph in Petersburg and St. Victoria in Hurt before leaving to lead the Diocese of Memphis in 1970. The accusation was made after his death in 1985, according to the Diocese of Richmond.
"As soon as we saw that, we knew he didn't belong on the mural," said Marti Tippens-Murphy, executive director of Facing History and Ourselves Memphis Region, the nonprofit that commissioned the mural. "It's painful information to receive to know that there were victims. … We certainly wouldn't want to contribute to that pain by having this representation on our mural."
Confronting the legacy of religious leaders now accused of committing or covering up abuse is an issue the Catholic dioceses in Virginia are also facing in light of renewed attention to the church's sexual abuse scandal. The release of a Pennsylvania grand jury report last year detailed abuse of at least 1,000 children by about 300 priests in that state.
Knestout announced a new policy in late June prohibiting any new diocesan institutions, schools and parish buildings from being named after any priest or other individual. New buildings will be named for saints, religious concepts, titles for God or geographical locations instead. But the policy doesn't apply to rooms or wings in existing buildings or to signs recognizing donors.
The only name change occurring in the Richmond Diocese is that of Bishop Sullivan Catholic High School in Virginia Beach. The school was named after the late Richmond Bishop Walter Sullivan, but will transition to simply "Catholic High School" over the next year.
The change is coming after a Virginian-Pilot report last month on Tom Lee, a Norfolk resident who says he was abused at St. John Vianney Seminary, a diocesan-run high school in Goochland County for boys planning to enter the priesthood. It operated from 1960 to 1978. Lee called for the school's name to be changed in light of the bishop's response to abuse allegations during his tenure.
"I speak for the victims who came forward in 2001 to tell their story of the sexual abuse that occurred at St. John Vianney Seminary," Lee wrote in a June statement.
"Our credibility was covered up by Bishop Walter Sullivan who hid facts from the Diocesan Review Panel and allowed Fr. John Leonard to continue ministry which put more children at risk. I am grateful to Bishop Knestout for taking action by removing Bishop Sullivan's name from the High School. This will go a long way in the healing process."
Deborah Cox, spokeswoman for the Richmond Diocese, said that she was unable to say how many diocesan locations are currently named after a priest on the list of clergy credibly accused of sexual abuse of a minor, which includes 49 names. She said that would require her to request all the names in each of more than 142 parishes in the diocese.
The Catholic Diocese of Arlington, which covers the northern part of Virginia, is aware of one parish hall and three councils of the Knights of Columbus, a Catholic fraternal service organization, named after priests who were included in a list of accused clergy, according to Billy Atwell, the diocese spokesman.
Arlington Bishop Michael Burbidge directed the parish to rename the hall shortly after the list of accused was released in February, Atwell said.
The Knights of Columbus chapters are also renaming their councils, which were named after Harris Findlay, Robert Nudd and Austin Ryder, all priests who worked in both the Richmond and Arlington dioceses and died by 1981. The councils will be renamed after Catholic saints.
"If a priest is found credibly accused of the sexual abuse of a minor and his name is associated with a parish building, facility or institution, it will be removed," Atwell said in an email, although he would not say whether the Diocese of Arlington has a written policy on naming.
In a letter explaining the naming policy in Richmond, Knestout said that he was asking local administrators to exercise "prudential judgment" before making any changes and was leaving it up to various Catholic institutions to come up with their own policies on naming.
"Overcoming the tragedy of abuse is not just about holding accountable those who have committed abuses; it is also about seriously examining the role and complex legacies of individuals who should have done more to address the crisis in real time," Knestout wrote in the letter.
"The continued honorific recognition of those individuals provides a barrier to healing for our survivors, and we want survivors to know that we welcome and support them in our Diocese."
For David Brown, a representative of Survivors Network of those Abused by Priests (SNAP) Tennessee chapter, the removal of Dozier from the mural in Memphis is a first step.
According to Brown, Dozier's name remains on a number of awards and institutions in Tennessee and that is painful for those who suffered abuse at the hands of clergy.
"They're walking the halls of these buildings, hearing about these awards that are given," Brown said. "Can you imagine the message it sends to them that this person is still highly esteemed though he is a pedophile?"
The fact that Dozier was able to become a bishop in Tennessee, even after allegedly abusing children in Virginia, is further evidence that the Catholic Church was moving abusers from place to place, exposing more and more children to danger, said Brown, who says that he was abused by a priest, Paul Haas, when he was 15.
"They did interstate trafficking of pedophiles," Brown said. "They didn't tell the other states and dioceses what they were getting into."
Brown also said that the hurt is compounded by the fact that the Diocese of Memphis still has not released a list of priests accused of sexual abuse of a minor, although it has promised to do so.
"As your Bishop, I promise to do everything in my power to safeguard our children and youth and to help those who are victims of abuse," said Memphis Bishop David Talley, who took his post in April. "We must be transparent and bring to light any wrongdoings of the past so healing can take place."
Talley has directed the Diocesan Review Board, a group of laity tasked with deliberating on sexual abuse in the church, to prepare a list of credibly accused clergy and has authorized the hiring of a professional investigator to help the board complete its task "as expeditiously as possible."
"The Memphis Review Board is actively investigating the matter of Bishop Dozier, and Bishop Talley is assisting them in their efforts to collect whatever information from outside the Diocese might be available to them," said Amy Hall, a diocese spokeswoman, in a statement.
"Since the Memphis Review Board has not yet completed their review, at this time the Diocese does not want to pre-judge their recommendation."
Meanwhile, Dozier's face still appears on the mural in Memphis as Facing History and Ourselves comes close to selecting another person to replace him, which it is expected to announce soon, Tippens-Murphy said.
"When we conceived of creating a mural on the outside of our building, our aim was to celebrate Memphis' leading historical figures who have made invaluable contributions to bringing our communities together and moving forward across racial, ethnic, cultural, and religious boundaries. It was in that spirit that we included Bishop Dozier," Facing History and Ourselves wrote in a statement.
"Given the allegations against Bishop Dozier, we have decided that [it is] in the best interests of our students, schools, and communities, to replace Bishop Dozier with another [yet to be named] Memphis historical figure. We wish to extend our sincerest wishes of comfort, healing and strength to the victims and families touched by the scourge of clergy sex abuse."