State mental hospitals expect holiday bed shortage, scramble to ensure no one left out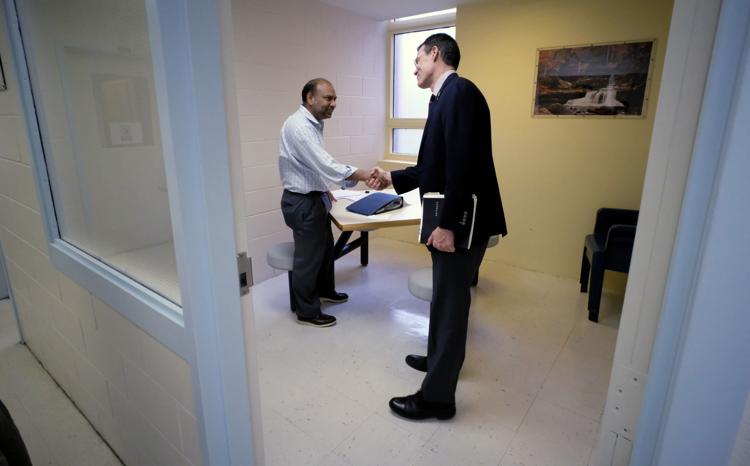 Virginia mental health officials expect state hospitals to run out of room over the Independence Day holiday weekend, forcing people in psychiatric crisis to wait in temporary custody until beds become available in public or private psychiatric facilities.
Dr. Hughes Melton, state commissioner of behavioral health and developmental services, issued a warning late Monday to local and regional mental health agencies, private psychiatric hospitals and law enforcement officials that "there will be times over the July 4th holiday weekend when there will not be any open staffed beds at any of the state hospitals."
Melton said the state will work with those partners to delay the admission of people under temporary detention orders because they pose a threat to themselves or others and not allow them to leave without treatment, as patients sometimes did before Virginia passed a law in 2014 that made state hospitals provide the "bed of last resort."
"We will ensure these individuals get placed somewhere, somehow," he said in an interview Tuesday.
Holidays tend to intensify mental health crises, but they also create gaps in the state's ability to move people through the system quickly.
Virginia's eight adult mental hospitals operated at 98% to 100% capacity in May and June. The hospitals had about 17 psychiatric beds open on Tuesday, primarily in Northern Virginia, but mental health officials expect roughly 80 admissions over the four-day holiday weekend and delays in holding civil commitment hearings in most of the state.
The state's two hospitals for elderly patients — Piedmont Geriatric Hospital in Nottoway County and Catawba Hospital near Roanoke — had more patients than beds on Tuesday. Southern Virginia Mental Health Institute in Danville was full. Eastern State Hospital near Williamsburg, the state's largest mental hospital, had one open bed.
State hospitals admit an average of 20 patients a day, almost all of them under temporary detention orders that last 72 hours. Beyond that time, patients would have to be civilly committed, but only two hospitals, Catawba and the Northern Virginia Mental Health Institute in Falls Church, have judges available on Friday.
The state is working on ways to discharge current patients who are well enough to leave, divert them to other institutions and find alternatives for their care, including two private hospitals in Petersburg and Virginia Beach that have hired more staff members to handle the expected surge in patient admissions.
Even so, Melton said the state "anticipates that, with the upcoming holiday weekend that will result in a longer period of detention prior to a commitment hearing, all staffed beds at the state hospitals will become occupied."
Ashland Police Chief Doug Goodman said he appreciates the commissioner's alert, but added, "That's a pretty scary thing."
"What are we supposed to do?" Goodman asked. "As law enforcement, we are now caught between a rock and a hard place. And, more importantly, the person in crisis is caught between a rock and a hard place."
Full state mental hospitals put severe pressure on law enforcement agencies, which must commit officers to holding people against their will and often transporting them across the state for treatment.
"This issue is imploding," said Dana Schrad, executive director of the Virginia Association of Chiefs of Police. "Law enforcement cannot hold these folks if there isn't a mental health bed available. Hopefully, they won't end up in jails."
State hospitals have come under increasing pressure since passage of the "bed of last resort" law in 2014 to end the process of "streeting," in which people in crisis were allowed to leave without treatment because no psychiatric facility beds were available within the time allowed by state law for holding people involuntarily in emergency custody.
The state senator whose family tragedy triggered passage of the law said the problem isn't the "bed of last resort" requirement, but the unwillingness of private hospitals to accept more people under temporary detention orders who are especially sick or aggressive.
"The bed of last resort made sure people weren't going to be streeted anymore," said Sen. Creigh Deeds, D-Bath, whose son stabbed the senator and killed himself in late 2013 just 13 hours after being released from emergency custody because no bed was found in time.
"The problem is that private hospitals have used the bed of last resort as a way to avoid the tough cases," said Deeds, chairman of the Joint Subcommittee to Study Mental Health Services in the 21st Century.
House Appropriations Chairman Chris Jones, R-Suffolk, who pushed for the subcommittee's creation in 2014, called the situation "a challenge" for Virginia's public mental hospitals.
"It appears the state has become the bed of first choice," Jones said Tuesday.
Private hospitals, represented by the Virginia Hospital and Healthcare Association, say they are treating most of the people under temporary detention orders and all of those who commit themselves voluntarily for treatment.
Hospital association spokesman Julian Walker said private hospitals have state approval to add 159 beds across Virginia, with 30 more in the pipeline. And they're subject to similar pressures as state hospitals.
"If there is a peak need for services, they may be experienced by public hospitals and private hospitals," Walker said.
Melton credited two private psychiatric facilities — Poplar Springs Hospital in Petersburg and Virginia Beach Psychiatric Center — for assigning extra staff to work closely with the state over the holiday weekend to ensure everyone who needs treatment gets it.
However, he said private hospitals are often not willing to accept patients who are intoxicated, aggressive, elderly or medically frail, even when the state is willing to pay them for the beds.
While state hospitals are operating near capacity, private psychiatric facilities are generally 75% full, Melton said. "It needs to be recognized the capacity is there — it just doesn't exist in the public state hospital system."
The commissioner last sounded the alarm before the Memorial Day holiday weekend, when a dozen people in psychiatric crisis were forced to wait in involuntary custody for beds.
"There were individuals who waited more than a day before the state had beds for them," said Daniel Herr, deputy commissioner for facility services.
Under its crisis response plan, the state will ask magistrates to issue 72-hour temporary detention orders, which can be extended over the holiday weekend.
However, the state will ask local emergency mental health workers to delay admission until an appropriate bed becomes available, Herr said. Law enforcement would maintain involuntary custody during the TDO.
Law enforcement agencies say the state approach is a big burden on them.
"It is a huge problem statewide," said Gary Roche, police chief for the town of Pulaski. "And it is not just on holidays — it's a concern of ours all the time."