Mark your calendar, the solar eclipse is coming to Richmond on Monday, Aug. 21 and we are ready for it.
While Richmond is not in the path of totality for this eclipse, about 86 percent of the sun will be blocked for watchers in Richmond.
The eclipse is expected to start around 1:18 p.m. and last until 4 p.m., with maximum eclipse covering happening around 2:44 p.m.
We haven't had a partial eclipse like this in the Richmond area since 1994 and we don't expect see another good chance like this until 2024, which makes this one a pretty wow-worthy event.
And because of that, a handful of local venues are throwing eclipse-worthy watch parties. Just cross your fingers it isn't cloudy.
Here's where you can get in on the action: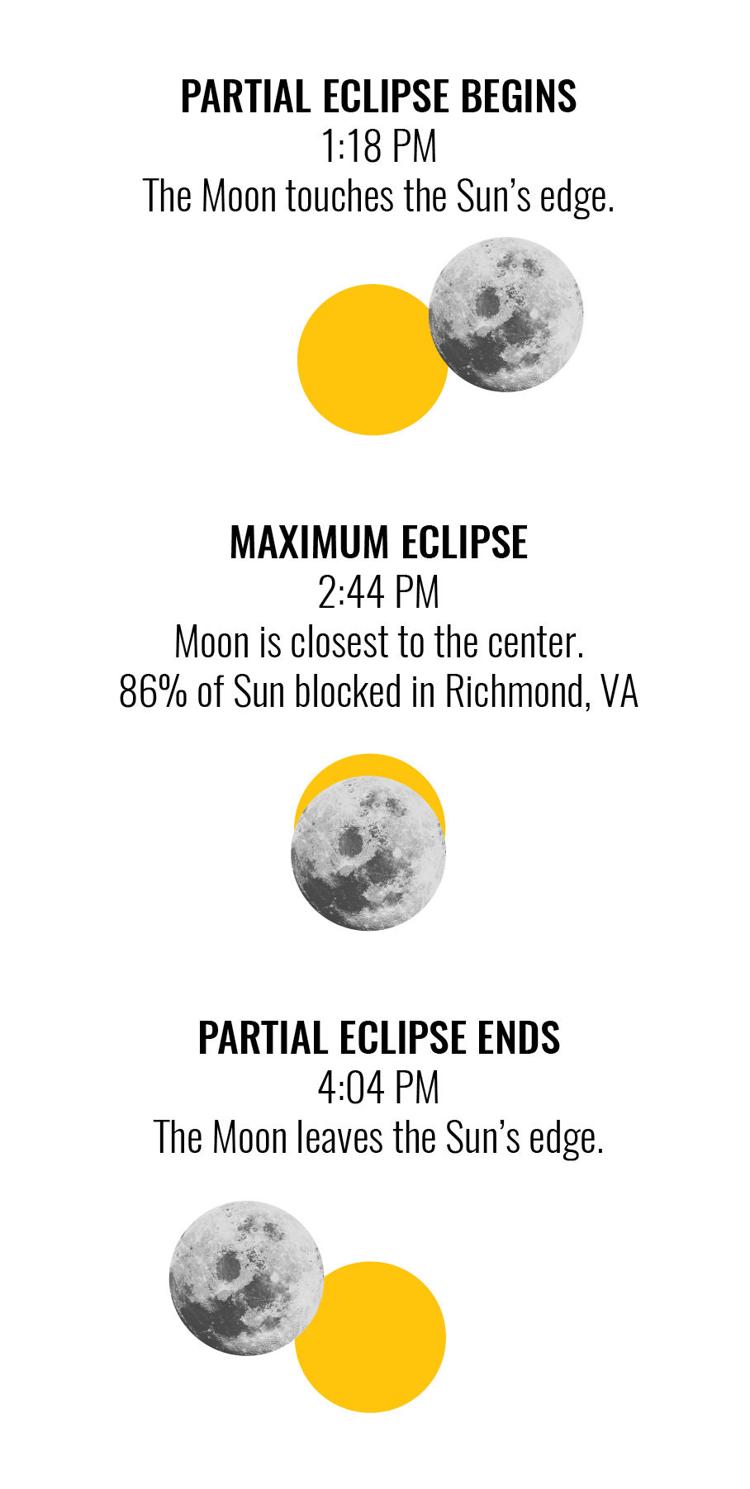 The Science Museum of Virginia is closing down their front loop for a solar eclipse watch party.
"A solar eclipse sparks curiosity in people," Courtney Moyer, a spokesperson for the Science Museum said. "It's easy to forget everything that's happening in space. But an event like this gets people excited and gives them the opportunity to question: why is the moon getting in front of the sun?"
Museum activities will begin at noon and will take place both inside and outside the Museum. Visitors can create an Earth, moon and sun model to learn how eclipses work; make a mobile of the Earth, moon and sun; or create a star clock, which can help tell time using the constellations' positions.
The museum will be handing out eclipse-viewing glasses to the first 500 guests with museum admission.
Local food trucks – Cheeszilla, King of Pops and Intergalactic Tacos – will be there. The museum will be roping off a section of the front portico for a "beer garden" with eclipse-themed craft beer for sale.
There will also be eclipse-themed Cosmic Expeditions in the Dome Theatre throughout the day. And if it rains or is cloudy, the museum will be live-streaming the eclipse.
Outdoor activities are free. Museum admission is required for indoor activities. Noon-4 p.m.
Lewis Ginter Botanical Garden is hosting a solar eclipse viewing party and sun celebration to focus on how the sun "is essential to life on Earth, including plants and people."
Visitors will gather in the Central Garden to view the solar eclipse. The first 500 guests will receive eclipse-viewing glasses, with the distribution starting at 1 p.m.
There will also be a handful of "sun celebration activities" such as making botanical sun prints and testing pinhole viewers to observe the eclipse at the Garden.
Brown's Island
Head to Brown's Island for a free solar eclipse viewing party from Richmond National Battlefield Park, The American Civil War Museum, James River Park System and Venture Richmond.
Organizers will be handing out 600 free pairs of solar-eclipse viewing glasses, starting at 1 p.m.
Andrea DeKoter, the Chief of Interpretation and Education at Richmond National Battlefield Park, said that many national parks are hosting eclipse events across the country.
But because Richmond won't have solar eclipse totality, Richmonders will need to wear the solar-eclipse viewing glasses during the entire event.
"We can celebrate the riverfront as a gathering place and offer a way for Richmonders to experience the eclipse safely," she said.
A handful of Henrico County Public Libraries will be hosting solar eclipse watch parties on Monday. They are part of the NASA@My Library initiative, a program that only 75 libraries across the nation were awarded.
Here are the details from the library:
• At the Libbie Mill library's Eclipse Party, librarians are planning to make a giant solar pinhole viewer, which will project a shadow image of the eclipse, as well as hosting a personal pinhole viewer making activity, a live-stream of the eclipse from the NASA feed, a UV bead bracelet making activity using supplies from NASA @ My Library, and various other activities for younger children.
• At Twin Hickory library, patrons will be able to view the NASA live stream of the eclipse, and children and teens can create constellations out of marshmallows and tooth picks, make a sky wheel, and make a planetary orbit craft. Patrons will also be able to use a NASA @ My Library-provided scale model of the eclipse made from yardsticks and rubber balls to understand the science behind eclipses.
• Glen Allen and North Park Libraries are also planning family-friendly activities for the eclipse, and will live stream the NASA eclipse coverage as well.
• Varina Library is planning to host STEM crafts for children and teens at their eclipse party, including creating sundials for children, and making solar ovens and spectroscopes, for teens. Varina's adult patrons can enjoy a display of astronomy books related to the eclipse, and patrons of all ages are welcome to view the NASA live stream of the eclipse, plus space-themed movie screenings, and a large-scale, wall-mounted map of the eclipse path.
Eclipse glasses will be available at all Henrico Library locations in limited quantities on Monday, beginning at 1:30 p.m.
Storytime at Richmond Main Library will be heading outside for an eclipse watching party on the veranda. Beth Morris, the children's service coordinator, has saved enough eclipse watching glasses for 25 kids to join in the event. She will also help kids make viewer's boxes to watch the eclipse if they run out of glasses. Registration is recommended, although the event is free. 2-3 p.m.
Dominion Watch Party at the Diamond
Dominion Payroll is hosting a viewing party at The Diamond's Bullpen Bar Sports Deck that is free and open to the public. Free parking in the Yellow Lot. 2 p.m. For more information, contact kwilson@dominionpayroll.com.
Quirk Hotel's rooftop bar will be hosting a "Mostly Total Solar Eclipse Party" from 2 p.m. to 6 p.m. featuring "eclipse cocktails" created specifically from the event. Bring your own viewing goggles.
Got an event to add to the list? Send it to us and we'll add it.