Ethan Hawke and Mark Richard sat under a tent in the middle of a Powhatan County cornfield on a blistering morning in mid-August, watching Steve Zahn run through a scene from "The Good Lord Bird," the new Showtime series filming in Virginia.
"I'm gonna gut you like a yellow-bellied pig!" Zahn boasted to a Western saloon full of drinkers.
Hawke and Richard laughed.
Since mid-July, they've been camped out on the film set in Powhatan where an entire Western town has been constructed — complete with a two-story hotel, a saloon, offices, cabins and dusty streets — in the middle of a cornfield.
The set was hot and dusty and really felt like a Western town, with extras in period costumes fanning their hoop skirts up and down to catch the breeze in the stifling heat.
"It's beautiful out here," Richard said, looking up at an abandoned white chapel perched high on a hill overlooking the set. "The heat doesn't bother me one bit. It's like coming home for me."
Richard, pronounced "Ri-chard," has a Southern laid-back charm and an accent that's hard to place. Born in Louisiana, Richard grew up in Franklin, about 11/2 hours southeast of Richmond. Now, at 63, he manages the set of "The Good Lord Bird" as the main screenwriter and showrunner.
"The Good Lord Bird" is a novel by James McBride about the famous abolitionist and zealot John Brown. Set in 1856, the book deals with thorny issues, such as slavery, race and the failed raid on Harpers Ferry that helped spur the Civil War.
But it is, oddly enough, a comedy, in the style of Mark Twain's "The Adventures of Huckleberry Finn."
Hawke and his wife, Ryan, read the book when it came out in 2013 and fell in love with it.
"It happens a couple times in your life: You read a book that shakes you up inside," Hawke said on the Powhatan set in his unmistakable raspy voice.
He will star as John Brown in the limited eight-part series, which is being produced by Blumhouse Television and will be released on Showtime in February.
But first the high-profile project will film in Virginia through November.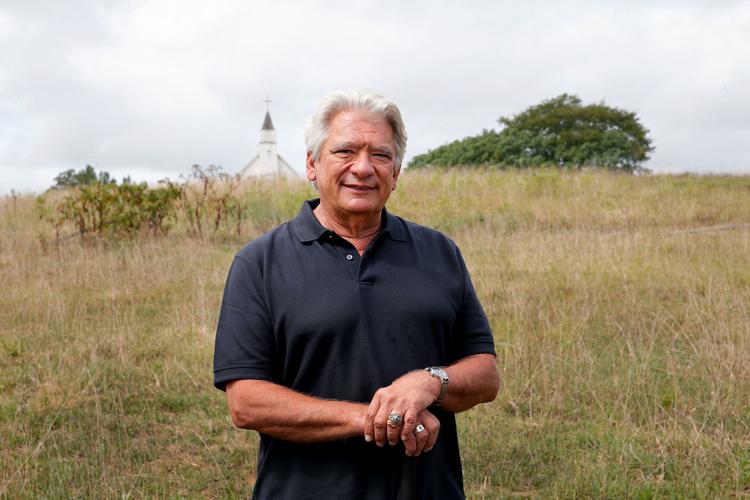 Mark Richard and his Virginia roots
"Every morning I wake up and say my prayers that I'm in Virginia and not Hollywood," Richard said with a wry smile.
Wearing a white polo shirt, khaki pants and hiking boots, Richard has a kind, tanned face, a full head of graying white hair and an easy smile — like he's just about to tell you a whopper of a story, which he just might.
A natural-born storyteller, Richard was a prize-winning short-story writer and novelist before he became a Hollywood screenwriter.
His debut short-story collection, "Ice at the Bottom of the World," describes a dark, down-and-out world in the desperate South but with a slapstick sense of humor. Stories from the collection were published in The New Yorker and Esquire and won the author comparisons to Mark Twain and William Faulkner, as well as the 1990 PEN/Ernest Hemingway Foundation Award.
Most recently, Richard wrote a best-selling memoir, "House of Prayer No. 2," about growing up with a congenital hip problem, his alcoholic father who terrorized his family and a mother who found escape in a world of prayer.
As a child, Richard spent many years in Richmond convalescing from multiple surgeries at the Children's Hospital on Brook Road, which at the time, Richard said, was called the Crippled Children's Hospital.
"That's when I started reading. When I was in a full body cast from the surgeries. I read anything and everything," Richard said.
His mother would bring him grocery bags full of books, which kick-started his love of books and storytelling. After treatments, he remembers being taken out for ice cream in Carytown or for a sailor sandwich at the New York Deli.
But it was a grim upbringing, both at home and at the hospital, where he was told he would spend his adult life in a wheelchair.
Richard defied the doctors' prognosis and set off for a life of adventure after graduating from Washington and Lee University in Lexington.
"Between living on Mobjack Bay in Gloucester, where I worked for a radio station and for a real estate company doing advertising and aerial photography, I lived in Richmond on Strawberry Street and then an apartment on Boulevard. I was selling coupon books door-to-door and delivering office furniture. Then I went to Virginia Beach and was a newspaper reporter for a naval newspaper and then moved to New York," Richard said.
In New York, Richard launched his literary career to much success, but money didn't follow, as is often the case.
His wife, Jennifer Allen, decided to move to Los Angeles to work on a book about her father, George Allen, the legendary coach for the Washington Redskins.
"We'd just gotten married, we had a baby on the way and we were broke," Richard said.
They moved to Los Angeles where he was put in touch with Robert Altman, the famous director of "Cookie's Fortune" and "MASH."
"A woman in his office had read my first book, 'Ice at the Bottom of the World.' She thought it would make a good movie for Altman," Richard said.
So he went to work, going to the library, taking out books on how to write a screenplay and turning one of his short stories into a screenplay. Altman expressed interest, but died before the movie could be made.
Still, Richard had a good script in hand and was able to land a job writing for the TV show "Party of Five."
Since then, Richard has written for several shows, such as "Fear the Walking Dead" and "The Man in the High Castle," and the movie "Stop-Loss," where he had a brief role as Ryan Phillippe's dad. He also served as showrunner for AMC's "Hell on Wheels" about the first transcontinental railroad.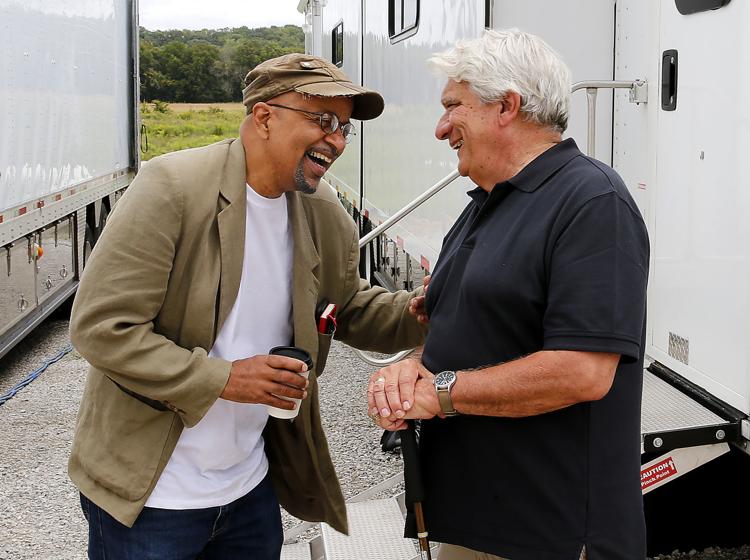 It's been a long and winding road, but the writer has returned to his Virginia roots on the film set for "The Good Lord Bird."
With his literary past and his own comparisons to the writer Mark Twain, it makes a parallel-sort-of-sense that Richard would be picked by Hawke to serve as showrunner for "The Good Lord Bird," a novel that's been called a modern, inverted take on "Huckleberry Finn."
Described as a literary masterpiece, "The Good Lord Bird" won the National Book Award in 2013, with the judges describing McBride's voice "as comic and original as any we have heard since Mark Twain."
Although there are many books and novels written about John Brown due to his complicated character as a legendary abolitionist but deeply flawed human being, McBride told Brown's story from the point of view of Onion, an enslaved teenage boy who is "rescued" by Brown and mistaken as a girl for the majority of the plot.
"The story is so topical," Richard said. "Even though it's set in 1856, it's about race and gender and issues that are still present today."
McBride, who is perhaps best known for his memoir "The Color of Water" about growing up with a black father and a white Jewish mother, has visited the Powhatan set twice from New York.
"There's an enormous difference between a book and a script. You can't hand this over to just anyone," McBride said during a break between rehearsals. "We're talking about a cross-dressing, mixed-race boy in 1856. It has to be someone who has deep experience and knows when to put the pen to the page and when not to."
McBride praised Richard's experience with writing characters, pulling quotes and scenes from the book and knowing how to orchestrate the plot.
"He knows when to sing in the choir and when to lay out. And that's really part of the reason he's so good," McBride said.
"With Mark, we've got the best of both worlds," said Ryan Hawke, who is serving as an executive producer on the series. "He's a novelist and a Hollywood screenwriter."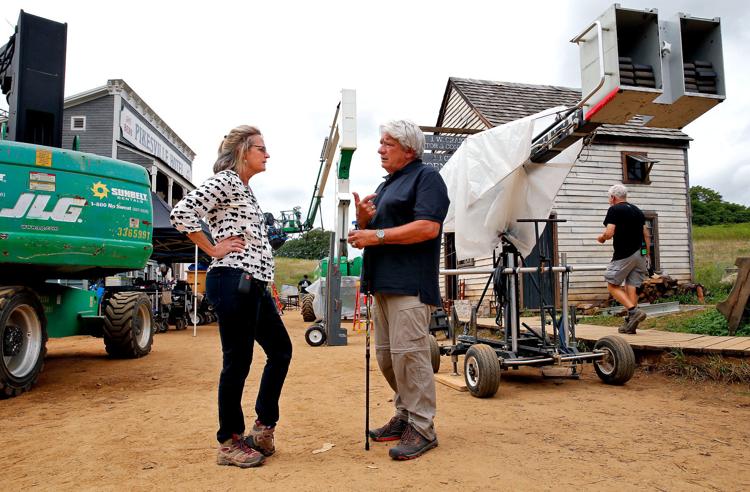 It was a fluke that "The Good Lord Bird" ended up filming in Virginia, Richard said.
Originally, the series was supposed to shoot in Canada, then in North Carolina. But when those locations fell through, Andy Edmunds from the Virginia Film Office ran into Ethan Hawke and Jason Blum from Blumhouse Television at the SXSW festival in Austin.
He said, "Why don't you just come to Virginia? We have the facilities and the incentives."
The agreement came together fairly quickly, with Virginia Gov. Ralph Northam announcing the filming just a few months later in May.
Crew members have been embracing the Richmond area since arriving in mid-July.
First, they stopped at the Byrd Theatre for a screening of the Clint Eastwood Western classic "Unforgiven," staged in roughly the same time period, to set the tone for the film.
"The crew loved the Byrd," Richard said. "Many of them are so young, they'd never seen a movie house like that before, with the organ rising up from underground."
Afterward, Ethan Hawke posed for a photo with Byrd organist Bob Gulledge that was posted to Facebook.
Much of "The Good Lord Bird" is set in Kansas, with the set in Powhatan turned into the lawless frontier town of Pikesville.
"Lincoln," "Turn" and "Harriet" also filmed there. Each film crew changes the location, adding or taking items away, for future sets.
When the crew first arrived, Richmond was embroiled in a heat wave with a string of 100-degree days. The crew had a medic on staff to deal with heat exhaustion and passed out water and cold towels. Being out in the country, the crew also has to watch out for snakes, poison ivy, bugs and ticks.
Filming is happening all over central Virginia, including Belle Isle, Church Hill, and Three Lakes Park in Henrico County. Church Hill will stand in for Rochester, N.Y., where Onion will have a not-so-pleasant run-in with the legendary orator Frederick Douglass.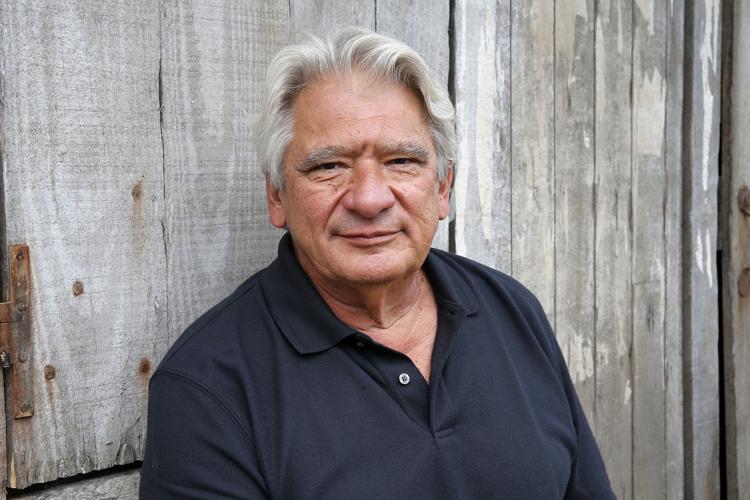 Besides working a buzzworthy project with a star-studded cast, including Hawke, Steve Zahn ("War of Planet of the Apes") and Daveed Diggs ("Hamilton"), Richard said that he's enjoying his time back in Virginia.
"On the days when the script is tight, the actors know their lines, the director has a good day, the magic is happening and you see your words come to life. Those are good days," Richard said.
He also still has family in the area: His sister lives in Richmond and works at Capital One; his mother is in a nursing home in Franklin. He visits both often.
Richard and his wife have separated, their three sons are now adults and he's closed up his house in Los Angeles. He said he thinks about getting back into teaching or finding a way to continue his career without living full time in Hollywood.
"I'd love to not go back to Hollywood," Richard said. "You can make small movies and TV anywhere now. Every time I turn around, I run into someone I know. Everyone says, 'You must stay in Richmond.' It feels familiar. It feels like I'm coming home."