Halloween is almost here and this town is ready to celebrate with zombies, flying pumpkins, craft beer and just about anything pumpkin spice-related.
Grab your little pumpkins (and your big ones, too) and celebrate the season with these popular fall events this weekend.
Richmond Zombie Walk
Ergh, arrgh, blerrch. What's that? It's zombie talk for "It's the Richmond Zombie Walk, people!"
Your Carytown shopping might be interrupted Saturday by lurching zombies as they shuffle, moan and groan their way through the shopping district. You can join the fun by dressing up in all your ghoulish glory and get in step with the lurching horde. Or just show up to watch the spooky spectacle.
Last year, more than 600 people participated in the Zombie Walk, a Richmond tradition now in its 11th year.
"We have a father and son who've done it every year," said Josh Bishop, one of the head zombies and organizers of the walk. "It's crazy to see this thing — and the people who participate in it — grow every year."
While everything zombie-related seems to be on the rise in pop culture lately (think "The Walking Dead" and its spinoff "Fear the Walking Dead"), Bishop said the Zombie Walk is popular because "it comes down to the fact that when we're putting on a costume and getting bloodied up, we're not our normal selves. It's a chance to be a part of something bigger. It's that sense of community."
Also, it's fun and scary.
"For me, I love seeing people smile or get scared. Like if a big guy flinches, it's hard not to stay in character," Bishop added.
New this year, the walk will start at Dixie Donuts, proceed through Carytown and loop back around to finish up at the Byrd Theatre. That's the opposite of last year when it started at the Kroger grocery store in Carytown.
The walk typically takes about an hour.
"We're sticking to the traditional, slow zombie walk. It's definitely more of a shuffle," Bishop said.
If your little ones are squeamish, you might want to avoid the area, although once kids learn the zombies are just pretend, most are fascinated by the makeup and elaborate costumes.
Plus, there will be trick-or-treating at Carytown stores with pumpkin signs in their windows, fall craft projects at bbgb books at 3003 W. Cary St. and a pet costume contest at Dogma at 3501 W. Cary St.
If you've got little ones in tow, be sure to stop by Carytown Cupcakes at 3111 W. Cary St. for Harry Potter Week. They'll be selling themed cupcakes like the Dementor's Kiss and Cauldron Cake, as well as turning the entire shop into the magical world of Hogwarts, with floating candles hung by fishing wire, a potions lab and a "floating car" photo booth.
---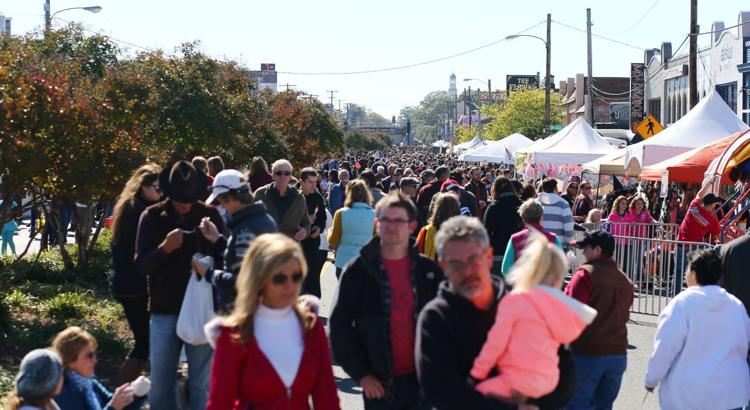 Scott's Addition Pumpkin Festival
Everything is coming up pumpkin at the Scott's Addition Pumpkin Festival, a popular street festival held on the Boulevard. Last year, more than 15,000 people turned out to dig into pumpkin-themed dishes from Richmond restaurants and drink craft beer from local breweries.
Enjoy pumpkin-inspired plates from Alamo BBQ, Buz and Ned's, Fat Dragon and Lunch and Supper at this year's festival. Dishes typically run $3 to $6. Food trucks such as The Hungry Turtle, Happy Empanada and Bon Bon Asian Fusion also will be on hand dishing up street grub.
More than 100 hay bales will be strewn throughout the festival for seating, as well as 100 pumpkins for the pumpkin theme.
And what's a pumpkin fest without craft beer?
Hardywood Park, Isley Brewing Co., Ardent Craft Ales and Strangeways Brewing will be on tap. Each brewery will provide three different kinds of beer with one fall flavor, such as Ardent's ever-popular sweet potato and sage ale. Beers are $6 each and are purchased with tickets.
New this year: an expanded kids' zone with a new format. Pay $6 (same as a drink ticket) and let your kids play as much as they want on trampolines, an obstacle course, bounce houses and slides.
Bands Baldy McGregor, Los Ramones and Kairos Effect will be performing.
---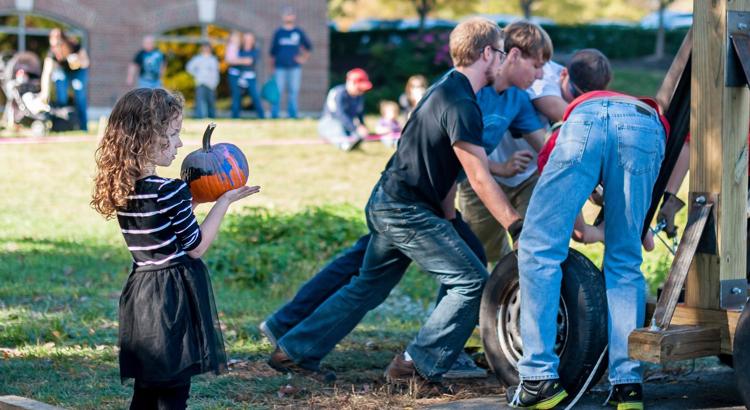 Great Pumpkin Palooza
Look out for flying pumpkins at the Great Pumpkin Palooza at Innsbrook. While pony rides, petting zoos and bouncy houses can be found at this family-friendly festival, the main attraction is the flying pumpkins.
Three trebuchets will send pumpkins flying into Lake Rooty. Organizers said one of the trebuchets will feature a new design that aims to launch pumpkins much farther than ever before. In other words, duck!
Kids can paint, decorate and carve pumpkins to take home. Small pumpkins run $3, large pumpkins are $5, with money going to the American Cancer Society.
There also will be food from Richmond restaurants, adult beverages and live music throughout the day.
---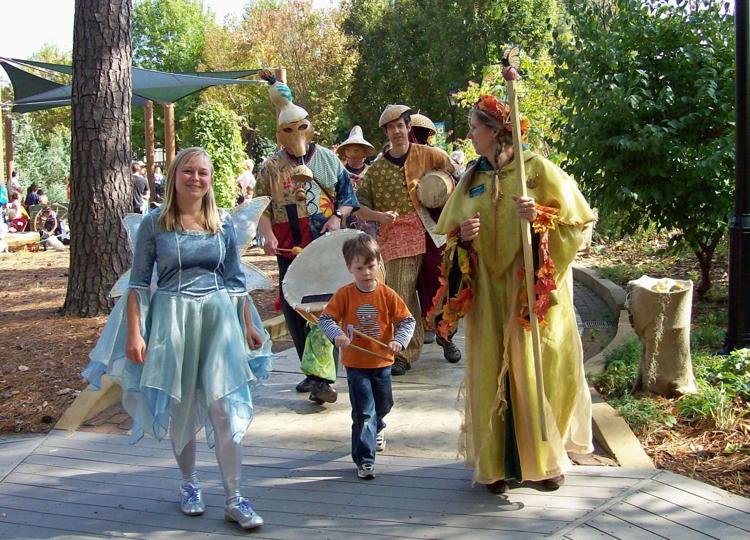 Harvest Weekend at Lewis Ginter Botanical Garden
If you didn't get a chance to attend Oktoberfest yet, don't worry.
Lewis Ginter Botanical Garden is adding an Oktoberfest on Saturday to its popular Halloween weekend.
The garden's caterer, Meriwether Godsey, will be serving such German-themed dishes as bratwurst, a "schnitzelwich" and sauerbraten and dumplings at the Bloemendaal House, and there will be beer from Center of the Universe Brewery, plus live music, games and prizes.
"It is family-friendly with lawn games and a kids' menu in addition to the beer and food," said Beth Monroe, public relations director for the garden. "They did an Oktoberfest dinner in the Tea House last year, but this is the first year it will be at the Bloemendaal House with this type of festival atmosphere. (The goal) is an event where families can hang out and the kids can have fun, too."
Center of the Universe will be serving PocaHOPtas, Chin Music, Slingshot Kolsch and its famous Oktoberfest. COTU also will be pinning a special keg for the event at 1 p.m.
Kids are encouraged to dress in their Halloween costumes on Saturday. There will be a costume contest, cornhole, ladder golf and life-size Jenga games.
On Sunday, bring out your little goblins for Goblins & Gourds, the popular family event at the garden with pumpkin decorating, arts and crafts activities, and a performance by the Richmond Indigenous Gourd Orchestra.
Whew, that's a lot of pumpkin-related events! The only puzzle here is picking which one you want to attend.
PHOTOS: Zombie Walk 2014
The undead walked Carytown at the Richmond Zombie Walk in 2014. There were zombie turtles, zombie moms, zombie roller girls and more. Check them out here.
Photos by Anna Medinger/Richmond.com.
PHOTOS: Scott's Addition Pumpkin Festival
The second annual Scott's Addition Pumpkin Festival took place on the Boulevard in Scott's Addition on Saturday.
The free event shut down The Boulevard between W. Leigh and Broad streets from noon - 6 p.m. Saturday.
This year's event featured an expanded kids' zone, VIP area and  more vendors.
Check out pictures of the event. Photos by Andrew Talkov.