When Kendra Feather opened Ipanema Café in Richmond's Fan District, there were fewer than 10 restaurants in the blocks immediately around her restaurant.
That was in 1998. Today, there are more than 30 restaurants in the same area, with chains such as Chipotle, Noodles and Company and Five Guys vying for diners alongside a dozen or so independent restaurants.
"So much changes in 20 years. I've felt both sides of progress. When we opened The Roosevelt, it was the tipping point of Church Hill blowing up," she said of the restaurant she opened in 2011, her third. "Two or three places were there when we opened. Now there are 10. When I opened Ipanema, I was a block away from VCU. There was a strip club down the street. Now I say, 'Welcome to beautiful downtown VCU.'"
The explosion of dining options isn't limited to VCU or Church Hill or even the city of Richmond. Across the city and into the counties of central Virginia, restaurants are cropping up at a rate that has long-since outpaced the population growth in the region.
"We're seeing a lot more redevelopment of other spaces; a lot of spaces are turning into restaurants," said Nathan Hughes, principle broker with Sperity Real Estate Ventures, which specializes in restaurants. 
Scott's Addition – a neighborhood that wasn't populated except by warehouses a decade ago – is now home to more than two dozen restaurants; the East Grace Street corridor of downtown Richmond, vacant for decades, is now its own restaurant row with Rappahanock, Julep's, Pop's Market and Perly's, to name a few, populating three blocks and, while pioneering Grace Street restaurant Pasture closed earlier this summer, another restaurant tenant was signed on to the space within five weeks and is expected to open this year.
"It's a fascinating time in the industry. There are more places where people can get prepared food than ever before, yet consumers are not eating out more often," said Jonathan Maze, a restaurant industry expert and executive editor with Restaurant Business Magazine.
This summer, market research firm NPD Group reported flat year-over-year growth in U.S. restaurant visits - a trend it expects to continue, while the National Restaurant Association reported that the restaurant industry added a net of 13,817 establishments across the U.S. in 2018 -- the third consecutive year that more than 10,000 locations had been added in the country.
In the Richmond area, new mixed-use developments in the counties - such as Westchester Commons, GreenGate, West Broad Marketplace, TownePlace at Huguenot shopping center - have opened in recent years and brought with them dozens of new restaurants. Those spaces added to the dining saturation in the suburbs spawned by Short Pump Town Center and Stony Point Fashion Park - and their 30 or so restaurants - 15 years ago. The renovation of existing shopping centers, as reflected by Willow Lawn and Regency, often means more restaurant spaces.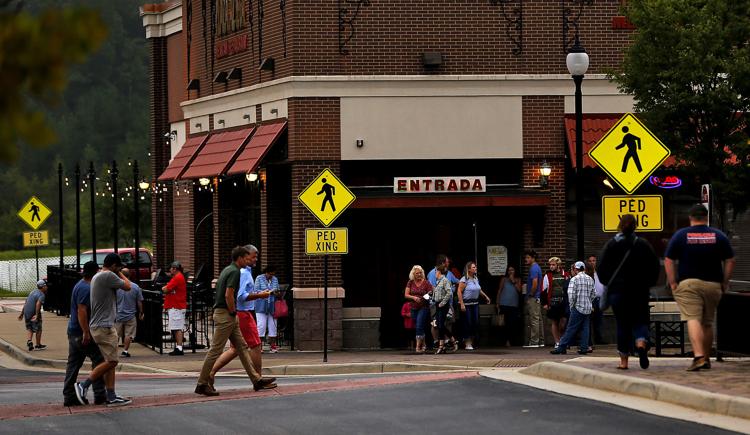 "We're cannibalizing ourselves"
The Richmond area restaurant market has grown at twice the pace of the population in recent years.
At the end of June 2019, there were 2,079 full-service and fast food restaurants operating in the city of Richmond and Chesterfield and Henrico counties, according to the health departments in each locality. That breaks down to an estimated 23 restaurants per 10,000 residents. In 2015, the last time the Richmond Times-Dispatch reported these numbers, there were 1,896 restaurants in the same three localities, or 22 restaurants per 10,000 residents. In 2013, those numbers were 1,733 eateries, or just under 21 restaurants per 10,000 people.
That's a nearly 10% increase in the number of fast food and full service restaurants added in the last four years - 183 new eat-in dining options that didn't exist even four years ago. Those numbers don't include food trucks, carry-out only restaurants, bakeries and doughnut shops, grocery store and market options, convenience stores that serve hot food, breweries and the myriad other ways Richmonders can feed themselves without having to cook.
The population growth in the same time period was just over 4%.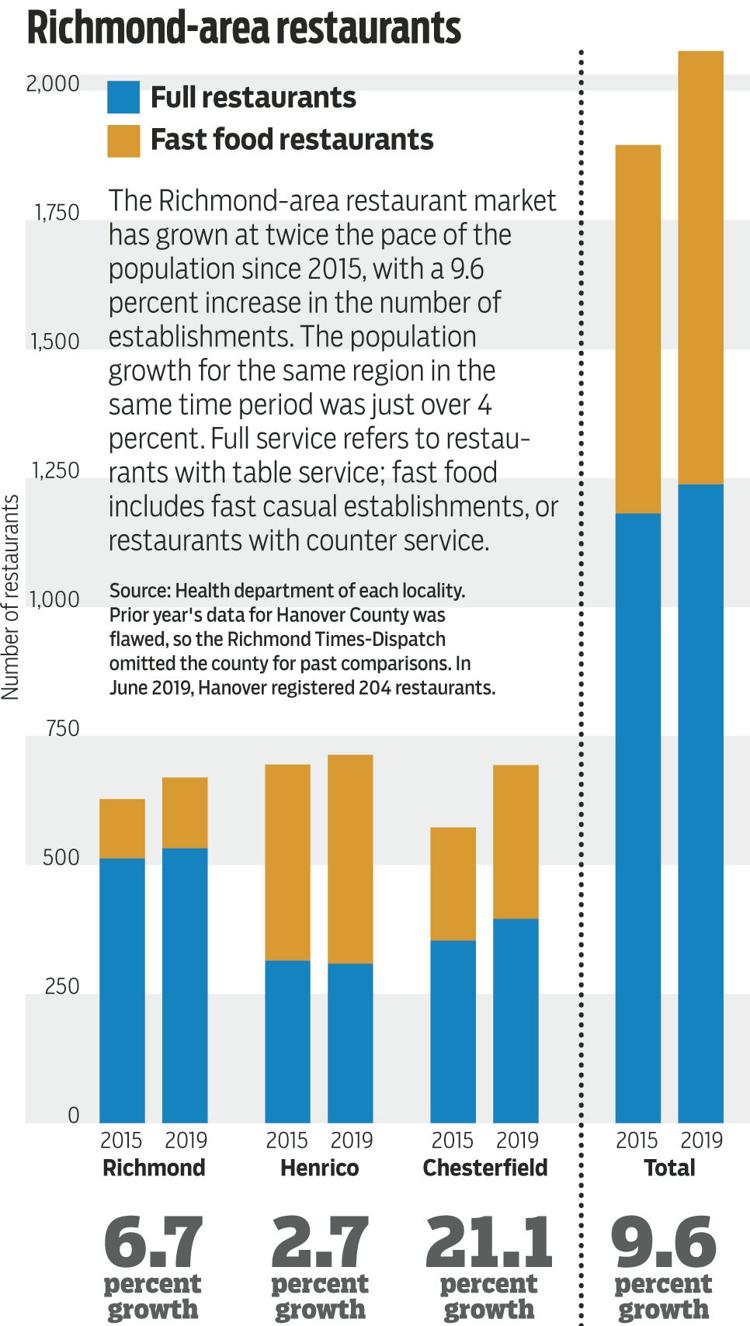 Prior year's data for Hanover County restaurants appears to have included the number of restaurants in the overall Hanover health district, which includes New Kent, Goochland and Charles City counties, so the Richmond Times-Dispatch omitted the county for past comparisons. In June 2019, Hanover alone registered 204 restaurants, while its district came in at 347. Many in the Richmond restaurant business agree that Hanover is being eyed as the next untapped market ready for growth.
In the meantime, restaurants in the city of Richmond are feeling the pressure.
"We're cannibalizing ourselves at this point," said Jeff Allums, managing partner for Baja Bean Co. Allums announced earlier this month that that he'll be shuttering his 20-year-old Fan District restaurant at the end of October when his lease is up.
Baja's closing will be part of a wave of closures this year that are outpacing previous years. While no agency officially monitors the number of restaurant closures in a given year, Times-Dispatch reporting shows nearly 40 Richmond-area restaurants have closed so far in 2019; last year, it was fewer than 30 for the entire year. Comparatively, an estimated 45 new restaurants opened in 2019 as of Sept. 1, four of which were in the last weeks of August. In 2018, the Richmond area saw nearly 100 restaurant openings.
"There is so much to do in Richmond. Restaurants were one of the few forms of entertainment we had in the city," said Michelle Williams, co-owner of the Richmond Restaurant Group, which owns and operates seven restaurants in the Richmond area, including The Hill Cafe and both locations of the The Daily Kitchen & Bar and The Hard Shell. "Now you have to be at the top of your game to succeed with the endless ways we can spend our leisure dollars."
The group closed one of its restaurants, Pearl Raw Bar, at the end of August. It will relaunch with a new concept in the fall.
"I've always thought competition is great. It creates dynamic options for the customer and pushes operators to be their best," Williams said. "I would say it isn't the space for people who don't have a business mind. Being creative and passionate about your craft is definitely a big piece of the puzzle but being able to identify and make difficult decisions can be the difference in a restaurant surviving when the market gets tight."
At least a dozen other independent Richmond restaurants have closed this year, including Pasture, Swan Dive, Elephant Thai, Autentico's Kitchen, Little Saint, Kobe Japanese Steaks & Sushi and Havana 59 in the West End.
"A lot of these closures haven't had anything to do with Richmond. Travina's was a bankruptcy. [Alexander's Barbecue], the guy died," Hughes with Sperity Real Estate said. "It's been said for years that Richmond [dining] is over-saturated. I don't think it's any more over-saturated than it was. People are constantly looking to open new restaurants."
Two restaurant closures in the Richmond area this year were as a result of national chains declaring bankruptcy. Travinia Italian Kitchen & Wine Bar closed its Willow Lawn location in June following its parent company's bankruptcy and Kona Grill closed its Short Pump location in April, a few weeks before its Arizona-based owner filed for federal bankruptcy protection.
Other restaurant chains simply left the Richmond market or shrank their area footprint this year.
Pie Five Pizza, also at Willow Lawn, left the Richmond market in April with the closure of that location. In Short Pump, D.C.-based Matchbox restaurant closed in June, Shula's Steak House closed in May, Grimaldi's Pizzeria shuttered its sole Richmond store with the closure of its Chesterfield County location in February. The Moe's Southwest Grill at the Village shopping center closed this year, as did the Willow Lawn Duck Donuts outpost. Richmond-based chain Urban Farmhouse Market & Cafe closed two stores and Ruby Tuesday, which closed two Richmond area locations last year, shuttered its restaurant on Midlothian Turnpike in April.
"It's an evolution in the chain world," Maze said. "You have some old concepts that are falling out of favor. It's a very saturated market. You have a choosy consumer. You have pressure on companies to do a better job to compete; companies that can't keep up are filing for bankruptcy."
James Ashby IV, senior vice president at Cushman & Wakefield | Thalhimer, one of the largest commercial real estate firms in the Mid-Atlantic region, said he has seen the national shift in taste reflected in the Richmond market.
In some cases, Ashby said, older chain restaurants have been replaced by newer, younger fast casual concepts, such as Chopt Creative Salad Co. going into the former Wendy's in the James Center or Cava, a Mediterranean concept, replacing an Applebee's in the West End, while in the full-service market in the counties, there's a hunger for independent restaurants.
"If you look at GreenGate, top Richmond restaurateurs are opening there," Ashby said. "Folks in Short Pump are gravitating away from the chains. They want something fresh and new."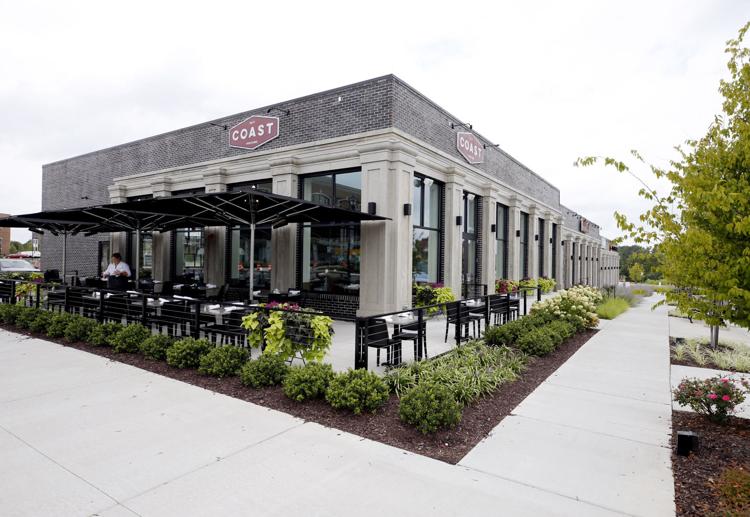 Chris Tsui, founder and owner of EAT Restaurant Partners, is one of the Richmond restaurateurs opening new restaurants in the counties. The group already has one restaurant in GreenGate with another in the works; they have another under construction in Hanover County.
In fact, EAT Restaurant Partners is the largest single restaurant operator in the Richmond area - with 11 restaurants in three localities and at least two more on the way. Osaka Steak & Sushi, Fat Dragon, Hot Chick, Wild Ginger, Boulevard Burger & Brew, Pizza and Beer of Richmond (PBR), Wong Gonzales, Red Salt are just a few of their concepts around town in Short Pump, Shockoe Bottom, Libbie and Grove, downtown, the Fan District, the cusp of Chesterfield and Powhatan.
"I do think there are too many restaurants, but we keep opening them, so what are you going to make of that?" Tsui said. "When you see a space open up, you have to ask yourself, do you let competition go in across the street or do you open something?"
For Tsui, expansion is more about staff retention than potential competition. Restaurant staffing is an issue in Richmond and nationwide. Low-unemployment and an explosion of eateries makes staffing - whether it's for cooks, dishwashers, servers or an executive chef - a challenge.
"We have a good retention rate and part of that is we offer career growth," Tsui said. "Our people drive me to open more restaurants. We have a great bench and we want them to grow. We want to create new opportunities for them."
According to the National Restaurant Association, recruiting-and-retaining employees was identified as the number-one challenge facing restaurant operators - for each of the last 28 months.
"The labor pool is as tight as I've ever seen it. We don't have nearly enough skilled workers for the number of restaurants," Williams of the Richmond Restaurant group said.
Restaurateurs are offering more money for needed positions, but with notoriously small financial margins, there's only so much wiggle room for restaurant owners. In some cases, restaurants are cutting back on operating hours due to staffing shortages; Allums of Baja Bean Co. said he had to cut lunch service this summer because he couldn't find enough staffing to open for the shift.
"[Staffing has] put a lot restaurant operators under pressure to increase pay, lower their standards, increase benefits. They're paying more - and that hurts," Maze said.
But in a tight labor market, restaurateurs are left with few other options.
"People are asking for more money for doing less work," Feather said. "I've never met so many people with food poisoning in my life. They're hungover and they call in sick, saying they have food poisoning. They know nobody is holding their feet to the fire. They know if they walk out today, they can get 12 other jobs immediately."
And there are plans to add even more restaurants. Ashby is helping lease Carytown Exchange, the Publix-anchored shopping center under development at the site of the former Martin's grocery store at the top of Carytown. That center will include two new full-service restaurant spaces on the Cary Street side of the complex and two fast casual spaces on the Ellwood side. The center was previously home to one restaurant.
Across town, Ashby's colleague at Cushman & Wakefield | Thalhimer, Connie Nielsen, is consulting on leasing spaces in the proposed Navy Hill Development, the $1.5 billion public-private plan to redevelop 21 acres of publicly owned real estate around the Richmond Coliseum. The plan includes roughly 25 new restaurant spaces; the success of the development hinges, in part, on the tax dollars generated from these new restaurants. 
And new restaurants often take customers away from existing ones.
"Richmond has a lot of restaurants, no doubt," Ashby said. "If you talk to the Carytown restaurateurs, they'll tell you they've seen a drop in sales as a result of Scott's Addition restaurants, and all the breweries."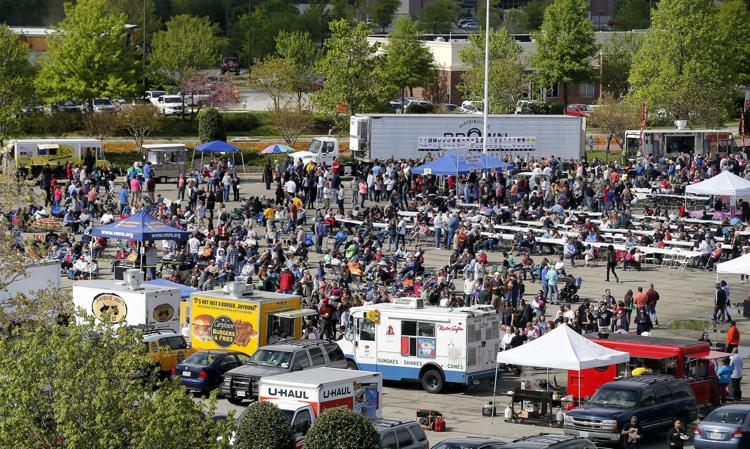 "A level playing field"
"It's not just the restaurants, it's all the other stuff," Feather said. "Virginia is unique. In order to have a bar, you have to have a restaurant. But now we have breweries. If 10% of my business was people just coming out to meet for a drink, now they have breweries."
Virginia passed legislation in 2012 legalizing breweries ability to sell and serve beer on-site; it resulted in an explosion of the number of craft breweries in the state and the Richmond area. Nearly 40 breweries currently operate within the metro Richmond area, with at least three others on the way, according to the most recent licensee data from the Virginia Alcoholic Beverage Control Authority. Five years ago, there were 11.
For many Richmond restaurateurs, breweries aren't a small thing. Competition for patrons abounds, and much of it is coming in the form of breweries. With breweries come food trucks. There are 274 mobile food operators licensed in Richmond, Henrico, Chesterfield and Hanover - nearly 300 roving restaurants, many of which serve breweries operating in the same area. Four years ago, there were 214. That's a 28% increase in the number of mobile food units in four years.
While breweries and food trucks are separate entities with separate owners governed by different legislation, it's difficult for restaurant operators - and the public - to see the distinction.
"We talk about a level playing field. Food trucks flock to [breweries]. They can sell beer; it's the hard liquor - the minimum [food sales] for liquor, that's what's hard,"  Allums said, referring to the Virginia law that requires any restaurant with a mixed beverage license make 45% of its gross sales from food and non-alcoholic beverages.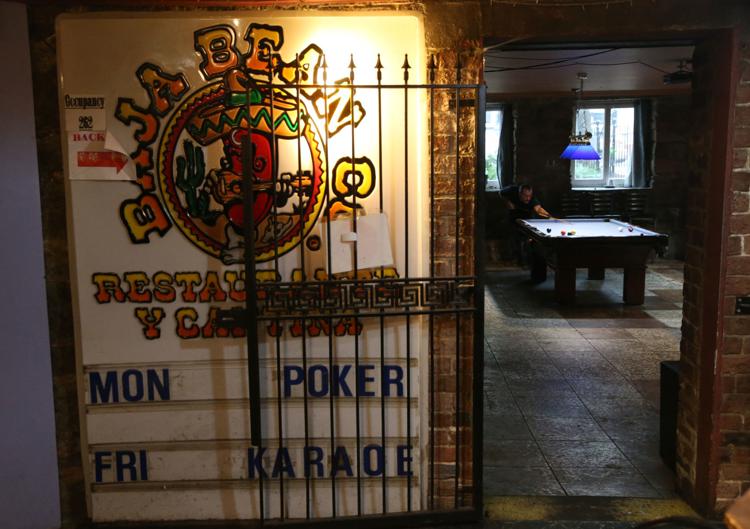 And booze is a booming business. Virginia Alcoholic Beverage Control reported a 7% year over year increase in sales to Richmond area restaurants with just over $30 million in liquor sold to restaurants operating in Richmond, Chesterfield, Hanover and Henrico in the last fiscal year, higher than the state average, which saw a 6.3% increase in sales to restaurants. That money pours into the state coffers - $499.5 million overall last fiscal year for the state's general fund, which pays for core services, such as public safety and education.
Last year, the city of Richmond increased the meals tax from 6% to 7.5% to raise money for city schools. The tax went into effect July 1, 2018 and in its first year the 1.5% tax, earmarked for schools, brought in $9.3 million. The 6% portion of the meals tax, which goes into the city's general fund, brought in additional $36 million for a total of $45.3 million in tax revenue generated from Richmond restaurants last year.
"I think it's very fair to assume that [the meals tax increase] damaged most operators," Tsui of EAT Restaurant Partners said. "It's like the lights went out. It was a palpable effect when the tax went into effect - in sales and revenue."
"It's actually a 25% increase [from 6 to 7.5]," Tsui said of the meals tax increase. "Think about all the dollars flowing out of the city and into the county, guests thinking about all the money they're going to save. Twenty five percent. That's a drink. That's an appetizer. The city was already a determent for many people and now it's more expensive."
Henrico County is the only other locality in the region to charge a meals tax in addition to the 5.3% state sales tax. Henrico's meals tax is 4% and while it closed out its 2019 fiscal year with 44 more restaurants than Richmond, its tax brought in $30.2 million, $15.1 million less than Richmond.
Diners are starting to notice the price increase.
"I think the downtown sales tax has left a bad taste in diners' mouths," said Martha Looney, who lives in Church Hill and dines out often. "My husband and I, of late, are on a takeout kick, plus drinks at home. Saves us a ton, but unfortunately restaurants rely on bar revenues."
Francesca Purcell recently relocated to Henrico County from Washington. "I've been pleasantly surprised," she said of the Richmond dining scene. "City taxes, however, are bonkers."
Williams, with the Richmond Restaurant Group, said sales are generally down at their restaurants in the city.
"There's no way to ever say that the meals tax is the cause, but more Richmond restaurateurs have opened concepts in the surrounding counties and I'm willing to bet people will stay closer to home with more options in the counties," she said.
"Everyone wants a highly successful restaurateur"
"I don't think we're going backwards. We're going to plateau for a bit, and then grow. When that comes, I don't know," Feather said. "I feel like I've been part of this two different times, when there was a lot of growth. In 1998, Ipanema opened, Kuba Kuba opened. But then there was 2008. Stella's opened the same day as The Roosevelt. There were eight openings in a week. Literally."
And as more restaurants have opened in more places, more diners have the option of staying closer to home - and not just outside of the city.
"Ninety percent of the time we stay close to home because we can," said Church Hill resident Looney.
Anne-Stuart Teter lives in the Fan District and said she tends to stick to the restaurants in the neighborhoods in or adjacent to her own.
"It would take a special place to pull me out of Scott's [Addition], The Fan or Carytown," she said. "When I'm feeling frisky, I do the Arts District or Church Hill."
As more residents have moved out of the city center and into other parts of Richmond, restaurants have followed. Hughes with Sperity Real Estate said Richmond will likely see more development in the Forest Hill area thanks in part to the under-development The Hill Standard shopping center at 4910-4930 Forest Hill Ave., which is expected to open next year with six retail spaces, five of which are food and drink based: Stella's Grocery, The Veil Brewing, Blanchard's Coffee Roasting Co., Pepe's Mexican Restaurant and Charm School ice cream shop. A fitness studio is the final tenant.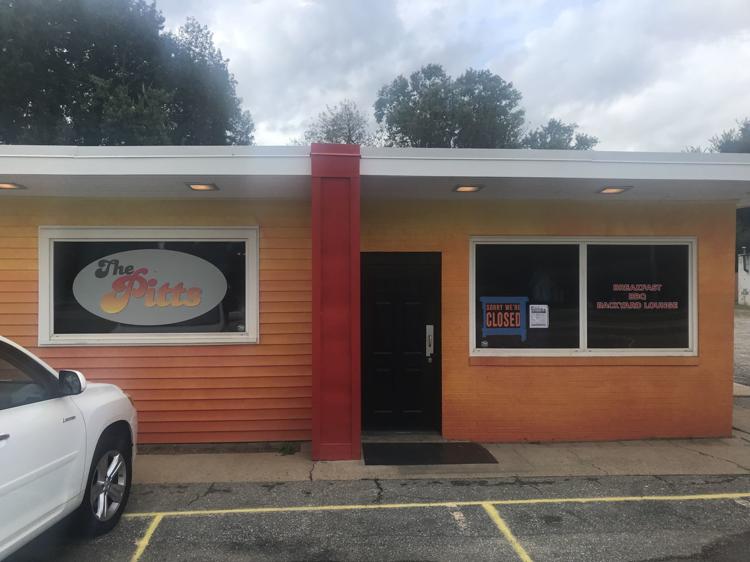 "People are figuring out how to go into the neighborhoods and find their home team," Feather said. She opened Laura Lee's, her fourth restaurant, in the Forest Hill area in 2016. "I see glimmers of things happening that excite me."
Feather mentioned The Fuzzy Cactus, which opened in August in the Brookland Park neighborhood of North Richmond, Cobra Cabana, which opened last year in Carver District and The Pitts, which opened a few weeks later in South Richmond on Broad Rock Boulevard, a mile and a half west of McGuire Veterans Hospital.
"I had to look up The Pitts on a map to figure out where it is, but I love that everyone who seems to go there seems so happy to be there," she said. "It's about watching people create those third places for people to enjoy. If you're not creating something that people want, I don't see the point."
But the biggest growth in the Richmond area has come in the counties. Chesterfield County saw the biggest jump in restaurant spaces in the past four years, adding 121 new restaurants in that time, a 21.1% growth since 2015. And both real estate brokers have noticed an increase in interest in Hanover County.
"A lot of new restaurants are going out to Hanover," Hughes said. "There's a great demographic out there. People are waking up to that."
And that's precisely why Richmond's biggest operator is opening his next restaurant there.
EAT Restaurant Partners announced in December that it would be branching into Hanover County for the first time to open the second location of PBR, the craft pizza and beer restaurant whose flagship location opened last year in Cary Street Station, a $45 million-plus development built on the site of a former 7-acre bus garage compound just outside of the Fan District.
"Hanover is the fastest growing county in the region," Tsui said. "Opening in Hanover was more about the area. We're playing on a level playing field there."
And EAT isn't just opening a restaurant in the new The Shoppes at Rutland Place, it was announced as the anchor for it. The center will also be home to a Jersey Mike's Subs and Charred, a new restaurant concept from the owners of Social 52 restaurant in the Fan District. On Friday, Social 52 announced it was planning a second location for Charred - in Chesterfield County, in the under-development Swift Creek Place center.
"They're going to drive a lot of traffic to the center – we're really excited to have them on board," said Ashby, who's also the leasing agent for The Shoppes at Rutland Place. "Everyone wants a highly successful restaurateur."