This article originally ran in the Richmond Times-Dispatch on June 14, 1986. 
---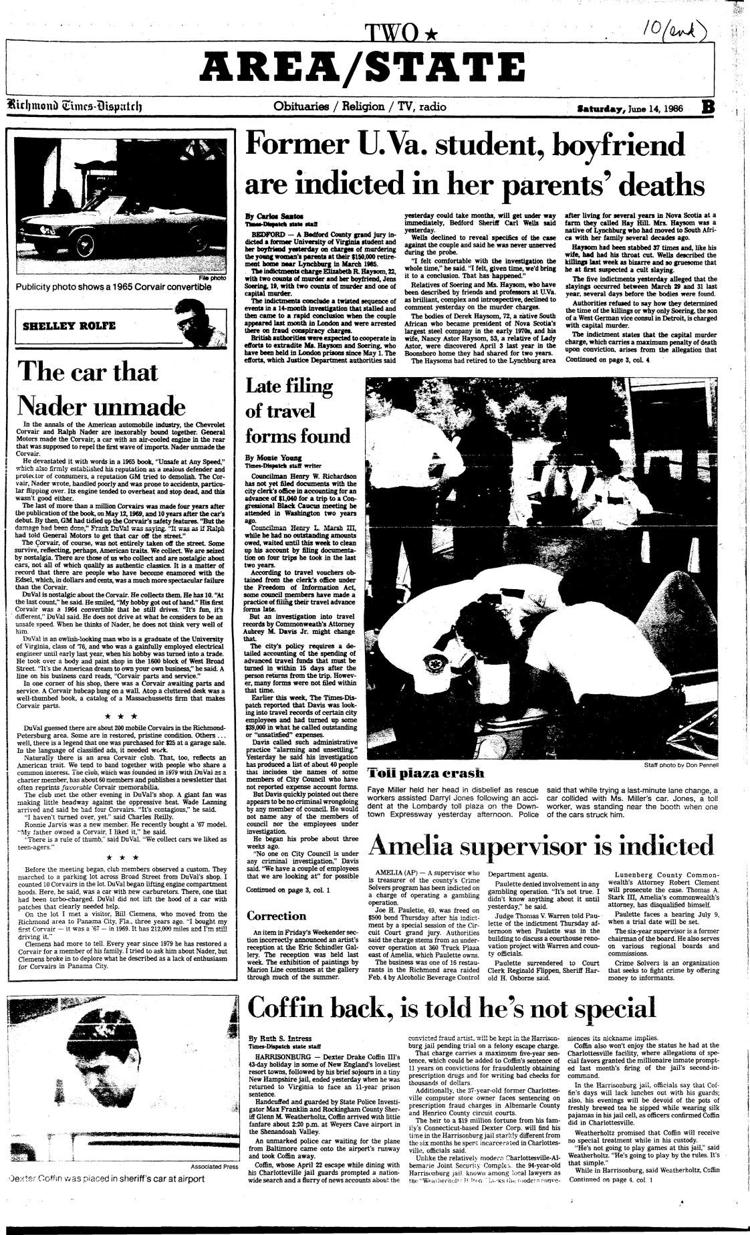 A Bedford County grand jury indicted a former University of Virginia student and her boyfriend yesterday on charges of murdering the young woman's parents at their $150,000 retirement home near Lynchburg in March 1985.
The indictments charge Elizabeth R. Haysom, 22, with two counts of murder and her boyfriend, Jens Soering, 19, with two counts of murder and one of capital murder.
The indictments conclude a twisted sequence of events in a 14-month investigation that stalled and then came to a rapid conclusion when the couple appeared last month in London and were arrested there on fraud conspiracy charges. British authorities were expected to cooperate in efforts to extradite Ms. Haysom and Soering, who have been held in London prisons since May 1. The efforts, which Justice Department authorities said yesterday could take months, will get under way immediately, Bedford Sheriff Carl Wells said yesterday.
Wells declined to reveal specifics of the case against the couple and said he was never unnerved during the probe.
"I felt comfortable with the investigation the whole time," he said.
"I felt, given time, we'd bring it to a conclusion. That has happened."
Relatives of Soering and Ms. Haysom, who have been described by friends and professors at U.Va. as brilliant, complex and introspective, declined to comment yesterday on the murder charges.
The bodies of Derek Haysom, 72, a native South African who became president of Nova Scotia's largest steel company in the early 1970s, and his wife, Nancy Astor Haysom, 53, a relative of Lady Astor, were discovered April 3 last year in the Boonsboro home they had shared for two years.
The Haysoms had retired to the Lynchburg area after living for several years in Nova Scotia at a farm they called Hay Hill. Mrs. Haysom was a native of Lynchburg who had moved to South Africa with her family several decades ago.
Haysom had been stabbed 37 times and, like his wife, had had his throat cut. Wells described the killings last week as bizarre and so gruesome that he at first suspected a cult slaying.
The five indictments yesterday alleged that the slayings occurred between March 29 and 31 last year, several days before the bodies were found.
Authorities refused to say how they determined the time of the killings or why only Soering, the son of a West German vice consul in Detroit, is charged with capital murder.
The indictment states that the capital murder charge, which carries a maximum penalty of death upon conviction, arises from the allegation that Soering killed the Haysoms in the same series of events.
Virginia law generally assumes that in a capital murder case, only the person actually doing the killing can be charged with a capital offense, while the maximum charge that can be brought against an accomplice is first-degree murder.
Since returning from Britain last week, where they were allowed to question Ms. Haysom and Soering extensively, Bedford authorities and other law enforcement sources have described the movements of the couple over the past eight months as erratic.
London investigators, for instance, said Ms. Haysom and Soering used aliases, posed as man and wife and rented a flat in the well-to-do Marylebone section of London near Hyde Park while carrying out an alleged fraud scheme that generated as much as $12,000.
London police Sgt. Kenneth Beever said the two, using the names Christopher Platt Noe and Tara Lucy Noe, allegedly opened several bank accounts, bought dozens of items at local department stores with bank checks, then returned the goods for cash refunds.
U.Va. police said this week that the couple suddenly left Charlottesville last fall, a few days after Soering, an accomplished fencer, failed to appear at a meeting with authorities.
Police said Soering was supposed to have provided a blood sample and prints of his bare feet on Sept. 30. Ms. Haysom had provided the samples earlier.
The couple apparently remained out of touch with friends and relatives after leaving Charlottesville and their whereabouts were unknown until their arrests in London.
The murder charges and the London arrests stunned friends of the couple who knew them at U.Va. as members of a select group of students, known as Echols scholars, the top 5 percent academically of each entering class.
Ms. Haysom was classified as a first-year student when she left in the fall. Soering, who was on a full scholarship, had passed directly into his second year of college after high school because of his advanced standing.
"My understanding (of why they left) is they wanted a new start on life. They wanted to find happiness. College was not what they wanted," said David Roesel, who roomed with Soering in the fall.
"I liked the guy because he seemed to understand what was going on in life. He thought a lot about his life. There was a lot of depth to both of them.
"They were the kind of people who you expect to go far in life. Their main goal is they wanted happiness and to be with each other," he said.
"They needed someone like each other to understand them. They were definitely different types of people," said another former roommate of Soering's, Mike Butterman.