On January 19, 2010, Christopher Bryan Speight killed eight people, including his sister and her family, in his Appomattox home. Speight was sentenced in 2013 to five life terms in prison. This article originally ran in the Richmond Times-Dispatch on January 21, 2010. 
---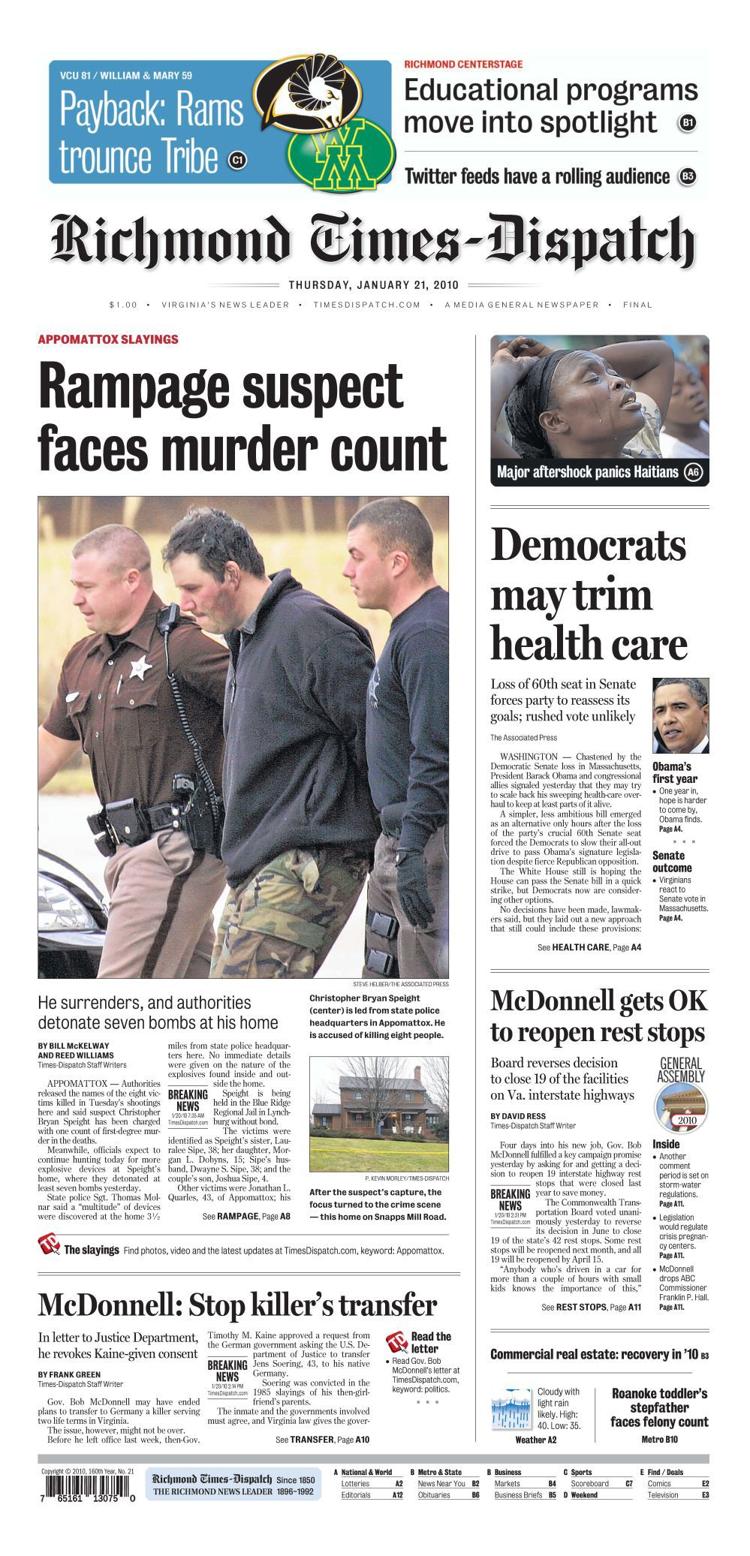 Authorities released the names of the eight victims killed in Tuesday's shootings here and said suspect Christopher Bryan Speight has been charged with one count of first-degree murder in the deaths.
Meanwhile, officials expect to continue hunting today for more explosive devices at Speight's home, where they detonated at least seven bombs yesterday.
State police Sgt. Thomas Molnar said a "multitude" of devices were discovered at the home 3 1/2 miles from state police headquarters here. No immediate details were given on the nature of the explosives found inside and outside the home.
Speight is being held in the Blue Ridge Regional Jail in Lynchburg without bond.
The victims were identified as Speight's sister, Lauralee Sipe, 38; her daughter, Morgan L. Dobyns, 15; Sipe's husband, Dwayne S. Sipe, 38; and the couple's son, Joshua Sipe, 4.
Other victims were Jonathan L. Quarles, 43, of Appomattox; his wife, Karen Quarles, 43, of Appomattox; their daughter, Emily A. Quarles, 15, of Appomattox; and Ronald I. Scruggs II, 16, of Dillwyn.
Scruggs' relationship to the other victims was not clear last night.
"Speight was acquainted with the victims, and he had lived at the residence where the murders took place," Virginia State Police said last night in a statement.
Appomattox Sheriff O. Wilson Staples said Speight, 39, had "managed to conceal himself overnight in the wooded area" guarded by officers before he surrendered near his home about 7:10 a.m. He was unarmed, though authorities said they believe he used a high-powered rifle and was wearing a bulletproof vest.
"Speight's motives are still under investigation," Staples said. "Charges are pending."
***
With Speight's surrender yesterday, crime-scene technicians, bomb-squad members and SWAT officers combed the well-kept rustic-style wood home on Snapps Mill Road and the 34 surrounding acres that comprise the wooded property fronted by a split-rail fence.
The property may have been a source of turmoil for Speight, who told at least one person he thought his sister and her family were trying to get him to leave.
David Anderson, who runs a store in Lynchburg where Speight worked security, said Speight's sister and her family moved in with him from Marietta, Ga., last spring.
Speight's brother-in-law had promised to build another house on the property where Speight could live, and Speight had trees cleared to make a spot for it.
"But it never got built," Anderson said.
Henry C. Devening, a Lynchburg lawyer who was handling the eventual transfer of the property to Speight, said the effort "was meant to give Chris a hand up. His sister and his family wanted to see that he was cared for."
Speight had fought learning disabilities for many years, Devening said.
Devening said he met last week with Speight's sister and her young son and had created documents that would transfer the Appomattox property to Speight as sole owner.
Yesterday morning, the Appomattox sheriff and Corinne Geller, a state police spokeswoman, said that based on the initial investigation by authorities, police had reason to believe there could be explosives in the house or outside.
A mass-casualty unit from the state medical examiner's office in Roanoke has been assigned to the case, authorities said.
"This is probably the worst tragedy in Virginia since the Virginia Tech massacre," Geller said.
Appomattox School Superintendent Dorinda Grasty told The Associated Press that she did not have the list of confirmed victims but expected that the school system would be affected. A flag was at half-staff in front of Appomattox High School, and Grasty said crisis teams would be on hand when students return today.
The school system had closed yesterday as a precaution and will open two hours late today.
***
Speight is a 6-foot, 195-pound handyman, construction worker and security guard who held a longtime fascination with guns and a fear of governmental conspiracies, according to co-workers.
He was born in Norfolk and for much of his life was a resident of Georgia, according to documents he submitted to receive permits to carry a concealed handgun.
Anderson's wife, Connie Anderson, yesterday described Speight as recently troubled over a dispute involving his home and land. He and his sister inherited a stake in the land from their mother, who died in 2006.
"Chris felt like they were trying to get him out of the house, and it was his [house], too," said Anderson, co-owner of Sunshine Market, where Speight, employed by Old Dominion Security, was described by an employee as a good security officer who seemed to have changed after his mother's death.
"He seemed like a zombie when he came back to the job," cashier Tonya Maddox told the Richmond Times-Dispatch. "He was really strange. He seemed distant to everybody. He would talk about the government and how they would take us over."
David Anderson said Speight had as many as 40 guns, and Connie Anderson said he was "very skilled with weapons."
The Andersons said they have known Speight for about five years and that they both have concealed-weapons permits and have been to Speight's home in Appomattox for target practice.
"It's very sad that it happened. I'm just shocked," Connie Anderson said. "I didn't believe it at first. I didn't want to believe it."
She said Speight talked to her husband Saturday about an apparent family dispute involving the home.
***
Speight has had a concealed-weapons permit issued in Appomattox since 1999, according to court records. His most recent application for the permit was filed Jan. 6, 2009, and "seen and agreed to" by Appomattox Commonwealth's Attorney Darrel W. Puckett and approved by a circuit court judge.
On the permit, Speight answered "no" to questions asking if he had ever been convicted of a felony or committed for mental illness. Accompanying documentation for the permit showed he had received firearms "retraining" in June 2003 from the Liberty University Police Department.
A check of area court records showed no offenses other than traffic violations.
The AP reported that Speight's uncle, Jack Giglio of Tampa, Fla., said his nephew was a deer hunter, though as far as he knew, Speight did not have any specialized weapons training.
"We're shocked, of course," Giglio told the AP. "I'm not aware of any problems with him. It's kind of out of the blue. We're still trying to pick up facts, too."
Giglio said he hadn't seen Speight since 2006, when both attended the funeral for Speight's mother, who died of brain cancer.
***
The announcement of Speight's surrender was made by Staples, who smiled broadly as he stepped up to a microphone at a quickly arranged news conference at 7:25 a.m. outside a state police command post.
Authorities said that even with the capture, schools would remain closed yesterday for the day as previously announced by the sheriff, "out of an abundance of caution."
About 2,000 students are enrolled in the public schools. Also closed was Cornerstone Christian Academy, which is near the crime scene.
Police on Tuesday night established a search perimeter that ran 2 miles east-west and about 1,000 yards north-south between Snapps Mill Road and state Route 613/Police Tower Road. They said they were confident that Speight was in the area, which is where shots on a state police helicopter originated Tuesday.
At a 5 a.m. news conference yesterday, police repeated that they believed Speight was within the perimeter.
After the capture, the focus turned to the crime scene, a house with children's toys in the yard and five vehicles that apparently belonged to some of the people killed. About 100 law officers, many in camouflage and body armor, searched the home and yard.
One victim was found Tuesday in the dirt road in front of the home; four bodies were outside the residence and three were inside, Geller said. Police said the victim found injured on Snapps Mill died at Lynchburg General Hospital.
About noon Tuesday, Appomattox County emergency dispatchers received a call about a man lying in Snapps Mill Road who needed medical attention. When police arrived, they heard more gunshots, which sparked calls for assistance from neighboring counties.
Ben George, a 17-year-old 10th-grader at Appomattox High School, described to The Times-Dispatch riding his bicycle to the crime scene and hearing shots fired and a bullet whistle by him.
George, who lives on Snapps Mill Road a mile or two from Speight's home, said he got a call from his mother Tuesday afternoon. She told him that she had heard on a police scanner a report of a person lying in the road with a bloody head.
George said he rode his bike looking for the house and, as he approached it, an Appomattox sheriff's deputy told him to turn back. But he kept pedaling and recognized the house as the home of one of his friends, a teenage girl who rode his school bus. He believes she is one of the victims.
He said he turned back when the deputy wouldn't give him any information and, as he was pedaling away, he heard a gunshot. He started pedaling faster.
"I heard another shot, and it hit metal and ricocheted and I heard it whistle by me," George said.
"I don't know if the man shot at me; he might have been shooting at the cop," said George, who returned home safely.
He had been home from school Tuesday because of a teachers' workday. If it had been a normal day at school, George said, his friend would probably still be alive.
About an hour and a half after the initial shooting call, the state police helicopter was hit four times by bullets, including at least once in a fuel line, forcing it to land. There were no injuries.
***
The victims
Ronald I. Scruggs II, 16, of Dillwyn
Emily A. Quarles, 15, of Appomattox
Karen Quarles, 43, of Appomattox
Jonathan L. Quarles, 43, of Appomattox
Dwayne S. Sipe, 38, of Appomattox
Lauralee Sipe, 38, of Appomattox
Joshua Sipe, 4, of Appomattox
Morgan L. Dobyns, 15, of Appomattox
Source: Virginia State Police
2010 front page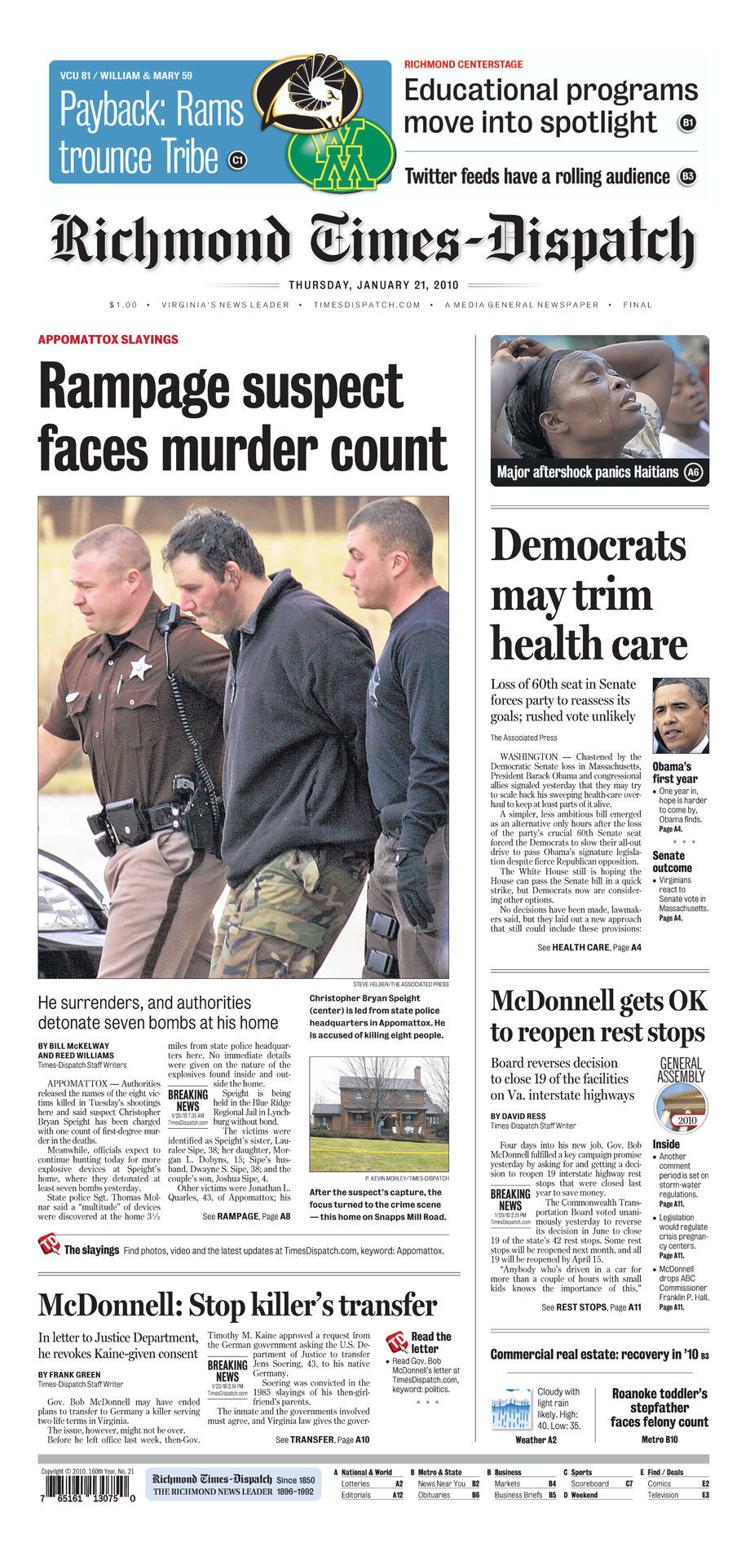 -- HIDE VERTICAL GALLERY ASSET TITLES --
2010 Appomattox Shootings
2010 Appomattox Shootings
2010 Appomattox Shootings
2010 Appomattox Shootings
2010 Appomattox Shootings
2010 Appomattox Shootings
2010 Appomattox Shootings
2010 Appomattox Shootings
2010 Appomattox Shootings
2010 Appomattox Shootings
2010 Appomattox Shootings
2010 Appomattox Shootings
2010 Appomattox Shootings
2010 Appomattox Shootings
2010 Appomattox Shootings
2010 Appomattox Shootings
2010 Appomattox Shootings
2010 Appomattox Shootings
2010 Appomattox Shootings
2010 Appomattox Shootings
2010 Appomattox Shootings
2010 Appomattox Shootings
2010 Appomattox Shootings
2010 Appomattox Shootings
2013 Appomattox Shootings
2013 Appomattox Shootings
2013 Appomattox Shootings
2013 Appomattox Shootings
2013 Appomattox Shootings
2013 Appomattox Shootings
2013 Appomattox Shootings
2013 Appomattox Shootings
2013 Appomattox Shootings
2013 Appomattox Shootings
2013 Appomattox Shootings