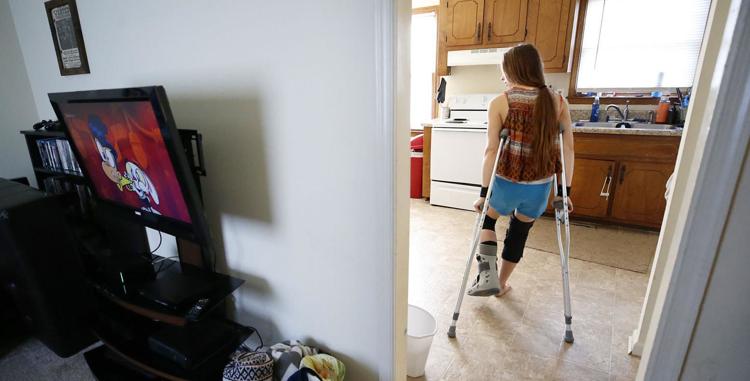 Hot coffee sloshed onto the floor as Ali Watson struggled to balance her mug and keep her crutches tucked under her arms.
She wobbled from the kitchen to the living room of her Hopewell home, tipped her mug on a side table and leaned the crutches against the couch before collapsing onto the cushions with a sigh.
Earlier that Thursday morning, the 23-year-old had swallowed 600 milligrams of Tylenol for the pain in her foot, but she generally avoided taking pain medicine ever since the piles of pills she'd been prescribed as a teenager began to take their toll on her liver. 
Ali had tripped and tumbled down the stairs three weeks before at her son Zeke's third birthday party, breaking her foot.
But her pain had started long before then.
It began with the piercing headache that came when she was 12 and never went away. It was accompanied by skin so sensitive that a light brush of fingers against her arm would ache for 20 minutes and a digestive system so fragile that nausea was her normal. Twice, her arms had become so heavy that she couldn't reach for a glass of water on the table in front of her, sending her rushing to the emergency room to check for a nonexistent stroke.
For more than a decade, Ali suffered through misdiagnoses and emergency visits, weathered false hope and defeatism from doctors, and fell deep into debt as treatments meant to dull her pain only worsened it. Today, even with a diagnosis that finally makes sense, hope for a cure remains just out of reach: across an ocean, with an innovative surgeon, and on the other side of a medical down payment she can't afford.
***
When Ali's headache first started, her mom, Valerie Shelton, thought it was hormones. But when the pain didn't go away, Valerie, a nurse, panicked. She took Ali to doctor after doctor, boggling all of them.
They thought she might have a brain tumor, but the scans came back negative. They thought it might be cancer, but found no evidence of that either. So, at age 14, doctors told Ali she had fibromyalgia, a disorder where the brain feels pain even though doctors can't find a reason for it.
Ali's dad didn't buy it. He thought doctors were dismissing her symptoms by saying they were in her head, but she and her mom were relieved to have an answer.
She was tired of chasing a diagnosis.
She tried to have a normal adolescence, convinced that her pain was a trick of her brain. She attended high school and was a cheerleader.
When she turned 18, Ali gave up on doctors and medicine. She'd learned to live with the symptoms. She attended Tidewater Community College and worked as a waitress. She went to concerts and on camping trips.
The pain was manageable – until 2015.
A few weeks after giving birth, Ali felt severe pain in her midsection and was throwing up for 12 hours at a time. No longer able to avoid doctors, she went to the emergency room a dozen times in a year, and was referred to a urologist.
Then an OBGYN.
Then a cancer geneticist.
No one could figure out what was wrong with her, and she was already falling tens of thousands of dollars in debt from co-pays, lab fees, and other costs not covered by her insurance.
A few days before Christmas of 2016, the doctor Ali was seeing for a cancer screening asked another geneticist to examine her.
Ali had come to the appointment alone. Her boyfriend, Sean Winston, had already missed too much work for her appointments and they couldn't afford for him to lose his job. She'd left Zeke with her mom and went to what she thought would be just another appointment.
Three doctors crowded into her examination room in the basement of VCU's Massey Cancer Center and gave her the diagnosis.
All these years, the trouble hadn't been with her brain, but with her genes. Ehler-Danlos Syndrome, the geneticist called it.
She'd inherited a faulty gene from her mom, and had a 50 percent chance of passing it on.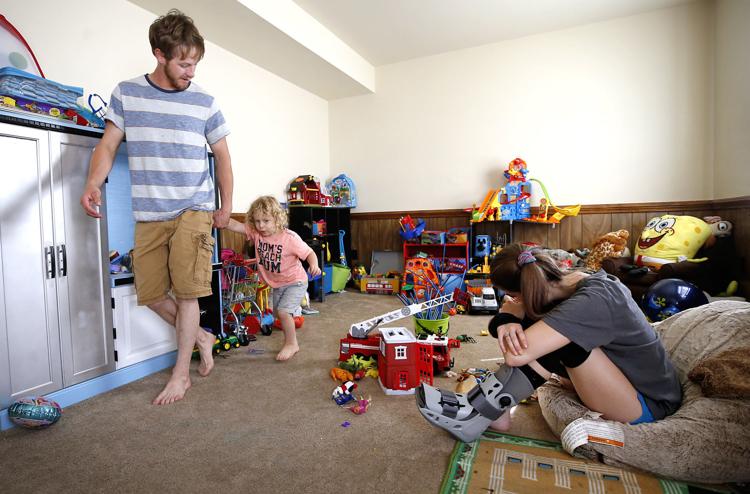 Ali sat there silently as the three doctors discussed her case. Everything seemed to make sense to them, but she was as confused as ever. She'd never heard of Ehler-Danlos Syndrome and she had no idea what  it meant for her. It wasn't until she got home and Googled the disorder that it clicked.
The constant pain, the digestive problems and the easy bruising that Ali had endured for most of her life were common EDS symptoms. Because of a defect in her DNA, her body is unable to properly produce collagen, a structural protein that holds together the skin and internal organs. It could cause paralysis and life-threatening blood clots.
But it didn't explain the main symptom she found unbearable -- the reason she was seeing the doctors in the first place. The searing pain in her abdomen had to be caused by something else.
***
At three minutes to 9 a.m., Ali heard 3-year-old Zeke's first cries of the day. He lingered at the top of the stairs of the tri-level home in nothing but a diaper, his blonde ringlets wild from sleep.
Ali struggled to her feet again, leaving her nearly-full cup of coffee, and navigated awkwardly up the stairs with her crutches. She sat with Zeke on the floor of his bedroom, took off his diaper, wrapped it into a tight ball and tossed it down the stairs onto the kitchen floor. Zeke stepped into Batman underwear that Ali held out and then went about fulfilling his morning chores from the Magnetic Responsibility Chart hanging next to his bed.
It's important to Ali that Zeke learns. In his playroom downstairs, there are educational posters Ali made with playful ways to learn letters, numbers, shapes and colors. He's not allowed to watch Youtube on her phone because she doesn't want him to get addicted to screens. She does her best to take him outside and to the park – or at least she did until she felt dizzy and fell to the floor at Dick's Sporting Goods while shopping for boots. After that, she knew it was too dangerous to take him out  while Sean is at work. Even if they can't go out, she forces herself off the couch to sit in the playroom with him.
She wants Zeke to have a solid foundation and lots of good memories with her, just in case.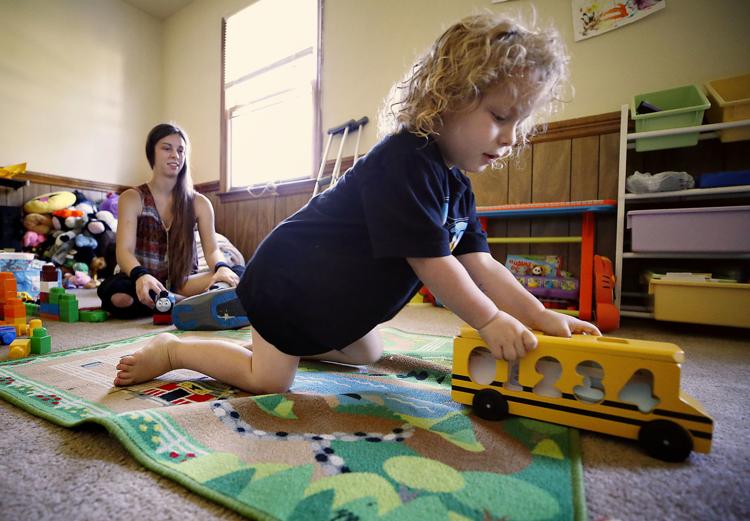 Ali made her way back down the stairs and prompted Zeke to pick up the diaper from the floor and throw it in the trash.
The 3-year-old tumbled around the living room doing somersaults. It makes Ali nervous when he does that. He bruises so easily.
In the kitchen, Ali set aside her crutches again and hopped on one foot between the stove and the fridge, cooking scrambled eggs for Zeke. She didn't bother to make anything for herself. She'd barely eaten anything in months.
Shortly before her EDS diagnosis, at one of the many visits to the emergency room, a CT scan had found another condition: renal nutcracker syndrome. The vein that carried blood from her kidney to the rest of her body was squeezed between two major arteries. Yet another scan found a large mass taking up a part of her lower abdomen.
In April 2017, a surgical team at Johns Hopkins Hospital removed a cyst the size of a grapefruit from her pelvic region, thinking that it might relieve pressure on her blood flow and organs.
Instead, it made things much worse.
The surgeon had to remove one of her fallopian tubes along with the cyst and hadn't realized that Ali's body had been using it as an avenue to pump blood to her heart. The pain in her abdomen worsened and spread to her left hip.
Again, she was in and out of the emergency room, and on one visit, the doctors found that the blood had begun to pool in her pelvic region because it could not leave her kidney.
Discouraged, scared, and losing confidence in the medical advice she'd received, Ali decided it was up to her to find a treatment.
She further researched her condition, reaching out to Facebook groups for others with similar blood circulation issues called vascular compressions  - like the renal nutcracker syndrome. Many people in the groups also had EDS in addition to compressions. Others, like her, had been passed from one specialist to another who had tried to treat the various symptoms instead of looking at the system as a whole. She feared the renal nutcracker syndrome was just a piece of a bigger puzzle.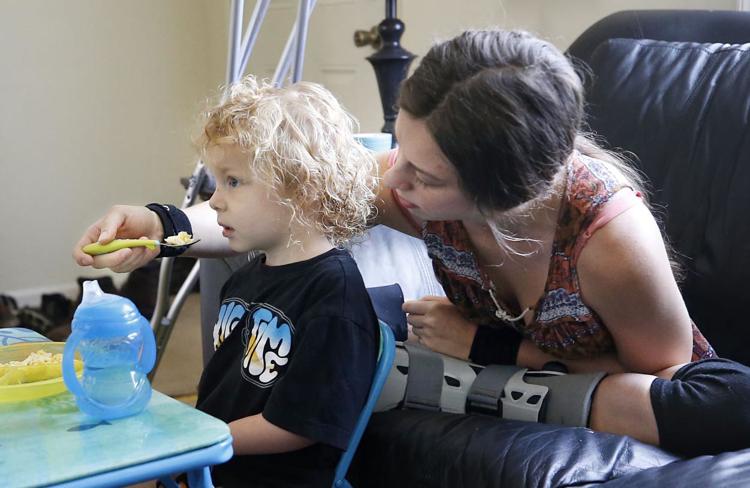 Ali spent a month on her phone, battling the guilt of not giving Zeke enough attention, as she called medical centers across the country seeking a solution.
She learned it would take five different doctors, all in different states, with specialties in different parts of the body to get a complete diagnosis. But even if she managed to put together the puzzle of her vascular system, no one she spoke with could offer a cure.
One of the few doctors-- if not the only one --  in the U.S. known to have treated a compression by performing a surgery to reroute an artery was Dr. Kenneth Cherry, a retired vascular surgeon at the University of Virginia. He had stopped performing the operation because of the high risk of life-threatening complications. According to Cherry, experts in the U.S. do not recommend this surgery. The complexities of the multiple diagnoses that often afflict patients with compressions make it less likely to be a cure for their symptoms, and even patients with successful reconstructions often end up needing additional surgery after a few years, he said.
The generally accepted approach to Ali's condition is to relieve the symptoms with medicine or gastrointestinal surgery and monitor for aneurysms. 
To Ali, the idea that all she could do was sit and wait to for her organs to fail or for a blood clot to take her life was incomprehensible.
She reached out again on Facebook, and was amazed to hear from a young woman in England named Emma Green who had once lived in constant pain, was unable to walk, and hadn't eaten in a decade due to her compressions, but was now pain-free and apparently cured of her debilitating symptoms after undergoing a rare, complex artery reconstruction surgery in Germany.
The German surgeon, Dr. Wilhelm Sandmann, had performed more than 100 groundbreaking surgeries on patients with similar complications.
He had performed his first compression syndrome surgery in 1977, and had earned international respect and recognition for what he says is nearly a 100 percent success rate.
That was enough for Ali.
In January, Ali and Sean borrowed $8,200 from her grandmother and flew to Germany. They spent the majority of their three-day-visit battling jet lag and driving to appointments, but Ali got the ultrasound and a consultation with Dr. Sandmann. He found six vascular compressions, including one that had never been documented. He said that he had performed new, successful surgeries in the past and he would create a new one for her.
Although the surgery would have its risks and would require an extensive stay in Germany to recover, Dr. Sandmann was confident he could help her.
All she needed to do was pay $32,000 for the surgery upfront and he would block out a week on his calendar to treat her.
Finally, Ali had seen hope – instead of confusion and defeat – in a doctor's eyes. She knew that this was the right option for her, but her health insurance would not cover the cost of the international procedure. She'd already spent $7,000 and racked up $35,000 in debt to find the problem, and now she didn't have the money to solve it.
***
One Wednesday afternoon in September, Ali was in her kitchen, peeling an orange for Zeke's lunch. Sean cleaned a pot lid in the sink as his zucchini and macaroni and cheese - leftovers from the night before - warmed in the microwave. It was his one day off that week from his industrial painting job. Sixty-hour work weeks were not unusual since Ali's illness had worsened.
Sean brought his plate to the table and sat next to Ali, who sipped a glass of water between feeding Zeke forkfuls of food.
"Now you eat a bite," Zeke said to his mom.
"I don't really want to," Ali said.
Sean always cooks double dinner and packs the leftovers to bring to work for lunch. That way he's not spending money eating out; although, he sometimes splurges on chocolate milk.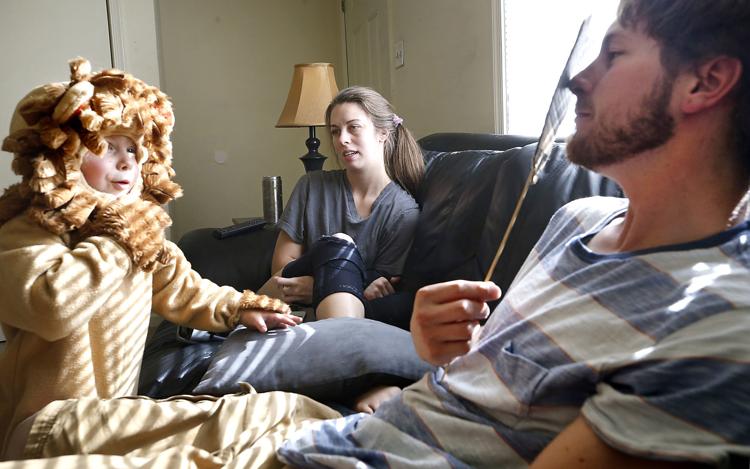 Ali added up the costs  for the surgery, the plane tickets, and the living expenses that she, Sean and Zeke will need for her to go to Germany: It came to $60,000.
In August, seven months after her first trip to Germany, Ali created a GoFundMe page. She'd been reluctant to ask for help and had put it off as long as she could. But if she wanted to see Zeke grow up, she needed the money.
She wasn't alone. There are more than 250,000 medical campaigns posted on GoFundMe each year, according to the website. And about a quarter of all adults, ages 18-64, have had problems paying medical bills, including 20 percent of adults with health insurance, according to a 2016 report on a survey by the Kaiser Family Foundation and the New York Times.
In September, Ali's blood pressure crept up higher than usual; the nausea intensified; and a trip to the doctor for a kidney infection found that she's now having severe problems with her liver.
As of early October, the page had generated $10,655 in donations - still nearly $50,000 short of her goal.
***
After lunch, Zeke coaxed his parents out to the backyard.
Sean's mom had given them a trampoline and Sean had finally found the time to put it together the night before.
He tries not to buy what he can put together himself. He got Zeke's playset for free and fixed it up with plywood. He's working on making a play kitchen out of an old entertainment center.
 Sean hoisted Zeke up onto the trampoline before pulling himself up too.
They jumped and tumbled around on the springy surface, laughing.
Ali watched from her seat on the stairs of the back porch.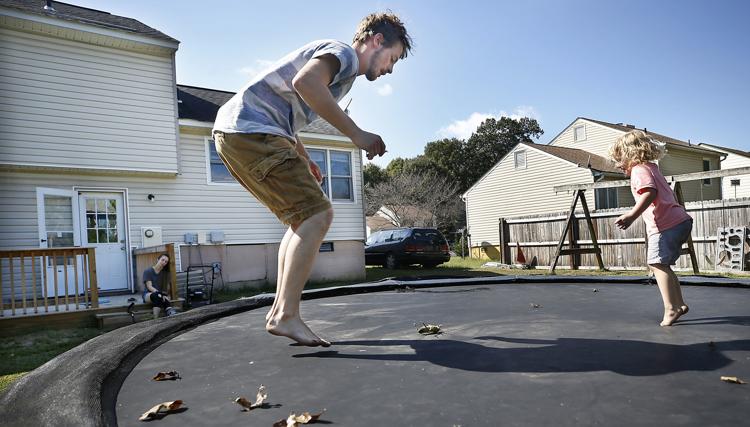 She worried when Zeke's playing was rough on his little body. His joints would pop and crack and hyperextend and his legs and arms would turn blue with bruises, just as Ali's had when she was a kid. Now, his pediatrician wanted him to see a geneticist next month.
Even as Ali fought off panic attacks over her upcoming surgery -- or worse, what would happen without it -- the fear and guilt that Zeke may someday have to endure the same suffering hung over her. The signs were there, but she clung to the chance he'd gotten Sean's genes: 50 percent.