Cole Sydnor, paralyzed since he dove into the James River and hit a submerged rock in 2011, has experienced the future of mobility for people like himself — a wearable suit of sorts that powers legs unable to move on their own.
The exoskeleton, as it's called, is like a robotic or bionic suit strapped around the lower body. A battery pack provides the power, and the device's computerized sensors adjust for balance and movement.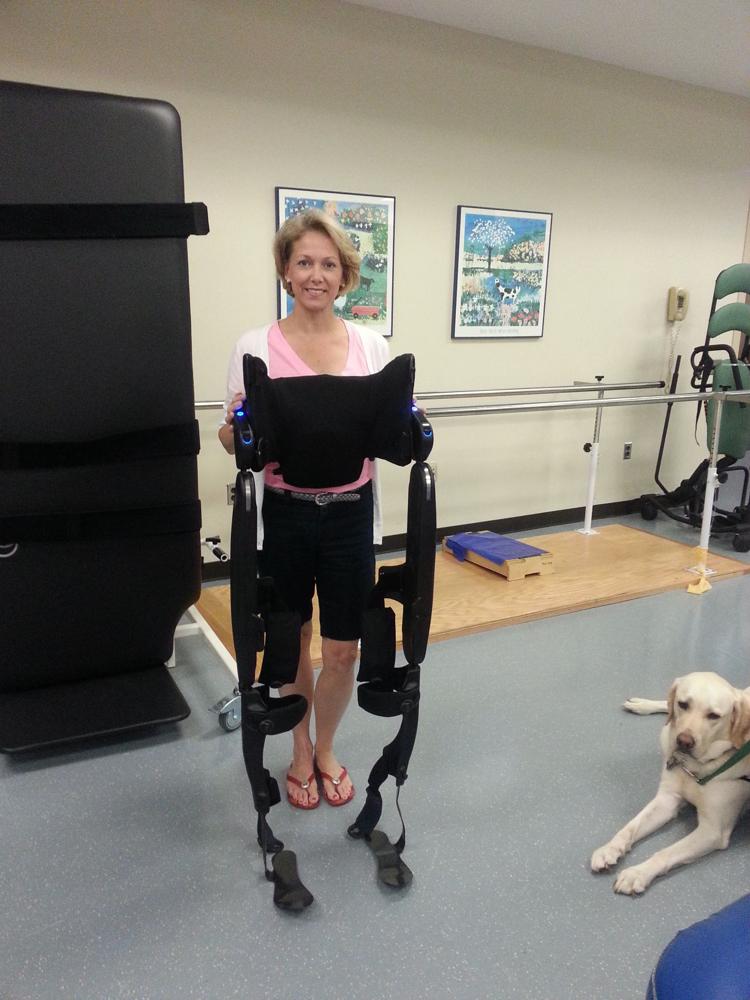 "What they were doing with me was trying to figure out if it could even be used with a quadriplegic in the first place," said Sydnor, of Hanover County.
It's "very sleek in design, very small, you can wear it in your wheelchair," he said.
Sydnor, who has seen what the device can do, is excited about the Sheltering Arms research even though he will not qualify for the study, which will focus on patients who still have some leg function.
"I was able to stand up with that, and I was actually able to go from point A to point B. ... I was able to — it sounds kind of corny — embrace my friends and family in a more normal way than I have in years. It was a moving experience," said Sydnor, who is a junior at the University of Richmond studying psychology with a neuroscience concentration.
"Life is back on track," he said.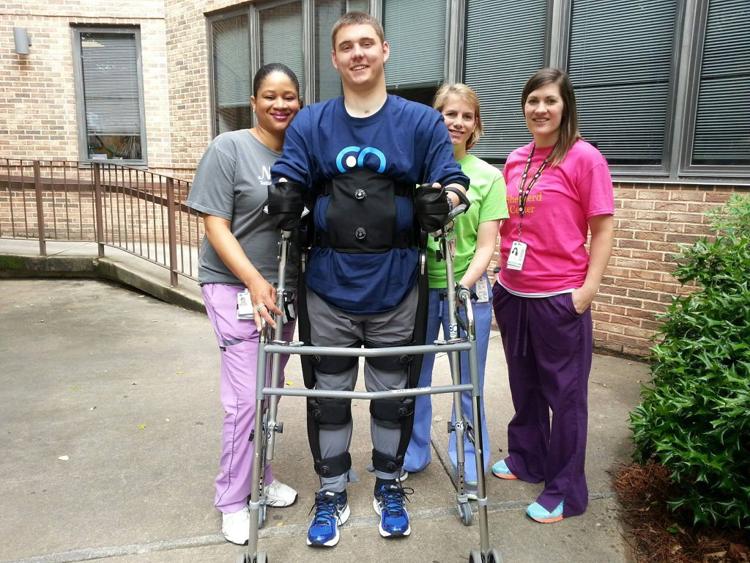 Sheltering Arms is awaiting approval from a research oversight body to move forward with enrolling patients in the study.
The Indego exoskeleton already has been studied on people with complete paralysis to see if they can use the device to get around at home and in the community, said Amber Devers, a doctor of physical therapy at Sheltering Arms.
The new study will look at whether it can help with rehabilitation of patients who are not completely paralyzed.
"Can it help as a rehabilitation device versus just something to kind of replace the wheelchair? Can it help them in regaining function for walking?" said Devers, chief investigator for Sheltering Arms' participation in the pending study.
Three to five Sheltering Arms patients will be enrolled in the spinal cord injury study, which will last three to four months.
Separately, a different study looking at use of the device in rehabilitation of stroke patients is expected to begin around midyear.
"For stroke, that's going to be really new. There really is not as much research about use of exoskeleton in stroke rehabilitation," Devers said.
"We are interested in seeing how the Indego exoskeleton helps people after stroke compared to other devices," she said. "That study will have more subjects for us."
A number of companies make exoskeletons, including Ekso Bionics, ReWalk Robotics Ltd. and Cyberdyne. Some of the devices are being studied for nonmedical uses, such as to allow factory workers or rescuers to lift heavy loads.
ReWalk's device was the first to gain U.S. Food and Drug Administration approval when it was cleared for marketing in June 2014. The technology got a boost recently when the U.S. Department of Veterans Affairs announced that it will pay for ReWalk for some veterans. The ReWalk for personal use (versus therapeutic use) costs an estimated $70,000 per exoskeleton.
McGuire Veterans Affairs Medical Center in Richmond was given an Ekso Bionics exoskeleton in 2014 by SoldierStrong (formerly called SoldierSocks), a Connecticut-based organization that helps service members and veterans. The veterans hospital planned to use the device in its spinal cord injury research program.
The economic and rehabilitation benefits of the Indego exoskeleton are also being studied in a major, four-year study funded by U.S. Department of Defense and the Congressionally Directed Medical Research Programs. The Indego exoskeleton technology was developed by Vanderbilt University researchers, who will lead the study. Parker Hannifin Corp. licensed the technology from Vanderbilt in 2012.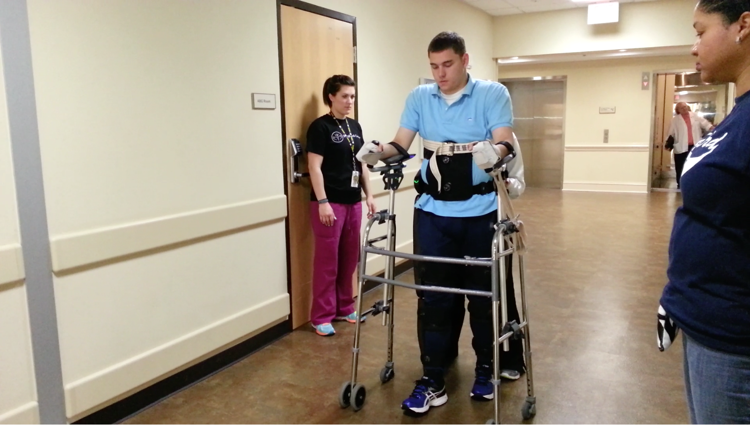 The devices have their limitations. Climbing on stairs and walking on uneven surfaces, such as sand or rocky surfaces, can be a problem. Sydnor said that in the trial he was a part of at the Shepherd Center in Atlanta, he walked along hallways of the facility, down a ramp and outside on grass.
"Being able to walk outside, that was really cool," he said. "By day five, we actually did some tests. One of the tests was how quickly I could go 10 yards and another was 50 yards, I think."
Quadriplegics like himself, he said, need a person or two to assist them while they are in the device, while paraplegics are better able to use the device on their own.
"I don't think it would be something that people would wear all day long. ... One, I don't think the battery would last. But also it's not the most practical at this point," Sydnor said.
An estimated 271,000 people in the U.S. live with spinal cord injuries.
"The exciting thing is that these are portable," said Devers, explaining how the device is different from other high-tech rehabilitation equipment.
"That is very different from what we offer in our portfolio where people need to come in and use it. But we are also hoping the results will show that it augments the therapy that we do in the clinic. ... We always give a home program, but they can continue use of the device outside to really maximize the benefits, and not have to come see us as much."
Sydnor sees the device as a breakthrough, but hopes others are to come.
"What I was doing for the study was very therapeutic for me," he said.
"It's very important for me to maintain strength and bone density and good blood pressure and stuff like that, which I can help with working out. The reason for that — if one day there is a cure, my body needs to be ready to get up and get to it. ... Doing all those things at Sheltering Arms will hopefully prepare me for the day I can get up out of this thing and start walking again."
---
It began as a day of summer fun for a group of friends.
---