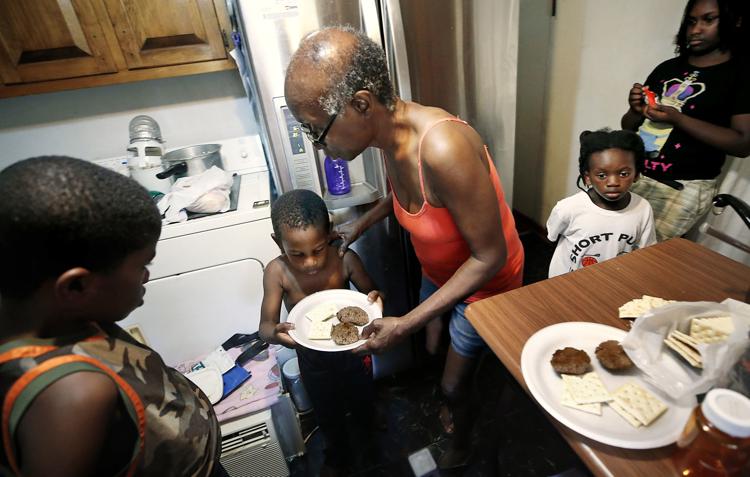 CHARLES CITY COUNTY - David Gaston knows his students likely don't have the internet when they get home. If they do, it's too slow.
Residents here struggle to find a bar or two of cell connection most places. There's no grocery store, no public transportation and a single clinic for health care.
But Gaston, superintendent of the Charles City County public school system, is doing what he can to serve his dwindling district.
"We don't want our kids to feel that because they live in a rural county they can't have access to things," he said.
He launched an initiative giving students in grades 3-12 their own laptops for schoolwork in hopes of helping them learn the way their regional peers do while exposing them to a potential career.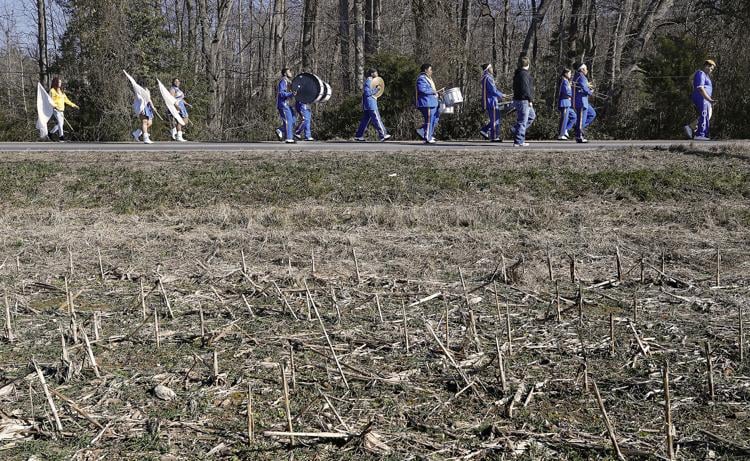 He's preparing them for jobs that don't exist here, amid winding back roads lined by trees, deer roaming free and no traffic lights to stop drivers. A new bike trail connects the two metropolitan areas on either side of the county - Richmond and Hampton Roads. But day-to-day life in Charles City county is in many ways disconnected.
"This is the land that time forgot," said Jackie Stewart, a Charles City resident. "We're like 40 years behind in technology and innovation and enthusiasm that a lot of the rest of the region benefits from."
While they try to catch up with neighboring cities and counties, the residents who are here are trying to make it better - from feeding hundreds out of their home kitchen to participating in the county's senior citizens program to trying to lure outside business.
"Being in a small county, you just have to be patient," said Fred Crump, the county's director of parks and recreation.
The tiny kitchen in Walter Paige's home on West Run Road turns into an industrial one on the last Wednesday of every month. The lone oven turning out meal after meal as gospel music serenades the 66-year-old cook gives hundreds of Charles City families peace of mind for where their next meal will come from.
He's always enjoyed cooking and, to the thanks of those on the receiving end of his monthly meals, Paige has gone from preparing greens for four hours to the chagrin of his grandmother to now being able to cook "anything you give me."
The nearly 300 meals - his most is 363 in October 2018 - that go out of his kitchen find their way to families in need in a county in need, longing for a grocery store in a food desert, among a litany of other issues.
"These people need these meals," Paige said. "And for me, I enjoy it when people are able to enjoy a meal."
An estimated one in five of the county's 7,000 residents doesn't know where the next meal is coming from, a recent Charles City County Health Coalition report found - a rate well above the region's average.
The county's population skews poor, with families bringing in $7,500 a year less than the region's average pay. But residents said the county's isolation - rather than its poverty - is the root of its issues, including the food desert.
"We're right here between two metropolitan regions but we've not experienced what it's like to be beyond our borders," said Stewart, who runs the Charles City Educational Foundation to try and get private investment in county schools.
In many cases, residents must leave the county for help.
Shortly after noon on a cold Friday in January, Catherine Tyler is bundled up with a blue jacket and two pairs of gloves to accompany her two hats.
She makes her way back and forth between a box of Publix apple pies brought by volunteers to the food pantry from Mechanicsville 21 miles away and a cart that's organized to avoid crushing the dozens of days-old desserts. Soon, about 85 people will come to the outdoor food pantry off Parish Road to get their groceries, a mix of meat, vegetables, fruit and bread.
"It helps other people who can't volunteer and gets them this food," said Tyler, 70, who also does her grocery shopping at the pantry. "We look out for each other as much as we can."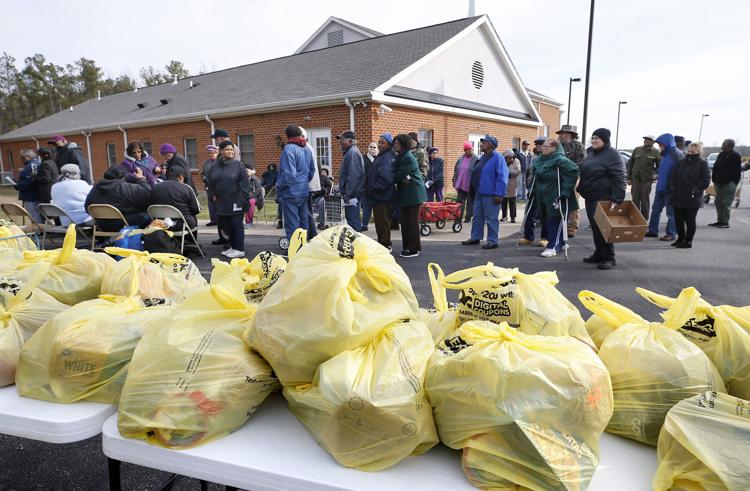 The pantry, through New Hope Church, operates on Mondays and Fridays and asks for a $5 donation for the estimated $150 to $300 worth of groceries each of the recipients will walk away with.
New Hope, which is in New Kent County but serves residents of both New Kent and Charles City, isn't alone.
Churches and community members have stepped in to improve access to food for a county that lacks a single grocery store despite efforts from the county to bring one.
County officials cite the small population - 7,086 people, according to U.S. Census Bureau estimates- as the main barrier for bringing a grocery store.
"Until you have more people, there's not going to be a grocery store," said Bill Coada, a member of the county board of supervisors.
County Administrator Michelle Johnson, a Charles City native, said the county reached out to Aldi in hopes that the national chain would plant a store in the county, but that effort failed because Aldi's business model would require more than three times as many cars stopping at the store in one day than the county has residents.
Those residents are spread all across the roughly 200 square miles that comprise Charles City, with about 40 people per square mile - one of the lowest marks in the state, making it more similar to rural swaths of southern Virginia than its neighbors.
"It's just difficult with a population of a little more than 7,000 to have major companies come to Charles City," Johnson said.
St. John Baptist Church on Roxbury Road operates the county's mobile food pantry, a resource that serves about 300 families on the first Thursday of every month. The closest Food Lion from the church is about 20 minutes away in Providence Forge. Started in 2015, the plan is to expand into a permanent pantry that will be open more than just once a month.
"It takes a village and we look out for each other," said Vance Jones, the coordinator of the pantry and associate pastor of the church.
Paige, the home cook who serves hundreds, travels to a Sam's Club a half-hour away to do most of his grocery shopping since he started Missionary Kitchen, the name for his feeding efforts.
He served the first meal - fried chicken with homemade rolls and blackberry cobbler - to 15 people on Oct. 26, 2017. That number has climbed north of 300 in the 16 months he's been dishing out whatever he can find on sale. Paige cooks the meals with discounted products that he stashes on a cart in the corner before volunteers take them to Charles City residents.
"We don't turn away anybody and there are lots who need it," he said.
Sarin Adhikari, a research economist at Virginia Commonwealth University's Center for Urban and Regional Analysis, said neighborhood food pantries are one potential solution to the problem.
"They're not bringing in much revenue, but they still need help," he said. "Their options are very limited."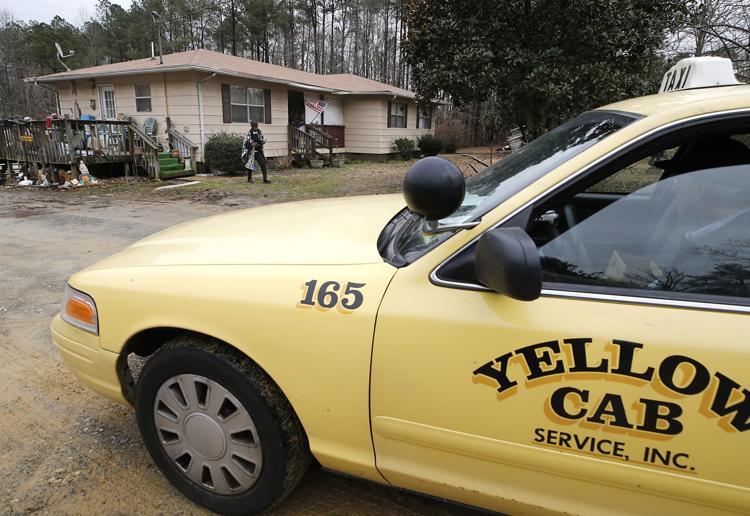 Rose Hewlett has lined up her taxi cab days in advance.
The 69-year-old pays for a taxi to take her to her doctor's appointments both at her primary care doctor - the lone health clinic that serves the entire county - and her more specialized appointments in Richmond and Williamsburg, where she's going this February day.
"Otherwise I wouldn't even get there," she said. She's got a couple older cars that need too much work on them and too little money to pay for it.
Hewlett is one of about 2,000 patients at Charles City Regional Health Services on Courthouse Road, which has basic medical and dental care along with a social worker. For more advanced appointments such as dialysis, residents must leave the county. The nearest hospital is more than 20 miles away.
Some of the clinic's patients arrive through Warsaw-based Bay Transit, which has a door-to-door transportation system that picks residents up on a shuttle-style bus and drops them off at the same location.
"The ride might be a little bit longer, but those are the trade-offs for us being able to reach the communities we serve," said Ken Pollock, the transit director for the company. "Our goal is accessibility for all."
Most people use the company's transportation for work.
Nearly three-quarters of the company's 6,133 Charles City trips last year were work commutes - people living in Charles City but going elsewhere for their job.
A 2017 VCU study found that there are only 417 modest wage jobs in the county, the fewest in any Richmond-area locality.
"If we don't bring industry, we won't grow the way that we want to," said Johnson, the county administrator who also oversees economic development. The county does not have a chamber of commerce.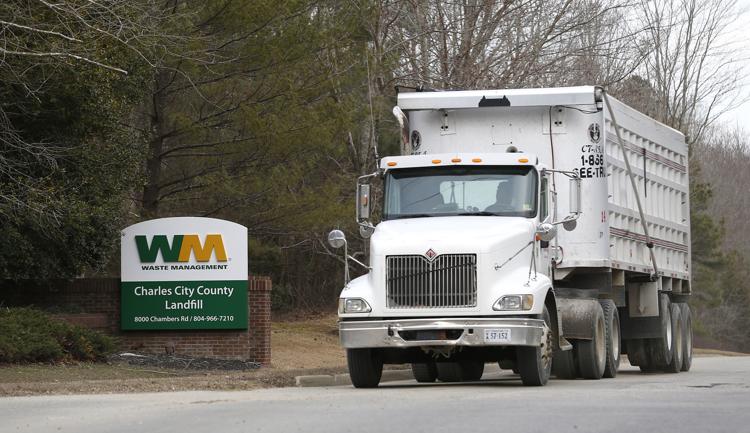 The county has, for decades, relied on revenue and jobs from the Waste Management landfill that's been in Charles City for about 30 years. The county brings in about $3 million each year accepting trash from Richmond, Maryland and Washington. There's enough room for 36 more years worth of garbage here, where 14 people work, making it the largest private employer in the county.
More needs to be done to spur economic development, officials said, specifically with basic infrastructure.
"We're years behind when it comes to economic development because of the lack of infrastructure," said Coada, the county supervisor. "For anything to grow, the roots have to be strong and the root in Charles City is infrastructure."
Said Johnson: "No one is knocking down our door to come to Charles City County."
Judy Ledbetter, the head of the county's Richard Bowman Center for Local History, compared Charles City's stagnation to neighboring New Kent's growth. Charles City had more people than New Kent as recently as 1970, according to federal census records. Now New Kent has more than three times as many people, growth the county has credited to thousands of vacant pieces of affordable land for people to build homes on.
"It's that infrastructure that has produced all that development," Ledbetter said. "There are a lot of hidden gems in Charles City, but it's also challenged for growth."
Charles City's infrastructure was once centered on its nearly a dozen plantations, most of which remain open to the public for tours. Two presidents, William Henry Harrison and John Tyler, were born on Charles City plantations, which produced tobacco and mixed crops. The first census to include freedmen in 1870 - the same year Charles City elected its first black House of Delegates representative - counted 2,104 black residents in the county, which had a total population of 4,921, county records show.
Forty-seven percent of county residents now are black while 42 percent are white. Native Americans make up 7 percent of the Charles City population, with many Chickahominy tribe descendants still living in the county. The Chickahominy River also makes up much of the county's eastern and northern borders.
Despite its history of slavery, Ledbetter said the county hasn't struggled with race relations.
"It's a county in which there has not been a lot of racial strife," Ledbetter said, highlighting the county's post-slavery civic history.
She pointed to a 1959 article in Ebony Magazine that called Charles City the state's "model county" on race, specifically highlighting black representation on every governing body and commission in the county as white residents encouraged black residents to "accept their share of government responsibility."
One white resident is quoted in the article as saying: "There is still respect between the races. We believe with such understanding we can handle any problem in time."
Students in Marna McMurry's sixth grade class work on bios to portray African Americans during a "wax museum" on Family Night at Charles City …
Christina Carter, a resident and mother of a kindergartner in the county, often uses her phone - with its spotty cell service - to watch Netflix. It's common for her to get the nagging loading screen, and her wireless internet access consists of her getting enough signal to use her phone's hotspot.
The lack of internet, she said, is one of the biggest issues in the county - an example of Charles City's woes compared to the rest of the region.
"We can't get things other people can," she said.
The internet issues extend beyond Netflix.
A little more than half of the county's households have access to broadband internet, the eighth-lowest percentage in the state. Neighboring Chesterfield County has the highest percentage in the region at 87 percent.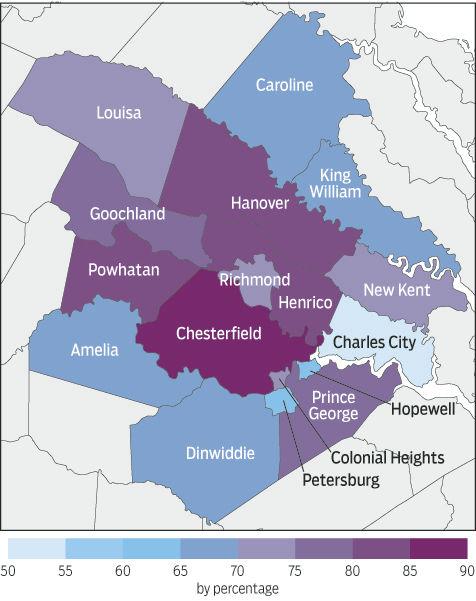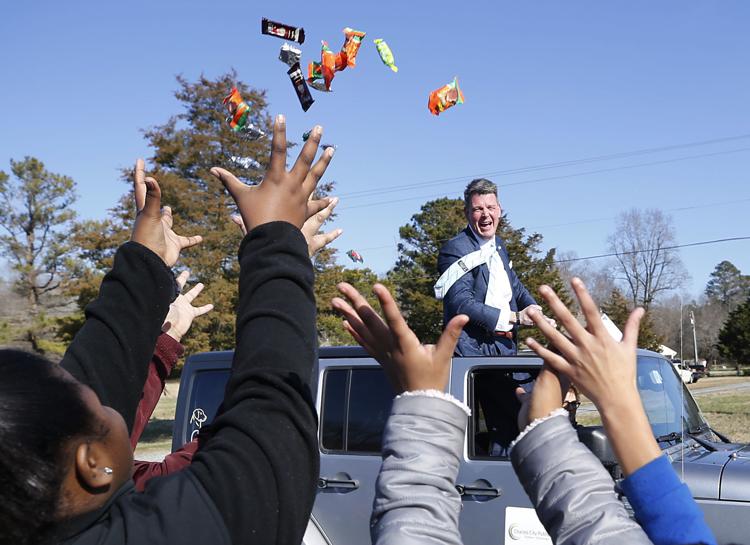 "If we don't have the internet problem fixed, then we'll never grow to our fullest potential the way some of the other jurisdictions are around us," Johnson said.
Johnson said the county is in the process of building another tower to improve the spotty cell service and internet access.
Now comes getting internet to all 3,303 housing homes, something Johnson said impacts how real estate agents sell land in the county.
"They can't sell homes in Charles City because we don't have high-speed internet," she said, adding that people also can't expand home businesses or work remotely - something about 43 percent of the U.S. workforce did in 2016, according to a 2017 Gallup survey - because many are using cellular signal to connect to the internet.
One local real estate agent agreed.
"That's something that everybody uses," said Rachel Stewart, a Charles City native who now sells property there. "The county needs infrastructure and it's a slow process because there's nothing there."
Despite that, Gaston, the schools chief, launched the initiative to give kids - the few that are left - access to technology.
State data show an 11 percent decrease in the school district's enrollment over the past five years and a 31 percent drop since the 2003-04 school year. The school system canceled its football and volleyball seasons in the fall because there weren't enough students participating. Two in five county residents are older than 55, lessening the pool for school-aged children.
The district, which is home to two state-accredited schools, has created workarounds to get the students that are there technology, having teachers and students download the necessary classroom materials while still in school. Both schools in the district - an elementary and a high school - have wireless internet in labs and classrooms. Students then upload their work done from home once they get back to school the next day.
The emphasis on technology, even in a school district housed within a county with limited internet access, is ramping up next year.
"We're seeing if we can get more student interest because we know that that's out there," Gaston said.
The district will send a single student next year to the CodeRVA magnet school focused on computer science. The child will leave Charles City each day for a school 30 miles and a world away, in Richmond.