POWHATAN – Returning members of the Powhatan County Board of Supervisors and School Board recently paid tribute to outgoing members for their years of service to the county.
During the board of supervisors meeting on Monday, Dec. 16, three outgoing supervisors were recognized at the last meeting before a new board takes office in January 2020. Chairwoman Angie Cabell, who represents District 3, and Bill Melton, District 4, were presented plaques during the meeting. Carson Tucker, District 5, was also recognized but was not present.
A similar presentation was made on Tuesday, Dec. 10 at the school board meeting, where members honored James Kunka, District 2, for his time serving on the board.
At the supervisor meeting, county administrator Ted Voorhees presented Cabell and Melton plaques and thanked them for their individual years of service to Powhatan County: Cabell served on the board for four years; Melton served eight years, and Tucker served 12 years.
"Entering into public service is something that shouldn't be taken lightly. It eats up your personal time, it puts you in the middle of controversy, and it takes a little bit of personal courage to step up and do that," Voorhees said. "I have seen many elected officials come and go in my 30 years in this business and I am always heartened by the fact that our democracy continues to move forward because people are willing to serve in these roles of local elected officials."
David Williams, District 1, also thanked his fellow board members for their years of service and wished them "all the best in your future endeavors."
In a surprise for the supervisors, citizens who had come to receive a proclamation in recognition of the Dr. Martin Luther King Jr. Youth Day and National Mentoring Day asked to come forward and present the three outgoing members with plaques. April Gray thanked the supervisors for their long support of the Dr. Martin Luther King Jr. Youth Day Community Breakfast.
"You have served us well. We are so proud to have you represent us. You have made contributions to the scholarship, and most importantly, you have been there for the breakfast," Gray said.
During their final board comments, Cabell and Melton both shared their thoughts, and Cabell read a statement sent by Tucker.
In his statement, Tucker thanked District 5 for letting him represent them and for their courtesy, trust, advice, and opinions, "including those where we didn't see eye-to-eye." He expressed appreciation to the many people he had worked with through the years, including the staff, constitutional officers, state legislators, school board members and division staff, and the Powhatan residents who accepted appointments or volunteered to serve the county in some way.
"But there is, indeed, a time for everything under heaven. A time to take stock, a time to back off a few rods and a few snippets of time to gauge what one has become; whether one has contributed or not; what one might or might have yet to offer; to assess what one might still achieve in the name of the people. Whether it might just be time to step aside for other ideas, to step up to the realization that stepping down is also a gift," he said.
Melton used his final comments to offer reminders to the incoming board and county staff of issues he hoped they would keep in mind. He also thanked the future board members for their service and their sacrifice, saying it was indeed a sacrifice at times.
"There will be times when you go home and you won't sleep very well. There will be times when you get fussed at in the supermarket. There will be times when you get patted on the back, which will help fuel you for the next meeting. But I do thank you for choosing to sacrifice your time," Melton said.
Saying they were reminders and not instructions for what the new board should do, Melton pointed out several things: Sallee Creek Bridge is due to be replaced in 2020; sharing that a county employee asked why their children can't attend Powhatan schools like division employees and pointing out it could be a good retention/recruitment tool; suggesting creating a broadband fund with excess funds since it is a citizen priority, and urging them to remember and utilize the results of the parks and recreation survey data.
Melton also addressed the current board's legacy, especially as it relates to the tax rate. He said that over the past eight years, the county's effective tax rate had only increased 1.3 pennies, which in turn helped fund a new middle school, transportation facility, courthouse expansion, water tower, hiring paid fire and EMS personnel, purchasing ambulances and fire trucks, completing almost $2 million in maintenance on existing buildings, and more. The county did all this while moving its bond rating from Moody's and S&P up to AA+, one step from the highest rating a locality can achieve.
Cabell thanked staff for the hard work they do and especially thanked Voorhees and Melton.
"While many aspects of this role have been very joyous, some of the most notable are the collaborative, respectful, and exemplary work of our county administrator and my fellow supervisor Mr. Melton. There are many good works that these gentlemen have both done. They are two of the hardest working people I know. They always come well prepared," she said.
She urged people not to get too caught up in things that are negative or give too much credence to things they read on social media. She also talked about how seriously she took the "duty to listen to all of the voices in the room, not just the loudest voices."
"I have found that the quietest voice is equally as important, and, unfortunately, this has not been a popular position," she said. "But I caution you that want to only have the loud voice acknowledged, that one day you may well be the quietest voice in the room, and you better darn well hope that someone is there in that room with you with the courage to speak up for your quiet voice."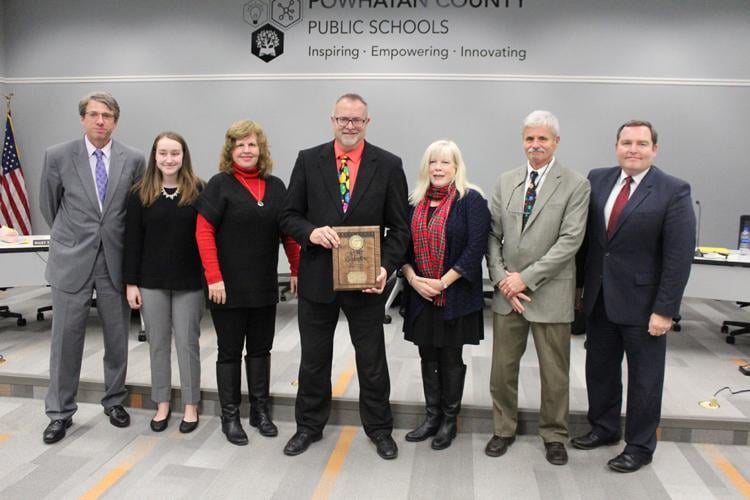 The school board also recognized Kunka for his nine years of service as a member. They presented him with a plaque honoring his dedication to education and saying that "By word and deed, your presence has enriched the lives of students and served as an example for all." His fellow board members also thanked Kunka for his insight, dedication, and passion.
Kunka thanked his wife for her support and encouragement and the insight she brought as an educator. He thanked each board member and the superintendent individually for their skills and their service.
"My wife asked me what I am going to miss the most, and I think it's going to be shaking hands with the graduates and sending the kids off to their next life in college and the working world," he said.
Kunka said he takes comfort in knowing that the school division is in good hands with the staff and school board, including his successor, Susan Smith, as well as knowing he always has the recourse of coming to offer his opinion as a Powhatan resident.