POWHATAN – Welcome back to the Porches of Powhatan.
In a world where life usually seems to be going a mile minute, porch time is a world of its own. And at a time when the worldwide COVID-19 pandemic is changing the way Americans live and interact, that time has never been more important.
Beginning with the April 15 edition of the Powhatan Today, we introduced our readers to a new feature series called the Porches of Powhatan. Inspired by freelance photographer Anjie Kay's portraits of local families, the series by Laura McFarland offers snapshots of Powhatan families doing the best they can to live their daily lives in extraordinary times.
Last week, you met a passionate volunteer who is driven to help others, a first responders' family trying to turn a bad situation into a learning opportunity, and a professional couple balancing home and work. They talked about their hopes and fears, their triumphs and challenges, and how they feel completely isolated in many ways while also experiencing family togetherness like never before.
While "porch time" isn't the same for all of them, they all agreed they have come to fully appreciate the value of their relationships and the time they are spending together.
This week, several more local families agreed to share their stories, which are simultaneously unique and ordinary. So once again, we invite you to come spend a little time with some of your neighbors and take a look at a worldwide pandemic through the lens of the Powhatan experience.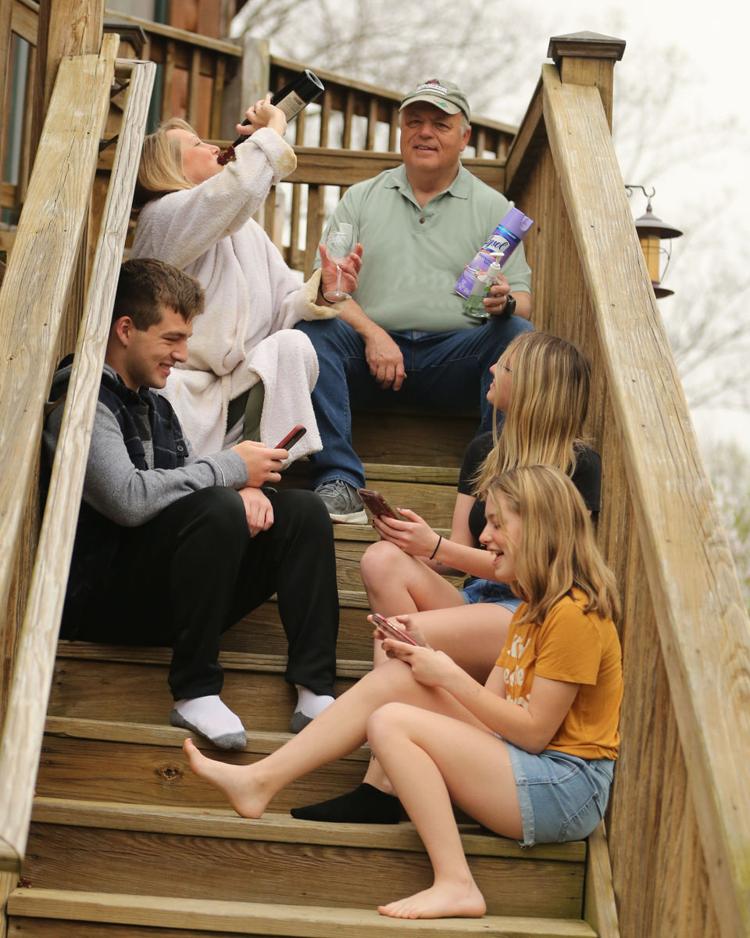 Dr. Raymond Decker is playing an ugly game of dodgeball, and he is taking every precaution to make sure he doesn't get hit and unwittingly tag out his family, too.
On most days, you can find Raymond at work at Family Practice Associates of Chesterfield dealing with a routine of masks, goggles, face shields, and as much social distancing as you can expect for a doctor seeing patients.
When he is not at work, he is on his 25-acre horse and cattle farm in Powhatan with his wife, Jennifer, and children Josh, 15, Paige, 12, and Amanda George, 23, when she comes to visit.
Life is intense right now for those in the health care profession. As a doctor, Raymond said it is in his DNA to help take care of people. But that doesn't mean he doesn't struggle daily with wanting to protect his family if he became exposed and contracted COVID-19. And that doesn't mean his family doesn't worry about him because they never know what he is being exposed to when he leaves the house.
One night recently, Raymond found his youngest daughter crying. He thought it was because of missed trips and vacations the family planned to be on at this time and tried to console her that this would pass and they would have other opportunities.
"She goes, 'that's not what I am upset about. What I am upset about is that you are a doctor, you are going to be exposed, and you are old, and I don't want to lose my daddy.' It kind of brings it all home. I am 60 years old and I am blessed to have a 12-year-old, and I want to be there for her and watch her get older. But I also have a job to do that I want to take care of," he said.
Because of the intensity and pressure this part of their life brings to bear, the Decker family has worked to find good outlets for all of them. Josh and Paige are students at Blessed Sacrament Huguenot Catholic School, and doing their schoolwork with the family's extremely limited access to internet is a challenge all its own.
Josh is missing the spring soccer season but is hoping football season will move forward in the fall. The family set up a special weight room for him in the garage so he can stay focused and in shape.
"I am trying to get him to stay physically healthy so that when life begins again and football starts, he is (in condition), and I am trying to get him to safely burn off that energy so I don't have a 15-year-old who is irritating everybody in the house."
Paige is very artistic and has taken on all kinds of painting projects, including creating signs along with Jennifer for the 2.5 miles of trails the family has on their property.
Jennifer, meanwhile, is busy doing a wonderful job of taking care of the children and all of the animals they have on their farm, her husband said.
As families self isolate together, Raymond recognizes there is the potential that it can tear people apart or bring them closer together. He said he feels fortunate that his family has come closer together.
When the Deckers agreed to sit for a porch time photo with Anjie Kay, Raymond said he understood her recollections of times spent on the porch with loved ones in New Orleans because he is from there as well. They had fun with the photo, with Raymond holding a can of Lysol and hand sanitizer, Jennifer drinking wine out of a bottle, and their children using their phones, which are their lifelines to the world more than ever.
The family's wraparound front porch looks out on a horse pasture, and Raymond said he loves sitting by his wife on their porch swing, enjoying a glass of wine, and just enjoying being in her presence while the stress of the day melts away.
"How important is the porch time? The porch time is decompression time. The porch time is when I can stop thinking about COVID-19," he said.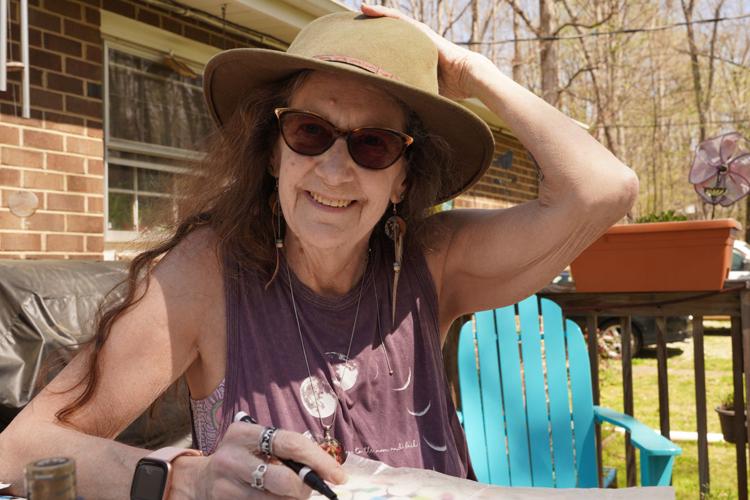 No matter what, last week was going to be difficult for Valerie Sikes of Powhatan.
April 14 marked exactly one year since Valerie and her husband, Mike, lost their daughter, Rachel Mounayar, who was 37 when she passed away in her sleep in Virginia Beach, where she had gone for a concert with friends.
Rachel, despite having several health problems of her own, had moved back home eight years ago to help her mother, who was diagnosed in 2013 with lupus. In addition to helping her at home, Valerie said her daughter motivated her to get out of the house.
"She had been a godsend. Without her here, it has been very hard. I don't have the motivation that I had with her because we were so close. She would come get me up and say 'we're going to water aerobics,' and I would do the same for her," Valerie said.
A few months after Rachel died, her family planted a peach tree given to them by a friend, Anjie Kay. The sight of the tree is often a comfort to Valerie when she sits on her back porch or can look out her kitchen window and see it.
At some point along the way, Valerie decided to surround the little tree with a rock garden, and she started painting rocks. The pictures end up being whatever comes to her in the moment – a deer, a flower, a bumblebee, an ice cream cone, a Bible scripture, a yellow emoji, a ladybug, or a panda bear with a unicorn head, just to name a few.  
"Sometimes things come to my mind – stuff she liked – that I paint. I am not an artist by any means but I can look at a picture and draw it," Valerie said.
Painting the rocks or writing in her journal while sitting on her back porch has become a favorite pastime for Valerie. She was painting rocks when Anjie snapped the photo of her for the Porches of Powhatan series and enjoying a beautiful day outside. She finds herself on the porch even more now as she self-distances during the pandemic.
Mike is an HVAC plumber and is still going to work, but because of Valerie's compromised immune system, they are taking extra precautions when he comes home. He decontaminates first thing when he walks through the door, and they are staying on opposite ends of the house. She also always has a can of Lysol at the ready.
"I wait until he comes in and goes to the shower. Then I will go ahead and Lysol after he is back in the house. So far everything has been working," she said, adding she has been conscious of being careful about germs for years because of the lupus.
Because of the restrictions of the pandemic, Valerie admits it has been harder than usual. She and Mike still enjoy the porch together, but at this time of year, the Sikes' back porch and deck would usually be a gathering place for many of their friends when the weather is nice. There would be plenty of laughter, eating, and playing games.
"It really is rough. My sister calls me a lot. My son calls. Somebody calls every day to see how I am doing. It is hard that I don't see everybody else because we have been staying in isolation," she said.
On April 14, a small group of family members held a remembrance for Rachel in the Sikes' backyard, including lighting Chinese lanterns. Valerie said it was rough leading up to that point because all she wanted was to be surrounded by family, and she was disappointed they couldn't follow through on their original plans to hold a larger remembrance in Virginia Beach.
But when the evening came and they held their small ceremony on a calm and quiet night, it turned out to be a beautiful experience Valerie said she will always remember.
"I felt at peace. I felt like something was lifted from me, almost like she grew her wings and flew. I know some people don't believe that, but that is how it felt for me," she said.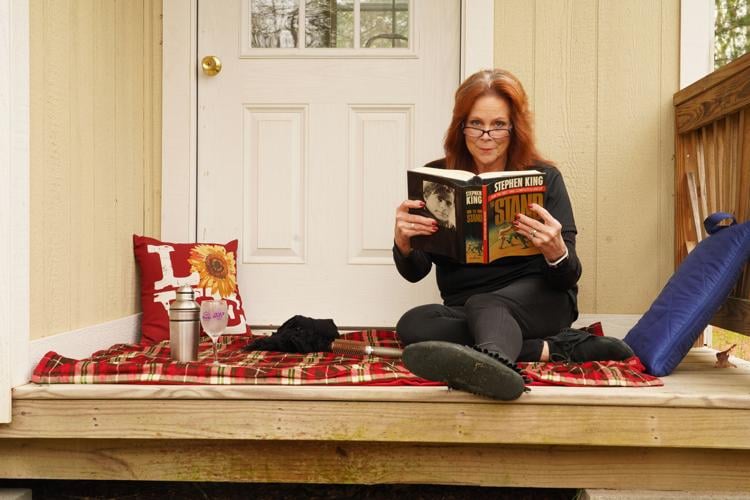 Stephanie Maybee of Powhatan is storing up her hugs.
For a sociable person who enjoys networking, Stephanie has felt the pinch of social distancing. The co-owner of 360 Sheds and Metal Buildings in Amelia is still working, as is her husband Rick, but because business has slowed and they have reduced their hours, they are taking turns being at work. That means there are few days they are off together.
From a business standpoint, Stephanie said she is feeling what many small business owners are feeling – a constant swing between trying to reassure themselves that everything is going to be OK and fear that the sky is falling in.
"And it is not just one day to the next, it is every 25 minutes or so," she said.
Still, she is trying to remain optimistic and said that is largely possible because of her belief in Powhatan as a community. She said she has loved watching on social media as people help promote local businesses and share the information or requests of their friends and neighbors.
"The collective soul gets over it faster. I think in Powhatan we are going to remember how important this community is and keep on supporting it," she said.
At 59, Stephanie said she is comfortable in her own skin and the act of staying home when she is not working to keep people safe. She knows how to keep herself busy.
But she still misses the interactions she is used to having with friends, customers, and business associates. Most of all, she misses the comfort of giving and receiving hugs from those she cares about.
"You can't hug, especially if it is not in your immediate family. So with a small family like Rick and I, I only get but so many hugs," she said. "It is hard when you are a social person and networking is important for you. The friendships and relationships that are important to you and that you have built over time, you know they are there and you know you have allies and friends out there, but it feels different."
When she heard about the porch photos Anjie Kay was taking, Stephanie said her initial inclination was to participate because it seemed like such a community-minded project.
Wanting to be creative and have a little fun with the photo, she decided to have Anjie photograph her sitting picnic-style on the porch of one of her sheds. Not a fan of the horror genre herself, she asked Rick for a recommendation of a book about a pandemic, and he suggested "The Stand."
"I don't need any help with my dreams, they are vivid enough. So Stephen King is off my reading list. That is why I had to ask my husband what is in the book, because there is no way I will read a Stephen King book. It will make for nightmares I don't need," she said.
Add in a cocktail shaker filled with water, a Festival of the Grape wine glass, and a few other props and she was ready for her close up.
"It was more just trying to find a way to be humorous and dry during a time when it is not," Stephanie said.