POWHATAN – Welcome back to the Porches of Powhatan.
In a world where life usually seems to be going a mile minute, porch time is a world of its own. And at time when the worldwide COVID-19 pandemic is changing the way Americans live and interact, that time has never been more important.
Beginning with the April 15 edition of the Powhatan Today, we introduced our readers to a new feature series called the Porches of Powhatan. Inspired by freelance photographer Anjie Kay's portraits of local families, the series offers snapshots of Powhatan families doing the best they can to live their daily lives in extraordinary times.
Last week, you met a doctor feeling the effects of wanting to protect his family while still upholding his calling, a grieving mother finding solace in painting rocks to help remember her late daughter, and an outgoing business owner missing the hugs of friends and customers. They talked about how their families are coping in hard times, the necessary adjustments to their everyday routines, and the comfort they find in their time together with family.
While "porch time" isn't the same for all of them, they all agreed they have come to fully appreciate the value of their relationships and the time they are spending together.
This week, several more local families agreed to share their stories, which are simultaneously unique and ordinary. So once again, we invite you to come spend a little time with some of your neighbors and take a look at a worldwide pandemic through the lens of the Powhatan experience.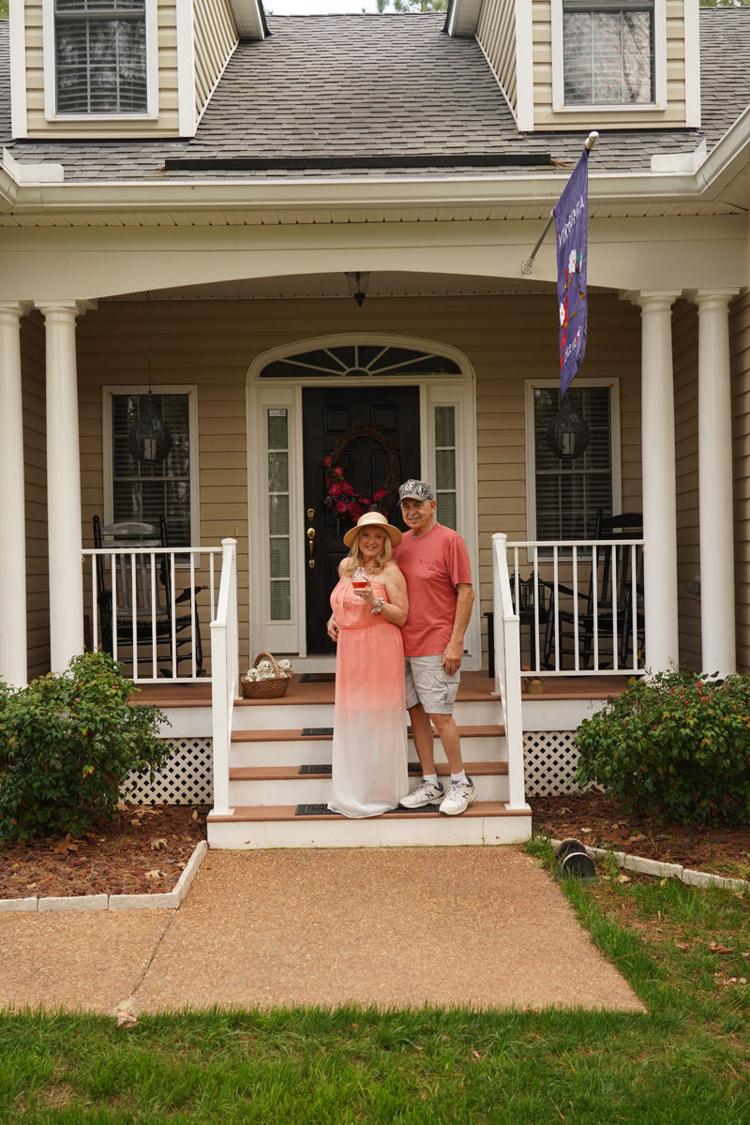 Self-isolating at their home in Powhatan wasn't exactly how Mary and Sam Revels planned on spending their 37th wedding anniversary last week.
They would normally do something special like going to the beach for a day trip or having a family dinner at a nice restaurant.
Of course, the extra time at home for the retired couple, who normally are pretty socially active, has meant both more time together and doing things they had been planning to do for years.
Repainting the dining room was the first project crossed off the list, Mary said. And now husband and wife are working together to build a patio as an anniversary gift to each other.
Before they started isolating at home, Mary said they were on the go doing their own things at least four days a week, although they kept the weekends for each other. She went to the gym at least two to three times a week and met with friends, while Sam liked bowling and playing cards.
The possibilities for a fun time out of the house have shrunk drastically in the last few weeks, she said. Outside of going for walks in public parks, there isn't much to choose from, she said.
"I drive into town and I go through Chick-fil-A. Then I just go sit in the middle of Westchester (Commons) and get some sun, get on the phone so I can stay in touch with some people, and feel like I am out of the house. There is not really much you can do, but it helps me mentally," she said.
The couple has their daughter and grandson staying with them right now, and they are all being mindful of social distancing guidelines. It is less out of fear and more out of caution to protect themselves and others that they have tried to be as good as possible about social distancing, she said.
"If you are not taking it serious for you, you should take it serious for other people you may come in contact at the grocery store or wherever. We didn't make the rules but let's follow them for other people as well," Mary said.
The couple misses being around other people. They find themselves texting, phoning, and video chatting more than ever before to stay in touch with loved ones. Of course, there have been some unintended positives out of that. Mary recalled a recent conversation she had with her brother in Georgia who is in his 80s and has been in isolation since March 1.
"Simply because we had more time, I told him stories and he told me stories. Whereas before we might talk five or 10 minutes and that would be it," she said.
Mary said she also feels like she has gotten closer to her husband simply because they have more time to talk and be together. Usually they are running around, so the isolation has focused them inward. That said, they are both looking forward to when the restrictions are lifted and they can get out more, even if they still need to wear masks.
"I don't think the world will come together real quickly by any means, but I think as soon as we can get out and do things we will. That is what we do. It is easier to keep weight off and to stay in shape when you can go out and move," she said.
When Anjie Kay came to photograph them, she told them they could be creative with the shoot if they wanted. They have a small front porch and spend more time on their back deck, but they decided to embrace the fun of the situation. Sam was photographed on his riding lawnmower, which he loves, and Mary got to wear a straw hat and hold a glass of wine.
"It was just funny. We laughed all day long about that because Anjie came late in the afternoon. It just gave us something to do that was out of the norm and fun," she said.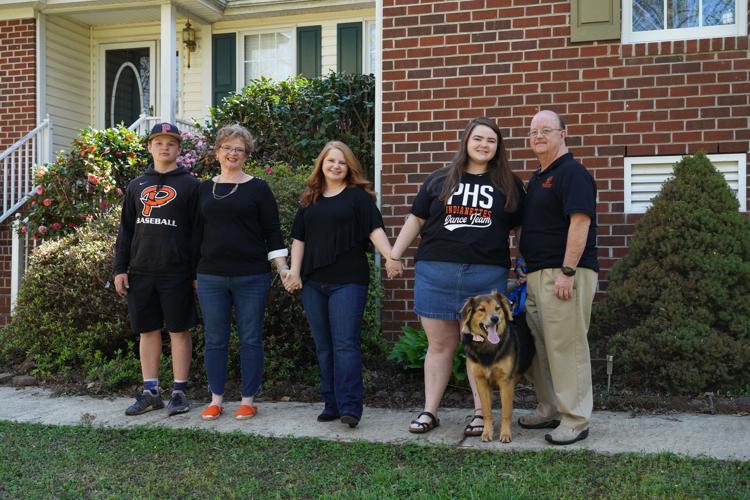 The end of the school year tends to be Powhatan High School teacher Brooks Ann Smith's favorite part.
As a government teacher whose students are mainly seniors, this time of year is always full of tradition for the seniors, many of which she gets to help make a reality for them. Last week they would have attended prom. Then there's the senior trip, the scholarship applications, the college applications and acceptance letters, and making plans for graduation and what comes next.
"That is the hard part. We are really at the light at the end of the tunnel where they really get to enjoy a lot of the blessings of their hard work. Not being able to do that for them is really difficult," she said. "It breaks my heart. I love teaching kids, but I really love celebrating kids. It has always been part of the job I have done here. To not be able at this point to get them all the way to the finish line and not watch them cross that finish line is tough."
It might be hitting a little harder because she is watching her oldest daughter go through something similar. Brooks Ann and her husband Tim, have three children: Zach, 14, Brynne, 16, and Hayden, 21. Hayden is missing the end of her senior year at Campbell University and had her business internship cut short, and her mother knows how hard it is hitting her.
Brooks Ann said it is hard to watch her disappointment at the loss of those final traditions, just as it is difficult to see Zach's frustration at not experiencing the junior varsity baseball season and Brynne missing her friends and a vacation she and her mom were going to take to Europe this summer.
Despite the disappointments, they are trying to stay positive and busy. They all still have their school work to complete, and Brooks Ann said she is grateful they are mostly independent about staying on top of their assignments so she can focus on her work and students. Hayden and Brynne have also done some babysitting for critical care nurses.
Their dog Wrigley has been a shared joy for the family, and training him, teaching him tricks, or just throwing the Frisbee for him to catch it is a favorite pastime for all of them.
While his family is busy at home, Tim is still going to work as a physical therapist in Dillwyn. Brooks Ann said he has seen decreased patient numbers, and with elective surgeries like knee and hip replacements being rescheduled, the numbers are likely to go down more, which is worrisome.
Despite the negative aspects of self-distancing, Brooks Ann said the family has been getting along shockingly well. Everyone has their own spaces to go to when they need alone time, but she said she has been grateful how willing they have been to come together most evenings for quality family time.
"For all of us, every child's schedule and every adult's schedule was just so busy, we weren't sitting on the porch like we should probably," she said. "It has been really nice to get to know our kids and see some different things out of our kids because we have had that time to sit on the back porch and eat a meal, gather around the table, or just sit around the fire pit and ask each other questions. I have a question app on my phone that has deep-thinking questions or get-to-know-you better questions, and it has been interesting to listen to the kids' answers to those."
Largely because of her faith, Brooks Ann believes life will work out in its own way after the pandemic subsides and lead to many unexpected positives.
"I do hope it teaches us a lesson about what a new normal should look like in terms of how we all need to slow down and get back to some of this quality family time. I think that would be an important thing to learn," she said.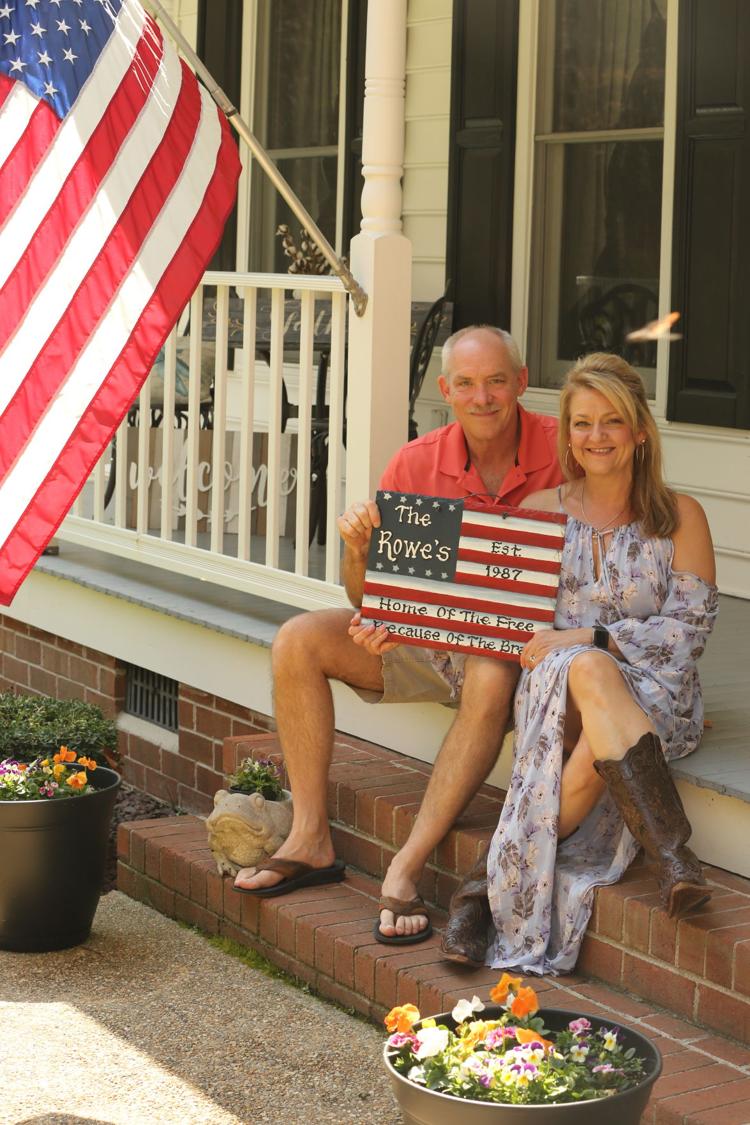 When Sherry Rowe made the decision on March 19 to close her home hair salon, Designer Rowe, because of growing concerns about the COVID-19 pandemic, some questioned her decision.
Governor Ralph Northam hadn't yet issued Executive Order 53, which he would do on March 23, temporarily placing temporary restrictions on restaurants, recreational, entertainment, gatherings, and non-essential retail businesses starting at midnight on March 25.
In those days before the official closing, she fielded questions from clients who didn't understand why she would take that step and was feeling like she was letting them down. But between trouble finding salon-grade cleaning products, social distancing being impossible when she was doing someone's hair, and just the sheer level of unknowns surrounding the disease at that point, she felt she had made the right decision for her business.
"For me, closing my salon was like losing a limb. One of the most difficult things I have ever had to do in my life was to tell people I could not open up and do their hair because of this pandemic and the potential sickness that they claimed could take a life," she said. "It was a difficult decision to have to be made and it was much simpler on my heart when they government officially closed us down. Because then it wasn't me telling you I could not take you; it was the government saying I could not take you. As sad as that is, that is the way I felt."
Sherry said she has missed work desperately in the weeks she has been shut down. The salon has been open for 18 years, and some of her clients have been coming to her to get their hair done for that long.
"What has been one of the hardest things on a daily basis is to not have communication with my clients. After doing a lot of their hair for 18 years, it is not just communication; they are like my family. So to not have them be part of my day has been very difficult," Sherry said.
Meanwhile, her husband Ron works for Altria and has been working remotely since restrictions began. He said it has been a challenge because he is so used to interacting with people.
"You feel a little more isolated, but we are making it work," he said.
For both of them, one of the huge saving graces in the last few weeks has been the home gym they hurriedly set up in their garage when they realized gyms would likely be closing soon. Ron uses it for regular workouts, but Sherry competes a few times a year in 100-percent raw power lifting competitions and wants to at least maintain her fitness level so she is ready to start training seriously when competitions start up again.
Before the pandemic, she would spend three to four days a week working out at the gym; now she has bumped her routine up to five to six days a week.
But it is not just the need to exercise that is driving her. Sherry said doing her Bible study in the morning and worshipping God while she is working out are what has always sustained her before she took on the challenges of the day.
"When I work out, I worship. That is my very first thing I need to do in the morning for myself before I get involved with anything else that might go south throughout the day," Sherry said.
Sherry is also filling some of her time by continuing her Sinaroll Ministry, which she started about eight years ago. She makes and sells cinnamon rolls throughout the year, and uses the proceeds to help people when she learns of a need. Supplies shortages have made weekly deliveries impossible, but when she finds supplies she does as much as she can.
"It is just a way to give back. It allows me to do something I love, which is bake, but even more, I love to give. It allows me to give back to people in need. And need doesn't always mean 'I have lost my job' or 'I can't afford to pay my house payment.' It could be you need to be blessed today and God has put your name on my heart, so I am going to bless you with something from my Sinaroll Ministry," Sherry said.
Having been trapped in the house for six weeks because of social distancing and the stay-at-home order, Sherry said there have been some real highs and lows. While the weekdays are busy, they have carved out the weekends to spend more time together, whether it is grilling on the deck, making a nice meal sitting by the fire pit, or working in the yard.
Ron added that he feels they have grown closer as they take the time to be together and lean on each other. They also have had some great family video chats that made them feel a little less isolated.
But regarding the low moments, Sherry couldn't help but compare it to the feeling of hopelessness and helplessness she experienced when Ron, who was in the Navy reserves, was activated after 9/11.
"But I've got to say this pandemic has impacted us so much more than that. We have struggled with our good days and bad days. After a busy schedule is halted like it was with this pandemic, everything that we knew as normal, everything that we knew as operational of what we did in a day came to a stop, and that did impact us," she said.
They miss not seeing other people and they have definite concerns about their grown sons, who are both in the military. Sherry said there have not been many cases where her son Hunter, 24, is stationed with the U.S. Air Force in northern Japan, but her older son Gavin, 29, a U.S. Navy diver, is stationed in Guam.
Thousands of sailors aboard the USS Theodore Roosevelt were evacuated after the aircraft carrier pulled into Guam on March 27 with a COVID-19 outbreak that has seen at least 678 crew members test positive for the disease as of last week. As long as he doesn't become sick, Gavin leaves May 2 for his next duty station in Florida, and Sherry said she is waiting and praying for the day he heads back stateside.