POWHATAN – Welcome back to the Porches of Powhatan one last time.
In a world where life usually seems to be going a mile a minute, porch time is a world of its own. And at time when the worldwide COVID-19 pandemic is changing the way Americans live and interact, that time has never been more important.
Beginning with the April 15 edition of the Powhatan Today, we introduced our readers to a feature series called the Porches of Powhatan. Inspired by freelance photographer Anjie Kay's portraits of local families, the series offers snapshots of Powhatan families doing the best they can to live their daily lives in extraordinary times.
Last week, you met a couple working nonstop to make sure their youngest daughter feels safe, secure, and happy during these uncertain times; a busy working family who still find time to enjoy each other and life on their small hobby farm, and a family with three at-risk members striving to not let themselves become overwhelmed by fear and having a little fun along the way.
While "porch time" isn't the same for all of them, they all agreed they have come to fully appreciate the value of their relationships and the time they are spending together.
For our final week of the feature series, several more local families agreed to share their stories, which are simultaneously unique and ordinary. So for the last time, we invite you to come spend a little time with some of your neighbors and take a look at a worldwide pandemic through the lens of the Powhatan experience.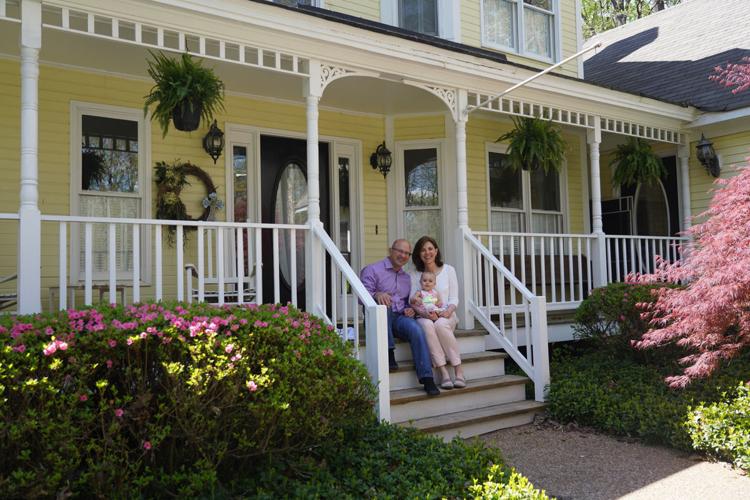 When Brian Hughes talks about his and his wife Susan's experience with COVID-19 and its fallout, his work and home life are inextricably linked. Brian is the lead pastor of Passionate Community Church and Susan is on staff as director of multi-site, so the first two weeks after the governor's stay-at-home order were literally spent in crisis mode for them and church staff.
Here was this huge shift in reality that everyone would have to adapt to almost overnight; now how do we deal with it? The church staff targeted specific areas where they thought people might need assistance: helping families maintain healthy relationships when they were together much more than usual; helping people fight their fear in a rational and responsible way, and helping them stay connected with God and with other people when they couldn't do life as normal.
"Those are the questions we posed to our team and then worked out solutions for how to overcome them," Brian said.
They decided to address those topics in a sermon series but also made adjustments to the church's programs and offerings. PCC was already sharing sermons online, so that wasn't as much of an adjustment as many local churches faced in those first few weeks, he said. But staff, who were meeting virtually through Zoom, redesigned the small groups so they could also carry on through Zoom meetings; created a midweek online service called Thrive (the idea was not just surviving this moment but thriving through it); a live worship video every morning; a service for children on Sunday mornings; a nightly story time for children, and a teen forum. Although it didn't happen in those first few weeks, the church also started a food pantry for those in need.
"We basically covered every age group, and we provided content that they could then build community around that was biblically robust and completely relevant to how they are living their lives today," Brian said.
But putting together that many programs in such a short amount of time, even with a large staff, took up a great deal of time and energy, he said. Recognizing that the pandemic could last for the foreseeable future, the pastor told the staff they needed to start setting some reasonable boundaries.
"We are all still working really hard, but I think those first two weeks we just about killed ourselves. We must have worked 100 hours a week," Brian said. "Everybody was in crisis and everybody was trying to figure out what is really happening here, what does the world look like, am I going to get sick, are the people I love going to get sick, am I going to be able to eat, and where is the toilet paper? After those first two weeks, we started to settle more into a balanced routine."
Other than his children and their families, who Brian and Susan have continued to interact with, and the worship band and tech people needed for Sunday service, the couple's in-person interaction has been really low, Brian said. As an extrovert, that has been a definite struggle for him. He talked about officiating weddings and funerals under strict social distancing guidelines in recent weeks and how difficult it was not to offer hugs – either of congratulations or comfort.
"That is taxing, because what you want is to hug people, you want to care for people, you want to reach out and extend a touch of care. And you just can't do that," he said.
Brian and Susan, who are both working from home. They miss being around people and simple activities like going out to eat or to the movies, but they are adapting, he said. Instead of their former routine of starting every day by going to the gym, they set up a makeshift gym at home and continue to work out. They go for walks in their neighborhood when neither of them has a meeting.
The couple has recognized that the beauty of living in a world that is doing most of its interactions virtually is they can still fulfill their obligations as long as they are somewhere that has an internet connection. They have been to the mountains a few times, and when they weren't in their meetings, they were out enjoying nature.
But the best part of their week right now is probably Friday, when they basically disconnect so they can focus all their attention on their granddaughter Kensley, 10 months, when they babysit for the day.
"It is something I look forward to all week long and something Susan looks forward to all week long. We are just totally smitten by that little girl, so that is the one day we pretty much shut everything off just so that we can spend lots of time with her," Brian said.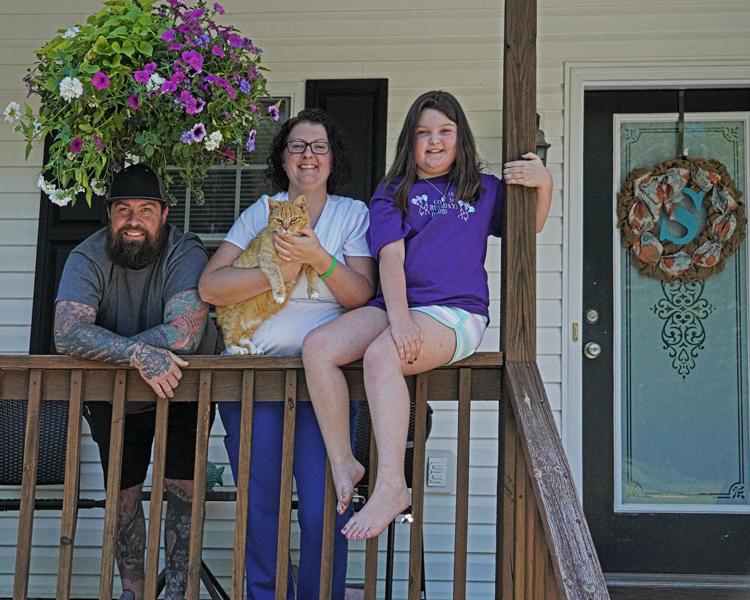 Whether at work or at home, one of the hardest parts about the COVID-19 pandemic for Heather Scott of Powhatan has been the isolation.
As a registered nurse at Chippenham Hospital for the last seven years, Heather said she has seen more than her fair share of patients going through pain and suffering in that time. But usually as that happened, patients had family or friends to turn to for comfort and support.
Working in the ward dedicated to COVID-19 patients for the last several weeks, one of the biggest challenges continues to be watching them go through it alone, with only hospital staff there to support them, she said.
"People are so scared, and now they are having to be here alone. Whereas before you could have support and visitors, now that is us," she said. "So I am spending a lot of time with my patients in their rooms garbed up. I am making FaceTime calls so their loved ones can see them and they can communicate. If I was on the other end of that situation, I hope someone would do that for me."
As a central resource pool nurse, Heather is used to supplement whatever floor needs her on a given shift. But for the last several weeks, most of her 12-hour shifts have been spent exclusively in the COVID-19 unit.
While she knows the hospital isn't seeing the level of cases compared to cities like New York and the capacity hasn't been as bad as they prepared for, Heather said she still ends every shift as mentally exhausted as she is physically exhausted. It helps that the hospital is outfitting them with sufficient personal protective equipment (PPE), such as special scrubs, booty covers, hair nets, and goggles, which have to be put on before they enter a room, she said.
When she gets home from work, she still disrobes in the laundry room, throws her clothes in the washing machine, and immediately showers to protect her family.
Because of the precautions they have taken, she and her husband, James, have talked and feel comfortable with her still staying with him and their daughter, Ryleigh, 8. In a way, Heather feels like her husband has been impacted more than her because he is so concerned for her.
"He just wants me to be safe and protected, and he has always been cautious," she said.
But while the trio is still spending a great deal of time together, they have isolated themselves from the rest of the extended family to reduce risk.
Being isolated from her family would have already been hard because they are extremely close, Heather said. They live near each other, vacation together, talk to each other daily, and love being around each other. Yet Heather's interaction with her mother has been limited to video chats and a few driveway visits where the visitor didn't get out of the car.
"When I have had those few little visits in the driveway, I feel like it does something on the inside of me – it gives me a little glimmer of hope. I feel a little bit closer to how things used to be, especially with all we have gone through already," Heather said.
The family's separation has been harder because they are still grieving the loss of Heather's 29-year-old sister, Danielle Trevillian, who died in a car accident in September 2019 on her wedding day in Powhatan. She was extremely important to them, and her loss has been felt deeply.
Before on her days off, Heather said she could sometimes distract herself from some of the grief with fulfilling activities – volunteering in her daughter's classroom at Powhatan Elementary on Thursdays or spending the day with her husband when he had Fridays off, too.
"You just get a little routine, with not necessarily things that are fancy or anything but just little things that kept me busy. Now on my days off we stay home all day," she said.
She is still having plenty of quality time with her family. James, who owns Painter Near Me, a painting company in Powhatan, is working but has cut back some so he and Heather can juggle being home with Ryleigh. He has been doing a great deal of yard work and riding four-wheelers with their daughter.
"He is the one who taught her how to ride her bike without training wheels one day when I was at work," Heather said.
Ryleigh is an only child and is used to independent play, so she has been handling social distancing relatively well, her mom said. The little girl has been good about doing her schoolwork every day without too many issues. She loves to play outside and ride her four-wheeler and bike. She turned 8 on March 28, and the family had a social distancing birthday party complete with school friends who sang to her from the driveway and a T-shirt that said "COVID-19 ruined my birthday!"
As a family, they have held scavenger hunts in the yard, played games, and just enjoyed being together.
"I would say porch time for us is we are eating dinners outside more. Our back porch is screened in, so we eat dinner out there pretty much every night. We play Uno back there and Jenga and listen to music – just spending time together the three of us slowing down with nowhere to go and no agenda. We are just enjoying each other," she said.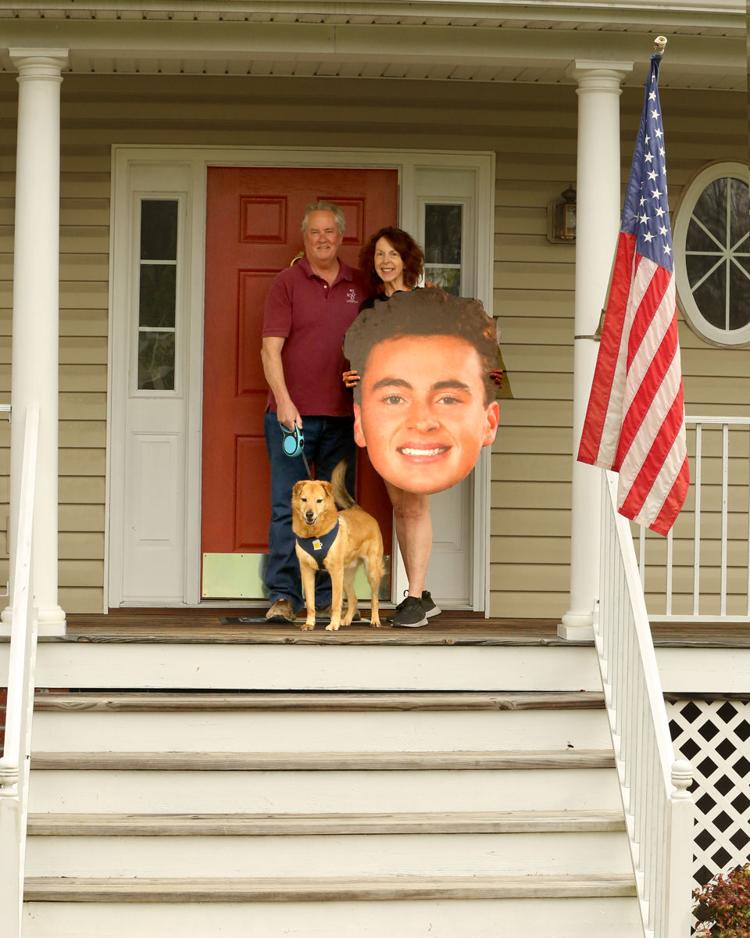 Lynn and John Stephens were literally about to walk out the door to take their dog, Bentley, for a walk when photographer Anjie Kay, who was selling them a puzzle, also offered to take their photo while she was dropping it off.
Lynn said she was fine with the photo, even dressed in their workout gear, but she was disappointed her son Whit, a rising senior at James Madison University, wasn't home to be in it as well. Then inspiration struck, and she ran inside to get Whit's "fat head," an enlarged cutout photo taken during his senior year at Powhatan High School.
At the time, Lynn was anxiously waiting for May 8, when Whit was scheduled to come home from school after riding out the first part of social distancing restrictions and the end of his school year at an off-campus apartment. This summer he will be taking classes at John Tyler Community College and working at The Foundry, she said.
"I miss my boy," she said the day before he arrived home.
In fact, Lynn misses a great many people – students, co-workers, family, and friends. She is a special education teacher at Powhatan Middle School, working in a collaborative group of sixth-grade teachers – four general education and four special education – called Team Phoenix.
Having the schools closed and the announcement that the shutdown would last the rest of the academic year hit Lynn hard. She described it as feeling like she was going through the stages of grief.
"At first I was numb. I was shocked. I couldn't believe this was really happening. Like everybody, I was saying what is this going to look like," she said.
Figuring out how to teach through distance learning has been a matter of trial and error and learning as they go, but in a way, that isn't different from regular classroom teaching, Lynn said. If she were at school, she and her fellow teachers would be constantly re-evaluating and asking themselves how they can improve, so that feels the same.
What has changed is their expectations. It is not about lowering them; it is about shifting them to find a good balance, she said. Academically, after they came back from spring break and were going to be introducing new content, Lynn said she and fellow teacher Audrey Cabezas went overboard.
"That first week, Audrey and I were like gangbusters. The amount of work we put out that week wasn't reasonable," she said. "We have had to look and revamp and say 'what is really important?'"
There are still some definite ups and downs in the distance learning process, but Lynn said helping families get into a routine, whatever that may mean for them, has helped. She talks with parents and her students on a regular basis, and hearing their voices has been her "saving grace," she said.
"It is really hard. I am very much an extrovert and I get my energy from my students. I get my energy from physically being around people – touch and hugs – so that is really hard on me," she said.
Lynn also realized that the advice about routines goes two ways. In the beginning, there were days she was working from 8 a.m. to 11 p.m. trying to get everything done. She had to take a step back from that to find a balance.
Spending time with John has helped with that. He is still working as a utilities construction inspector for Henrico County, but as of late March, he found out employees couldn't come into the office anymore. He has been working remotely, meeting with contractors and other employees when necessary and maintaining social distancing guidelines.
At home, the couple has found a good mix of activities they can do together or separately. They love taking Bentley for walks, both in their neighborhood and on short road trips such as Hollywood Cemetery or Sailor's Creek Battlefield, where they can get outside without really interacting with others. Going to sporting events together – whether a PHS game or the Flying Squirrels – has been replaced with Lynn joining John when he watches old movies, which she never really did much before.
When they want time to themselves, Lynn likes yoga and reading while John is restoring a 1966 Volkswagen Bug.
Lynn said she has been worried about her mother, who is 90 and lives in Pittsburgh. She hasn't been able to visit her mom in recent years because she didn't have time, and now that she does have time and the option to work remotely, she can't go because she doesn't want to risk getting her mom sick.
But even with these worries and the effect isolation and missing friends and family is having on them, Lynn said she and her husband have been able to keep a positive outlook because of the support of everyone in their lives.
"We count our blessings every day. We both have jobs. We are both getting a paycheck. We both are healthy. Our son is healthy. We have food. We have loving family and friends. I don't feel like I have anything to complain about," Lynn said.