Even on the cold winter days of the holiday season, drivers traveling around Powhatan County at night are more likely to find quiet dark roads than a long line of homes lit with Christmas lights.
But occasionally when roaming the network of fairly dark byways of the county, drivers will very rarely stumble upon a light display that completely takes them by surprise.
While the thrill of discovery is fun, the Powhatan Today continues to try to take out some of the guess work in discovering those hidden gems with the second annual Powered Up Powhatan light display list.
We have added a few more homes to the list as well as two businesses that have provided some interactive opportunities for merriment in your own backyard. People who decorate the sites on our list do so for the love of Christmas and the joy of sharing that holiday cheer with others.
A few reminders though. This list does not adhere to the more strict requirements of Richmond's Tacky Lights Tour, which asks for a minimum of 40,000 lights to participate. But they still feature some fantastic displays that are worth seeing.
Unlike Richmond homes, the Powhatan sites on this list are often found on rural roads that are dark and sometimes have pretty steady traffic. In several cases where the homeowners give permission, people are welcome to park and walk up to look at the displays as long as you are respectful to their property and that of their neighbors. But be extremely mindful of the lack of visibility and the speed with which everyone knows drivers sometimes use even on dark, windy roads.
Also, some of these homes have massive displays, and that means a great deal of electrical cords to keep them all powered up. Be careful of cords and bring a flashlight if needed to keep your family safe.
If your home was not mentioned but you would love to have visitors come look at your display, contact news editor Laura McFarland at Lmcfarland@powhatantoday.com.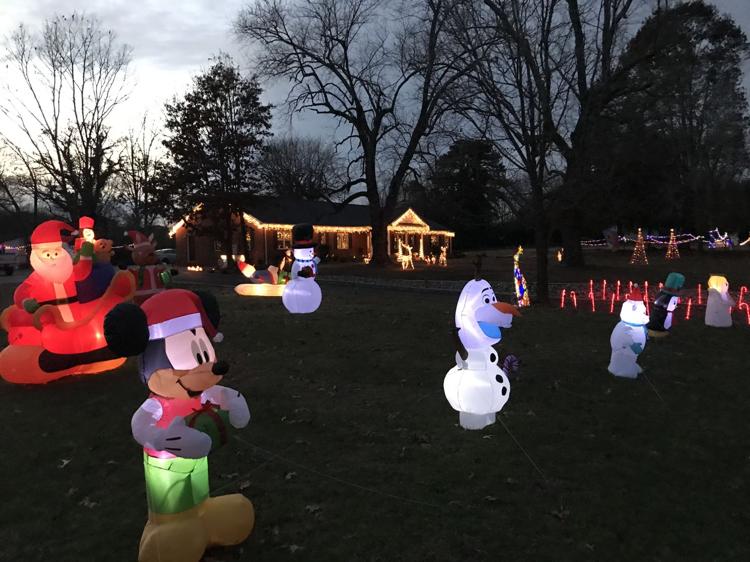 Pam Combs is a Christmas decoration newcomer – at least in Powhatan – but is making up for lost time.
She said she made a deal with her husband, Lonnie, that if they didn't decorate at their previous home in Midlothian, when they built their house in 2017 in Powhatan, she could go all out. She took him at his word.
"I always liked Christmas but this makes me happy. My husband says, 'If the wife is happy, everybody is happy,'" Pam Combs said.
With a front yard full of lights and blow up displays of all kinds, Combs said she is thankful for her husband's patience since he is the one who puts them up. But he plans well to make it as easy as possible for them.
"People laugh. Our friends come by and joke about how many Lonnie has to put up," she said. "This year he made an electrical fix. He can flick a switch and all the blowups and lights on the right side of the driveway go up."
The rest are controlled by switches inside the house set up by their electrician when the house was built, she added.
Rather than being driven by a particular theme, Combs is a bargain hunter. Before Christmas is even finished, she is out looking for displays that are marked down to add to her collection.
"I rarely pay full price for anything. When you are retired you have to watch your money," she said.
In addition to the joy decorating brings her, Combs said she loves the smiles on other people's faces, especially children.
"If I can be happy putting up blow ups to make other people happy, that is what I like to do," she said.
The lights will be up until Dec. 31. She asks for safety reasons for people not to walk around in the yard because of the wires holding the blows up down.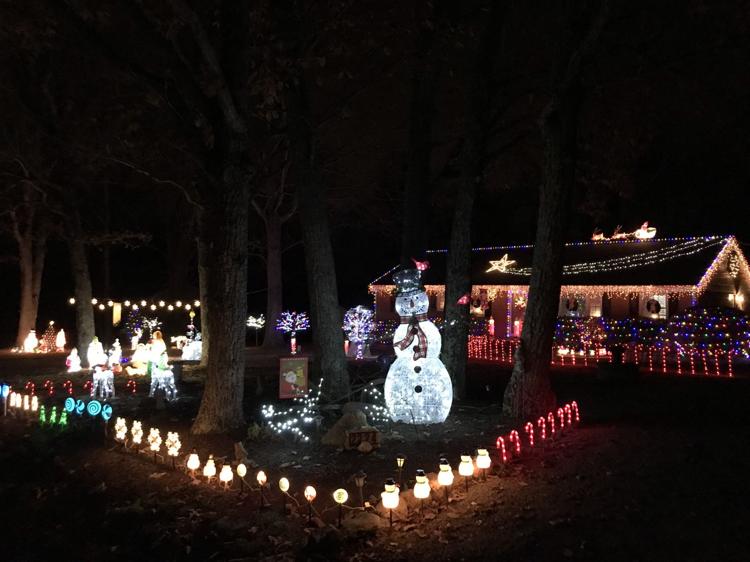 The decorations started simple enough almost 20 years ago. Tommy West had two blow molds given to him by his grandmother – Frosty the Snowman and Santa – and one of the couple's sons had made a wooden tree with lights sticking through it.
That's where it started. Today, their house and front yard are a smorgasbord of lights and displays picked up over the years aimed at upping people's Christmas spirit, Tommy said.
"We didn't think we would end up like this. We just kept adding a little bit here and there. Then we go to the store and see stuff in the stores," he said.
The lights, which they started putting up shortly before Thanksgiving, took six days to finish. Pam describes her husband as quite methodical when designing the placement of the lights.
The new additions this year are a large wire snowman lit in white and a blow mold nativity scene that is complete except for a camel. There are some out there, but they are quite expensive, he said. While there isn't an overarching theme for the whole display, Tommy said he does like to group similar items together. There is a scene of deer grazing in one section and little penguins and polar bears around a lit wire igloo. And of course, the prized little wooden Christmas tree and Santa and Frosty blow molds that started it all are still grouped together.
The inside of the house, while not accessible to the public, is just as festive, including an elaborate miniature village that is almost as big as the room where it is displayed, a lovely decorated tree and living room, and a bathroom with snowman shower curtain.
Pam said the couple loves Christmas and they enjoy sharing it with others driving by. She is a school bus driver for Powhatan County Public Schools and said the children on her bus love driving by her house.
"It makes me feel good. It makes me feel the Christmas spirit," she said.
The light display will stay on until Jan. 1, 2019. Judes Ferry Road is a busy road, so if you are going to slow down or pull over, make sure the way is safe.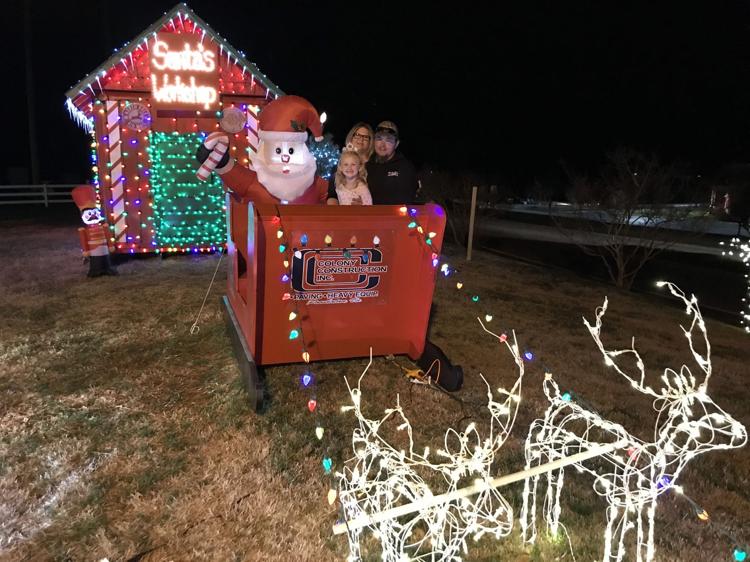 3. Colony Construction Inc.         
Many local businesses are known for getting in the Christmas spirit, and one of them is Colony Construction Inc.
For at least the last five years, the business has set up a Christmas display of some kind in its front yard and welcomed the public to stop by and see it.
This year, Santa's workshop and a sleigh pulled by Santa's reindeer have been set up to allow families to come and take some fun and festive family photos, co-owner Cathy Claud said. Attached to Santa's workshop is a mailbox where children can stop by and send their letters to Santa Claus.
"This is the first year we tried to involve people. The last few years we noticed people stopping by and taking photos, and we thought we would make it easier for them and gave them a place to sit," she said
The sleigh has a large seating area to fit a number of people and a blow up Santa display standing right behind it. Inside the sleigh, even a control board was added that lets children see how level the sleigh is, its speed and the direction it is headed. She said a whole crew of their employees worked on the display and got really excited about it.
Claud said the company welcomes people to stop by any time for photos. If you post them online, use the hashtag #colonylightspva so they can see them.
The lights will remain up through Dec. 31.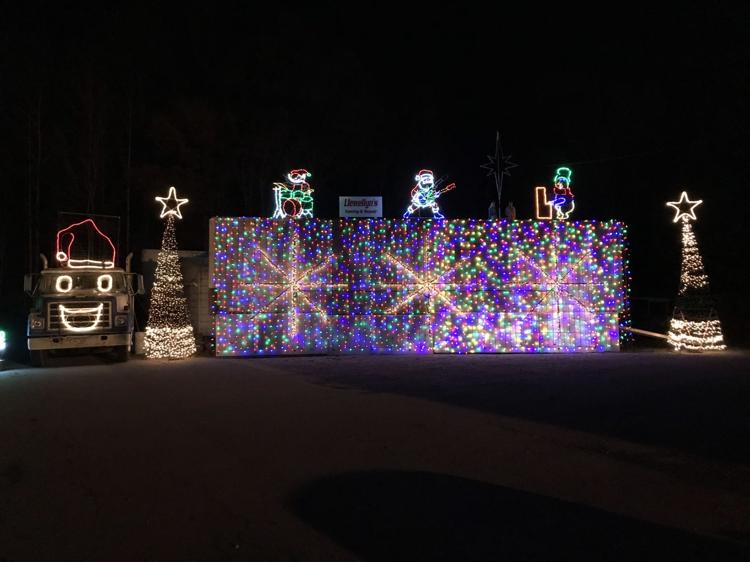 4. Llewellyn's Towing and Repair    
When you have a creator who loves his creation as much as Ernie Llewellyn cares for the musical light display he does every year at Llewellyn's Towing and Repair, the time he spends on the project begins to make sense.
Someone just driving by the display when it comes on in the evenings might just see it as a pretty flashing light show. But if you pull in, turn your radio to 89.5 FM and stay awhile and you will see it is much more.
Every year, Llewellyn creates a synchronized light show to a variety of different songs, trying to change them up all through the season. Some are holiday favorites, while others are just bright and cheerful, such as Pharrell Williams' "Happy" or M.C. Hammer's "U Can't Touch This."
The concert-like display is led by Frosty the Towman, a tow truck with lights designed to look like he is singing, and several instrument-playing characters. Frosty has become such a local character that he even has his own Facebook page.
"It takes me five or six hours to pick a song and make the lights work to it. I am working on one right now. Just to make it look like Frosty is talking can take three or four hours. It depends on the sound and how fast he is talking," Llewellyn said.
The company started putting up lights in 2012 but had them on the building, so Llewellyn would put the display up on Fridays and take it down on Monday mornings. In 2013, the light display moved to the side of the building, which enabled him to keep it  up all week.
Llewellyn said he is the display's biggest fan because he watches it every night when he leaves work. Except when there is too much snow or rain, the lights are on nightly from 5:30 to 11 p.m.
The light display will be up through Jan. 1. People are welcome to stop by and watch the show. Turn off your headlights for better visibility.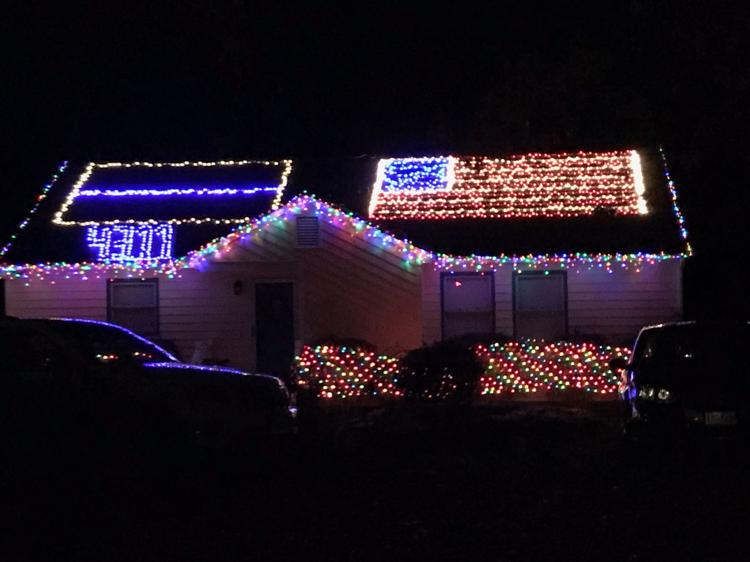 While not as festive and overdone in its nature, Brian McGee's Christmas display made it onto this year's list because it is distinctly Powhatan and has a message we all should remember.
For Christmas 2017, McGee decided that he wanted the lights on his house to send a message, so he put up displays showing the American flag and the thin blue line flag, which commemorates fallen law enforcement officers.
In the time since, McGee said he met Jamie Walter, the widow of fallen Virginia State Police Special Agent Michael Walter, and heard about the wonderful things the late officer did for his family and his community. To honor Mike Walter's service, when McGee put up the two flags this year, he also added 4311 written out in lights. That was Walter's unit number.
"My father-in-law was an officer in Powhatan for 26 years. I've got a lot of friends in the department and a lot of friends in departments throughout the state. I am showing my support for family, friends and fallen officers, " McGee said.
McGee said he wants people to remember the sacrifices made by not only law enforcement officers but their families as well. However, he added that he thinks Powhatan does a better job than many other communities of remembering to be grateful and respectful of their service.
McGee said the rooftop decorations were his idea but his wife, Jennifer, oversees new additions to the rest of the couple's Christmas display, which includes lights and inflatables.
The family's Christmas display will remain up until Jan. 1.