Black borrowers in Richmond are less likely to be approved for home loans and refinancing than white applicants regardless of their income levels, according to a study by fair-housing advocates.
The effect is a continuation of the "redlining" that explicitly denied loans to minorities in the 20th century, according to Housing Opportunities Made Equal of Virginia.
"Certainly lenders and banks tell you money is all the same color and they're an equal opportunity lender, but when you get down to it, you have individuals who are underwriting loans who have biases," said Brian Koziol, the nonprofit organization's director of research and the report's author.
The group's study found that between 2010 and 2013, the most recent year for which mortgage data is available, 13.7 percent of white borrowers had loan applications denied while black applicants experienced a 34.6 percent denial rate.
The report found that Hispanic residents also faced higher denial rates than white residents, but overall were granted loans more frequently than black borrowers.
Koziol said that a lenders' willingness to finance home purchases directly corresponded to a neighborhood's racial makeup.
The study found that for each percentage point increase in the minority population of a census tract, 12.5 fewer mortgages would be made.
The neighborhoods impacted are the same ones historically excluded for lending through redlining, and more recently, targeted for subprime loans, Koziol said.
While those neighborhoods have disproportionately high poverty rates, a borrower's income doesn't account for the difference: The report found a 9.9 point disparity in loan approval rates among black and white low-income applicants and a 27.5 point disparity among black and white upper-income borrowers.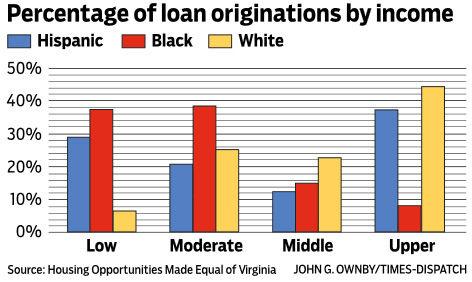 Housing Opportunities Made Equal conducted the research at the request of Richmond City Councilwoman Ellen F. Robertson. She said the results are disappointing, but not surprising.
"I know from personal experience that, with some support, there are credit-worthy citizens that can become homeowners in the city of Richmond in the neighborhoods that are continually disinvested in if banks are willing to work with them and provide them with products that work," Robertson said.
"We shouldn't be asking the industry to make loans to people who have bad credit ratings, but where there are indications that there are disparities based on race then the city should pay close attention to that in our relationships with our lenders."
Laura Lafayette, the chief executive of the Richmond Association of Realtors, said she was disappointed by the numbers. "The ability to borrow should be based on one's credit worthiness and on nothing else," she said, adding that the study "calls us all to recognize the challenge and disparities."
Koziol and Robertson said it's too soon to make specific recommendations about how the city might address the findings.
"We're not saying everybody should be a homeowner and homeownership is the sole solution to all the things that ail us," Koziol said. "But certainly it is a way to accumulate intergenerational wealth — something that has been really difficult historically for minorities to gain access to."