RICHMOND – A small building in a far corner of the Richmond Raceway infield had a big crowd around it Saturday.
The building is not a magnet for race fans. It's not a place to stake out for celebrity sightings, autographs, or interviews. But it's one of the most important buildings in the Richmond Raceway complex, and it got a new name to honor a man who used it as a base to build one of the best emergency-response units in auto racing today.
The building is the Fire & Safety Building, and Saturday afternoon Richmond Raceway dedicated it in the name of its long-time chief, Donald "Doc" Jernigan, who died in February.
Jernigan had spent 43 years at Richmond Raceway before retiring as fire chief after the Federated Auto Parts 400 last year. He retired from a 38-year career at the Henrico County Division of Fire as a battalion chief.
In a statement after Jernigan's death from cancer in February, Richmond Raceway president Dennis Bickmeier said, "The legacy of his 43 years of dedicated service to Richmond Raceway and the community will live on through the high standards he set in leading the track's reputation as one of the best in motorsport's fire support services."
Jernigan's widow, Shirley, said her husband knew of the Raceway's plans to name the Fire & Safety building after him. She said he was humbled by the gesture, especially as he viewed his success as a product of decades of teamwork by fire & EMS personnel – many of them professionals from the metropolitan area.
His son David, however, said his dad had a sense of humor, and probably would have offered a tongue-in-cheek complaint that the sign unveiled at the dedication Saturday with the new name of the building was either hung crooked or was too small.
But the joking would have masked a deep gratitude for the work of his brothers and sisters in the fire and emergency medical services, his other son, Donald, said.
Nevertheless, those brothers and sisters, from Henrico, Hanover, Richmond and elsewhere, wanted to show their gratitude for his work Saturday.
"It is a family," his wife said of all who work in fire and EMS after she had them all gather for a group photo.
Rondé Barber enjoys return to native Virginia
RICHMOND – Super Bowl champion Rondé Barber was welcomed back to his home state as the honorary pace car driver for the Toyota Owners 400 Monster Energy Cup Series race at Richmond Raceway Saturday.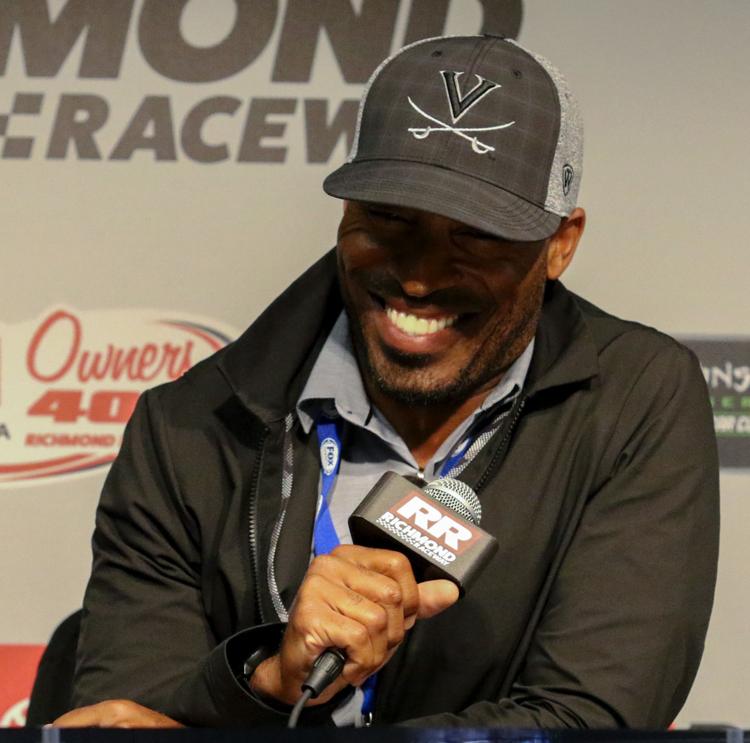 "Being back here – being back in Virginia – this is great for me," said Barber, who is from Roanoke and graduated from Cave Spring High School. "I don't get a chance to come back to this area very often, so when Fox asked me to get back here, I had to say yes."
Barber lived in Virginia until 1997 when he was drafted in the 66th round by the Tampa Bay Buccaneers.
While playing for Tampa Bay, he was named to five Pro Bowls in 2001, 2004-2006 and 2008. He helped the Buccaneers win the Superbowl in 2003 with a 48-21 win over the Oakland Raiders. He finished his career with 47 interceptions – the most by a Tampa Bay player – and 28 sacks and is the only player in NFL history with more than 45 picks and 25 sacks. His 10 interceptions in 2001 were the most in the NFL that year.
His streaks of 215 consecutive starts by a defensive back – 200 as a cornerback – are the longest in NFL history.
Barber joined Fox Sports as an NFL game analyst in 2013, shortly after announcing his retirement from the NFL in May of that year. He was inducted into the Virginia Sports Hall of Fame in 2014.
In a pre-race press conference, Barber wore his Virginia Cavaliers cap in honor of Virginia's men's basketball team, which won a thrilling and historic national championship on April 8.
"Tony Bennett's one of the greatest guys I've ever met," Barber said of the Cavaliers' head men's basketball coach. "He deserved this championship and his team deserved their championship."
Dave Lawrence is sports editor of Mechanicsville Local, Hanover Local and King William Local. He can be reached at dlawrence@mechlocal.com.