RICHMOND – Emporia native Elliott Sadler is making his racing return at Richmond Raceway for the first time since retiring from full-time racing in November. After concluding his final full-time Xfinity series season on a fifth-place finish in the final standings with JR Motorsports, Sadler returned to his home track Friday to pilot the No. 10 Nutrien Ag Solutions Chevrolet for Kaulig Racing.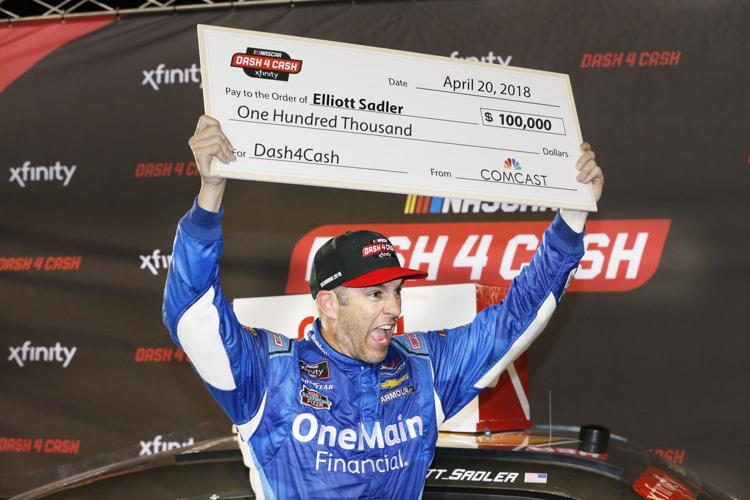 "It's good to be back – I was nervous this week, I'm not going to lie; it's got a way different feel to it, coming to run one race as compared to coming each and every week and knowing what's going on. ... I didn't sleep much this week, wanting to come here excited and nervous and all that good stuff to come back to my home track," Sadler said Friday afternoon. "It was a little different – different team, different car … but it was good to be back in my office for a little while."
Following his retirement from full-time racing, Sadler said he is "as happy as I've ever been in my life."
"I was worried when Daytona came, I really was, kind of wondering how I was gonna feel and how I was gonna take it," Sadler said, "but it was right on my son's birthday and we had a cool birthday party, so it was definitely the right thing for me to do, but I think this kind of cures a little bit of the itch to come back to here at my home track at Richmond and then we'll come back [for the Las Vegas race] in the Fall, but I don't regret my decision at all…"
New sponsor for Stewart-Haas Racing in Cup
RICHMOND – Toco Warranty on Friday announced its partnership with Stewart-Haas Racing in the NASCAR Cup Series. Toco, an on-call repair coverage company, will debut as a four-race primary sponsor on the No. 14 Stewart-Haas Ford Mustang driven by Clint Bowyer at Talladega Superspeedway next week. Bowyer will also run the Toco colors in the All-Star Race at Charlotte Motor Speedway in May, at Chicagoland in June and at Las Vegas Motor Speedway in September.
Sports tourism gives region big boost
RICHMOND – Sports tourism continues to give a boost to the greater Richmond metropolitan area and events at Richmond Raceway play a big role in giving that boost, according to a report prepared for Richmond Region Tourism.
The research was conducted by Smith Travel Research and provided to Virginia Commonwealth University on behalf of Richmond Region Tourism.
The highest single-night hotel occupancy rate in the region in 2018 was 92.4%. It occurred on Saturday, April 21, the night of the Toyota Owners 400 at Richmond Raceway. The rate represented $2,341,933 in hotel and motel room sales, according to the report.
NASCAR races accounted for three of the top five nights in terms of hotel occupancy in 2018. The Federated Auto Parts 400 on Sept. 21, at 91.2%, was the third highest rate for the year, while the ToyotaCare 250 on April 20 was the fourth highest rate at 90.8%.
Jack Berry, president and CEO of Richmond Region Tourism, said sports tourism – and, in particular, NASCAR events – played a big role in the economy of the area.
"Sports tourism continues to drive a steady flow of guests to the Richmond area throughout the year," Berry said. "Year in and year out, our spring and fall NASCAR races bring visitors to the region, which increases quality of life and supports career opportunities for everyone in our community."
It's not just the racing at Richmond Raceway that brings visitors to the area, said Richmond Raceway President Dennis Bickmeier.
"Richmond Raceway continues to be one of the key drivers for economic impact in the greater Richmond region," he said. "Along with the over 200 live events we annually host at the Richmond Raceway Complex, we work collectively to support the growth of tourism with Richmond Region Tourism. We are proud to be part of a sports community that places a major emphasis on quality sports tourism events, venues and experiences for our residents and out of town visitors."
Other sports-related events that fueled high-occupancy weekends included:
• a women's lacrosse tournament and the USA softball state championships on June 16, which contributed to an 88.3% rate;
• the Corrigan Sports Enterprise's 2018 Summer Rumble, the Home School Convention of the Home Educators Association of Virginia and the 2018 Tough Mudder-Virginia Run, which fueled an 88.1% occupancy rate on June 8 and a 87.6% rate on June 9;
• the spring recruiting event for the National Field Hockey Coaches Association and the Atlantic Coast Power League-AAU Bid Tournament, which – along with VCU's commencement – led to an 88% occupancy rate on May 12;
• SwimRVA's 2018 Swim Run Virginia which, along with the annual conference of the Virginia Code Council, helped trigger an 88% occupancy rate on Oct. 20.
Hamlin: "Everything is different"
RICHMOND – It's a new-look season for Chesterfield native Denny Hamlin. After going winless last year for the first time in his Cup career, the Manchester High School graduate already has two wins to his name within the first eight races of 2019.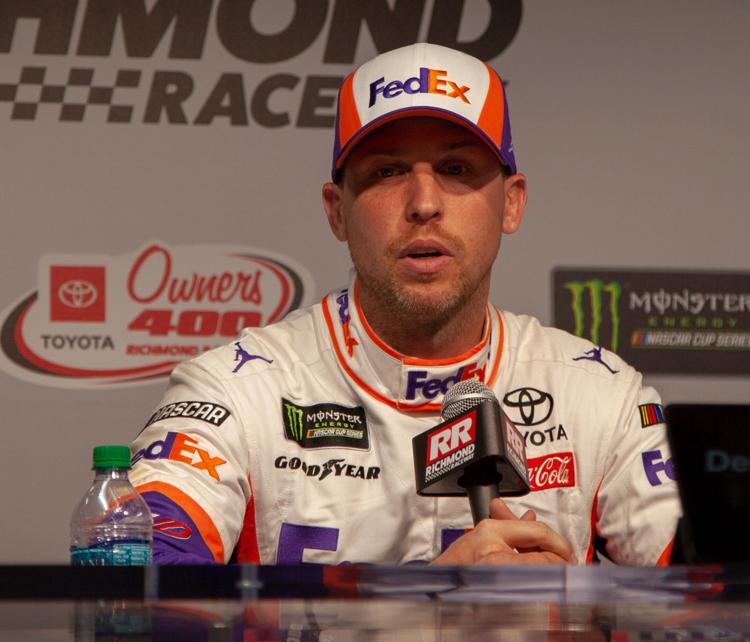 This year's Daytona 500 champion headed into Saturday night's Toyota Owners 400 at Richmond Raceway ranked second in the Monster Energy Cup Series standings behind Joe Gibbs Racing teammate Kyle Busch.
"It's just different in general … everything is different," Hamlin said Friday. "A lot of personnel on my race team has changed over the offseason. It's not just the crew chief – there's a lot of key people that have been changed…really it's a revamped team all-around, all-new pit crew members, everyone's new on the pit crew.
"We've really mixed in a lot of different guys and certainly the relationships are all still growing, but I'm really excited to be running as good as we are this early in the season, which is kind of uncharacteristic of our No. 11 car anyway, but certainly to have wins early, running up front every week, it's a great feeling knowing that we haven't even got to our potential yet."
Hamlin has won in the Cup Series three times at his home track in Richmond; his last win at the track came in the 2016 Federated Auto Parts 400, which at that time was still the lead-in race to the NASCAR Chase playoff.
"I'll always love coming to this race track. … It is home. It's one that I've been to many, many times even when I wasn't racing," he said of Richmond Raceway. "It's just exciting because I know that I very well could have a great weekend ahead of us and really focus a lot of my efforts on: How can we go out there and dominate the race – not just win, but dominate? And really that's been the primary focus for the last five days. …
"But certainly when I come home, it's a special feeling for sure."
Hemric calls Richmond his favorite track on schedule
RICHMOND – Daniel Hemric this past weekend returned to Richmond Raceway, the site of his first NASCAR Cup start, sporting the same number he had in his debut – the No. 8 – but this time as a full-time driver for Richard Childress Racing.
"From the racetrack standpoint, this is a place that I am the most confident at," the Kannapolis-born driver said of the three-quarter-mile short track. "This is my favorite racetrack out of anywhere we go to – I feel like I know what I need and I know what I want and I'm very verbal about what I want and what I need in my race car and it's a matter of whether or not if we can get them there."
Hemric sat on the pole in the 2017 Xfinity spring race at Richmond and finished third and fourth in both Xfinity races held at the short track two years ago. Hemric also finished third at the Richmond fall race in 2018.
He's had a tough start to the 2019 Cup season. Although he started fifth at Las Vegas and seventh at Texas, his best finish prior to Richmond was 18th at Phoenix, where he started 11th.
"It's just been a matter of trying to fall back on the things that have gotten me through the times like this in my life," he said. "This is definitely one of the harder moments because you've got to kind of regroup and redo it all over again in such a quick time frame where some of the other series I've ran, you've had more time to either dwell or rebuild on whatever situation.
"It's not anything that any of us haven't experienced before. It's just been a little bit longer drawn-out than what we want it to be," Hemric said. "But in the grand scheme of things, I'd say that, time and time again, that the sun comes up…you get another shot at it, and that's the way I'm approaching it."
Houff makes Richmond debut
RICHMOND – Virginia native Quin Houff is making his third Cup Series start overall at Richmond Raceway – a venue he sees as a home track.
"The fans and supporters from back home and all over the state come down here, it's always a great showing and they do a good job with the facility here," said Houff, who is from the Shenandoah Valley community of Weyers Cave.
Houff's 35th-best 22.384 in qualifying was an improvement over his practice time of 23.568. The driver of the No. 77 Falci Adaptive Motorsports Chevrolet looks to take confidence from their run into race day.
"We did a lot of work on the car on race runs and practice but … to be able to go out there and feel good, I think that's huge to take that confidence into Sunday," Houff said. "Hopefully we come out with a nice, clean finish."
NASCAR implemented shortened five-minute qualifying rounds at Richmond Raceway, which divided several drivers as to whether the changes to the sessions were a positive or a detriment. For Houff, they were a plus.
"Any laps for me is very valuable, being a rookie and this is only my third time in a Cup car, so that was more about just getting me more acclimated," he said. "I'm glad we did, because the car had really good feel and track was really cool, so it was really fun. I wish I could've kept running, but to be able to go out there and go really a considerably faster lap than practice was good, so I'm looking forward to 400 laps on Saturday night."
Dave Lawrence is sports editor of Mechanicsville Local, Hanover Local and King William Local. He can be reached at dlawrence@mechlocal.com.