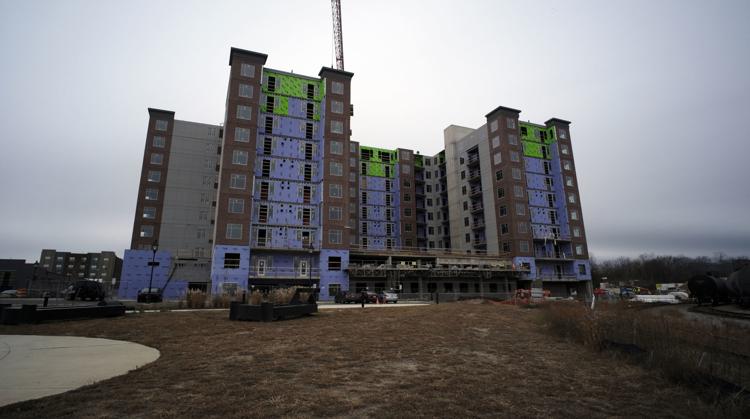 Rubi Salas, Jeffrey Schneck and their two children had been paying $950 a month to live in a windowless, two-bedroom apartment in a converted warehouse in Richmond's Manchester district.
Last year, the building's new owners informed the couple they were hiking the rent to $1,300.
The sudden increase was a nonstarter. But the couple said they were surprised by how difficult it had become to find a new place they could afford in the city.
"The rate that rent is going up is not matching our rate of pay," said Salas, who works as a bookkeeper at Legend Brewing Co. blocks from their old apartment, where she met Schneck, who works as a cellerman.
The couple's experience is extreme - landlords typically raise rents more gradually - but it's hardly unique.
Average monthly rents around the metro area have gone up hundreds of dollars over the past six years, according to CoStar Realty Information, an industry research company whose analysts say the trend shows no sign of abating as the region's population continues to grow.
The development has been great for landlords, who cite unprecedented demand for apartments as the primary driving factor driving the price increases. But it's been a challenge for residents like Salas.
The combined population of the city of Richmond and Chesterfield, Hanover and Henrico counties topped an estimated one million people for the first time this year, adding an additional 70,000 people to the metro-area's core since 2010.
On top of that, the city's real estate market has exploded, pricing out some would-be home buyers, said Max Peker, an analyst at CoStar. And then there's the trend among millennials toward purchasing a home later in life, further increasing the number of people seeking rentals.
All that's translated to an increase in the average rent for a one-bedroom apartment in the metro area from about $800 in 2012 to just under $1,000 at the end of this year, according to CoStar. In some markets, like Richmond's West End and Scott's Addition, the increase has been even steeper.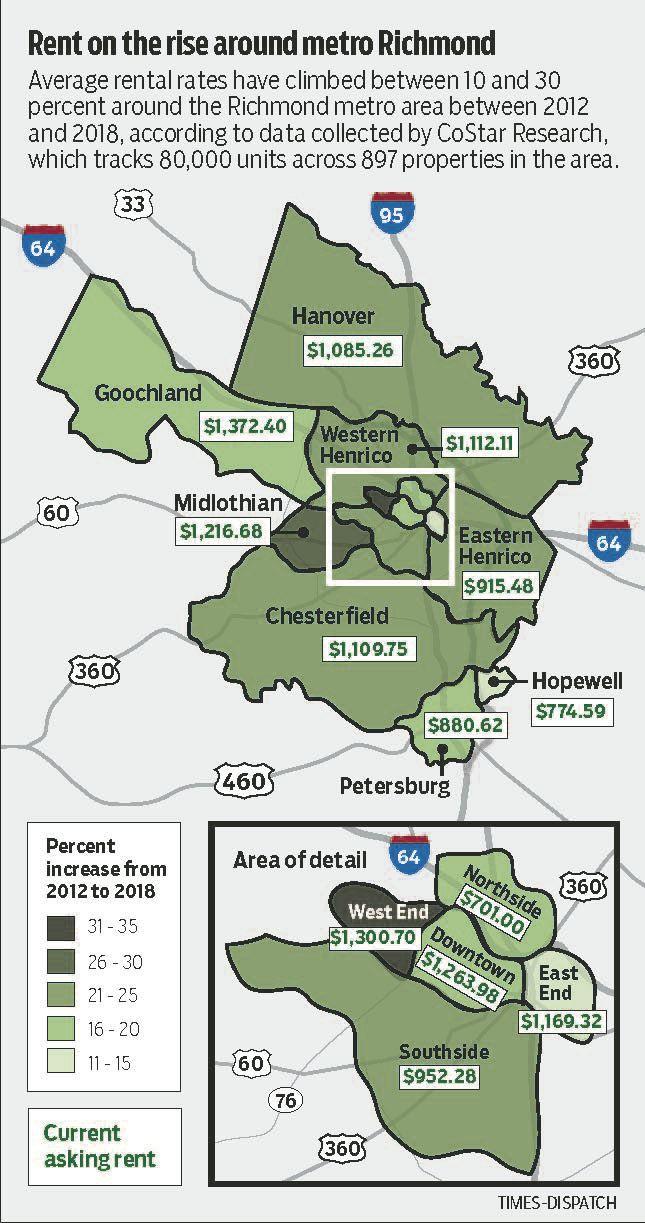 Landlords big and small have noticed growing competition for units as they become available. 
"If somebody's moving, we can't get them out fast enough before we've got someone standing at the door, which is good for us," said Dean Parson, who owns Intermont Properties and oversees a portfolio of 250 rental houses and 125 apartment units.
"With all the new jobs coming to the Richmond area, tenants are wanting to spend $1,200 or $1,300 a month for a one bedroom. It kind of blows my mind, to be perfectly honest with you."
Tom Papa, whose development company, Fountainhead Properties, has constructed large apartment buildings primarily in downtown Richmond and in Manchester, agreed that it's gotten significantly easier to find tenants. But he said compared to other markets, Richmond's not overpriced.
"Here, we're 20 percent higher than a low number," he said. "In places like D.C., they're 20 percent higher over a lot bigger number."
CoStar's data puts Richmond's rent growth in the middle of the pack-  "not necessarily outsized compared to markets across the US."
That said, advocates for affordable housing say they're concerned by the trends they're seeing in the Richmond market. Fabrizio Fasulo, who directs the Center for Urban and Regional Analysis at VCU's Wilder School, said the overall trend toward population growth, job growth and redevelopment is great for the region.
"What is worrisome is that there is not a policy or program in place to counteract the negatives," he said.
Most of the new apartment construction in the city has targeted more affluent renters while apartments that advertise affordable rents increasingly seem to be located in far flung areas away from major job centers and without good access to public transportation. 
Fasulo's colleague at VCU, Kathryn Howell, whose research focuses on affordable housing, said local leaders have made positive steps, but are missing opportunities to do more. 
In Richmond, she pointed to the city's approach to a planned major redevelopment downtown around the city's decrepit coliseum. She said publicly owned land is one of the biggest tools localities have to create new affordable housing by holding the property out as an incentive or subsidy.
The coliseum proposal lists affordable housing among a number of priorities, but Howell said the language was "so vague as to be useless- they could just put in two units and call it a day."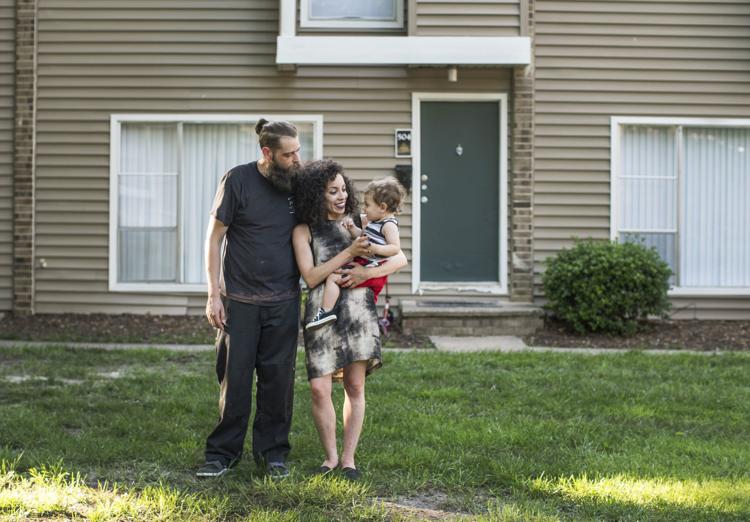 As for Salas and Schneck, the couple ended up moving to an apartment complex off Jahnke Road in south Richmond called St. John's Wood, where they're now paying $1,050 a month for a two bedroom.
But Salas said crime is a concern - there was recently a shooting just outside their unit - and their rent is still going to go up when they renew their lease, albeit by a more manageable $50 a month.
"With two kids, after health insurance and day care, it's where we're stuck right now," she said.