Every day last year at least one gun on average was reported stolen from someone's car or truck in the Richmond metropolitan area.
When including homes, businesses and other locations, nearly 2.5 firearms were reported stolen on average each day in either Richmond or the counties of Chesterfield, Henrico and Hanover.
The thefts have been rising over the past decade, and authorities say there's no sign it will abate until gun owners take more responsibility for securing their firearms, especially in their vehicles.
Local police have taken 5,873 reports of firearm thefts in the region from 2010 to 2017, and many of those involve the loss of multiple weapons. Nearly one-third of the total were taken from vehicles - a great many of which were unlocked.
The four localities collectively experienced a staggering 62 percent jump in firearm thefts during the eight-year period, with thefts from vehicles alone spiking 204 percent, according to a Richmond Times-Dispatch analysis of crime data provided by the four police agencies.
"These are just the cases that are reported," said Richmond police Chief Alfred Durham. "Just imagine if there was a law in place [requiring owners to report gun thefts]. That number would be two-fold."
The soaring number of gun thefts has "had a significant impact not only in Richmond but the region," said Durham, who has led an effort in recent years - unsuccessfully so far - to have the General Assembly enact a law that mandates the reporting of gun thefts. "And when you say region, you have folks coming into our city who are victims of gun crimes or committing gun crimes with stolen firearms. That's the impact."
The region's numbers are outpacing the nation and Virginia as a whole.
Across the U.S., reported firearms thefts have jumped 46 percent in the past eight years, from 168,534 in 2010 to 245,792 last year, according to the National Crime Information Center, which maintains a computer database that includes a gun file for records on stolen, lost and recovered weapons and firearms used in crimes. Virginia saw a 51 percent increase during that period.
The repercussions of pilfered guns ending up in the wrong hands are plentiful in local police reports and court proceedings. Felons, underage teens and others legally prohibited from possessing guns are using them to commit robberies, kill others, swap for drugs or sell illegally for cash.
The impact isn't always immediate. In some cases it takes years for the gun to surface in the commission of a crime.
Such was the case in August 2016 when a young man returning home was robbed outside his Chesterfield County apartment. Suspects Robert Martin, 25, and Kevin Puckett, 21, sped away in a car also occupied by two juvenile boys, but police quickly stopped them after the victim provided a description of their vehicle.
After additional officers arrived and conducted a search of the car, they discovered a silver Airsoft pellet gun and a black .38-caliber Rossi revolver loaded with five rounds. The latter weapon was found between Martin and Puckett, whom police initially observed slouched down in the rear seat.
The victim identified Martin and Puckett as his assailants and told detectives that both guns were used against him. The loaded .38 revolver was pointed directly into his face, he said.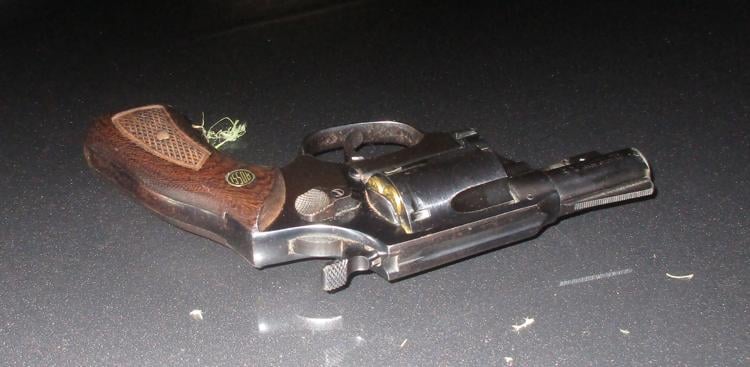 The handgun, police later learned, had been been reported stolen nearly 25 years earlier from an unlocked vehicle in Henrico County.
Martin pleaded guilty to robbery earlier this month and was sentenced to serve two years in prison; Puckett pleaded guilty in April and received a similar sentence.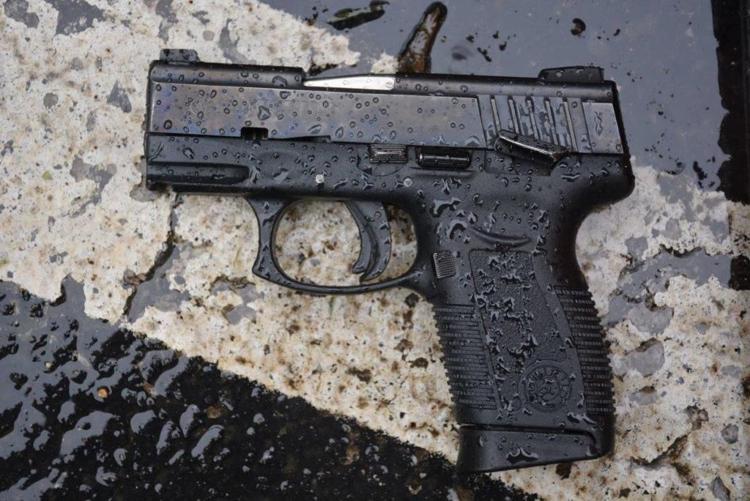 In another 2016 case with more deadly consequences, Tomarr Brash and Chase Harris, both 17 at the time, opened fire on each other inside a car during a drug deal-turned-robbery within a short distance of a school bus filled with Chesterfield school children. Harris was killed; Brash was seriously wounded but survived.
Both teens had acquired their weapons illegally from black market sources.
Brash's .380-caliber semiautomatic Taurus had been reported stolen just three months earlier from a sedan parked in a retail area on Virginia Center Parkway in Henrico. Harris had purchased his gun - an antique .32-caliber Harrington & Richardson five-shot hammerless revolver - from a 20-year-old acquaintance for $100 just one day before his gun battle with Brash.
Area police describe the reported number of gun thefts in the Richmond region as distressing, noting the total figure is actually much higher.
Academic studies back them up, showing that a large percentage of stolen guns are never reported by their owners. Police say that can be attributed, in part, to owners' embarrassment over failing to adequately secure their weapons.
In a study released two years ago by the University of Pittsburgh's Graduate School of Public Health, researchers who partnered with the Pittsburgh Bureau of Police traced the origins of 762 firearms recovered by the department's firearm tracking unit.
In cases where police made contact with the original owner, more than 30 percent said their gun had been stolen. But 42 percent of those guns weren't reported by the owners as stolen until after police contacted them when the gun was recovered at a crime scene, the study found.
In the Richmond region, the area's two largest suburban counties have endured the most thefts. Chesterfield led with 2,485 reported cases between 2010 and 2017. Henrico was close behind with 2,259 reported thefts over that period, and Hanover ranked third with 577 cases, according to figures provided by police in those localities.
Richmond - which annually records one of the highest number of shootings and gun killings in the state - recorded the fewest reported firearm thefts in the region - 552 cases during the eight-year period.
However, the city by far had the largest percentage of firearm thefts taken from vehicles, or 53 percent of its 552 total cases.
By comparison, 26 percent of firearm thefts reported in both Chesterfield and Henrico were from vehicles; Hanover stood at 17 percent.
"We have had cases where folks have reported within a month's time two or three firearms stolen from their vehicle," Durham said of Richmond's gun thefts. "And when we go back and talk to these individuals who make these types of reports, it appears to us that something nefarious is going on here. It doesn't make any sense to us."
Few neighborhoods seem immune from thieves looking for guns in cars, although some residents in the area's pricier communities appear to think it can't happen to them, and police say they let their guard down.
In a Chesterfield case last September, two semiautomatic handguns - a .40-caliber and a 9mm - were stolen from an unlocked pickup truck parked in front of an upper-middle class home in the 9100 block of Barrows Hill Trace near Pocahontas State Park.
The thief eventually was identified after police linked him to other thefts and he confessed to taking the guns. "He admitted to selling the guns," said Chesterfield police Lt. Jason Stocks. "We don't know where the guns went."
Steven P. Barton, 19, was charged with grand larceny of a firearm but the offense was reduced to trespassing at an August hearing and he was given a six-month suspended jail sentence.
"I think what's happening is, people are being lazy with their firearms," said Chesterfield police Maj. Frank Carpenter. They are leaving them in their vehicles "because in most cases they may feel like they need their firearm once they leave their home."
Gun owners are "either having a lapse in judgment - meaning they are forgetting about it - or they just don't care," Carpenter added. "They think their car is secure enough."
To the dismay of Chesterfield police officials, who constantly remind residents via social media to secure their vehicles, at least two-thirds of the cars and trucks from which firearms were reported stolen from 2013 to 2017 were unlocked - or 342 of 516 cases, police data show. Police said 65 other cases were undetermined.
The same is true in Henrico, were 68 percent of the 456 reported firearm theft cases from 2013 to 2017 involved vehicles that were unlocked, police say.
Even law enforcement officers have slipped up and left their guns in unsecured vehicles.
Last year, Kristopher T. Stephens, 20, was charged with stealing a Henrico sheriff's deputy's service pistol from the deputy's unlocked personal car outside the Henrico Jail, where he worked. The deputy told investigators he had secured his car but noted the driver's side door sometimes didn't lock.
In a statement to police, Stephens admitted selling the gun to a "drug dealer" in exchange for narcotics, Henrico prosecutors said. He pleaded guilty to the theft and was sentenced to 3 years and six months in prison, all suspended. 
"Since 2014, at least twice as many - and in some cases nearly three times as many - vehicles were unlocked when firearms were stolen," said Henrico police Lt. Chris Garrett.
Gun thefts from homes have netted thieves even greater rewards, because the owners typically store multiple firearms they've acquired over time or keep as a collection. In many cases, the guns were easily removed because they weren't adequately secured, police said.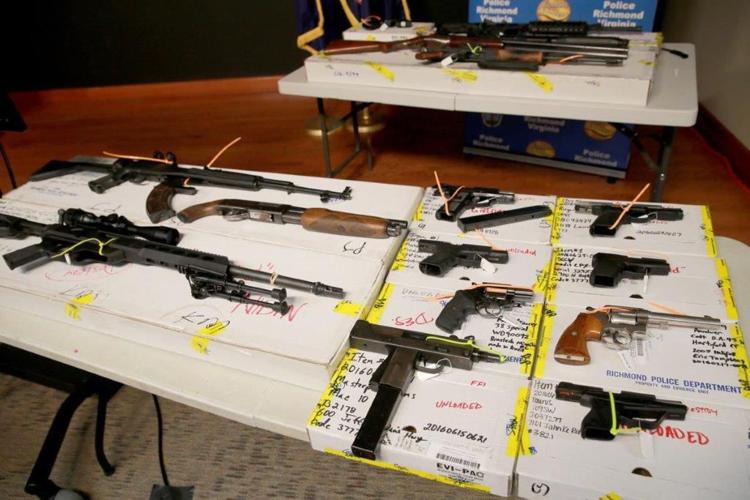 In September 2016, the resident of an apartment on North Laburnum Avenue arrived home to find that someone had broken inside and removed 14 firearms from a bedroom where he stored the weapons along with ammunition. It was the third break-in to his apartment in a year in which guns were taken.
In the latest break-in, the victim had locked the door to his "gun room" but didn't further secure the firearms, such as by storing them in a lock box or gun safe, Henrico prosecutors said.
Police were able to identify thief - Ty'Quon Coleman, 21 - after he mistakenly left behind his cell phone, which the homeowner discovered and gave to police. Investigators then searched the suspect's social media accounts and found photos and videos he posted of himself and his friends with some of the stolen weapons.
In a video Coleman posted on his Facebook account, Coleman and two acquaintances can be seen walking through a gun store and inquiring about accessories for 10 mm and .40-caliber firearms - guns similar to the ones stolen. Coleman can also be heard on the video admitting to possessing a firearm that matches a gun taken in the break-in.
Three of the guns were recovered by Richmond police seven days after the break-in, and Coleman was sentenced in January to 20 years in prison with 17 1/2 years suspended after pleading guilty to breaking and entering and felony theft of a firearm.
In another Henrico case, Najai B. Stovall, 23, was charged with breaking into a home in the 1400 block of Southbury Avenue and stealing a gun safe containing several firearms. Prosecutors said the safe was not secured to the floor or wall, so Stovall was able to remove it and pry it open, taking the weapons inside.
Stovall was arrested after police obtained a latent fingerprint from the safe that matched his. He told police he sold the firearms for drugs because he was a heroin addict. He pleaded guilty last year to five felonies, including theft of a firearm, and was sentenced to 40 years in prison with 34 suspended.
Authorities believe the opportunity for theft has grown as firearm sales in Virginia have soared over the past decade, and more people arm themselves and carry a gun in public for self defense.
More than 3.5 million firearms have been sold in Virginia from 2010 to 2017, according to estimated sales based on mandatory criminal background checks conducted by state police on Virginia buyers.
It is easier for gun owners to carry in more public places in more states than ever before, and to a large extent, that has translated into more people acquiring concealed carry handgun permits.
A total of 73,607 concealed carry permits have been issued in Richmond, Henrico, Chesterfield and Hanover during the past eight years, according to circuit court clerk records in those localities. Collectively, the number of permits issued in those four localities soared 115 percent from 2010 to 2017, records show.
A first-of-its-kind study published last year in the journal, "Injury Epidemiology," found that owners who carry guns outside their homes and store them in their cars - or just own multiple weapons - are more prone to have their guns stolen.
The study, conducted by public health researchers at Harvard and Northeastern universities, drew from a survey of 1,604 nationally represented gun owners who provided information such as how many firearms they owned and whether they carried a gun. The survey allowed researchers to compare owners whose guns were stolen with owners who did not experience a firearm theft.
Richmond and Henrico County police supported legislation introduced during the General Assem…
The study concluded that gun owners who possessed firearms for protection or carried guns in the previous month were more than three times as likely to have experienced a theft in the past five years. Gun owners who possessed six or more guns, stored their guns in their vehicles or did not store their guns in the safest manner were more than twice as likely to have have their firearms stolen, the study also found.
"A common way guns get into criminal hands appears to be through gun theft," said the study's authors, who estimated that about 380,000 guns in 250,000 incidents are stolen in the U.S. each year. "Attempts to reduce the number of stolen guns may do well to focus on individuals and places where most gun theft occurs."