Not long ago, people worried that a giant, gape-mouthed predator called the blue catfish would take over the James River.
Now the invader fish, which can top 100 pounds and eats everything from native fish to struggling crabs to KFC chicken boxes, is taking over the Chesapeake Bay.
"The wild blue catfish is one of the greatest environmental threats the Chesapeake Bay has ever faced," said Tim Sughrue, executive vice president of a Jessup, Md., seafood company and a former waterman and biologist.
Like making lemonade out of lemons, Virginia is considering turning the slimy, bug-eyed catfish into fillets on your plate.
In a state sanctioned-experiment, Poquoson waterman George Trice is pulling thousands of pounds of blue catfish a day from the James and Pamunkey rivers. If all goes according to plan, he will reduce the number of the troublemaking fish while expanding the commercial market for them.
In a highly unusual move, Trice is catching the fish by sending an electric current into the water to stun them and then scooping them up before they recover.
Called electrofishing, it's the high-tech version of shooting fish in a barrel. Researchers have long used it, but not watermen.
The Trice experiment could lead to a day when multiple watermen take blue cats that way in Virginia.
"We would be unique" in the world if state-approved commercial electrofishing took off, said Bob Greenlee, a state Department of Game and Inland Fisheries biologist.
The game department opposes allowing watermen, beyond Trice's effort, to electrofish. The practice potentially is dangerous, among other concerns, Greenlee said.
The Virginia Marine Resources Commission, which regulates commercial fishing, provided Trice an "experimental gear" license for last year and this year. The commission will decide what happens after that, with input from scientists at Virginia Commonwealth University and elsewhere.
Marine Resources Commissioner John M.R. Bull said it makes sense to "thin the herd" of blue cats.
"Whether that is through expanded use of electrofishing, or expanded use of traditional fishing gear, may depend on what the scientists discover in the course of the research," he said.
In a 17-foot boat just downriver from Hopewell, Trice depressed a foot pedal that sent an electric current from an onboard generator through a steel cable and into the James River.
Hundreds of stunned blue catfish rose to the surface. Some were rolling; some were swimming on their sides. They ranged from a few inches to about 3 feet in length.
Workers in two other boats and one in Trice's boat netted as many fish as they could before the animals recovered and swam off.
Electrofishing never fails to produce lots of catfish, said Trice, 43, who wore a white T-shirt and khaki shorts. "Even when it's bad, it's good."
High-frequency electrofishing — using a charge that can give a person who drops a hand in the water a serious shock — will stun all kinds of aquatic creatures. Scientists use it to catch fish for studies.
This was low-frequency fishing. If you touched the water, you might get a tingle, or nothing. For reasons no one understands, it seems to affect only catfish.
"We call it voodoo," said Greg Garman, a VCU fish ecologist. "We know it works. We know how to make it work well. But we don't know why it works."
"It's the cleanest fishing I've ever done," Trice said. "You don't hurt anything but what you take."
Trice caught a few other fish — native white catfish and invasive flatheads — but the overwhelming majority were blue cats, because they dominate the river.
Fishing from late May to mid-September last year, Trice caught about 25 pounds of fish for each minute he electrified the water, said Tom Murray, a fisheries development specialist with the Virginia Institute of Marine Science.
Murray said he is unaware of any type of traditional fishing, with nets and traps, that comes even close in its efficiency.
Trice said he is catching even more fish this year.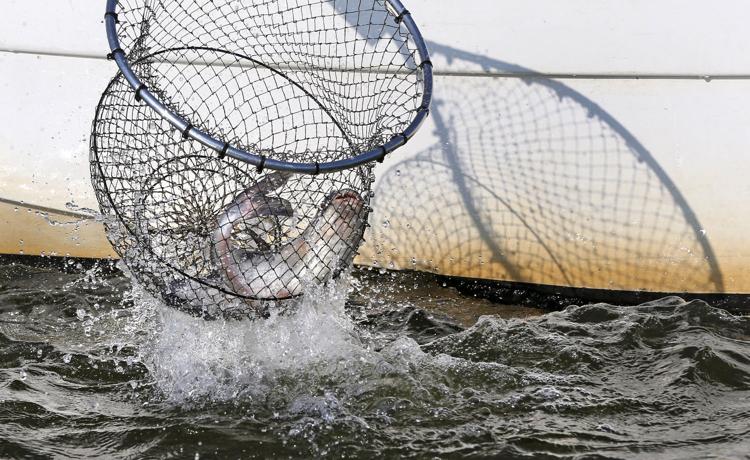 In the 1970s, when such things were done, Virginia biologists put young blue catfish in the tidal, freshwater James and Rappahannock rivers to give sport anglers something new to catch.
Native to the Mississippi River region, the blue cats found Virginia — and the James in particular — to their liking. With lots to eat and virtually no predators, they grew to huge sizes and numbers.
By the mid-2000s, they constituted up to 75 percent, by weight, of all fish in parts of the James, according to VCU scientists.
Trice said his electronic fish finder has indicated blue cats near Westover Plantation stacked like logs 6 to 8 feet deep on the bottom in an area about a half-mile long and 40 feet wide. That might sound like a fish tale, but VCU's Garman said it's "absolutely credible."
During the past 15 years or so, people flocked to the James to catch 50-pounders, 70-pounders and larger — catfish the size of golf bags, but fatter. The record blue cat for the James is a 102-pound, 52-inch brute caught in 2009 near Richmond.
Forty years ago, a big fish in the James was a 20-pound channel catfish.
The blue catfish is no bottom-feeding slug. All but the smallest live at the top of the food chain and gobble down anything that fits in their huge mouths.
"I have heard them called the Bengal tigers of our tributaries," said Bull, the marine resources commissioner.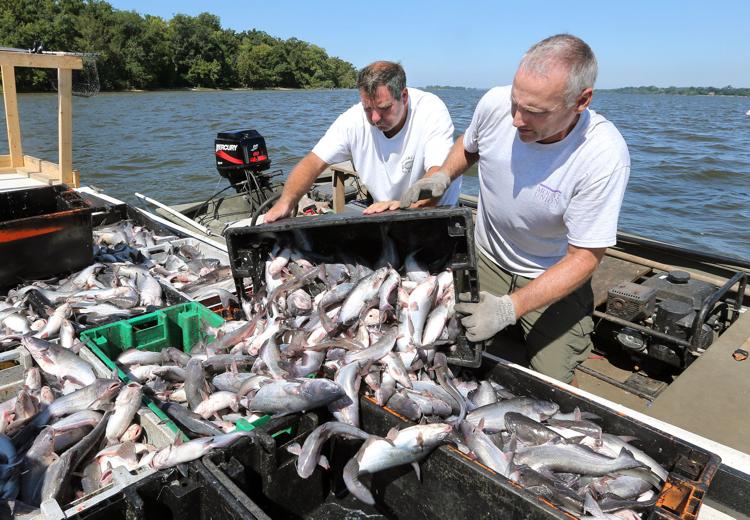 The thinking four decades ago was that the freshwater blue catfish would be barred by saltwater from venturing far down the James.
But that was wrong. Now the fish are found from above Richmond to Newport News, near the main section of the Chesapeake Bay.
Blue cats are in every major tributary of the bay and even on the Eastern Shore. Scientists consider tidal tributaries part of the bay. Experts suspect the spread of blue cats has been aided by unthinking anglers who moved the fish to rivers near them.
Some people worry that voracious blue cats are driving down numbers of struggling species, including American shad, river herring and blue crabs.
"It's the $64 question: Are blue catfish causing ecological harm in the Chesapeake Bay?" VCU's Garman said. "We have evidence to support that view, but we can't prove it."
The game department's Greenlee said circumstantial evidence suggests blue cats are hurting native white catfish and long-established channel catfish, but "I can't say that about any other species."
The game department has contracted with Virginia Tech for a study that delves into those questions. We might get some answers in 2017, Greenlee said.
The department bars people from keeping more than one blue cat a day longer than 32 inches, in part to protect the trophy fish for anglers.
Maryland, simply wanting to get rid of blue cats, allows the public to catch all they want and asks that people kill all they catch.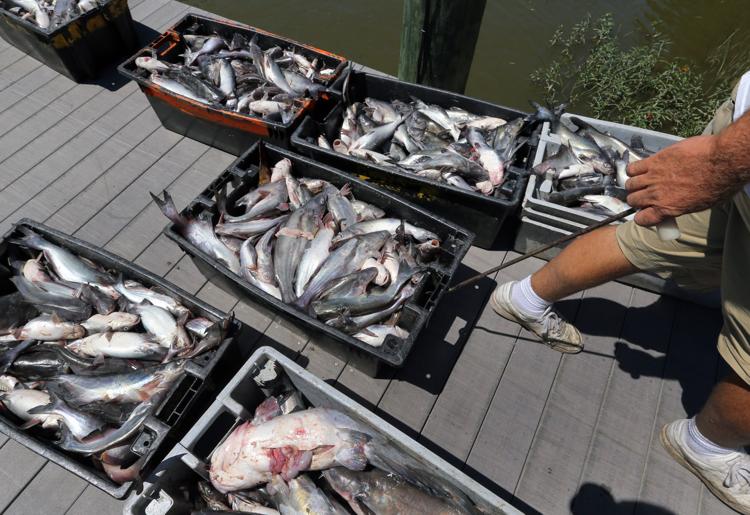 Trice caught about 150,000 pounds of catfish last year, said Murray of the Virginia Institute of Marine Science. He averaged nearly 4,000 pounds a day.
The blue cats that have captured the public's attention are the giants, but Trice's quarry are about 2 feet long and smaller. They taste better than big ones and have not accumulated pollutants such as mercury, experts say.
"It's good white flesh," said Murray, who has eaten blue catfish.
Trice said he has been selling the blue cats to a Hampton fish company for about 30 to 50 cents a pound. Most of the fish end up in stores and restaurants.
The idea of thinning the blue catfish population does not sit well with some sport anglers.
It has become harder to catch 50- and 70-pounders in the James in recent years, said Archie Gold of Hanover County, who runs the Night Stalker fishing guide service.
Commercial fishing is the problem, and electrofishing is making things worse, in Gold's opinion.
"They are literally destroying the river," he said.
What happened, experts say, is that there are now too many blue cats in the James to compete for food and other needs. That leaves stunted fish.
Removing lots of small blue cats through electrofishing should return the James closer to normal while making it easier for the remaining catfish to reach trophy size, VCU fish researcher Matt Balazik said.
"I think it's the perfect solution to this problem," he said.