White supremacists from dark corners of the internet planned their now-notorious descent on Charlottesville for months.
It ended in civil unrest, a car attack, a helicopter crash and, all told, three deaths.
What follows is an account of how the events of last weekend unfolded, as told by the protesters who massed in opposition, the white nationalists who planned it, the state officials charged with managing it all, and the residents of Charlottesville who watched as their progressive college town descended into chaos.
The interviews have been lightly edited for clarity and length. 
I. 'We knew we had a recipe for violence'
Charlottesville resident and fringe-right activist Jason Kessler submits an application on May 30 to hold a special event in Emancipation Park, a small square in the center of the city. He charges the $25 application fee to his credit card.
Under the line asking for a description of the event, he writes in shaky block letters: "Free speech rally in support of the Lee Monument."
The city had voted to remove the statue of Confederate Civil War Gen. Robert E. Lee in February.
Kessler's application comes about 15 days after prominent white nationalist Richard Spencer led a torch-lit rally around the statue and a month before the KKK held a 40-person rally there.
A reviled figure in the town for his offensive and fringe beliefs, Kessler begins heavily promoting the event among white nationalist, racist and Nazi groups on the internet and in speeches. Posters list a half-dozen prominent white supremacist figures as speakers.
Kessler, June 25 rally in Washington, D.C., in front of the Lincoln Memorial: Lincoln was a traitor. Our entire country would be better off if the South had won the Civil War. Now the same carpetbagging cowards that call us racist are trying to tear down our monuments.
I can't go anywhere in my hometown without these (expletive) radical communists following me everywhere and hounding me. OK, well you didn't like that the alt-right came to Charlottesville? Well I'm going to bring back the alt-right and anyone who's brave enough to stand together against censorship of free speech.
Brad Griffin, 36, of Eufaula, Ala., a spokesman for the League of the South, which he describes as a "Southern nationalist organization" that "stands up for the rights of white Southerners:" Jason Kessler's idea was that he was going to invite all these different groups to come to Charlottesville to protest the removal of the Lee monument. It started off as a heritage issue.
Jeff Schapiro speaks with RTD reporter Ned Oliver, who was on the scene Saturday in Charlottesville for the Unite the Right rally that devolve…
Col. Steven Flaherty, Virginia State Police superintendent: The Virginia Fusion Center (the state's criminal and terrorist threat monitoring service) went into hyperdrive mining intelligence, monitoring the groups, monitoring any information we could to determine who may come and what they were planning.
A.C. Thompson, a ProPublica reporter who has been covering white supremacy and hate crimes for the past year: When I was reading the white supremacist websites and listening to the podcasts, I could tell they were on board to push this rally in a big way. … We've documented a spike in anti-Semitism, a spike in racist graffiti. A real, intense xenophobia. And a connection to Trump. A swastika painted next to a Trump sign. Or somebody saying, 'Trump is going to get rid of you.' … There's a feeling that they have the blessing of a sitting president.
Charlottesville Vice Mayor Wes Bellamy, who introduced the proposal to remove the Lee statue and is the City Council's sole black representative: Every day they say something online. They send out some kind of idle threat. There's not a day that goes by they don't say something crazy. In my personal opinion, if we weren't doing something right, they wouldn't be so upset.
Emily Gorcenski, Charlottesville resident, anti-fascist activist: Being a local activist, it was pretty much the first and last thing on my mind for nine weeks. We made a concerted effort to get the permit revoked. There was quite a bit of preparation.
Colonel Flaherty: The white supremacists were promoting people bringing guns. We knew that there were many groups on the left that had promoted violence of one nature or another. So we knew that we had a recipe for a significant amount of violence.
Preparations on all sides mount in the days leading up to the rally.
State Secretary of Public Safety Brian J. Moran: It became clearer and clearer that this was a significant threat. At some point, the attendance estimate reached 700. We brought (Gov. Terry McAuliffe's) chief of staff to the Fusion Center on July 27 to brief him. The state police provided us with enough information to take the unprecedented action of mobilizing the National Guard in preparation for a civil disturbance before it happened.
Colonel Flaherty: The Thursday and Friday before in Richmond, all of the troopers tried on their equipment. They went over the city's plan. They were planning their mobilization.
Gorcenski, anti-fascist activist: I have a pretty standard load out for actions like this. I tend to be very self-sufficient. So I carry things like bandages, water, Gatorade, food, sunscreen, milk in case chemical agents come out. I was also armed, so I was carrying a handgun at the time.
Pastor Viktoria Parvin, St. Mark Lutheran Church in Charlottesville: We didn't expect it to be violent.
Griffin, League of the South: We only brought like maybe five or six shields with us. They were designed in case we were in the park and anybody in the crowd would lob projectiles. But the vast majority of us came in without knives, no one on our side brought guns because we had agreed with the police that we would come in unarmed because the police told us they would guarantee our security.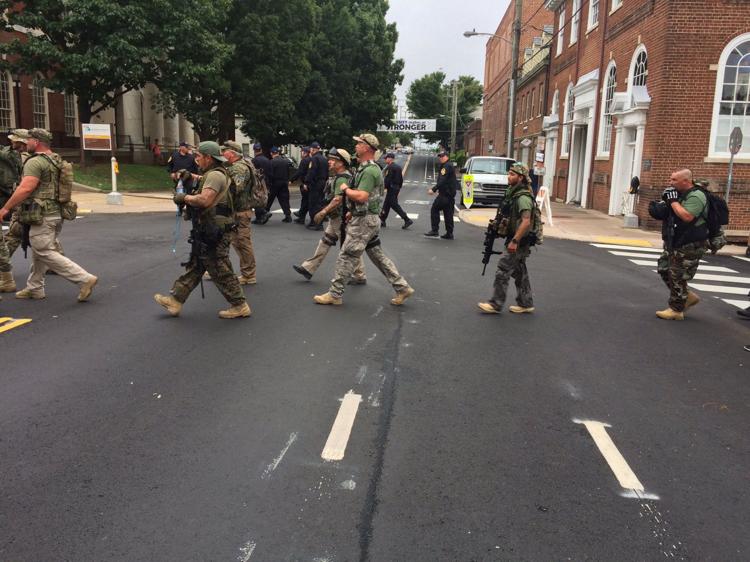 Trace Chiles, East Coast Commander of the Fraternal Order of Alt- Knights, which arrived outfitted in body armor, many carrying guns: It is our mission to stop Antifa and Black Lives Matter.
Mike Peinovich, host of The Right Stuff white nationalist podcast, Aug. 8: Cargo shorts, flip-flops and a tank top might not be the way you want to go. Bring whatever you need that you feel you need for your self-defense and third-party self-defense of other people that might not have anything. Now I'm not telling anybody to do anything illegal. I don't want anybody breaking any laws, but I am saying do what you need to do for the security of your person at this point.
Dr. Michael Williams, trauma surgeon and administrator at the University of Virginia Medical Center: We were told by the police there would be between 5,000 and 6,000 people. This was very intense. The recurring theme at the hospital was, 'This is not a drill.' We deliberately slowed the elective operating schedule for the roughly five days before the event and opened up around 70 beds. Typically we are at or near capacity.
Albemarle-Charlottesville Regional Jail Superintendent Martin Kumer: We had about 80 beds at the jail reserved in the event of a mass incarceration.
Colonel Flaherty: There was a lot of discussion: Should they be let in with guns and weapons? The items they brought in to the park weren't illegal to possess, so there really was not a reasonable way to limit those items.
On Aug. 7, City Manager Maurice Jones sends a letter revoking the permit for the rally unless it is moved from the small, downtown square around the Lee statue to a much larger, open park about a mile north, McIntire Park. The American Civil Liberties Union of Virginia files a federal lawsuit on Aug. 10 arguing the rally was moved not because of concerns over size and safety, but over the content of the protest.
Charlottesville City Manager Maurice Jones' letter to Kessler: Holding such a large rally in Emancipation Park poses an unacceptable danger to public order and safety.
Virginia ACLU Director Claire Guthrie Gastañaga: No one who possibly knows our organization would think it wasn't a difficult decision (to represent Kessler). We never had a legal fight about where the rally should be, we simply said, when you make decisions, there is a process you have to follow and you have to do it right.
At 9:30 p.m. the day before the rally, U.S. District Judge Glen Conrad rules in favor of Kessler because the city took no similar action to revoke permits issued for a counterprotest several blocks away, writing in his ruling, "The disparity in treatment between the two groups with opposing views suggests that the defendants' decision to revoke Kessler's permit was based on the content of his speech rather than other neutral factors that would be equally applicable to Kessler and those protesting against him."
Around 10:30 p.m. Friday, word of a militaristic, torch-lit procession on U.Va.'s campus spreads rapidly.
Colonel Flaherty: We had some information that Mr. Kessler's group was either going to burn a cross or do this torch march or do whatever it was. We didn't know where it was going to start.
Thompson, ProPublica: Each group has leaders, they're getting directions by radio. A truck pulls up with all the torches. I thought, 'This is a level of organization I haven't seen in a long, long time.' This frankly far outstrips the organizational capacities of the old racist movement.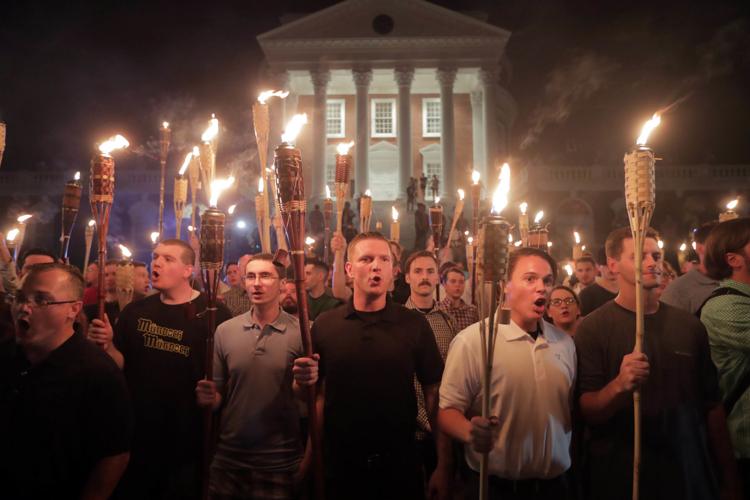 U.Va. professor Larry Sabato: When we saw the lights coming, I knew it was going to be bad. We went around gathering students – some came to the basement of (my house on the Lawn), others went with friends or met up with parents who were still in town for move-in day. They were very nervous about it all. One asked me if this happens a lot at U.Va., and I told him it was the first time I'd seen anything like it in my 47 years here.
Secretary Moran: I drove by the Rotunda and sure enough, I saw torches. I ran over and there's a building that looks down at the Thomas Jefferson monument and there's a large brick patio and that's where the torch assembly, that's where they assembled.
Sabato: The group was reciting Hitler's slogans.
Joe Montoya, who lives outside of Charlottesville, and was leaving a multifaith service on campus: We could hear: 'Blood and soil, we'll take our streets back,' a lot of anti-Jewish things. I came there to worship God and was terrorized. We had to go through a back alley to escape the church and had a police escort. They screamed terrible things at me.
The group surrounds a small crowd of about 20 counterprotesters who had linked arms surrounding a monument to Thomas Jefferson. University police said they were told the march would take a different route, and are nowhere in sight at the beginning of the confrontation.
Griffin, League of the South: When everyone arrived at the statue, there was a small group there led by Emily Gorcenski who were encircled.
Gorcenski, anti-fascist activist: The Nazis surrounded us very quickly. I stood face to face with a man wearing a swastika pin shouting in my face. I was ready to die that night. I figured that was just how it was going to go. Earlier in the day I had written my final messages to the ones I loved in case I didn't make it through the weekend. I don't know who threw the first punch. When it got violent, the circle shifted to one side and we were able to run.
Sabato: There weren't enough counterprotesters there to be able to do the Nazis any harm. They were outnumbered 10 to 1. The students who linked arms around the statue of Jefferson were very brave. Our dean of students got in the middle of it and was struck with a torch — he got a cut on his arm.
Griffin: They lunged with pepper spray. It descended into a brief fight after that with torches.
Gorcenski: We lost. We got our asses handed to us. It was a pretty dark night. I thought that was the end of America that night. Nobody came to help us.
Secretary Moran: It was exactly what like you'd see in a World War II video of Nazi Germany. I had never seen anything like that. It just shakes you. It was surreal to see. And the youth, how young these people were. I was just bracing for what might unfold the next day.
II. "What are you going to do, not defend yourself?"
Vice Mayor Bellamy: I spoke at a 6 a.m. sunrise service and helped lead the march from First Baptist. I led some chants: 'No hate; No fear; White supremacy isn't welcome here.' Things like that. Then I went to a location I can't disclose.
Colonel Flaherty: We did an orientation for our people at 6:30 a.m. at the John Paul Jones Arena, gave them a little intelligence brief to let them know we had the potential for violence, that while precious few of us were from there or ever lived there, that Charlottesville was our city that day.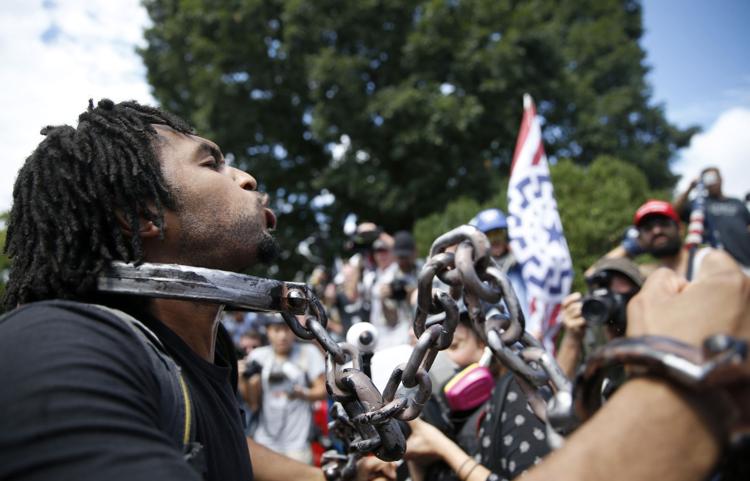 Secretary Moran: I was in the park standing there with state police and this heavily armed (militia) comes up. I approached one man and he said, 'You've got to talk to my commanding officer.' I'm thinking, 'What?' They were behaving as though they were military. The night before was chilling, but then seeing this was like, 'Oh, boy.'
Jeanne Pupke, senior minister of First Unitarian Universalist Church: We walked uphill arm in arm, singing – 'This Little Light of Mine', 'Oh, Freedom' - prepared to be arrested when we arrived to blockade the park. We expected the police would turn us away, but they didn't. They stayed behind their barricades.
Griffin, League of the South: The Nationalist Front had gathered in a parking garage. And we were going to come in together. We were going to march in together in a column because that was the safest way to do it.
Thompson, ProPublica: By the way they came in formation and the amount of clubs, weapons, banners with big old poles on them, I thought, 'This is likely to be a very violent day.'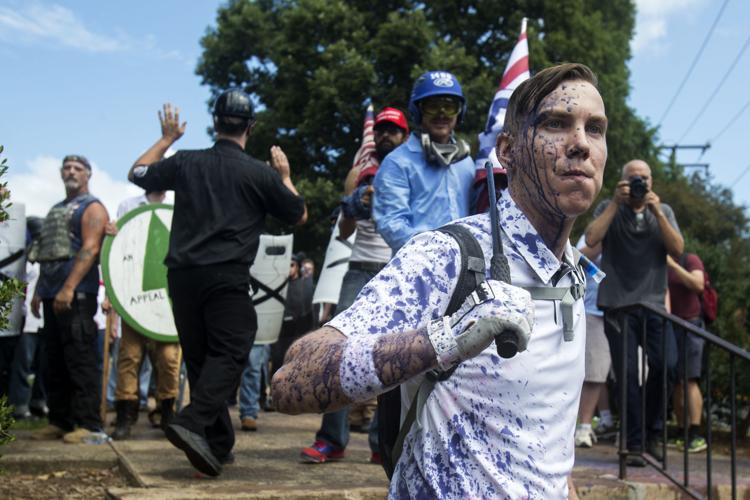 Pupke, minister: After I took my place on the stairs leading up to the park a group of about 30 young men with shields pushed their way through our line. The Antifa folks didn't like that and got upset. They leaned forward, then the melee.
Montoya, counterprotester: It horrified me to see crowds of Neo-Nazis yelling despicable things. I ended up standing next to an Episcopalian bishop. He asked me, 'What are they chanting?' And I had to turn to this holy man and say, 'They're chanting "f---ing f-----s."'
Pastor Parvin: The white nationalists were so young. They called me old something. They were laughing, like they were going to a party.
Thompson, ProPublica: What I saw, frankly, was counterprotesters occasionally wanting to get into skirmishes with the neo-fascists and the racists. And, frankly, most of the time the white supremacists were really getting the better of that - being much better at dispensing violence than the counterprotesters.
Gorcenski, anti-fascist activist: Was there willing combat? Yeah, there was willing combat. Because one side was f---ing Nazis. They came, and we knew that they were coming with weapons, because they spent nine weeks telling people they were coming with weapons. What are you going to do, not defend yourself? Let them march through town?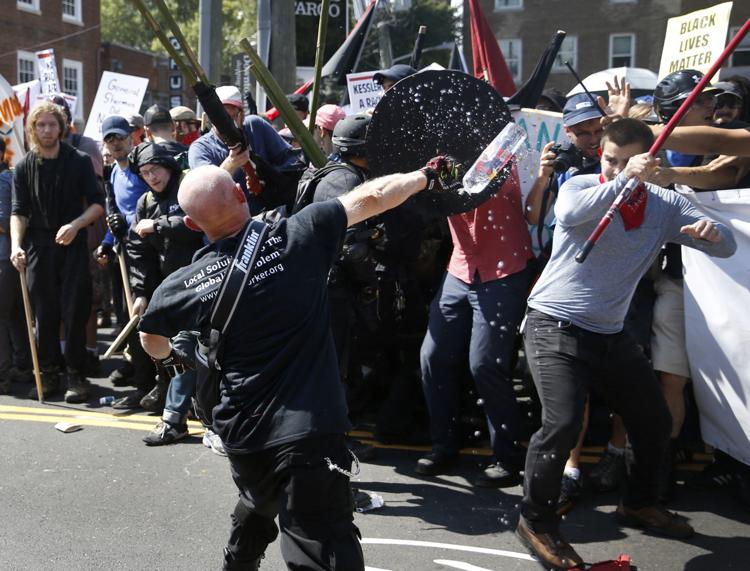 Ryan Kelly, former staff photographer, The Daily Progress: People were wailing on each other with sticks and flags and shields.
Trace Chiles, Fraternal Order of Alt-Knights: How long after being hit with human feces and other objects does it take for any man to defend himself? I know you aren't possibly implying that we should allow it, considering the police did nothing?
Colonel Flaherty: There was some criticism that there were spot fights and confrontations going on in the crowd. And (police) did nothing. Well, we can't rush into the crowd. Only fools rush into a crowd. We needed to make sure we were set up as we trained to do and we can methodically move that crowd out and disperse them.
Griffin, League of the South: Let me distinguish between the counterprotesters. There were some of these clergy people and they were inside the park and they were having a little prayer circle, and everybody was leaving them alone.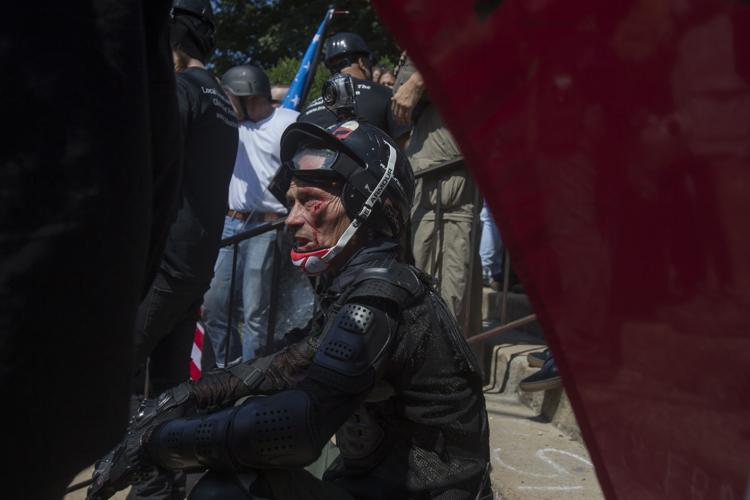 Montoya, counterprotester: The worst thing I saw were white supremacist hordes surrounding clergy … They were throwing water balloons full of urine. When they charged toward us, the counterprotesters intervened. I don't think I would be here today if it weren't for them.
Thompson, ProPublica: We witnessed one instance where a battalion of white supremacists encountered an older group of counterprotesters. They were like give-peace-a-chance, middle-aged and senior citizens kind of folks. And the white supremacists just absolutely pummeled them. … Police were just watching it happen.
Colonel Flaherty: Remember, the rally wasn't scheduled to start until noon. Around 10:30, quarter to 11, somewhere around that time, as you were starting to see (chemical) spray and throwing different things, we started moving the National Guard in closer. We started suiting up our tactical field force so they could get in position. We had people in the crowd, police that were indistinguishable in the crowd; we needed to get them out of harm's way.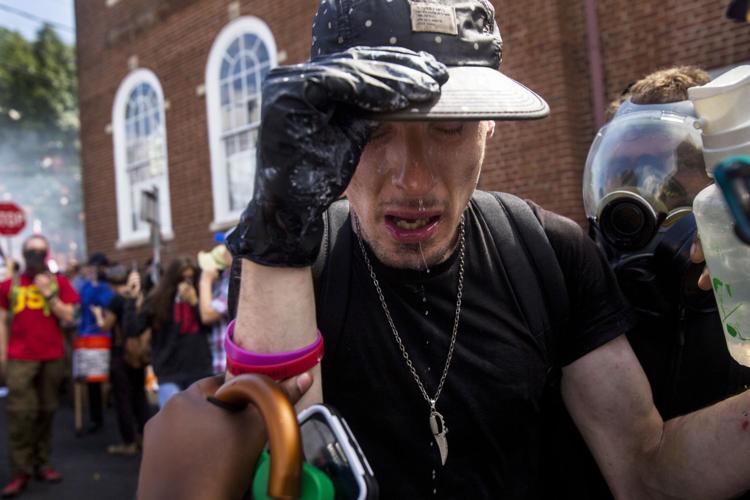 Secretary Moran: At 11:30, bottles were being thrown back and forth. There was the escalation of violence and that's when the governor declared a state of emergency and we mobilized the tactical team to clear the park. The state police rolled in a BearCat (armored vehicle). State troopers yelling into a bullhorn to disperse. And, actually, a majority of the crowd actually dispersed at that point. Some remained. The tactical team had to push them out of the park. We gave them 11 minutes.
Griffin, League of the South: I saw what looked like smoke come up. And so thought to myself, 'Well, maybe the riot police have dispersed the violent Antifa.' … Around that time, we heard over the speakers that we were being declared an illegal assembly and had to disperse.
Secretary Moran: I thought it went pretty well. We secured it.
Colonel Flaherty: As far as our performance in Emancipation Park, I couldn't be prouder. Had we been able to call the end of the day at about 1:30 or so, while unfortunately there had been 15 or so people who suffered injuries, it had been a successful event, because we dealt with the problem, cleared the problem. No property damage. Minor injuries in what could have been an extremely violent day.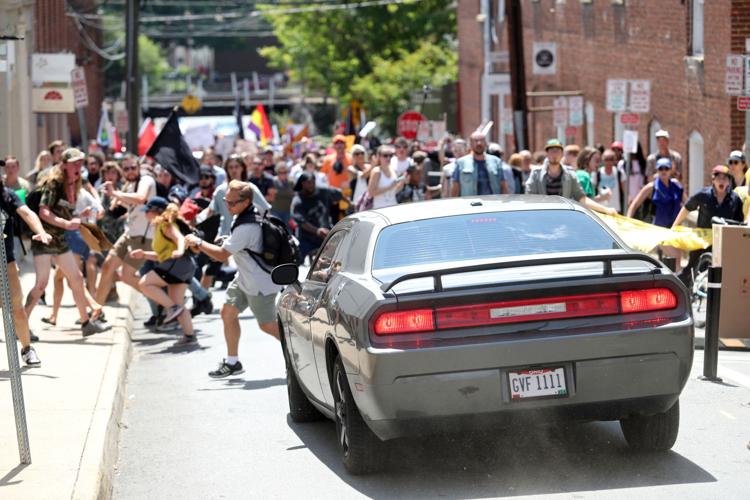 III. "Be advised, multiple pedestrians struck."
Pushed from the park, bands of counterprotesters and rally attendees scatter in all directions. A large contingent of white nationalists walks the mile to McIntire Park, where the city had initially wanted to move the rally, and hears speeches from Spencer and former KKK leader David Duke.
Downtown, a group of over 100 counterprotesters snakes through the streets around the mall chanting.
Kristen Marie, Richmond resident, counterprotester: I was just following the crowd. Apparently we were all just marching to where the Nazis were gathering. There was no alt-right. No police. Nothing was really happening. Everything felt fine. There was no violence. Everyone was in a good mood and smiling. Then I heard screeching tires and felt the wind from the car as it went by.
Katy Evans speaks with photographer Ryan Kelly, who was in Charlottesville on Saturday and was nearly in the path of the car that killed one a…
Kelly, former Daily Progress photographer: (The car driver) reversed up the hill so he could come barreling down at a higher speed. I absolutely remember the sound of when he hit the crowd – the thumps, and sounds, and things like that. It sounded like a car wreck, but there were just so many human bodies involved. It was unlike anything I'd seen or heard.
Gorcenski, anti-fascist activist: I saw it push all the other vehicles forward. I saw people screaming. People getting pushed forward. I ran toward the car and pulled my gun because I was afraid he'd get out and start shooting.
Marie, counterprotester: It didn't even occur to me that it was an attack until he started reversing to escape.
Colonel Flaherty: The helicopter was above it, so we had real-time, live view of it in the command post. We knew immediately.
Dr. Michael Williams, trauma surgeon: The radio sounded: 'Be advised, multiple pedestrians struck. 30 to 40 causalities. More information to come.'
Heather Heyer, 32, is killed as she crosses the street.
Sec. Moran: I knew this was about to go public and the public was just going to be shaken. I texted to the governor. I think I told him, 'Horrible Twitter video of car slamming people and then another car backs off.' I don't know what I was texting. 'He has been arrested. Video likely to be on CNN soon.' I wanted to prepare him for that.
Marie, counterprotester: The victims were in shock. I remember this one girl looking around. She's like, 'Where's my phone?' And I'm looking at her leg and it's like twisted and blood everywhere.
Col. Flaherty: The helicopter stayed with the car, Trooper-Pilot (Berke) Bates and Lt. (Jay) Cullen. They followed it and then the sheriff's department made the stop. We watched that unfold from the downlink.
James Alex Fields Jr., 20, of Ohio, is arrested and charged with second-degree murder.
Secretary Moran: There were still protesters all over. There were still these white supremacists all over the city. That's the problem with an urban environment.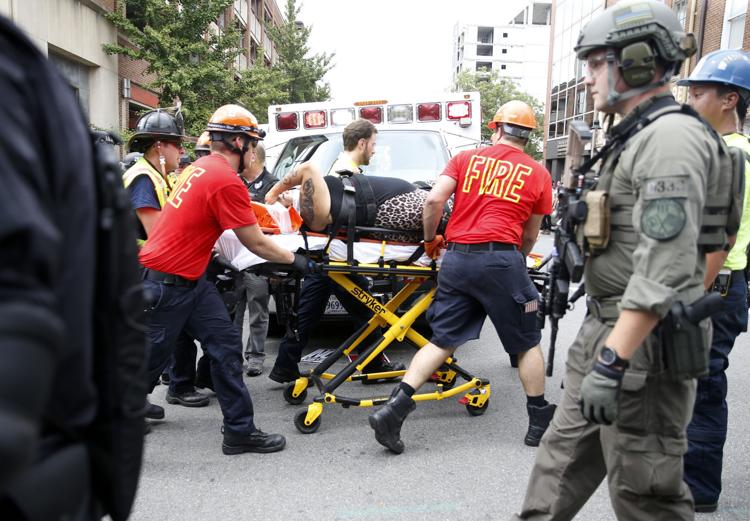 Colonel Flaherty: You immediately start thinking about the criminality of it. Is this a solitary event or is there potentially another person that's ready to run into the crowd somewhere else? Is this individual a lone wolf?
Marie, counterprotester: The street medics marching with the protesters reacted instantly. It was amazing to see people working together. The cops didn't show up for, it felt like, 15 minutes. I'm sure it was less. But it felt so long. I called 911 and the dispatcher didn't seem to know about it.
Dr. Williams, trauma surgeon: Ms. Heyer was the first patient to arrive. We were triaging patients outside at the traffic circle and in the lobby. Based on acuity they were labeled green or red. We did that for, I don't know how long we were at that. But it seemed like forever. And at one point, the flow of patients stopped. Roughly 11 of 19 patients, not including Ms. Heyer, went through a trauma resuscitation protocol.
IV. "He was trying to gain control of it."
Just before 5 p.m., the Virginia State Police helicopter piloted by Lt. H. Jay Cullen and Trooper-Pilot Berke M.M. Bates falls into the woods and erupts in a fireball just outside of town. It was one of two state police helicopters monitoring the event. There was no distress call.
Robert Noll, a nearby resident: I was doing some yard work and about to have a beer. There had been helicopters flying over all day, but it made a 'pop, pop, pop' sound like it was missing an engine. I saw the pilot was struggling to gain control of it.
Col. Flaherty: We had been communicating from the command post with Trooper 1, that's the call sign for the helicopter. … We were trying to call him. There was no contact.
Sec. Moran: Time stood still waiting.
Noll: It was just above the tree line and it appeared to invert. I just remember it fell tail down and then you heard this gross sort of thud. It wasn't a boom. It was a thud.
Col. Flaherty: We were all just hoping we'd hear Jay Cullen come back on the air.
Sec. Moran: I'm Catholic. There were a lot of crosses being … (begins crying) … I'm sorry.
Bates and Cullen both die in the crash.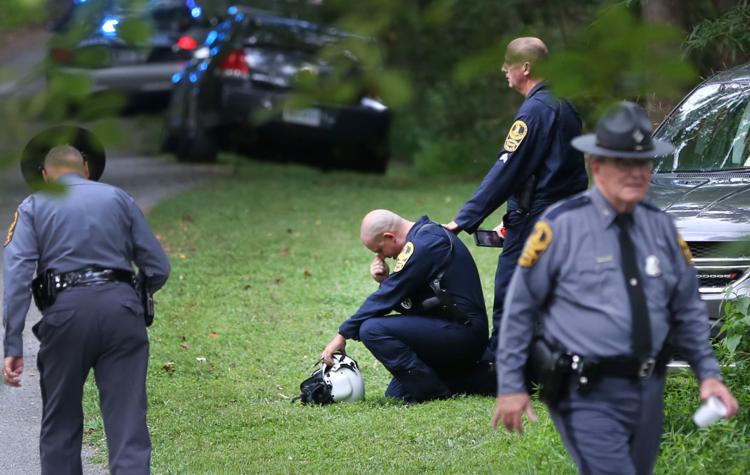 V. "I forgive them."
Gorcenski, anti-fascist activist: The thing we had known would happen, happened. I don't know that there are words that describe the rage, the frustration, the sorrow from being there and watching it happen, when this was the literally the last nine weeks of my life.
Chiles, Fraternal Order of Alt- Knights: Overall, it was a success against Antifa and BLM. But, sadly, a loss as well, as someone, whether guilty themselves of protesting illegally or not, lost their life. No one wants that. Charlottesville has the blood of Heather on their hands as well as the police and the governor of this state.
Griffin, League of the South: There were hundreds of riot cops, state troopers and everything. They could have easily, easily prevented what happened and they didn't. And that is a scandal. If Heather Heyer had complied with Governor McAuliffe's orders and dispersed like the rest of us did, she would be alive today. Similarly, if the streets had been properly barricaded as they were supposed to be, she would also be alive today. There are many questions which need to be answered.
Marie, counterprotester: We walked back around the mall area to see what was going on and see if we could find our friends. Everything had died down. It was really a somber field around downtown and they had stationed riot police around downtown. It was intimidatingly somber.
Colonel Flaherty: I traveled to meet the widows of Bates and Cullen. I got home around midnight.
Gorcenski, activist: We fell back to a safe house in a group of eight people in formation with someone watching behind us. Through the streets of Charlottesville, we had to walk like a military unit.
Marie, counterprotester: We left at 5. Heard that there was a fatality on the way back. That's when it hit. It was mostly a silent car ride. I got home. I sat and just bawled for hours. I didn't eat.
Secretary Moran: On the drive back, I was still trying to understand that weekend. What these young men, what possibly has happened in their lives that they think – that they would embrace white supremacy or the Nazi flag.
Montoya, counterprotester: I think they latched on to something that's given them what they think they need, and they're poisoned. I forgive them. I forgive the people who murdered Heather and spewed hate at me. I don't understand why they did it, but I forgive them.
Kessler, organizer, attempts to hold a press conference Sunday: (Inaudible over shouting of large crowd. A man runs up and punches Kessler, who is then chased away.)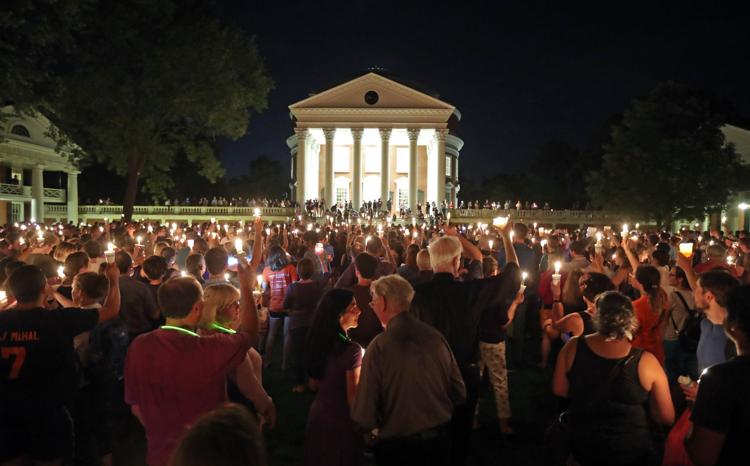 Vice Mayor Bellamy: The vigils I've seen, the 5,000 people on the U.Va. Lawn. Those things leave me encouraged, and I know that we're going to be fine. More united. Stronger than ever. It's already happening.
Pastor Parvin: Grief can go either way. It can slide into despair and anger without support. We will not let them fall, but keep them up.
---