As residents in Campbell and Amherst counties and the city of Lynchburg began to dig out from widespread damage left in the wake of a strong storm system that surged through Central Virginia Sunday night, state and local officials spent the bulk of Monday assessing the toll.
Those on the ground included Steve Keighton, a science and operations officer at the National Weather Service in Blacksburg, who surveyed damage in hard-hit areas that included the community of Elon in Amherst County, Timberlake Road in Campbell County, and the Lakeside Drive area in Lynchburg.
 "This particular [storm], even before we left the office, we had a high degree of confidence it was [a tornado] because of eyewitness reports, the radar strongly indicated it. We needed to confirm it but we can say so far with what we've seen is tornadic," Keighton said.
He said he is working to determine the length and width of the storms path. It could take a couple of days to gather the needed information from the entire state. He is looking at the radar and talking to residents along the way.
"We will be able to determine when it touched down and lifted back up," he said. "We don't know if it continued all the way to Elon or maybe it lifted up and touched down again."
Adam Zubowsky, deputy of external affairs for the Virginia Department of Emergency Management, said state personnel have been working jointly with local emergency management personnel on initial damage assessments in each community. He estimated those assessments, which will help determine if damage to public and individual structures meet Federal Emergency Management Agency thresholds, should be completed by noon Tuesday.
As of around 5:45 p.m. Monday, Appalachian Power outage reports showed 10,249 customers were without power in Amherst and Campbell counties and Lynchburg — down from 20,000 at the height of the storm. In a Monday news release Appalachian Power said it aims to restore power to customers in those localities by midnight Wednesday, except for "areas with extreme and/or isolated damage."
Dominion Energy was showing 794 outages in the Lynchburg region as of Monday evening while Central Virginia Electric Coop only showed five outages in Nelson County.
Both Amherst County Public Safety Director Gary Roakes and National Weather Service officials said Monday afternoon there have been no reports of missing persons or fatalities, although there have been reports of several injuries.
One Lynchburg Police Department officer, James Goggins, was struck by a driver on Timberlake Road Sunday night while he was directing traffic, according to a news release from the department. He was taken to Lynchburg General Hospital for treatment of non-life threatening injuries.
The city of Lynchburg issued a State of Emergency notification Sunday night. Governor Ralph Northam declared a state of emergency Monday morning because of the storm, according to the Associated Press.
The Elon area was among the hardest hit, with Roakes estimating 25 homes there were either destroyed or heavily damaged by the storm.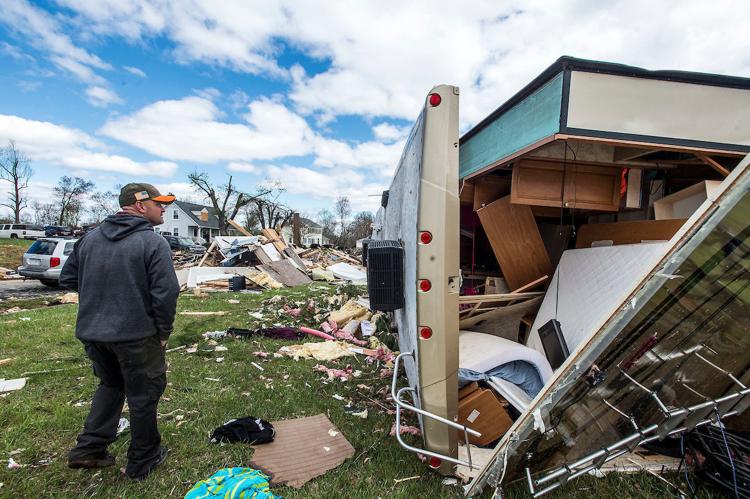 Among those homes was that of Leecy Fink and her husband, Lynchburg Police Department Sgt. Gary Fink.
When the storm approached, they gathered their three children and rushed to the corner of the basement.
As they listened to the destruction above their heads, water began to pour on top of them from both the rain and the plumbing system breaking all around them. Standing in knee-deep water, all five began to feel a series of electric shocks coming from the HVAC unit.
"I said, 'We have to get the kids back to the couch because we're going to get electrocuted,'" Leecy Fink recounted, as she stood near the corner of the basement where they had originally sought shelter. "I got the kids back to the couch in the corner of the basement, I called 911 and at that point the neighbors started yelling in the windows because frankly, they didn't know [if] we would make it."
Reflecting on the experience in his front yard Monday afternoon, Gary Fink said it was one of the most terrifying experiences of his life:
"I thought I was dead," he said. "I thought I checked out and it was all over."
Neighbors helped the family from the basement, and the Finks spent Monday afternoon with neighbors and friends.
"God absolutely protected my family," Leecy Fink said. "The community has rallied around us. Our LPD family has helped, my church family was here, my friends both new and from long ago and everyone else has been here taking care of my family."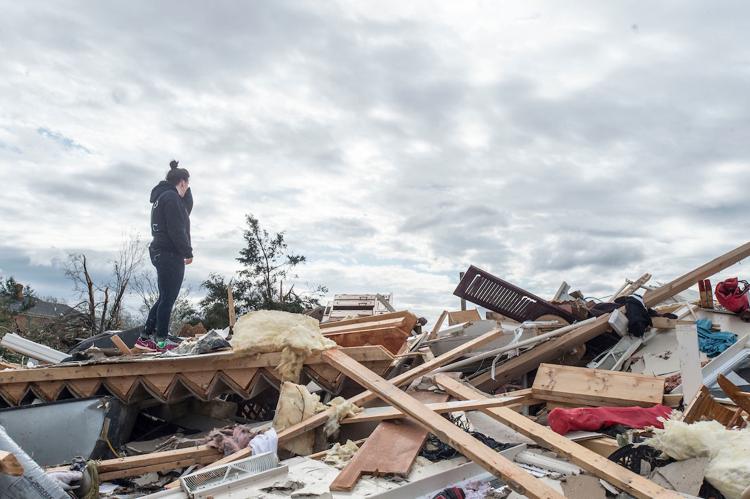 Operations in the Elon area were expected to wrap by 8 p.m. Monday, Roakes said in an afternoon news conference, but law enforcement would maintain security in the area. Officials ask everyone to stay away from the area unless they are residents.
"Everything can't happen overnight," he said. "It is a very detailed process and a lot of people want things to happen just like that, and it just doesn't happen. We work with them to provide the best resources we can in the most timely manner we can and in the safest manner we can."
By 3 p.m. Monday, VDOT officials said Timberlake Road in Campbell County and Elon Road in Amherst County had reopened to drivers but a number of traffic lights weren't functioning. Many secondary roads were still closed because of downed trees and power lines.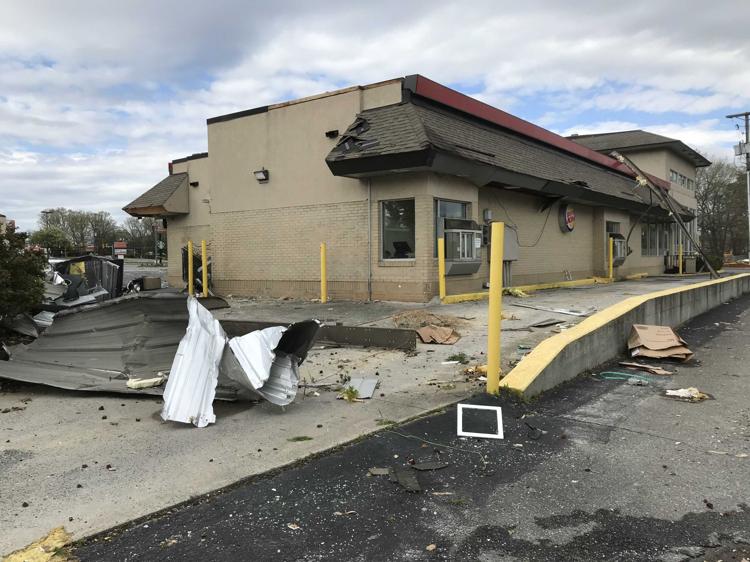 Burger King on Timberlake Road was but one of many businesses that sustained damage. According to Burger King's Lynchburg Managing Director Vicky Eitel, most of the damage was sustained from debris that flew off of MedExpress and Waterlick Garage.
"The ceiling has collapsed in the kitchen, and we have a beam completely through our roof," Eitel said. "Right now we're just waiting for (Timberlake) to reopen so we can get some crews in here. It will take us at least a week to reopen."
No employees were injured, and although this location is closed, she said workers will be able to fill in at other locations and keep their jobs during the clean up.
Owners David and Cindy Wood revisited DC's Express Mart on Timberlake Road Monday morning to see the fallen awning over their gas pumps in the daylight. They're still in touch with their insurance company but said the convenience store's interior isn't damaged.
Cindy Wood said they've been set up in this part of town for 18 years.
"There's just so much energy in the community; it's such a tight knit community, and we just love having our business here," she said. "...I think it'll really help us in the long run, getting back on our feet.
"It'll be interesting to see what the future holds now."
Campbell County spokesperson Sherry Harding said Monday about 15 to 20 commercial buildings were reported as damaged from the storm. She said the Timberlake Road area sustained most of the storm damage.
The storm's track was easy to find in and around Rivermont Avenue in Lynchburg, too, an area that endured significant damage in 2012 from another storm.
As he used a handheld blower to clear sticks and other debris from in front of his home on Peakland Place, lifelong Lynchburg resident Randy Nexson said the damage from Sunday's storm was similar to what he experienced in the 2012 derecho.
Fellow Peakland Place resident Frank Whitehouse said Sunday night's winds roared so loud he and his wife Donna didn't hear two giant poplar trees fall in their backyard.
Donna said the damage from Sunday night's severe weather event was "much worse" than the derecho of 2012.
Major Ricky Gardner with the Bedford Sheriff's Office said other than some damage to a barn in the Goodview and Moneta area, "Bedford County was fortunate to not have more damage than what we had."
Staff writers Margaret Carmel, Rachael Smith, Rachel Mahoney, Liz Ramos, Carrie Dungan and Justin Faulconer contributed.