The president of James Madison University allowed former Virginia Lt. Gov. Bill Bolling to help create a job for himself at the school, permitting him to write parts of his own job description. Bolling also arranged for the university to cover his rent in a university-owned house for a year, and asked that his contract last three years to boost his state pension.
JMU President Jon Alger hired Bolling for the newly created position of senior fellow in residence for public service following discussions that began in part while Bolling was still one of Alger's bosses on the university's Board of Visitors. Just weeks after Bolling's term ended in June, he and Alger negotiated a deal that would provide full-time employment to Bolling at a salary of $140,000, according to records the Richmond Times-Dispatch obtained from the university through the Virginia Freedom of Information Act.
The records show that after approaching Alger about a job, Bolling was allowed to write parts of his own job description, including changing his title; was granted reduced-rate rent on a university-owned house and given a "signing bonus" to cover the first year of the rent, at his request; was allowed by Alger to continue some work at the insurance firm he works for in the Richmond area after he started on the payroll at JMU, which Bolling told university officials would net him a total of $50,000; and received free club seats to home football games.
There had been no job posting or competitive search to fill the new position created for Bolling, a Republican who served as lieutenant governor from 2006 to 2014. He previously served as a state senator for a decade after four years on the Hanover County Board of Supervisors. James Madison,  in Harrisonburg, has an undergraduate enrollment of 20,798.
Bolling's hire was the first time JMU hired a former member of the Board of Visitors.
Alger, who became JMU president in 2012, declined to be interviewed for this story. Through university spokesman Bill Wyatt, Bolling also declined to be interviewed.
In a statement provided by Wyatt, Alger said Bolling's many responsibilities in the new job reflect his unique background and experience: "As the university named for James Madison, we have a special responsibility to recruit and hire individuals who will help advance our goal of renewing civil society and stanch the trend toward a lack of civility in politics and public discourse. There are few individuals in the Commonwealth who have the credentials to help lead this change, and we are excited that Mr. Bolling has agreed to do so on our behalf."
While publicly touting Bolling's qualifications for the job, emails show that Bolling and senior JMU leaders did extensive outreach behind the scenes to Republican lawmakers to get their support, cautiously discussed how the press was portraying the new job, and lamented criticism of the position by two GOP lawmakers who are close to JMU.
Bolling's new job came shortly after he served a four-year term on the university's Board of Visitors, which approves a budget, sets university policy and hires and fires the president. Then-Gov. Terry McAuliffe, a Democrat, appointed Bolling to the board in 2014.
This year, Bolling and the board voted to increase tuition and fees 10.5 percent on the incoming class of JMU freshmen, the largest hike on a freshman class at any public institution in Virginia, according to Partners for College Affordability and Public Trust. Rates for returning students went up by 4.7 percent. Bolling and the board also voted for tuition increases in 2015, 2016 and 2017.
Bolling reports to Alger in his new job, which began Oct. 1. Among his duties: Speaking with groups on and off campus, working with faculty and staff on programs and initiatives, helping JMU secure high-profile speakers, working on university economic development deals, assisting in fundraising for a $200 million comprehensive fundraising campaign, assisting with university lobbying, and serving as a guest instructor upon request.
Separate from the documents The Times-Dispatch obtained through FOIA, James Madison spokesman Wyatt provided a summary of how Bolling's job came to be created. This spring, as a board member, Bolling spent a day on campus visiting with students and faculty after being invited to give a presentation, Wyatt told The Times-Dispatch in an email. "This was an extremely successful visit, and caused Mr. Bolling to reflect upon his future and the next phase of his career," Wyatt wrote.
Bolling "expressed interest" in full-time employment at JMU in July, Wyatt wrote, and a contract was signed in August.
"The position has a limited term that is designed in part to coincide with the university's comprehensive campaign."
But the records returned in the FOIA request show a different reason why Bolling had a contract lasting three years and three months.
Bolling had made another request to Alger, this one relating to the contract: Bolling needed it to last at least three years, he told Alger, because that would boost his state retirement pay from the Virginia Retirement System.
Alger agreed to make sure the contract included the three-year provision.
In a statement for this story, Bolling said that he approached Alger about a possible job as he neared the end of his term on the Board of Visitors. "Upon the advice of university counsel we mutually understood and agreed that we would not have further discussions about the concept until after I completed my service on the Board of Visitors," Bolling's statement said, in part.
In response to a question about his VRS retirement, Bolling said his decision to work for JMU "was not motivated by financial considerations, but by my desire to put my experience in public service to use supporting JMU's civic engagement efforts and teaching government to young people." He said he took "a very significant cut in pay" to take the job.
JMU lets Bolling help write his job description
Bolling and Alger met July 16 to discuss a position on staff for Bolling, and Bolling emailed Alger later that day thanking him for his time.
"I have no doubt that I would enjoy an affiliation with JMU a great deal, and I think there are a number of areas in which I could make a positive contribution as a senior level resource," Bolling wrote.
The next day, Alger sent Bolling a draft document summarizing elements of the position they discussed. Bolling replied that it was important to get buy in for the position from key university officials. Alger then sent a more detailed draft describing the position and asked Bolling for his thoughts.
Bolling asked, if he took the job, whether he could work remotely from Richmond "a couple of days per week."
He also offered his thoughts on the draft. "Distinguished fellow" should be changed to "senior fellow," Bolling said. And rather than a one-year term subject to renewal by the president, Bolling reminded Alger that they had talked about a three-year contract. "That would be my preference," Bolling wrote. "Is there any reason for the shorter term?" 
On July 31, Bolling again told Alger he needed a three-year contract. "I think I need three full years for VRS retirement, which is why I would prefer the December 31 date, if possible."
A state employee's highest-paid three years of service factor into retirement payments through the Virginia Retirement System. The lieutenant governor's salary is $36,321. It is not unusual for former legislators - Democrats and Republicans - to take high-level state jobs in part to fatten their state pensions.
Bolling said he could make a $140,000 salary work if there was "a way to address the housing issue." He and his wife own a home in Mechanicsville.
He also said he would like five weeks vacation. That amount is standard for administrative and professional faculty, according to the university. He offered suggestions to job duties, saying he could help coordinate JMU's efforts to find state and national economic development grants.
Bolling told Alger he especially wanted to help with lobbying. "I just don't see a lot happening here," he wrote, regarding the college's state and federal relations. "I don't really think Pudner (?) is that engaged," Bolling wrote.
He was referring to John Putney, the university's state director for government affairs.
Bolling also said he wanted more than guest lecturing – he'd like to co-teach and perhaps by 2019 teach his own class in government, political science or business. "I think I would be good at that, and I know I would really enjoy it," he wrote.
Alger sent Bolling a letter Aug. 22 offering him the job. The contracted term runs from Oct. 1, 2018, to Dec. 31, 2021.
The contract included a "signing bonus" of $18,733.92. The signing bonus was not in an earlier version of the final contract. Alger emailed Bolling Aug. 21 to say the contract was revised to include it and that it was intended to cover housing expenses for the first year.
Bolling took a leave of absence from his job as senior vice president and managing director at RCM&D, an insurance advisory firm in Glen Allen. He was still listed on the firm's website as of this week and his voicemail at the firm remained active. JMU's Alger approved his continued service on the board of Southern States Cooperative, a farming supply company based in Henrico County, which pays him $18,000 per year.
Bolling is allowed to do work for RCM&D if JMU approves. On Aug. 20, Bolling asked permission to continue on two projects before the end of this year that would not require much time.
One relates to Georgia-based Trio Healthcare and the second project is with the Virginia Automobile Dealers Association. Bolling estimated he would earn $25,000 from each project for closing a deal, and did not see any potential conflict with his job at JMU.
Alger agreed and approved the requests.
Bolling asked for – and received – reduced rent on a university-owned house 
On Aug. 7, Bolling emailed Alger to say that Bolling and his wife looked at a house owned by the university. "I'm confident that it will be very nice once the renovations are completed," Bolling wrote.
To Charles W. King, senior vice president for administration and finance, he wrote: "If anything, it is way larger than we need. … Jean Ann liked it, which is the most important thing!"
But he had a problem, he told King: "It will be a challenge for us to operate three households for a while, so I want to make certain we can figure out how to swing that."
King told Bolling the house is normally rented for $1,400 a month, with rent going up 2 percent annually. But for Bolling, he said, JMU would charge $600 a month until June 30, 2019. After that, the rent would go to $1,200 and then by July 2020 it would be $1,400.
As another option, King said JMU could offer Bolling a $12,000 "signing bonus" and charge $1,200 per month rent.
Bolling replied: "Jon had mentioned the possibility of a signing bonus to cover the cost of the first year's rent. How about this. What if we placed the rent at $1,200/month through July 2020 with a signing bonus of $14,000. That would cover the rent for the first year and give us a chance to weigh options beyond that."
"Works for me," King replied.
Alger concurred. But on Aug. 20, Bolling had another request, he emailed Alger. When Bolling and King discussed $14,000, Bolling said, he had not considered that taxes could be withheld from the bonus. He suggested reducing his rent further "to reflect the net of the bonus. Either way, my goal is to make sure that I net enough to cover the $1,200/month rent, if possible."
The house is among 34 residential properties near campus that the university owns and generally rents as transitional housing to attract top-notch faculty and staff, according to the university spokesman.
At the end of August, on a Friday afternoon, Bolling asked several questions of Alger, reminding him of the possibility that Alger could get Bolling tickets to home football games.
"I wanted to check and see if you were able to do that? We are glad to pay for them. If not, no problem, we can just go online and see what is available at this late date, but I thought I would check with you first," Bolling emailed Alger.
Alger replied within the hour to tell Bolling tickets for club seats would be in the mail to him soon.
Bolling and JMU sensitive about reaction from press and lawmakers
Alger told Bolling on Aug. 27 that he had shared news of the hire with the JMU Board of Visitors.
Bolling posted about his new job on his Facebook page, and wrote to Alger that night to say he got positive responses – except from Del. Steve Landes, R-Augusta.
Landes replied to Bolling's Facebook post: "What is the job description, and is the state or foundation funding this position? Who authorized this position? The Board of Visitors or the President?"
Bolling emailed Alger to say he wrote privately to Landes offering to discuss any concerns.
After Bolling was hired, university officials made calls to Republican lawmakers, including House Speaker Kirk Cox, R-Colonial Heights, Senate Majority Leader Tommy Norment, R-James City, Sen. Emmett Hanger, R-Augusta, who co-chairs the Senate Finance Committee with Norment, and Del. Chris Jones, R-Suffolk, the influential chairman of the budget-writing House Appropriations Committee.
"I thought it showed poor judgment on behalf of the university," Jones said Friday.
Cox and several other lawmakers were supportive, according to the records. But like his fellow Shenandoah Valley colleague Landes, Sen. Mark Obenshain, R-Rockingham, was skeptical. Obenshain wrote on Twitter, with the hashtag #JMU, "A sinecure (from Latin sine = "without" and cura = "care") is an office that requires or involves little or no responsibility, labour, or active service."
Bolling told other officials he was interested to know whether a reporter at the local newspaper had spoken with Obenshain. A reporter from the Daily News-Record in Harrisonburg asked university spokesman Wyatt if there was a competitive search for the job. Wyatt replied that he wasn't involved in the hiring process.
"We had a good conversation about the position but at the end she asked if the position was a competitive hire. I deflected and will provide her the following (drafted by President Alger) later in the afternoon," Wyatt wrote to Bolling, Alger and King.
Wyatt had asked Alger what he should tell the newspaper.
"In this particular instance, there was not a competitive search because the University was interested in the unique set of skills and experiences that Mr. Bolling brings to several different divisions and functions across the University," Alger told Wyatt, giving him information he could share.
Bolling wrote that he thought the Daily News-Record story turned out fine.
And Sen. Norment, Bolling wrote, "was very supportive of the appointment and offered to help in any way he can."
A decade ago, Norment drew scrutiny over a $160,000 salary he received to teach and be a legal adviser at the College of William & Mary. His role as legal adviser was dropped and his pay was reduced to $60,000. He continues to teach there at a salary of $35,000.
Bolling wrote to Alger, "We know what motivates both Landes and Obenshain, so not much we can do about that except take the high road."
Bolling wrote that Obenshain wasn't interested in being objective. But after Obenshain's criticism, Bolling reviewed the job description and made additions that he sent to Alger.
In a Sept. 13 news story in the JMU student newspaper, The Breeze, about Bolling's hire, Michael K. Davis, executive adviser to Alger, said that although there was no job search for the position, few people other than Bolling would fit it.
"You would have a hard time finding someone else with the experience and skill set that Bill has," Davis told the newspaper. "For this position, there is a unique person that can fill that role. Bill is that person."
Landes, a member of the House Appropriations Committee, said in an interview for this article that he still has questions about how the job came about and whether a university president has carte blanche to hire for such a position.
"Every university has a fairly robust HR department and most of these positions are supposed to be competitive, especially if you're paying someone that kind of salary," he said.
"I like Bill personally. He's a nice fella. And I've worked with him when he was a state senator and when he was lieutenant governor. But these kinds of things are bigger than the person. It's kind of the precedent, it's kind of the practice."
Bolling joined RCM&D in 2003, according to his résumé, and helped the firm establish operations in Virginia.
He considered running for governor in 2009 but deferred to Bob McDonnell, who was the Republican attorney general and won the governor's race that year. In 2012, Bolling ended his campaign for the 2013 GOP nomination for governor after party leaders that summer decided to pick their nominee in a convention, rather than a primary, ensuring the nod would go to Attorney General Ken Cuccinelli.
Bolling declined to endorse Cuccinelli, who lost to McAuliffe. Nor would Bolling endorse Obenshain, who was the unsuccessful GOP candidate for attorney general that year.
As governor, McAuliffe in 2014 appointed Bolling and former U.S. Rep. Rick Boucher, D-9th, to lead an ethics commission, the Commission on Integrity and Public Confidence in State Government, in the wake of the gifts scandal that nearly landed McDonnell in federal prison.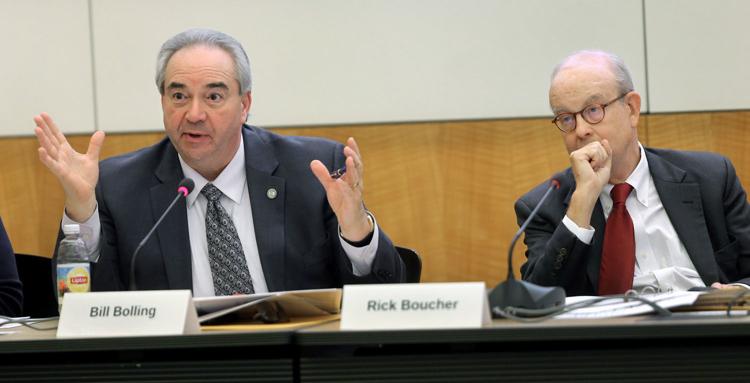 The JMU Board of Visitors approved Bolling's new position at its November meeting.
Michael Poliakoff, president of the American Council of Trustees and Alumni, a nonprofit based in Washington, D.C., said the situation is problematic.
The job of university governing board members is to listen to various constituencies in serving the public but to be beholden to no one, he said. And a board's most important function is the hiring and review of the university president.
"That fiduciary oversight cannot be compromised."
Bolling first discussed employment by the university with Alger when Bolling was on the JMU board.
"If a board member, as it appears is the case here, is in expectation of some benefit – employment being a benefit – then it will at very least appear, and very likely be reality, that the fiduciary oversight of that individual is compromised," Poliakoff said.
"What's the public going to think when a former visitor is shortly thereafter given employment with a three-year contract at $140,000 a year when there was no job search, no opportunity for others to apply for that position?"
Richard Cullen, a former Virginia attorney general and U.S. attorney who now represents high-profile clients, including Vice President Mike Pence, called The Times-Dispatch on Thursday and said he wanted to offer a statement on Bolling's behalf.
"After the Times-Dispatch had called James Madison University and Mr. Bolling, Mr. Bolling called me and asked if we would look at the situation as to whether he had in any way run afoul of the Virginia conflicts law," Cullen said in an email. "He was confident that he hadn't based on what JMU's counsel had said but Mr. Bolling wanted a second opinion so he could be 100% sure. We undertook the assignment and subsequently reported to him that he had complied with the Virginia conflicts statute and, in my view he had gone about this in exactly the right way and the students were lucky to have him."
Cullen said Bolling retained his services separately from JMU.
No one has publicly suggested any violation of state law. Bolling's job at JMU is, however, prompting a proposed change in state law from Obenshain, the state senator from Rockingham.
He is filing legislation for the 2019 General Assembly session that would prohibit a public university from employing a person who has served on its governing board within four years.
"Most would agree that it would be improper for any sitting member of a college board to actively explore future employment with the president who reports to that same board," Obenshain said in a statement. "It would certainly fail my smell test. I think that universities and board members would be well advised to steer clear of this type of murky ethical issue."
The response from some senior leaders at JMU to Bolling's hiring has been positive - according to records, often in glowing terms.
Alger wrote to Bolling on Sept. 18 to thank him for guest teaching at a seminar.
"The students were raving about your presentation afterward," Alger wrote. "Some of them may be considering careers in public service, and your perspective on the need for servant leadership in that realm was quite valuable."
Added Brian Charette, special assistant to the president for strategic planning and engagement: "It wasn't just your sharing your story and perspectives, as powerful as those were, it was sharing your heart that made yesterday an experience I know our students won't soon forget."