Saturday, November 16th, 2019
Spread the word:  Let others know about Richmond's growing startup community. Tell them they can subscribe to the weekly Richmond Startup Spotlight e-newsletter by going to https://www.richmond.com/subscribe-email/.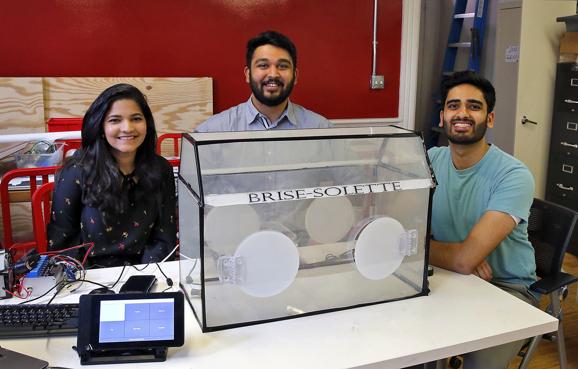 What started as a senior project for several Virginia Commonwealth University students now has become a nearly two-year odyssey to build a …
Richmond's startup community news
| | |
| --- | --- |
| | QUESTION: I have an employee who has been with me since the start. He has always reported to me. While he is a good salesman, he's not a sa… |
| | |
| --- | --- |
| | QUESTION: I run a small business. I pay an accountant to produce financial statements each month, but I have not found them to be very usef… |
| | |
| --- | --- |
| | When one of Zach Hendrix's three business partners said he was getting divorced, sympathy turned into shock as everyone realized that a soo… |
| | |
| --- | --- |
| | Title: director of events at Common House, a social club with a location in Charlottesville that is building a new location in downtown Ric… Read more |
• Virginia Commonwealth University received a patent for a polyvalent chimeric OspC vaccinogen and diagnostic antigen.
• Altria Client Services received a patent for a cartridge for e-vaping device with open-microchannels.
• Altria Client Services received a patent for a pouch material for smokeless tobacco and tobacco substitute products.
•  Hamilton Beach Brands Inc. received a patent for the ornamental design of a mixer bowl. Read more
Previously in the spotlight
| | |
| --- | --- |
| | As a former restaurant manager and executive chef, Duncan Parker knows how crazy the job market can be in the food-service industry. |
| | |
| --- | --- |
| | On a sunny September afternoon, Michael Beiro, Chase Coble and David Schul gathered on a tennis court at Chesterfield County's Huguenot Par… |
| | |
| --- | --- |
| | A startup company in Goochland County is offering a way for people to make some money from all those ladders, tools, tents, sports equipmen… |
| | |
| --- | --- |
| | THIS SERIES OF EIGHT, 3 HOUR, SEMINARS present over 100 Practical Business Principles. Unlike college gauzy entrepreneurship theories, this… |
| | |
| --- | --- |
| | CreativeMktGroup Coffee + Connections is proud to announce our guest speaker for Wednesday, November 20, 2019, is Shannon Siriano Greenwood… |
| | |
| --- | --- |
| | It was a subject of a famous nationwide avoidance marketing campaign, yet it's now legal in some form for most of the U.S. population. How … |
| | |
| --- | --- |
| | THIS SERIES OF EIGHT, 3 HOUR, SEMINARS present over 100 Practical Business Principles. Unlike college gauzy entrepreneurship theories, this… |