Spread the word: Do you know others who want to stay informed about education in Virginia? They can subscribe to this weekly High Stakes newsletter at Richmond.com/Newsletters.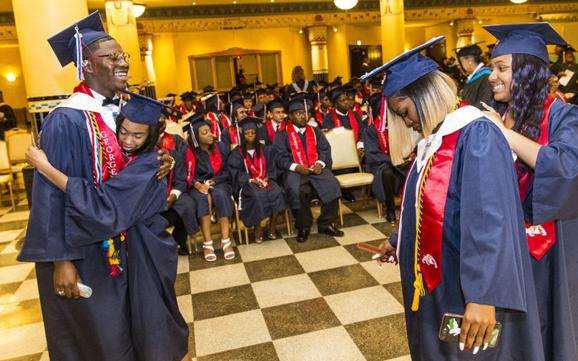 Hey team,
I'm in Bozeman, Montana, right now, so we're going to keep this pretty quick. No full newsletter this week or next. Go team.
Question of the week: Should all schools have gender-neutral caps and gowns? Why or why not?
(ABOVE PHOTO BY DANIEL MIN/TIMES-DISPATCH: George Wythe High School graduates, Khalifa Kane, left, got a hug from Marianne Berkley as Ariel Finney, right, helped Charmeisha Bolling prepare for the graduation ceremony at Altria Theater in Richmond on Wednesday.)
---
---
---
---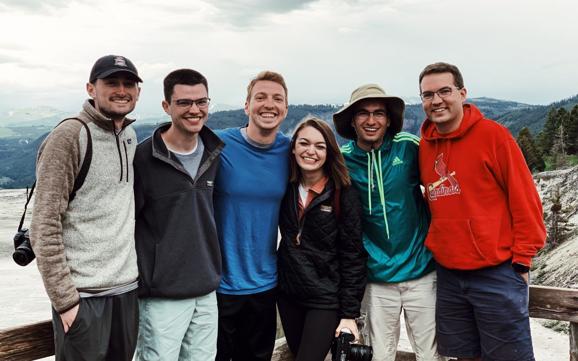 (ABOVE PHOTO BY A WONDERFUL PERSON ATOP MAMMOTH HOT SPRINGS: This is a picture of me and some friends at Yellowstone National Park. It's a beautiful place. You can blame them for no full newsletter this week.)
---
University of Richmond students will soon learn more about the water crisis in Flint, Michigan.
The university has chosen "What the Eyes Don't See: A Story of Crisis, Resistance, and Hope in an American City" by Mona Hanna-Attisha as its common reading book for the 2019-20 academic year. The common book is a campus-wide initiative that encourages both students and staff to read and discuss one book - in this case the book on the Flint water crisis - on a social justice issue.
"This book crystallizes the inherent value of interdisciplinarity in efforts to understand and eventually remedy political problems," said Associate Professor of Anthropology and Global Studies Rania Sweis. "Students majoring in anything from chemistry to anthropology are equally drawn to the case of the Flint water crisis and all can see how important collaborative thinking is to real-world problem solving — in this case literally saving lives poisoned by water."
The initiative, called One Book, One Richmond, is led by the Bonner Center for Civic Engagement.
---
The Los Angeles Times wrote about online degrees (a fascinating topic) at USC. Worth your time.
Matt Barnum (Chalkbeat) on charter schools for the win.
I've seen a lot written about the Central Park Five since "When They See Us" came out on Netflix (I'm only two episodes in). This story from The Cut on the actual rapist will keep you reading.
Pretty crazy finding in this Georgetown University study: It's better to come from a rich family than be smart.
Can't say I'd heard the term "education trap" before reading this American Enterprise Institute research paper.
On this day in 1837, Charles Goodyear obtained his first rubber patent. Tires were never the same.
Happy birthday to Venus Williams.
Rodney King died on this day in 2012.
It's National Eat Your Vegetables Day. Some days you need a reminder. It's also National Stewart's Root Beer Day, the most important of days.
---
| | |
| --- | --- |
| | Your host, Justin Mattingly, covers P-12 and higher education for the Richmond Times-Dispatch. He likes baseball (go Cardinals), a good book (especially biographies) and one stop light small towns. Drop him a line at jmattingly@timesdispatch.com. |