Pick up a copy of the Richmond Times-Dispatch this Sunday for a special tribute to veterans throughout the Richmond region. Our special section honors veterans with feature stories, photographs and more.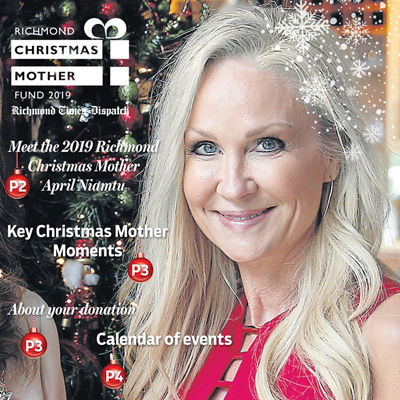 Enjoy our special section this Sunday featuring the 2019 Richmond Christmas Mother, April Niamtu. Learn more about April and the Richmond Christmas Mother Fund as we celebrate the 85th year.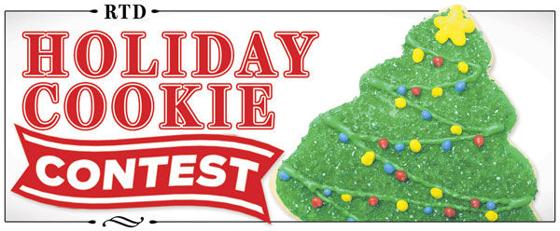 Dust off your mixer - our annual Holiday Cookie Contest is underway. Send us your best original cookie recipe for a chance to win a $250 gift card and a feature about you, and your cookie, in the Richmond Times-Dispatch. Submissions accepted through November 10.
Coming Soon
| | |
| --- | --- |
| | The Virginia Video Network has partnered with local businesses to send you on the vacation of a lifetime. Visit one of 50 VVN screens in the Richmond area and look for the prompt to enter for a chance to win a Hawaiian vacation. |
| | |
| --- | --- |
| | Actress Jane Lynch headlines the November issue of Spry Living with her take on Hollywood, health and four-legged friends. |
| | |
| --- | --- |
| | Look for complete coverage of the Richmond Marathon on Sunday, Nov. 17. Whether you ran the race or cheered from the crowd, you'll enjoy the photos and race recaps from RTD Sports. |
| | |
| --- | --- |
| | Look for VA Up To Code on the fourth Monday of each month. Pick up your copy of our publication designed to serve the commercial and residential building community. |
| | |
| --- | --- |
| | The Richmond Times-Dispatch will host award-winning novelist and Richmond native David Baldacci. Join us for a talk about his next novel, "A Minute to Midnight." |
| | |
| --- | --- |
| | Start your day early at the next Metro Business Live when we discuss the future of Scott's Addition. |
| | |
| --- | --- |
| | The Story of America is a multi-layered narrative, weaving together the fabric of a diverse nation. This installment of One Day University will use the power of the cinema to examine six complex themes that reflect the American Narrative. |
Advertise With Us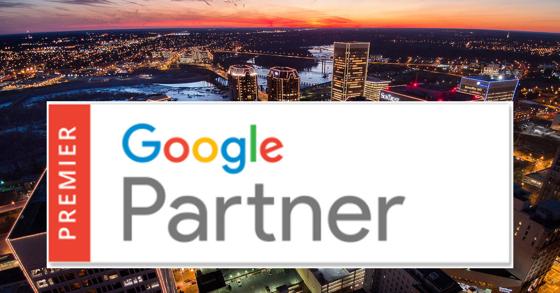 The RTD is among Google's top agency partners providing services to help your business grow using AdWords, SEM and more. Through the Richmond Times-Dispatch and Richmond.com, we can connect your business to local customers. Contact us to get started. (804) 649-6251
MORE FROM THE RTD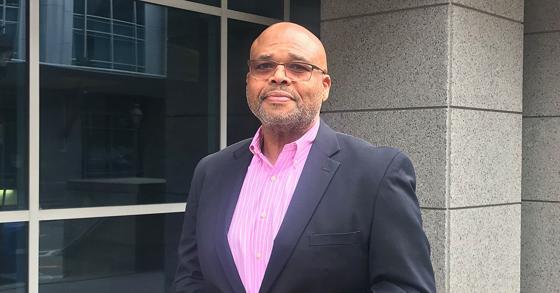 Scott Payne has been promoted to audience development director at the Richmond Times-Dispatch. Payne is a 39-year employee of the RTD and has held numerous roles within the RTD Circulation department, including his most recent role as metro home delivery manager.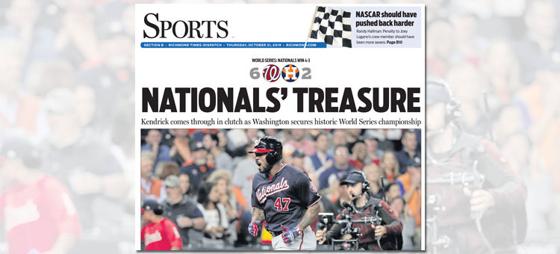 Purchase keepsake plaques and posters featuring the RTD Sports page and celebrate the Washington Nationals' first World Series win. Pick up an early Christmas gift for the fan on your shopping list or one for yourself.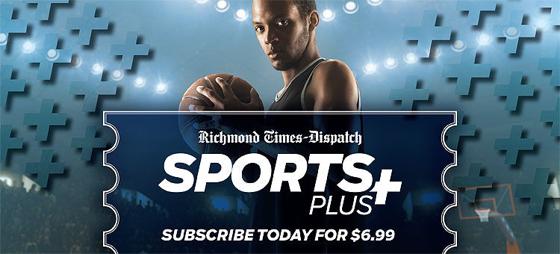 Get more than the game story with a Sports Plus digital subscription. Sports Plus is your ticket to read and comment on unlimited sports coverage on Richmond.com and in the RTD mobile app. This subscription plan for sports fans is just $6.99 monthly or 12 months for $59.99.