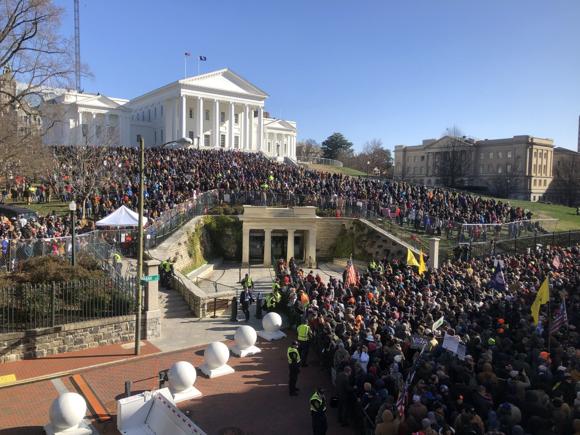 ALEXA WELCH EDLUND
What some feared would be another Charlottesville, instead, was Woodstock with weapons.
Well, not quite.
An estimated 22,000 people – 6,000 inside Capitol Square; 16,000 in the surrounding streets – descended on Richmond for a gun-rights rally that some organizers had said would attract 50,000 or more. Fears of violence sparked a huge police presence and a prohibition on guns on the Capitol grounds, though legal open-carry was the rule beyond the statehouse gates.
Mel Leonor and Justin Mattingly report that cold, blustery weather did not deter protesters, some of whom traveled to Virginia from Illinois, Iowa and Indiana. The throng was generally well behaved – just one arrest was reported – and, at times, seemed downright celebratory, bound by a shared revulsion for gun control.
Firearms activists signaled their distaste for Virginia's anticipated crackdown with signs attacking Gov. Ralph Northam, who had banned weapons from Capitol Square; tea party pennants, Confederate flags and openly displayed guns: magazine-fed semiautomatic pistols, revolvers, military-style long rifles and stubby, home-defense shotguns.
The demonstration, paired with grassroots lobbying of the Democrat-controlled legislature, might not change any minds. Democrats took back the General Assembly in November, in part, by harnessing public outrage over Republican refusal to curb firearms following a mass slaying in Virginia Beach last May. READ MORE
- Jeff E. Schapiro