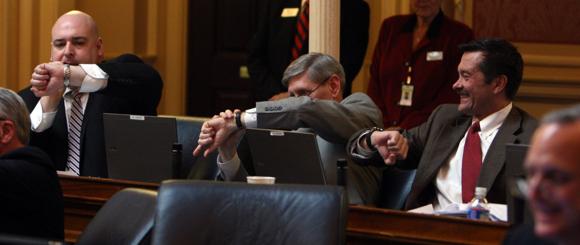 BOB BROWN/TIMES-DISPATCH
In 2012, when Republicans held two-thirds of the seats in the House of Delegates, three GOP delegates shared a lighthearted moment, which Bob Brown captured in the above photo.
From left, Dels. Todd Gilbert of Shenandoah, Steve Landes of Augusta and Terry Kilgore of Scott checked their watches after a Democratic colleague promised he'd speak for "just a minute."
Seven years later, the clock is ticking on GOP power in the legislature. Gilbert, the current House majority leader, faces a challenge for minority leader from Kilgore.
In a message this week to fellow Republicans, Jack Wilson, chairman of the state GOP, initially blamed the party's losses on redistricting and Democrats' out-of-state money.
But Wilson also said "the old way of doing things simply isn't working."
He said the Virginia GOP must find and register more Republican voters, go beyond being the "Party of No" by developing "a bold vision of freedom" and that it "must stop treating minority communities as appendages to the Republican Party."
Virginia Republicans, swamped in three straight wave elections in the Trump era, will talk about how to move forward Dec. 6-8 during the party's annual post-election meeting at the Omni Homestead in Hot Springs.
- Andrew Cain
---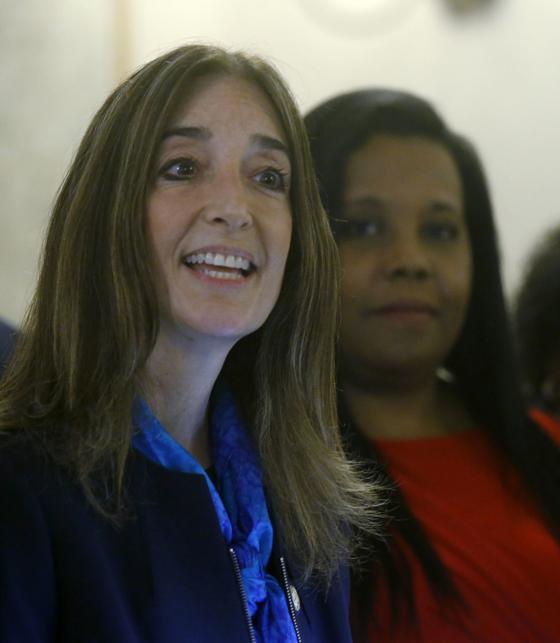 BOB BROWN/TIMES-DISPATCH
With Del. Eileen Filler-Corn of Fairfax (above, left) set to become speaker of the House, Del. Charniele Herring of Alexandria (above, right) to be House majority leader, and Del. Luke Torian of Prince William to head the Appropriations Committee, Northern Virginia will be in a dominant position in the House come January.
Northern Virginia also will drive the Senate, with Sen. Dick Saslaw of Fairfax the likely majority leader and Sen. Janet Howell of Fairfax in line to head the Finance Committee.
Yet politics columnist Jeff Schapiro writes that Alexandria, the deep blue city on the Potomac waterfront, is signaling a subtle approach to the General Assembly, recognizing that Northern Virginia "has more to gain in the long run by initially playing a short game." READ MORE
---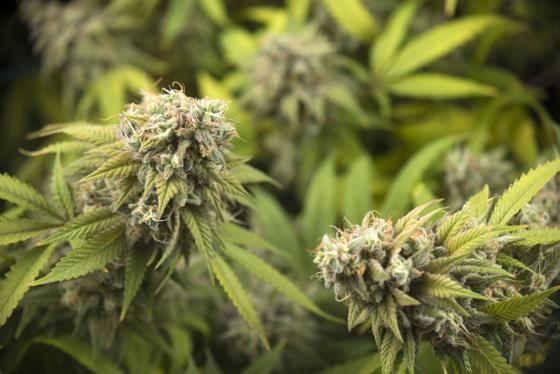 Getty Images
Patrick Wilson reports that advocates for reform of Virginia's marijuana laws say it is "very likely" that a bipartisan decriminalization bill will get to Gov. Ralph Northam next year, given that Democrats will now control the House and the Senate.
Northam, a pediatric neurologist, has backed decriminalization for more than two years, saying enforcement is expensive and disproportionately jails African Americans.
The legislation likely would change the state penalty for possession of small amounts of marijuana from a criminal misdemeanor carrying up to 30 days in jail to a civil fine.  READ MORE
---
Mark Bowes reports that 30 years ago, it was nearly inconceivable for a woman to lead a local commonwealth's attorney's office, let alone be elected to the job.
With the Nov. 5 election, women now will lead six of the nine commonwealth's attorney's offices in the Richmond/Tri-Cities region.
There's more: Female staff attorneys now outnumber the men — in some cases by large margins — in nearly all of the local prosecutor's offices that are either led by women or soon will be. READ MORE
---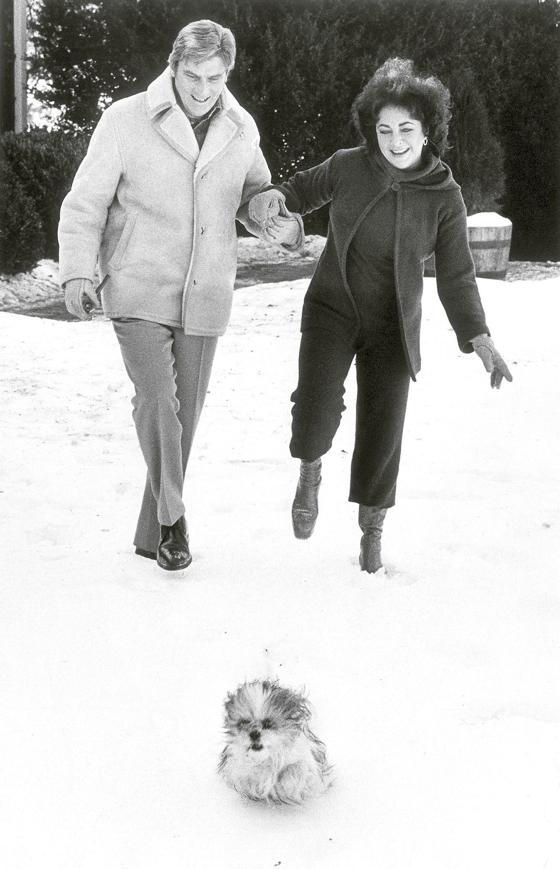 GARY BURNS/TIMES-DISPATCH
Rep. Don Beyer, D-8th, who backs Pete Buttigieg for president, and his wife, Megan, who supports Joe Biden, are not the first Virginia power couple with a high-profile political difference.
Sen. John Warner, R-Virginia and Elizabeth Taylor, shown here following their dog, Daisy, in Richmond, had some memorable dust-ups when their politics diverged.
During a February 1980 GOP conference in Easton, Md., Sen. Bob Packwood, R-Ore., urged spouses to take part in a discussion about registration for the draft.
Warner said women should be excluded from any resumption of registration, asserting that Congress would never let women into combat.
"I'm a lady who likes to fight," the famed actress said, according to The Associated Press. "I think women would go into the trenches tomorrow if they could."
Warner told Taylor "I'm sorry, but on this issue you don't have a vote." He  gestured in an effort to blunt Taylor's riposte.
Taylor shot back: "Don't you steady me with your all-domineering hand."
As we say in the news biz: John and Liz were good copy.
---
• Thomas Beaumont of The Associated Press reports that Mike Signer, who was mayor of Charlottesville during the deadly 2017 Unite the Right rally, has endorsed Pete Buttigieg for president. Joe Biden says the white supremacist violence at the rally and President Donald Trump's response prompted his third run for president. READ MORE
• Colleen Curran reports that a "Walking Dead" spin-off filmed post-apocalyptic scenes at the Richmond Coliseum this week. (Sometimes the gags write themselves.) READ MORE
• Mark Robinson reports that Richmond Mayor Levar Stoney faced no punishment for putting a personal $1,000 Hawaii hotel charge on a city credit card. A month passed before he reimbursed the city. READ MORE
• Michael Martz reports that the road to recovery from multiple surgeries has been long and hard, but Rep. Don McEachin, D-4th, is back in Congress and ready to work. McEachin says he's running again in 2020. READ MORE
• Patrick Wilson reports that two more Republicans, Omari Faulkner and Daniel Gade, have started 2020 bids for U.S. Senate. They joined the GOP primary field that already includes former Rep. Scott Taylor. The nominee will face Sen. Mark Warner, D-Va. READ MORE
---
More from the Richmond Times-Dispatch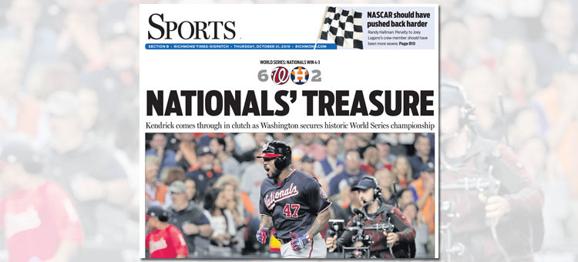 Purchase keepsake plaques and posters featuring the RTD Sports page and celebrate the Washington Nationals' first World Series win. Pick up an early Christmas gift for the fan on your shopping list or one for yourself.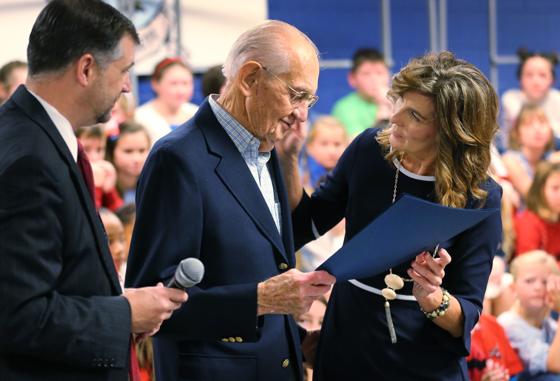 Dean Hoffmeyer/TIMES-DISPATCH
Justin Mattingly reports that during a Veterans Day ceremony Monday at Washington-Henry Elementary School in Mechanicsville, World War II veteran James Wallace Yarbrough, 93, received an honorary high school diploma from school principal Lisa Thompson (right) and Hanover superintendent Michael Gill (left). Yarbrough was called away from the former Washington-Henry High school during his senior year in 1944 to join the Army. READ MORE
---
"I'm in favor of the concept of decriminalization, but I would need subject matter experts to define the best legislative path.
"I am a strong advocate for the medical value of marijuana but am not as well versed in the area of criminal justice. I believe we can build consensus on a plan for decriminalization."
- Sen. Siobhan Dunnavant, R-Henrico