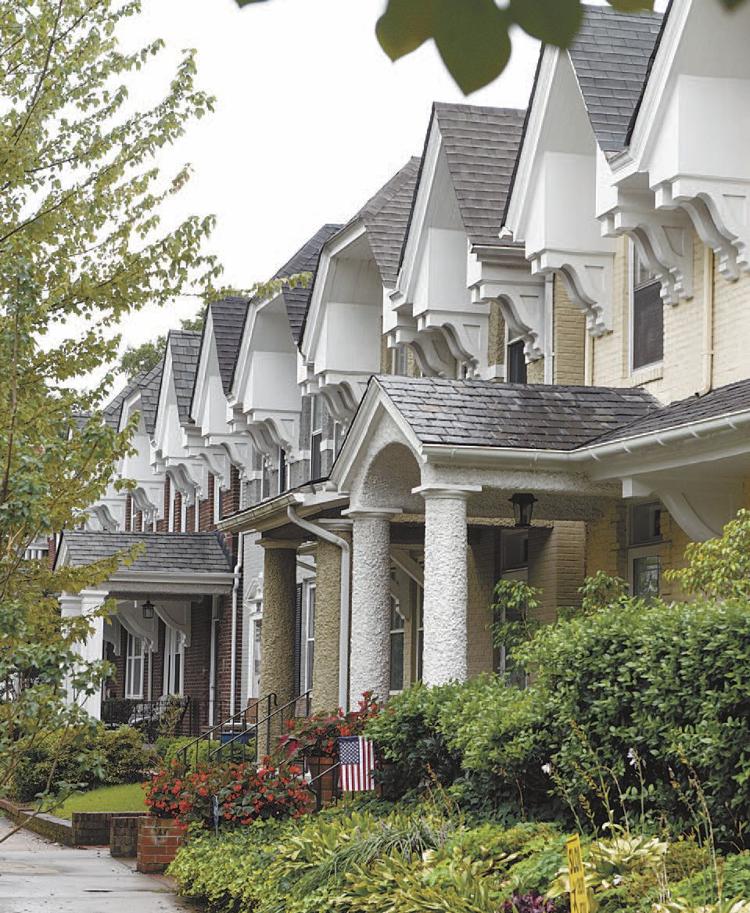 For architecture aficionados, Richmond's Monument Avenue might feel like a giant outdoor museum. In the course of a casual stroll, you can admire the city's most concentrated stock of architectural standouts, designed by some of Virginia's most prominent architects of the early 20th century.
But if you wander a little deeper into the Fan and Museum districts, you'll stumble onto architectural gems of the same period that are relatively anonymous.
Consider the six Tudor Revival-style houses located in the Museum District at 3315-3325 Grove Avenue. With their striking asymmetrical front gables, bracketed cornices and half-timber details, they stand out, even in a neighborhood recognized for the quality of its architecture.
The six houses were built by Richmond-based E. L. Bass & Brothers in 1919, but the architect is unknown today.
That's not unusual.
"What we think of as the architectural profession was in its infancy then," said Kim Chen, principal planner with Richmond's Division of Planning and Preservation. "There weren't a lot of architecture schools, and a lot of architects apprenticed with builders."
Virginia's first academic architectural program opened at the University of Virginia in 1919, and licensing standards for Virginia's architects didn't go into effect until 1920.
In fact, many builders who were busy constructing the Fan and Museum districts – the suburban edge of the city, a century ago – rarely used architects.
"A lot of times, a builder would decide to do something speculatively and get an architect to design a house, and then he built it 50 times," Chen said.
Other builders drew on their own technical skills and experience and designed homes themselves, without hiring an architect.

The six houses at 3315-3325 Grove Avenue are different, though. "Someone with design skill and training did those houses," Chen said.
E. L. Bass & Brothers – founded by Emmett La Telle Bass – served as a general contractor on several projects associated with top-drawer architects, and it's possible one of them drew plans for these six houses.
"It wouldn't surprise me if Bass was getting into speculative design and approached an architect he'd worked with," Chen said.
Larger builders, like Davis Brothers, frequently worked with in-house and freelance architects, but Bass's company might not have been large enough to have established permanent positions or partnerships with architects.
His obituary in the Richmond Times-Dispatch said Bass took several courses at Richmond's Virginia Mechanics Institute, which offered courses aimed at skilled labor, mostly taught at night. Several Richmond architects and designers of the period received their training there. But it's unlikely Bass personally designed the six houses on Grove Avenue.

Bass ran his general contracting firm for more than 50 years. Toward the end of his career, the firm specialized in the construction of warehouses and tobacco storage sheds, according to his obituary. He died in 1951 at the age of 73.
"The sheer size of the columns and the brackets on the Grove Avenue houses makes me think of H. Carl Messerschmidt Sr.," a Richmond-based architect who was active from 1915 to 1958, Chen said. "There's a sense of fun and whimsy to his designs, and while his work was technically correct, he could blow the details up like that. It wouldn't surprise me if Bass and Messerschmidt worked together on the houses."
Whoever designed the six houses, they apparently weren't duplicated in the city.
"I'm not familiar with other houses with those exact features, although I have seen a couple smaller houses with asymmetrical front gables like that," said Chris Small, principal broker and owner of Small & Associates Real Estate.
The floor plans in all six houses on Grove Avenue were originally identical, although later remodeling projects have altered some of them, said Gary Beasley, who bought one of the six houses in 2002.
Sizes range from approximately 1,600 to 2,000 square feet.
Having only six houses with this design in the Museum District means homebuyers hoping to own one will have to be patient. The most recent sale was in 2014, when one of the houses sold for $410,000.
Small's advice: When one of the houses comes on the market, expect competition from other buyers.
"Those six houses are unique, and that's a great block of Grove Avenue," Small said.
_______________
If you think your neighborhood merits coverage, let us know. Send an email to neighborhoods@timesdispatch.com.