Walking through campus in 2017, Fredericksburg college student Aldrin Castillo didn't pay much attention to his fatigue and slight chest pain. He had no way of knowing that there was a tumor growing from his heart's left atrium, and it was extending into a hard-to-access part of his heart.
Around the same time, about 60 miles south on the MCV Campus at VCU Health, a pharmacy researcher and a surgeon talked casually over lunch about an idea that would later help save Castillo's life.
A fortuitous lunch encounter
As Dayanjan "Shanaka" Wijesinghe, Ph.D., an assistant professor in the VCU School of Pharmacy, sat in the faculty lounge at VCU Medical Center, Dr. Vigneshwar Kasirajan, the chair in the Department of Surgery at the VCU School of Medicine, sat down at his table and sparked up a conversation.
As Wijesinghe explained that his lab uses augmented reality to transform 2-D models into interactive 3-D representations, Kasirajan said he and his colleagues in surgery might benefit from the technology because they usually are confined to analyzing flat CT images before surgeries.
"I had never thought about our augmented reality for medical images because that's not my line of research," Wijesinghe said later. "But I said, 'there's no reason why it can't be done.'"
Wijesinghe went to work with two graduate students, Vasco Miguel Pontinha from the School of Pharmacy and Ali Panahi from the College of Engineering, to create a tool that would transform 2-D CT scans into complete 3-D images that surgeons could analyze and share when planning surgeries. They worked closely with Dr. Dan Tang, a professor and surgeon at the VCU School of Medicine, to better understand what information surgeons need in anatomical models.
Castillo's cardiac sarcoma was surrounded by the rest of his heart and was difficult to access, but the 3-D model enabled Tang's team to view the whole heart, remove certain portions, see just the tumor and see it from all possible angles before starting surgery.
This type of partnership can only happen at an academic health center like VCU Health.
"We need more of these collisions of expertise to exchange ideas and think creatively," Wijesinghe said. "Those interactions are not possible at facilities that are just hospitals or just basic research organizations."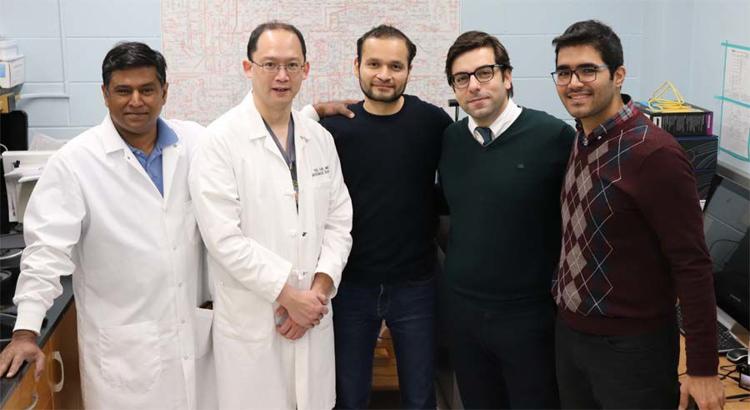 An eye toward the future
Thanks to the interdisciplinary partnership formed over lunch on the MCV Campus at VCU Health, Castillo barely missed a step in pursuing his dreams.
Now cancer- and symptom-free, he works as a certified nursing assistant in Fredericksburg. He's also back to walking through campus at Germanna Community College, where he's taking prerequisites for nursing school. Once he becomes a nurse, he plans on studying to become a physician's assistant.
He also has goals at home.
"The ultimate goal is to have a family," he said. "Dr. Tang made that possible by keeping me alive through the surgery."
This feature is one in a series about the Richmond Region's nonprofit organizations and their contributions to our communities. It is brought to you by the featured organization in collaboration with the sponsoring advertiser on this page.