If you're looking to escape the pressures of modern life, a golf course might be the best place for you, especially if it is surrounded by a vibrant and growing planned residential community.
In addition to having your next round of golf right outside your door, such a neighborhood can offer a high level of tranquil living. From pools and tennis courts, to playgrounds and lakefronts, it's easy to enjoy being surrounded by neighbors that you can call friends. Besides providing walking trails and manicured hills throughout the development, many golf communities also feature newer homes, as well as extra amenities such as spas, planned activities and more.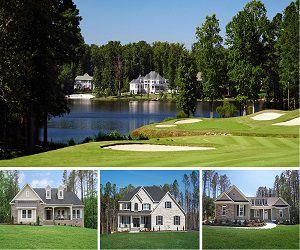 Here are 5 reasons why living within a golf course community just makes sense:
1. Meet new friends and neighbors
Chances are that if you live on a golf course, you'll like your neighbors. You love golf, and they're likely to do so, too. You'll have that in common and live among your peers.
"This is especially true for those who live in an age-restricted development," says Frank Hardy, a long-time resident of The Highlands, a golf course and housing development in Chesterfield. "These are typically limited to those ages 55 and older, such as the section that was recently opened called Lake Margaret." In addition to this new section, The Highlands offers a full range of home sites measuring from one to five acres, including golf course and lake lots.
2. Tee time availability
"There's an old saying that it never rains at the golf course," Hardy says. That means that a day on the golf course is always well spent, no matter the weather. In addition to the pleasures of the game being just a few steps away, most courses also feature lessons, practice greens, opportunities to walk the course, carts and a clubhouse for residents.
The Golf Club at The Highlands, an 18-hole par-72 course, is open to the public and has something for everyone, from beginners to scratch golfers. "The layout here at The Highlands is just something I fell in love with from day one. It's challenging enough, but it's fair to the golfer," says golfer Jeff Siffert.
3. Easy on-site dining and event spaces
Hipps explains that living in a residential development that features a golf course oftentimes has other advantages, such as quality restaurants and event venues, within easy walking or driving distance. "We love that we can eat, drink, play and hang with our friends, all without leaving the neighborhood," he says.
"The easy access to entertainment is one of the reasons that people seek out this kind of lifestyle." For instance, The Highlands features its own full-service steak and seafood restaurant, The Reserve, located within a 31,000 square-foot clubhouse, which also offers wedding planning and hosting capabilities.
4. There's always something to do
Many golf course communities host a plethora of activities for its residents. Hardy speaks of live music events, men's and women's golf tournaments, and junior's golf events as offerings at The Highlands. "It's a very socially vibrant neighborhood," he says.
5. Beautiful landscape views
If you like looking out across well manicured lawns with lush rolling hills everywhere, golf course living is for you. Whether it's a gorgeous and peaceful patio view, or taking an evening stroll through the neighborhood, you're sure to always see something pleasing to the eye.
"As soon as you get to The Highlands – you drive through the woods and a little off the beaten path – everything seems to brighten up," Hardy says. By adding new home sections, the developer has breathed new life into a Southern Chesterfield golf course community that is celebrating its 40th year anniversary.
Furnished models are available to tour daily. To learn more, view available homes or schedule a private tour, visit TheHighlandsOnline.com or call (804) 748-7361.