Old Dominion gave Virginia Tech a run for its money a week ago and upset a ranked Hokies team last year. The Monarchs also struggled in Week 1 against Norfolk State. So what will they do under the lights Saturday night against No. 21 Virginia?
The Cavaliers have what could be a monster showdown at No. 7 Notre Dame and they're coming off an emotionally supercharged home night win over Florida State.
Could ODU be the ultimate trap game for UVA?
Our panel doesn't think so.
Each week, Ron Counts, Virginia beat writer for the Charlottesville Daily Progress, and Michael Niziolek, Virginia Tech beat writer for the Roanoke Times, will join me in predicting the outcomes for the Cavaliers, Hokies and other key ACC games. And, to keep things interesting and create some divide in the standings, we'll throw in weekly upset picks, as well.
Here are this week's predictions: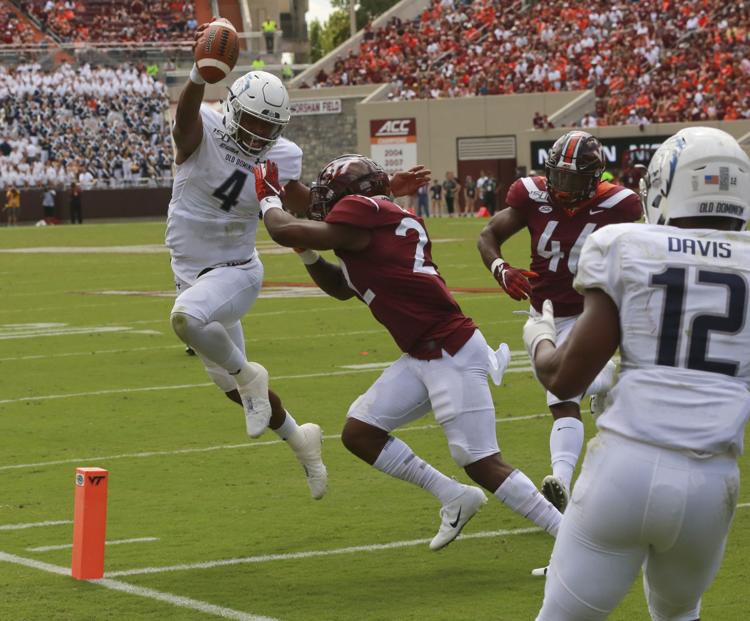 Old Dominion at No. 21 Virginia, 7 p.m. Saturday, Scott Stadium
Ron Counts, Charlottesville Daily Progress (9-3): Virginia's defense has been suffocating so far this season, especially on the ground. That's where ODU quarterback Stone Smartt does his best work. If he can't do some damage with his arm, this one is going to get really ugly. Bryce Perkins is spreading the wealth in the passing game, and he's likely to carve up the Monarch's secondary. The starters should be resting by late in the third quarter and UVA fans may just get a second look at freshman running back Mike Hollins.
PICK: Virginia 45, ODU 10
Mike Barber, Richmond Times-Dispatch (8-4): Old Dominion put up a good fight at Virginia two weeks ago and is well rested with an off week. Virginia could be looking ahead to Notre Dame, or experiencing a letdown after last week's FSU win. Still, this ODU team is breaking in so many new players and Virginia has established itself as legit. Bryce Perkins will be too much for the Monarchs' defense and Stone Smartt and the ODU offense will find yards hard to come by against the Cavaliers.
PICK: Virginia 38, ODU 13
Michael Niziolek, Roanoke Times (8-4): Bryce Perkins should be in line for his best game of the season with Old Dominion coming to town. The Monarchs will be well-rested coming off a bye week, but Virginia has tons of momentum after an emotional win over Florida State. Don't expect them to let up against a weaker instate foe.
PICK: Virginia 41, Old Dominion 10
No. 15 Central Florida at Pittsburgh, 3:30 p.m. Saturday, Heinz Field
Counts: UCF's offense has been simply unstoppable. They're averaging 604.3 yards of offense a game, the Golden Knights have scored at least 45 points in each of their first three games and they're coming off a 45-27 win over Stanford. Pitt hung around with Penn State last week, but the Panthers offense hasn't exactly been clicking on all cylinders. UCF wins running away.
Barber: Pittsburgh is still finding its way under new offensive coordinator Mark Whipple. But Whipple has a weapon in quarterback Kenny Pickett and the Panthers' defense is the real deal. Those are the reasons Pitt won't get blown out in this one, but they're not enough to push me to pick the upset. UCF is putting up 52 points per game. It won't get that number in this one, but it'll get enough to win.
PICK: UCF 38, Pittsburgh 20
Niziolek: Pitt played Penn State tight, but will have a harder time keeping things close against a UCF team averaging 51.7 points per game (ranked No. 7 in FBS) and 604.3 yards per game (ranked No. 3 in FBS). Pittsburgh is averaging less than 400 yards of offense per game and only four teams in the country are averaging less points per game than Pitt.
Louisville at Florida State, 3:30 p.m. Saturday, Doak Campbell Stadium
Counts: Louisville quarterback Jawon Pass was looking better than ever in head coach Scott Satterfield's offense, but he missed last weekend's game with an injury and he's no guarantee to play this weekend. Backup Malik Cunningham is a better athlete but nowhere near the passer. Florida State didn't look as inept as people thought it may last week, and this is the week the Seminoles put it all together and get an ACC win.
PICK: Florida State 27, Louisville 17
Barber: Louisville looked better than expected against Notre Dame in the opener, then had no trouble with a pair of directional Kentucky schools the past two weeks. Cardinals quarterback Jawon Pass returned to practice and could play Saturday. If this game were in Louisville, I'd probably go Cardinals. But in Tallahassee, the Seminoles pull this one out.
PICK: Florida State 31, Louisville 28
Niziolek: Louisville has played well this season under new coach Scott Satterfield, but Florida State still enjoys a big talent advantage over its ACC rival. Look for Seminoles running back Cam Akers to help FSU get back on track.
PICK: Florida State 35, Louisville 28
Upset of the week
Counts: BYU's defense is stout enough that No. 22 Washington isn't likely to run away with this one, and the Cougars know how to win close games. They're coming off a 30-27 win over USC, and they beat Tennessee 29-26 the week before. BYU quarterback Zach Wilson is a threat with his arm and his legs. Washington's Jacob Eason is one of the best quarterbacks in the country, but the Cougars have allowed just four passing touchdowns this season.
Barber: Auburn has beaten Texas A&M in the last two meetings and three of the last four. Yes, it's in College Station, but the last time the Tigers went there (2017), they won 42-27. That trend continues this year as Auburn downs the Aggies behind a big game from Jatarvious Whitlow, taking pressure off Bo Nix.
PICK: Auburn 27, Texas A&M 24
Niziolek: Michigan needed overtime to escape with a win over Army, but facing the triple-option is no easy task (just ask Virginia Tech). Wisconsin has averaged 55 points a game while Michigan's offense hasn't been overly impressive, but the Wolverines have faced better competition. Veteran quarterback Shea Patterson needs to step up and start putting some significant wins on his résumé. This should be one of them.
PICK: Michigan 28, Wisconsin 24