CHARLOTTESVILLE – A week after Virginia Tech surprised this panel and found a way to win at Miami, No. 20 Virginia, coming off an open date, heads to South Florida to face the Hurricanes. It's a game that will have a major impact on the ACC Coastal Division standings, a title race that UVA can still say it's in the driver's seat for.
The Hokies return home for a game against Rhode Island, their second FCS opponent of the season.
Each week Bennett Conlin, the new Virginia beat writer for the Charlottesville Daily Progress, and Michael Niziolek, the Virginia Tech beat writer for the Roanoke Times, will join me in predicting the outcomes for the Cavaliers, Hokies and other key ACC games. And, to keep things interesting and create some divide in the standings, we'll throw in weekly upset picks, as well.
Here are this week's predictions: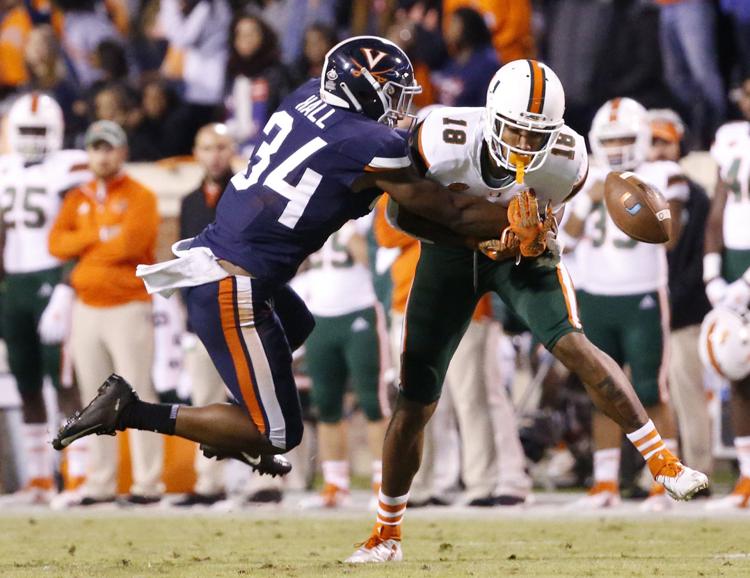 No. 20 Virginia at Miami, 8 p.m. Friday, Hard Rock Stadium
Mike Barber, Richmond Times-Dispatch (17-7): The Cavaliers didn't look great their last time out, but that was on the road against a highly-ranked Notre Dame team. Now, after an open date, UVA gets back to the business of pursuing a Coastal Division title. Miami is still reeling from its wild loss to Virginia Tech last weekend where it changed starting quarterbacks.  Miami's offense is explosive but has yet to be consistent. Defensively, the Hurricanes will make it hard for UVA to run the football. Despite shaky protection, Bryce Perkins could have a big game running and passing and Virginia's defense should be up to the challenge.
PICK: Virginia 31, Miami 27
Bennett Conlin, Charlottesville Daily Progress (16-8*): Miami opened this game as a one-point favorite, but I'm not sold on the Hurricanes. They're athletic and talented, but they're also extremely inconsistent. Quarterback N'Kosi Perry excelled in relief against Virginia Tech, but the Cavaliers aren't the Hokies. It's a dangerous team, but it's hard to pick a team without much consistency to beat a top-25 squad coming off a bye. I expect a big game from UVA quarterback Bryce Perkins.
PICK: Virginia 28, Miami 24
*Record includes Ron Count's 14-6 mark.
Michael Niziolek, Roanoke Times (13-11): The Coastal Division has been a wild ride this season and it would be fitting for Virginia to suffer its first conference loss to a team that just got blown out by Virginia Tech. Miami made some changes this week — N'Kosi Perry is going to start at quarterback and Manny Diaz is going to be more hands on with the defense. That should help the team bounce back.
PICK: Miami 35, Virginia 21
Rhode Island at Virginia Tech, 3:30 p.m. Saturday, Lane Stadium:
Barber: Despite a gut-check win over Miami last week, the Hokies still have problems. Their offensive line is shaky and their defense still gives up too many big plays. Hendon Hooker did enough to win against the Hurricanes, but didn't show all that much. In short, the jury is still out on Tech. That said, Rhode Island – the second FCS team to visit Lane Stadium this season – isn't very good. The Hokies struggled in wins over Old Dominion and Furman, but they shouldn't have too much trouble with the Rams.
PICK: Virginia Tech 31, Rhode Island 17
Conlin: Virginia Tech struggled with Furman the last time it faced an FCS squad. Justin Fuente's squad won't face a similar scare this week, as Rhode Island is 1-4 and nowhere near Furman's level. Look for new Virginia Tech quarterback Hendon Hooker to torch the Rhode Island defense in an easy win.
PICK: Virginia Tech 45, Rhode Island 17
Niziolek: Tech should coast to a win if Hendon Hooker can play as disciplined as he did last week. The Hokies can't afford to sleep walk into this one like they did against Furman a couple weeks ago. They finally have some momentum and they need to keep their foot on the gas pedal.
PICK: Virginia Tech 42, Rhode Island 17
Florida State at No. 2 Clemson, 3:30 p.m. Saturday, Memorial Stadium
Barber: There were points last year that it looked like Willie Taggart might not get a second season in Tallahassee. Now, he seems to have righted the Seminoles ship. Talented players – especially on offense – are becoming productive. The defense still needs work. Clemson, on the other hand, as underwhelmed this season, even slipping to No. 2 in the poll despite not suffering a loss. The gap between these two programs has narrowed, but not enough for FSU to pull the upset.
PICK: Clemson 42, Florida State 28
Conlin: The Tigers looked mortal in their last game against UNC, but Trevor Lawrence and company are still the clear-cut team to beat in the ACC. Florida State's talent is undeniable, but inconsistency has plagued the Seminoles all season. Dabo Swinney will have his team locked in for this one, and I see the Tigers rolling.
PICK: Clemson 42, Florida State 17
Niziolek: Clemson hasn't looked quite as invincible as it did down the stretch last season, but the talent gap between the programs will be hard to overcome for FSU. This could be the time for Trevor Lawrence to break out of his season-long slump. Florida State's passing defense is giving up 302 yards per game this season (121 out of 130 FBS teams).
PICK: Clemson 49, Florida State 28
Upset of the week
Barber: The two best defenses in the American Athletic Conference meet in Philadelphia, meaning this one should be low scoring. Temple's run defense has been incredibly strong. That, plus playing at home, should give the Owls the chance for the upset – if they don't turn the ball over.
PICK: Temple 24, Memphis 21
Conlin: Last week's upset pick of Illinois over Minnesota was a dud. I'm going to try my luck picking against Minnesota again, this time taking Nebraska to beat the Golden Gophers on the road. Nebraska starting quarterback Adrian Martinez might miss the game with an injury, but I'll still take the Cornhuskers and Scott Frost over the Golden Gophers and PJ Fleck.
Pick: Nebraska 27, Minnesota 24
Niziolek: Wake Forest gave up 252 rushing yards against Boston College in its last game. The Demon Deacons will have their hands full trying to contain Louisville's Javian Hawkins , who is one of the top running backs in the country this season (No. 12) with 562 yards (6.2 yards per carry). Look for the redshirt freshman to have a big night and carry Louisville to an upset win.
PICK: Louisville 38, Wake Forest 35