CHARLOTTESVILLE – No. 23 Virginia has the week off to lick its wounds after a road loss at Notre Dame, while Virginia Tech heads to Miami desperate to avoid a third conference loss to open the season.
Each week Bennett Conlin, the new Virginia beat writer for the Charlottesville Daily Progress, and Michael Niziolek, Virginia Tech beat writer for the Roanoke Times, will join me in predicting the outcomes for the Cavaliers, Hokies and other key ACC games. And, to keep things interesting and create some divide in the standings, we'll throw in weekly upset picks, as well.
This is Bennett's first week taking over for Ron Counts, so congratulations and welcome.
Here are this week's predictions:
Virginia Tech at Miami, 3:30 p.m. Saturday, Hard Rock Stadium
Mike Barber, Richmond Times-Dispatch (15-5): The Hokies looked terrible in their home loss to Duke last Friday, and they're on the brink of letting this season completely slip away. Tech has struggled to run the ball and it's committing too many turnovers. Miami leads the ACC in rush defense and nothing gets the Hurricanes going quite like forcing turnovers. This has the chance to get ugly.
PICK: Miami 41, Virginia Tech 20
Bennett Conlin, Charlottesville Daily Progress (14-6*): Miami looked shaky its last time out, escaping with a 17-12 home victory over Central Michigan. Well, Virginia Tech looked a lot shakier in its 45-10 loss at the hands of Duke last Friday. With a bye week to get a few things fixed, the Hurricanes should look better offensively than they did against the Chippewas. An improved offense combined with the ACC's No. 2 scoring defense should lead to a comfortable win for Miami.
*Record includes Ron Counts' 14-6 mark.
PICK: Miami 27, Virginia Tech 13
Michael Niziolek, Roanoke Times (12-8): The Miami team that struggled just two weeks ago to get past Central Michigan isn't all that scary, but Virginia Tech is a bit of a mess right now. The Hokies aren't even sure who will start at quarterback this weekend, but will it matter? Tech's offense is stuck in neutral and will be hard pressed to pull off an upset on the road.
PICK: Miami 31, Virginia Tech 7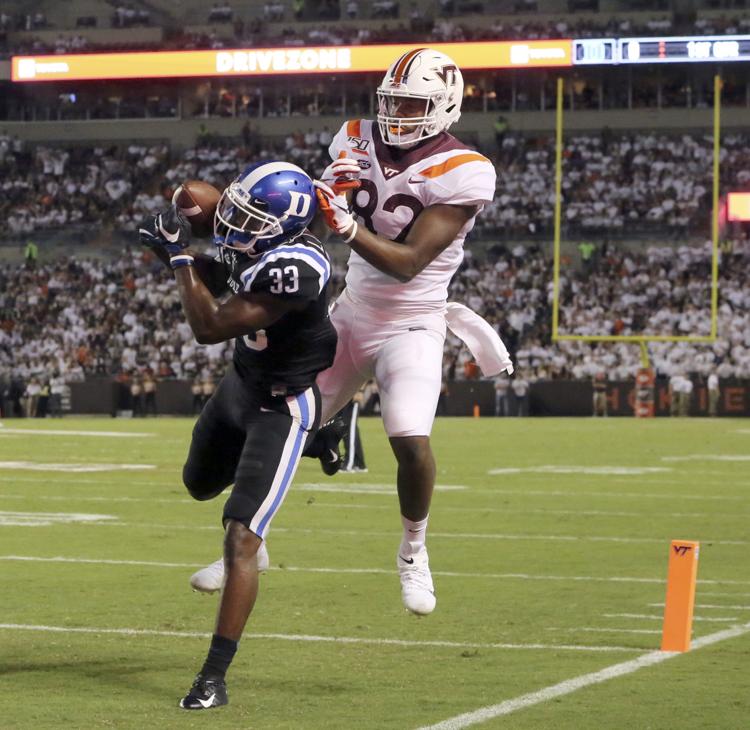 Pittsburgh at Duke, 8 p.m. Saturday, Wallace Wade Stadium
Barber: Pittsburgh is eager to stake its claim to the title of second-best team in the ACC's Coastal Division, after upsetting Central Florida (and nearly stunning Penn State). But with quarterback Kenny Pickett banged up, it should be Duke that ascends to that mantle. The Blue Devils absolutely undressed a struggling Tech team in Blacksburg last weekend. It won't be as easy to get by Pittsburgh, whose defense should put up more of a fight. But Duke wins this fight.
PICK: Duke 27, Pittsburgh 17
Conlin: Duke enters this matchup as the favorite, and the Blue Devils should be riding a wave of momentum after their demolition of Virginia Tech. Pitt barely snuck by Delaware 17-14 last weekend, using a fourth-quarter touchdown drive to beat the FCS squad. After an emotional win over UCF that came a week after a hard-fought loss to Penn State, a letdown game against a team like Delaware was to be expected. This matchup features an interesting quarterback matchup between Pitt's Kenny Pickett and Duke's Quentin Harris, and I give Pickett and the Panthers a slight edge.
Niziolek: With Pittsburgh starting quarterback Kenny Pickett still recovering from a shoulder injury, this one should be all Duke. The Blue Devils next real test isn't until later this month when it faces Virginia on Oct. 19.
PICK: Duke 38, Pittsburgh 14
Boston College at Louisville, 12:30 p.m. Saturday, Cardinal Stadium
Barber: Boston College lost to Kansas. It's hard to get that image out of my mind. And its narrow win over Virginia Tech to open the season? That's looking less and less impressive each week. AJ Dillon might be the best player in the game, but Louisville has been good defensively against the run and has more explosive weapons on offense.
PICK: Louisville 31, Boston College 21
Conlin: We'll see the two top rushing offenses in the ACC competing in this game. Boston College's AJ Dillon has eclipsed 150 rushing yards in three consecutive games, and he's one of the most underrated backs in the country. Javian Hawkins averages 97.5 yards per game despite only averaging 16.5 carries per contest for Louisville. While the offenses are comparable, Louisville's defense is better. The Cardinals also enter this week's game coming off a bye, and they're playing at home.
PICK: Louisville 34, Boston College 24
Niziolek: Louisville's run defense has been pretty good this season, but A.J. Dillon is starting to hit his stride. He's rushed for 150 yards in the last three straight games and he should make that four in a row to power Boston College to a win this weekend.
PICK: Boston College 28, Louisville 21
Upset of the week
Barber: This is the game I'd be most looking forward to watching this weekend, if I wasn't already working. Florida has one of the nation's best defenses, while Auburn's potent offense has scored 190 points in five games, third most in the SEC. Defense and being at home makes the difference as Florida passes its first major test of the season.
PICK: Florida 31, Auburn 27
Conlin: In my first week contributing to this article, I feel a chip on my shoulder. While picking a 3-point home underdog might be the safest strategy, I'm aiming for a statement upset pick to get the ball rolling. Illinois is a two-touchdown road underdog to Minnesota, but the Golden Gophers are 0-2 against the spread this season when they're double-digit favorites. PJ Fleck's squad might be the worst 4-0 team in America, and Lovie Smith's Fighting Illini enter this matchup fresh off a bye week. If you can't tell by now, I love mediocre teams coming off bye weeks. Give me Illinois to win outright.
PICK: Illinois 31, Minnesota 28
Niziolek: Baylor is coming off an upset win over Iowa State behind starting quarterback Charlie Brewer's best game of the season (26 of 45 for 307 yards with three touchdowns). Brewer is a big reason why the Bears are 4-0 with a top 30 offense. Brewer is one of only four quarterbacks in the country with at least 10 touchdowns and no interceptions. That kind of efficiency should help Baylor score an upset win on the road against their Big 12 rival.
PICK: Baylor 28, Kansas State 14