The long, long offseason is finally over and college football is back for Virginia and Virginia Tech. Both teams open their seasons with big conference road games, contests that could both set the tone for their years and go a long way in impacting the race for the Coastal Division title.
UVA opens at Pittsburgh, where it's never won, in a Coastal clash with the Panthers. Tech kicks things off at Boston College and its star running back A.J. Dillon.
Each week, Ron Counts, Virginia beat writer for the Charlottesville Daily Progress, and Michael Niziolek, Virginia Tech beat writer for the Roanoke Times, will join me in predicting the outcomes for the Cavaliers, Hokies and other key ACC games. And, to keep things interesting and create some divide in the standings, we'll throw in weekly upset picks, as well.
Here are this week's predictions: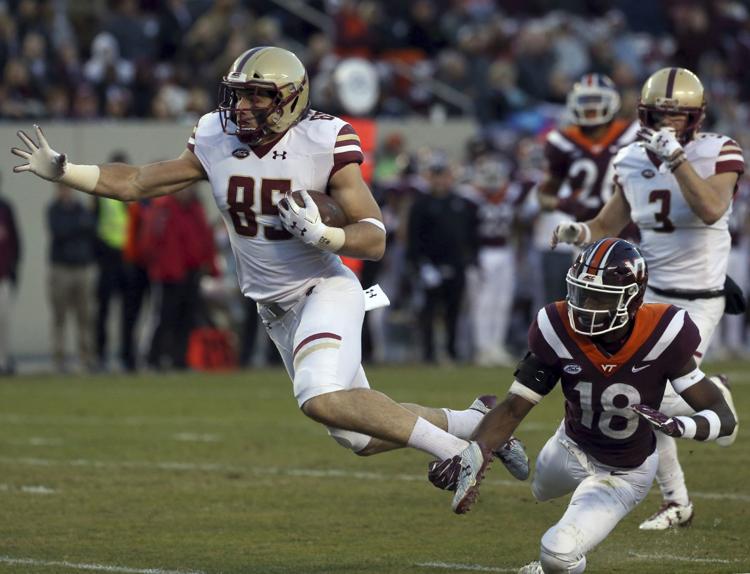 Virginia Tech at Boston College, 4 p.m. Saturday, Alumni Stadium
BARBER: The Hokies look to bounce back from last year's losing season – the program's first since 1992 – and it all starts at BC. Tech is banking on a big improvement defensively, and it'll need it Week 1 as the Eagles feature star running back A.J. Dillon, the ACC's leading rusher last season. Boston College beat Tech 31-21 last season in Blacksburg, but the Eagles lost a ton of talent off its defensive front. The Hokies have won in five of their last six trips to Chestnut Hill, where BC doesn't draw particularly well at home. It won't be easy but Tech's linebackers should hold Dillon in check enough for the Hokies to pull out a close one.
PICK: Virginia Tech 28, Boston College 24
COUNTS: Virginia Tech is in rebound mode after a down year, but especially on the defensive side of the ball, Boston College is in rebuild mode. The Eagles lost seven starters on defense, including sack leader Zack Allen and cornerback Hamp Cheevers, who led the ACC last fall with seven interceptions. Boston College has to replace the entirety of its secondary, and Virginia Tech quarterback Ryan Willis is going to take advantage of that. Expect Hokies' receivers Tre Turner and Hezekiah Grimsley to have big days.
PICK: Virginia Tech 28, Boston College 10
NIZIOLEK: Virginia Tech is 3-0 in season-openers during coach Justin Fuente's tenure. The Hokies came out with an impressive defensive game plan in last year's opener in a 24-3 win over Florida State. Could a similar defensive surprise be in store? It's possible, but expect Boston College to score some points with Brown and Dillon anchoring a strong offensive attack. That doesn't mean the Eagles win the game though. Look for Ryan Willis and company to lead the way for Tech and light up the scoreboard in Chestnut Hill.
PICK: Virginia Tech 38, Boston College 30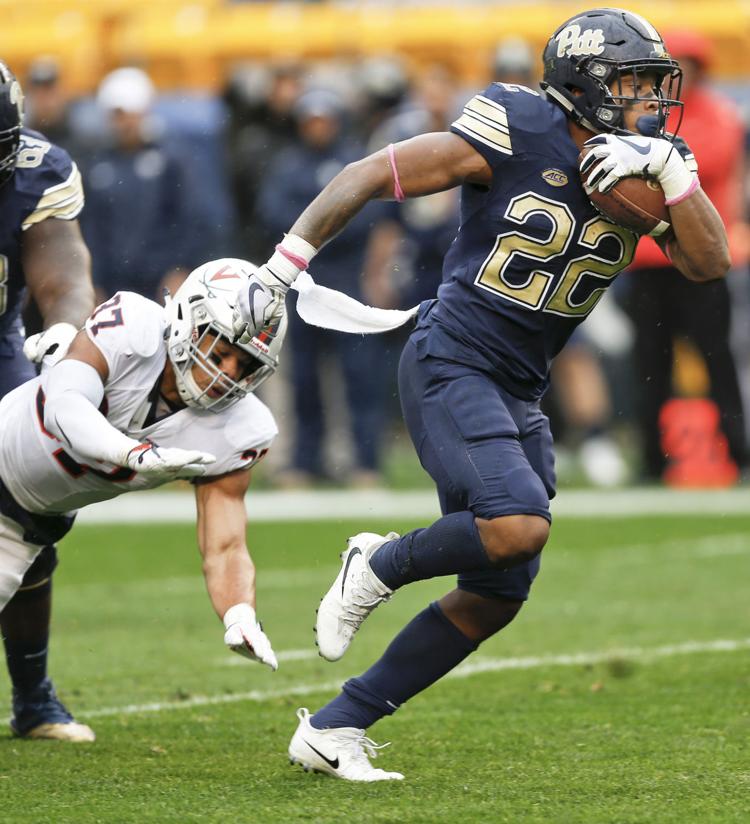 Virginia at Pittsburgh, 7:30 p.m. Saturday, Heinz Field
BARBER: Virginia hasn't beaten Pittsburgh in its last four tries, not since Pat Narduzzi took over the Panthers. It's never won at Heinz Field. This year, the Cavaliers are favored to do that. They're the preseason pick to win the ACC's Coastal Division, with high hopes thanks to the return of star quarterback Bryce Perkins and cornerback Bryce Hall. In his fourth season, Bronco Mendenhall clearly has his best team at UVA, while Pitt is rebuilding its offense with a new coordinator and new running backs.
PICK: Virginia 27, Pittsburgh 17
COUNTS: There's plenty of hype around Virginia's defense, which returns eight starters, including Bryce Hall, who is among the top cornerbacks in the nation. But that defense will get tested in the opener. Pitt has some questions on the offensive line and in the backfield, but quarterback Kenny Pickett has a pair of dynamic targets in Maurice Ffrench and Taysir Mack and an offensive coordinator, who wants him to throw it around. Virginia has its own questions that must be answered in the backfield to take pressure off dual-threat quarterback Bryce Perkins.
PICK: Virginia 21, Pitt 20
NIZIOLEK: Virginia has lost four straight to Pittsburgh and haven't won on the road against the Panthers in five tries. Throw that history out the window. Pittsburgh is rebuilding its run game while revamping its passing game with new offensive coordinator Mark Whipple. They won't be able to keep pace with a Virginia offense led by Bryce Perkins.
PICK: Virginia 35, Pittsburgh 17
Syracuse at Liberty, 6 p.m., Williams Stadium
BARBER: Dino Babers has Syracuse on the rise. Liberty has spent a ton of money on facilities and brought in former Ole Miss coach Hugh Freeze to try to do the same thing. Maybe the Flames will get there one day, and high-profile games against Power 5 schools will help. But not this year. The Orange have to replace Eric Dungey at quarterback, but Tommy DeVito showed signs of being up to the task last year. Assuming the offensive line comes together, the Orange should be potent on offense again – and more than Liberty's defense can handle.
PICK: Syracuse 45, Liberty 17
COUNTS: Syracuse has an exciting young quarterback in Tommy Devitto, a talented running back in Moe Neal, one of the ACC's best edge rushers in Alton Robinson and one of its top safeties in Andre Cisco. There's talk that Syracuse is No. 2 in the conference behind Clemson, and this is a chance for the Orange to prove how dominating they can be. Liberty's defense wasn't very good last year, but the Flames return a lot of offense, including quarterback Stephen Calvert and what looks like a future NFL receiver in Antonio Gandy-Golden. This could turn into a shootout.
PICK: Syracuse 49, Liberty 28
NIZIOLEK: Liberty had one of the worst defenses in all of college football in its first year at the FBS level. The Flames might take a few steps forward offensively this year under Hugh Freeze, but the program has a long ways to go on the defensive side of the ball after giving up 484 yards per game and 36 points per game.
PICK: Syracuse 40, Liberty 13
Upset of the week
BARBER: UCLA won just three games last season, is a bad road team and lost to Cincinnati last year. But the Bruins return most of last year's roster and figure to improve in Year 2 under Chip Kelly. Don't they? Running back Joshua Kelly should take some of the pressure off quarterback Dorian Thompson-Robinson, assuming Chip Kelly's play-calling lets that happen. But mostly, I'm banking on a veteran defense (such that it is in the Pac-12) to help UCLA pull the mild upset.
PICK: UCLA 24, Cincinnati 20
COUNTS: Oklahoma is ranked No. 4 in the nation, it's always going to have talent in the backfield and the Sooners' running game is going to ratchet up a few notches with the addition of former Alabama quarterback Jalen Hurts. But Houston's offense may once again be one of the most exciting in the country. D'Eriq King may be the most underrated dual-threat quarterback in college football and his receiving corps in loaded again, led by Marquez Stevenson. The Cougars are going to score points. If their defense can at least slow Oklahoma down, we'll have an upset on our hands.
PICK: Houston 35, Oklahoma 30
NIZIOLEK: Auburn is going with true freshman Bo Nix at quarterback and listed six co-starters at running back on its Week 1 depth chart. Oregon has Heisman candidate Justin Herbert leading the way under center and a pair of impressive sophomore running backs (C.J. Verdell and Travis Dye), which should give them the edge at AT&T Stadium.
PICK: Oregon 33, Auburn 17