After 10 weeks of play, the ACC's Coastal Division standings are still tight as ever, with Virginia holding a half game lead over Pittsburgh, and a full game lead over Miami and North Carolina. Virginia Tech, meanwhile, is right in the middle of it all at 2-2 and can win the division title by beating Pittsburgh, Virginia and one other ACC opponent – either Wake Forest or Georgia Tech.
The standings in our annual game picks competition is similarly bunched up. After 10 weeks of predictions, all three of us are tied at 24-16.
Each week Bennett Conlin, the new Virginia beat writer for the Charlottesville Daily Progress, and Michael Niziolek, the Virginia Tech beat writer for the Roanoke Times, will join me in predicting the outcomes for the Cavaliers, Hokies and other key ACC games. And, to keep things interesting and create some divide in the standings, we'll throw in weekly upset picks, as well.
Here are this week's predictions:
Georgia Tech at Virginia, 12:30 p.m. Saturday, Scott Stadium
Mike Barber, Richmond Times-Dispatch (24-16): Under new coach Geoff Collins, Georgia Tech has scrapped the triple option, but it still has the same triple option personnel. That means a massive, hulking offensive line and bruising running backs. Outside of the upset of Miami, there haven't been many highlights for the Yellow Jackets this year. The first half at UVA could be one. I think the physical, grinding style of Tech keeps it close for a half, before Bryce Perkins and the Cavaliers' offense gets in gear after the break.
PICK: Virginia 31, Georgia Tech 17
Bennett Conlin, Charlottesville Daily Progress (24-16): Virginia enters this game as an overwhelming favorite. After beating North Carolina 38-31 last weekend, UVA's offense feels confident. The team's weakness is its depleted secondary, and Georgia Tech's offense ranks among the worst passing offenses in the country in nearly every statistical category. That's bad news for the Yellow Jackets.
Record includes Ron Counts' 14-6 mark.
PICK: Virginia 30, Georgia Tech 13
Michael Niziolek, Roanoke Times (24-16): Virginia quarterback Bryce Perkins finally had the kind of signature performance were hoping to see early and often when he put up 490 yards of total offense and five touchdowns last week against North Carolina. He'll have a chance to get some momentum when Virginia hosts the worst team in the Coastal this weekend. While Georgia Tech hasn't rolled over for opposing teams this season, they just don't have the right mix of talent to compete right now.
PICK: Virginia 38, Georgia Tech 14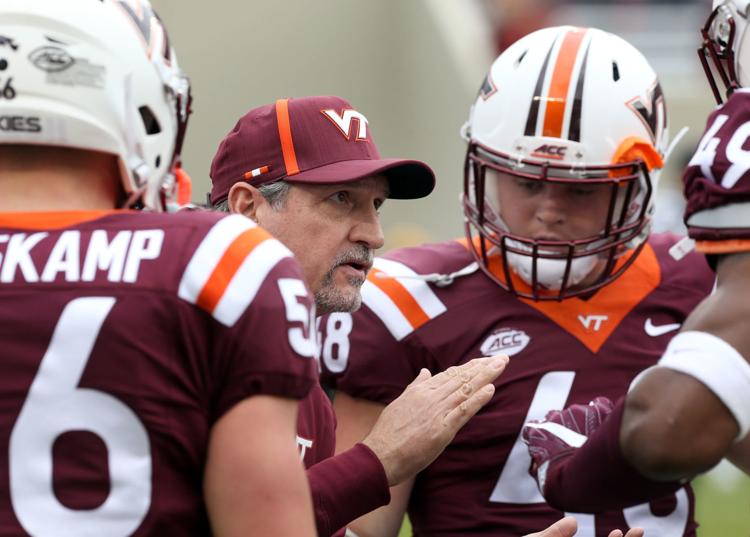 Wake Forest at Virginia Tech, 3:30 p.m. Saturday, Lane Stadium
Barber: Oof. Who picked this matchup for Bud Foster Day? The Hokies will honor their longtime defensive coordinator, who is retiring after the season, in a pregame ceremony. Will the defense honor him after kickoff? Wake Forest is scoring 38 points per game and has a run game now to complement its explosive passing attack. I think the Hokies will play hard for Foster but this matchup is too much.
PICK: Wake Forest 31, Virginia Tech 24
Conlin: Since losing 45-10 to Duke, the Hokies are 3-1 with a one-point loss to Notre Dame last weekend. Virginia Tech isn't a great team, but it's playing at home against a slightly overrated Wake Forest team. The Demon Deacons are fantastic offensively, but they're weak on the defensive side of the ball. Wake Forest is 2-0 on the road with a 20-point win over Rice and a three-point victory over Boston College. This is the toughest road test of the season by far for the Demon Deacons, and they'll fail the test.
PICK: Virginia Tech 38, Wake Forest 34
Niziolek: This just feels like a bad matchup for Virginia Tech. The Hokies secondary hasn't been able to stop teams from gaining huge chunks of yardage for more than a month and that's what Wake Forest does best. The Demon Deacons do have a huge game looming against Clemson next week, but it's hard to imagine a program that doesn't have a long history of success overlooking a tradition-rich Tech team.
PICK: Wake Forest 42, Virginia Tech 28
Louisville at Miami, 3:30 p.m. Saturday, Hard Rock Stadium
Barber: Miami's defense has been dominant at times this season. It's offense? Explosive in spots but largely a mess. Conversely, Louisville's offensive has been strong so far, putting up over 32 points per game. But it's been the Cardinals defense that hasn't showed up at times. There's no championship on the line in this one, but defense still wins the day.
PICK: Miami 20, Louisville 17
Conlin: For fans that enjoy speed, this is the game to watch. Louisville and Miami both possess elite speed, and the Cardinals' skill players will test Miami's stout defense. The Hurricanes beat up on Florida State last weekend while Louisville enjoyed a bye. Jarren Williams played well at quarterback, and he's due for a good showing against a shaky Louisville defense.
PICK: Miami 31, Louisville 21
Niziolek: An interesting matchup with both teams having won three of their last four games. Louisville has been the surprise team in the conference at 5-3 and one win away from gaining bowl eligibility. Miami's defense has settled down since giving up 42 points in a loss to Virginia Tech, but their offense remains a bit of a mess. The Cardinals' offensive attack has been much more consistent this season and should give them an edge on Saturday.
PICK: Louisville 30, Miami 20
Barber: Purdue isn't very good. Northwestern is worse. Purdue's defense is bad. Northwestern's offense is worse. It's been four weeks since the Wildcats have scored a touchdown. They'll end that slump in this game, but their losing streak will stretch to seven straight. Someone will have to let me know how this game ends, because this an ugly matchup I have no interest in watching.
PICK: Purdue 24, Northwestern 13
Conlin: I'm 0-5 on upset picks with my teams losing by a combined 137 points. With my picks being awful, I asked the audience for help. I tweeted out my situation and asked readers to share their picks. The pick that came up the most was LSU over Alabama. Who am I to say they're wrong?
Niziolek: Alabama quarterback Tua Tagovailoa is recovering from an ankle injury, but is expected to start. Facing an undefeated team with a top 25 defense is quite the welcome back present. LSU quarterback Joe Burrow has been tremendous this season and he has a bunch of talented skill players at his disposal. Alabama has won eight straight and outscored LSU 63-10 over the last three games (two of those were shutouts). The Tigers shouldn't come up empty-handed this weekend.